You're probably reading this blog because you're thinking about renovating your lawn. You might have moved into a new property, and the grass is a mess. Or maybe you're fed up with battling your old turf and want a quick fix? Grass seed vs turf: which is the winner for a long-lasting, gorgeous lawn that you can show off to your family and friends?
Let's face it: we all want the type of manicured lawn we see in shows like Downton Abbey. But getting to that point of perfection requires a fair amount of work.
Whether you're looking for a total overhaul of your existing lawn or are looking to start from scratch, the big question is always:
"Do I seed" or "Do I turf"?
This article explores the pros and cons of seeding and turfing, helping you make an informed decision about which way
is best for you.
The benefits of sowing grass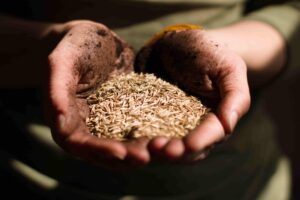 Let's get straight to the point here: sowing seed is MUCH more affordable than buying
and laying turf. In general, sowing seed is at least ten times cheaper than turfing.
As a rough guide, this table will help determine the costs of grass seed vs turf in the UK in 2021:
| | |
| --- | --- |
| TYPE | AVERAGE COSTS PER m² |
| Budget turf | £3+ |
| Mid-range turf | £5+ |
| Premium turf | £7+ |
| Typical turf-laying/preparation labour costs | £150-200 a day |
How to lay turf
Laying turf requires a lot of preparation. Some of the associated tasks are:
Removing old turf/decking/paving
Skip hire (at the cost of around £100 up to £300 depending on the amount of discarded sod)
Replacing the topsoil (could be up to £30 per m²)
Of course, you can turf your lawn yourself, which will save you a considerable amount of money. But it's a time-consuming task (if you do it right!).
If you're considering getting the experts to do the whole job for you, you're looking at around £500 for a 20m² lawn for turf and labour costs.
So, let's compare that with the costs of grass seed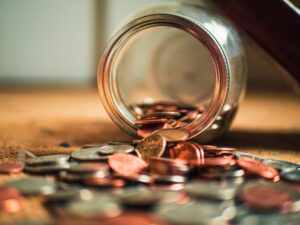 Of course, it's essential to acknowledge that not all grass seed is the same. It's possible to buy cheap grass seed and get good results.
But:
Cheap grass seed is cheap for a reason: the rate of germination is likely to be low.
So, for the best results, avoid the really cheap seed. This table should help you calculate how much it may cost to seed your new lawn.
| | |
| --- | --- |
| TYPE | AVERAGE COSTS PER m² |
| Cheap lawn seed | 16p |
| Mid-range lawn seed | 26p |
| Premium grass seed | 35p |
We stock an excellent range of grass seeds at MOOWY, suitable for everyone's budget, from our Power Lawn Grass Seed at around 26p per m² to our Premium Lawn Seed at about 35p per m².
Of course, our mid-range seed is super-efficient with a much higher germination rate than your average cheap seed.
Our grass seeds are developed by the company that produces lawn seed for FIFA, so you'll get excellent, hardwearing results.
And remember: for premium outcomes, you need a premium seed.
But – big drawback:
Grass seed takes a while to establish
Sowing grass is at least ten times cheaper than turf. So, from a cost perspective, sowing is the way to go.
But, of course, seed takes a while to establish. With turf, you get an instant lawn.
How long does it take for grass seed to germinate?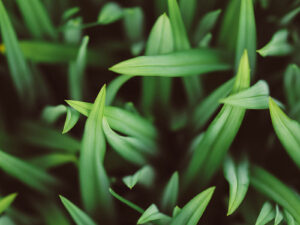 First and foremost, you need the right weather conditions to germinate grass seed. Grass plants go dormant during the winter after the temperature drops below 10ºC – so it stands to reason that they won't germinate in those conditions.
For the best results, wait until the ambient temperature has reached a good, consistent 10ºC, so we're talking roughly February until October.
However:
The soil temperature is more significant than the ambient temperature. Soil takes longer to warm up than the air, so it's always wise to use a soil thermometer, even if we've had a mild January.
If your soil has reached 10ºC, then we're go!
Once you've sown your grass seed (check this article for the lowdown on sowing), it should germinate within ten days. You'll see the first signs of life at ten days – but don't walk on it yet.
How soon can I walk on a newly seeded lawn?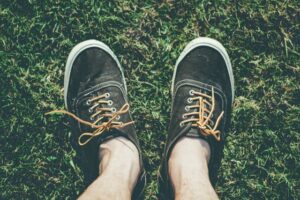 Grass shoots are vulnerable to damage at first, so avoid treading on your new grass for at least four weeks.
And it's best to wait a little longer before you start using it regularly – until after its third cutting, at least. This gives your new grass plants time to establish strong roots.
Cutting your new grass helps build resistance, but don't mow it too short at first. Let it grow reasonably tall before the first cutting (around 5 inches).
Follow this table before walking on your new grass:
| | |
| --- | --- |
| Grass seed sown. No visible sprouts. | Avoid walking on the lawn. |
| First growth after 10 days. | Avoid walking on the lawn. |
| Grass has grown to 3.5-5 inches. | Mow to 3 inches weekly. Avoid walking on the lawn other than to mow. |
| Weekly mowing for at least 3 weeks (preferably 5) | Regular foot traffic and everyday use. |
So, we're looking at around 5-6 weeks before your lawn is ready for regular use.
When can I first mow new grass seed?
Wait until the grass sprouts are at least 3.5 inches before the first mowing – 5 inches is better. If you mow too soon, your lawnmower could suck the seedlings out of the ground.
Set your cutter blades as high as possible for the first few cuttings. The general rule is:
Never cut more than ⅓ of the grass blade's length.
Can I walk on turf straight away?
There's certainly a bit of a waiting game with grass seed. So, how about for newly laid turf?
Surely you should be able to walk on turf straight away?
Well, no. Sorry to disappoint, but you shouldn't walk on newly laid turf until it's established – or you'll end up killing the grass.
How long does it take for newly laid turf to establish?
The advantage of laying turf is that – aesthetically – you have an instant lawn.
But grass plants are only as strong as their roots.
So:
You shouldn't walk on new turf for at least four weeks while the grass plants develop roots deep into your existing soil. This helps your grass plants strengthen and build resistance.
So, how long before I can walk on newly laid turf?
Wait at least four weeks before you submit your lawn to regular use.
Grass seed vs turf: which is the winner?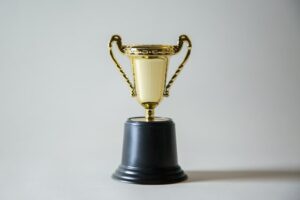 It depends on your needs, but – as you can see – it takes roughly the same amount of time to establish new grass seed as it does turf.
Grass seed is much cheaper, and your soil requires some preparation. It takes around 5-6 weeks and at least three mowings before it's ready for regular use.
Turf, on the other hand, offers instant results. But you need to wait at least four weeks before the grass plants have developed roots.
Turf, of course, is much more expensive to buy and install.
Grass seed vs turf: which is better for smaller lawns?
Seed provides the most consistent look if you're looking to repair your existing lawn (aka overseeding). If your lawn area is small, then seeding is probably the most cost-effective approach.
Bear in mind that there's no instant fix either way- you have to wait at least a month before using a turfed lawn. So seed is the cheaper approach, and it doesn't take that much longer until it's ready for use.
Grass seed vs turf: which needs the most aftercare?
Both seed and turf require a degree of aftercare – mainly watering.
Never let the soil dry out because the grass will die.
Grass sprouts from seed are more vulnerable than turf: turf has already sprouted and established. But, either way, you'll need to make sure that the soil gets enough water.
Check out this article for guidance on watering your lawn. Never let the soil dry out but make sure you don't leave puddles on the surface.
Grass seed vs turf: the window for installation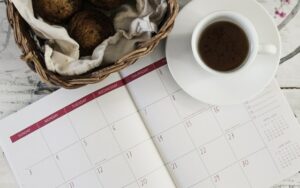 You can lay turf at any time of year, while you need to wait until February before you sow seed.
Turf is initially more robust in bad weather, while new grass seed can get washed away if there's a heavy downpour before the seedlings have established. Seed can be disturbed by heavy wind, while strong wind shouldn't affect your turf.
For these reasons, it's better to wait for a period of decent weather before sowing from seed.
Grass seed vs turf: which is easier?
Both sowing grass seed and laying turf require preparation.
Laying turf is a lot more labour-intensive. The grass rolls are extremely heavy and usually delivered in a van or lorry.
Consider access to your back garden. No one wants to carry turf through the house to get to the lawn, after all.
Where access is poor, laying seed is – by far – the easier option.
Are you ready to get started yourself, or do you need more information?
We hope we've helped you decide which works best for you – grass seed
or turf? But if you have more questions, please get in touch.
We love to hear from you! Email us, and we'll get back to you promptly.