How to level your garden: a step-by-step guide
How to level your garden? It's a big old task, but with the right know-how, you'll make a professional job of it! Follow our 10-step process for perfect results.
Does looking at your lawn give you sea-sickness? Are there waves of ground where you'd love a perfectly flat surface? Eventually, every lawn becomes somewhat uneven; maybe soggy patches sink, or heavy use areas get worn down. It's time to think about how to level your garden.
You might be thinking about creating a raised terrace area or laying new turf? If you don't level the ground first, the results will be disappointing.
Levelling your garden is one of the tasks we all have to face at some stage, and this article is all about what it is and how to do it. You might wonder whether it's a task you can do for yourself or one to outsource to a professional? All the answers are neatly tucked into this article.
Ready? Let's learn how to level a garden.
What is levelling a garden?
Levelling your garden is the process of starting from scratch with your lawn. Essentially, you clear out your existing turf to level out the soil surface.
Don't panic! It takes a lot of work, but the results can be spectacular. It can make a grotty old patch of grass look like a Wimbledon tennis court.
Levelling the garden may be too much work for you to do for yourself. If you love a project, it's perfect. Or you might consider hiring a professional to carry out this heavy task.
Either way, it's helpful to understand what the process is to ensure that you get value for money.
Why should I level my garden?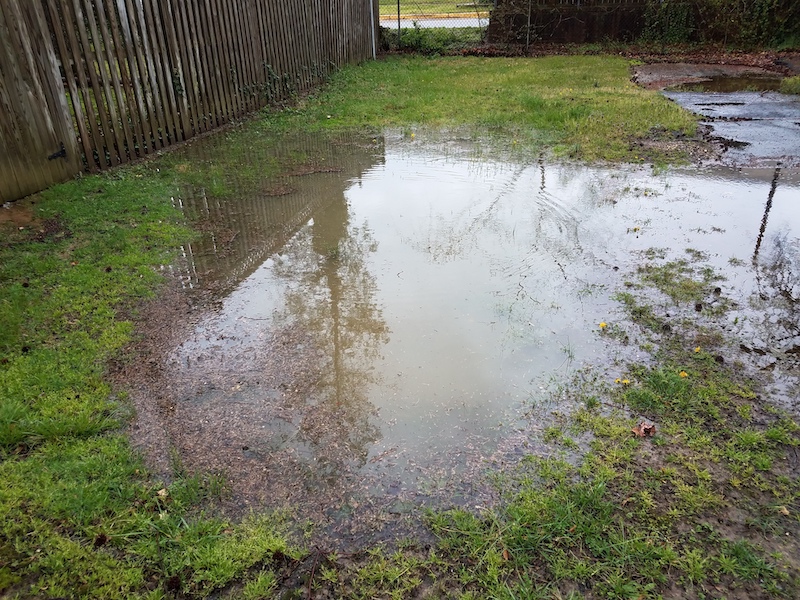 You'll know that your soil surface is uneven if there are:
Sunken areas around your lawn
Soggy patches that quickly form into puddles
Soil subsidence, often as a result of tree roots
If you're considering laying a patio or decking, you definitely need a level surface. Otherwise, the slabs or decks will sink unevenly, and it will look a bit of a mess in a couple of years.
Level ground helps your lawn to drain sufficiently. Grass that sits beneath puddles of water for more than a couple of days is likely to die if it happens repeatedly.
When to level your garden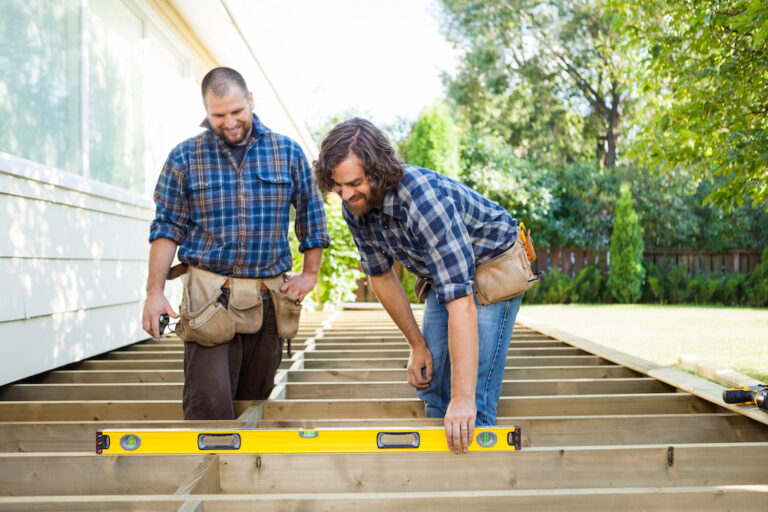 It's necessary to level your soil surface if you're:
Landscaping your garden: landscaping needs precision to be fully effective, especially if you're laying paths, patios, or decking.
Building a shed or a garden office: your new building requires structural integrity. You'll need a perfectly level surface before you begin your building project. For best results, lay a concrete base.
Renovating your lawn: there's little point in renovating your lawn unless you level out the surface. Otherwise, the efforts of scarifying, liming, eliminating weeds and moss, draining, and aerating will produce lacklustre results.
Sowing new grass: tilling the soil makes the soil workable and brings oxygen into the earth. This needs completing before you sow new grass seed.
Laying turf: new turf looks beautiful if laid on well-prepared soil. But it will highlight the imperfections if the ground is uneven.
Laying artificial grass: Ideally, it's wise to lay a deck on top of your existing soil – this will provide a perfectly level platform to lay your synthetic grass. It looks awful on uneven surfaces.
Building a swimming pool or pond: this larger project requires full excavation of the earth, with hardcore to help the soil bear the weight of 1000+ litres of water. However, if you're using material soil liner, you'll also need to ensure that no stones or roots could penetrate the liner in the future.
Laying gravel: gravel is naturally organic in appearance, but it still requires a level surface. Otherwise, the stones will travel, and bare patches will appear over time.
Laying the foundations for a carport or garage: it stands to reason that you need a level surface for building projects. Levelling your garden is an essential first step in the process.
Building a play area: if you're putting a trampoline, slide, swing set, or monkey bars in your garden, you'll need levelness for structural integrity. A trampoline, for example, requires its legs to be evenly supported all the way around the base; otherwise, the body of the trampoline becomes weak, and it can be dangerous.
Filling in a pond: if you're reintegrating the area into your lawn, it needs a level surface; otherwise, it will be uneven as the grass grows.
How to level a garden in 10 easy steps
Levelling the garden is a big job, and it takes a fair amount of time. But it's completely worth the effort.
Follow our 10-step process, and you'll do a great job.
Step 1: Get prepared
Because this is one of the larger garden jobs, it's helpful to have all of the appropriate tools and materials at hand before you start. That way, you can avoid endless trips back to the garden centre!
Gather together your supplies, and make a plan of action. Keep an eye on the weather forecast; it's best to avoid the rain.
Before you start levelling, the soil needs to be dry – a heavy rain shower can cause real problems and considerable delays. Waterlogged soil is extremely heavy and difficult to dig.
Step 2: Mark the ground
Place stakes in the ground to help delineate the areas for levelling.
Step 3: Remove the mess
If you're completely renovating your garden, starting from scratch is better. If you just lay topsoil on top of existing turf, all of the old problems will return: weeds, moss, flooding.
Clear the ground of bushes, leaves, and stones. Remove these from your garden altogether – take them to your landfill site if you can.
Remove the existing turf using a spade – or an industrial digger if you have a large garden.
Step 4: Prepare the surface
Using a spade, digger, or tilling machine, work the soil surface. Dig to a depth of 15-20cm, mixing the surface soil. This helps break up the soil texture, making it more workable while aerating the earth for healthy foundations for your new grass plants.
Step 5: Find the ground's highest point
Find the highest point of your tilled soil and tension a string at that precise height between the posts placed in step 2. Use a spirit level and tension several strings across the length and width of the soil.
You can, of course, find the level by eye, but this is more difficult than it sounds. It's definitely better to have some guides to help.
Step 6: Top up the topsoil
Add good quality topsoil to the existing earth and level out the surface. If you're adding paving, sprinkle a thick layer of sand on top of the soil, which will help maintain the levelness over time.
TIP: Don't recycle your garden soil at this stage. Make sure that your topsoil is guaranteed to be weed-free.
Step 7: Even out the surface
Keep to the height indicated with the string from step 5. Use a rake or even a long plant to level the soil surface.
Step 8: Roll the earth
Once the soil surface is even, tamp the ground firmly. You can do this by hitting it with the back of a spade for small areas. For larger areas, use a roller.
Step 9: Let the soil rest
Let the newly laid earth settle for a few days before moving on to the next stage of your project. This ensures that the surface is perfectly level without any sunken areas.
Step 10: Water
If you're laying a new lawn, either with turf or grass seed, ensure that the soil is moist. Water the soil lightly before turfing or sowing new seed if it hasn't rained since rolling.
How to level a garden: Levelling with a digger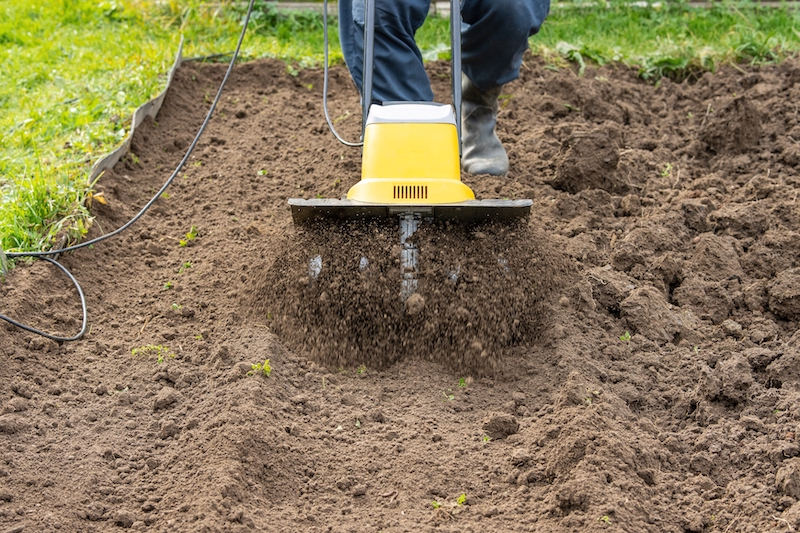 All that digging may seem rather back-breaking, so it's possible to use a digging machine, which makes lighter work of removing the existing turf.
You probably have an industrial-sized digger in your head, but a mini-digger is all you really need for a garden.
A machine like this makes light work of tilling the soil and removing turf.
How to level a garden: Levelling your soil by hand
Levelling by hand is obviously much harder. You'll need a good quality spade and a rake. You'll also need a wheelbarrow and a spirit level.
You can level soil by patting the back of the spade's blade onto the surface until it's firm and flat. Don't overdo this – you just want the surface firm enough so it won't be disturbed by the wind.
How to level a garden: Levelling a sloping garden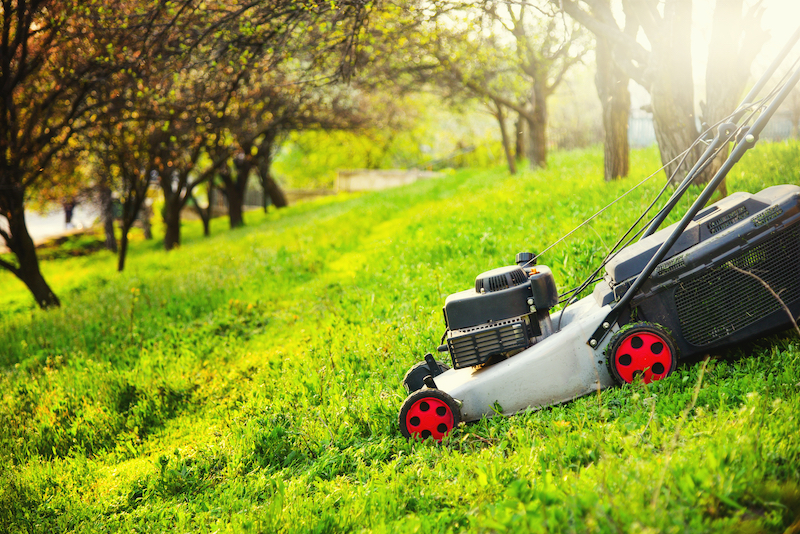 Remember, very few gardens are entirely flat, so this applies to many garden levelling projects.
Place a wooden stake at the highest point of the slope; with another at the lowest. You'll need a longer stake for the lower end.
Tension a piece of string between the two stakes; making sure that the line is level – use a spirit level or a laser level. There should be no slack. Otherwise, the string will sink in the middle.
The lowest end of the lawn will need reinforcing with sleepers or planks to the height of the highest level of the soil. This will ensure the ground doesn't sink downwards with gravity.
Fill out the soil, using the string as a guide.
How to level a garden: The tools you'll need.
If you're considering carrying out the work for yourself, use this checklist to make sure you have everything you're going to need at Step 1 of the process:
Spade
Rake
Wheelbarrow
Spirit level (or laser level)
Garden soil
Picket posts
Thin rope
Lawn roller
Knee pads
Gardening gloves
If you're going to lay a new lawn, you'll need:
How much does it cost to level a garden?
If you're doing the work for yourself, the main costs are for topsoil and any tools you don't already have.
Measure your lawn area precisely to calculate how much topsoil you're likely to need. Don't estimate it; use a tape measure. And measure it twice to ensure you've got the correct figures to work with.
If you're laying turf, you'll need a minimum of 15cm of good quality topsoil. If you're filling in a relatively small surface area, you might be OK using bagged topsoil from a garden centre, costing around 20p per litre.
However, if you're levelling a sloping garden, you'd be better off ordering topsoil from a specialist company that will deliver and drop the soil into your garden for you.
Roughly speaking, topsoil can cost between £20 to more than £80 per tonne.
If you're paying a professional to level your garden, it's likely to cost around £1500. Of course, it depends on the size of your lawn.
It generally costs around £800 for a 40m² garden if it's not sloping.
Ready to get started?
We hope we've given you all the information you need to plan your garden levelling project. But if you still have questions, we'd love to hear from you.
Just email us, and we'll get back to you asap!
Thanks for reading!
How to level a garden: FAQs
Q. How do you level a garden without a digger?
You'll need: stakes and string, a garden spade, a rake, a spirit level, topsoil, a wheelbarrow, and a roller.
Q. Do I need planning permission to level my garden?
You don't usually require planning permission for ground-level projects, such as erected decking, patios, or relaying turf. However, decking needs to be less than 30cm above ground level.
Q. Are you allowed to raise the entire level of your garden?
Always check before substantially raising the level of your garden. In general, increasing the ground level may require planning permission. If you're levelling out a sloping garden, you may not need permission, but it depends on whether you affect your neighbours' view.
Read
more
The best tips and tricks for a lush green lawn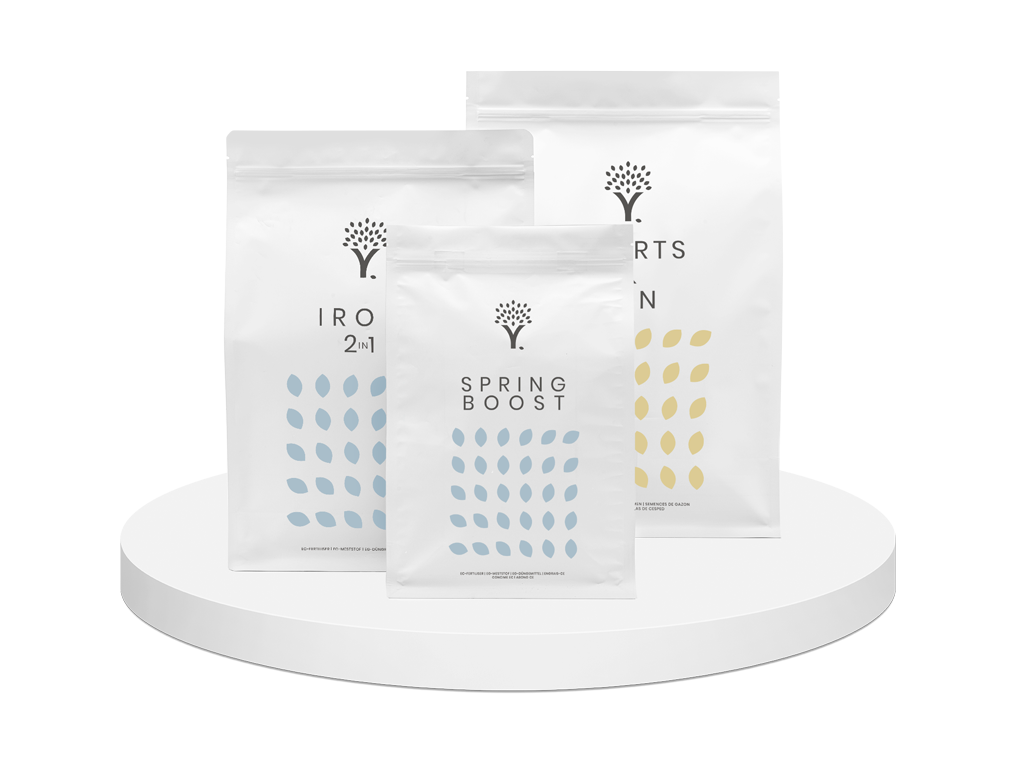 Scarifying Kit Standard
Has moss found its way into your lawn? An excellent way to get rid of this is to scarify. Our Standard Scarifying Kit contains everything you need to make your scarifying project a success – with stunning results
From:

£

36.99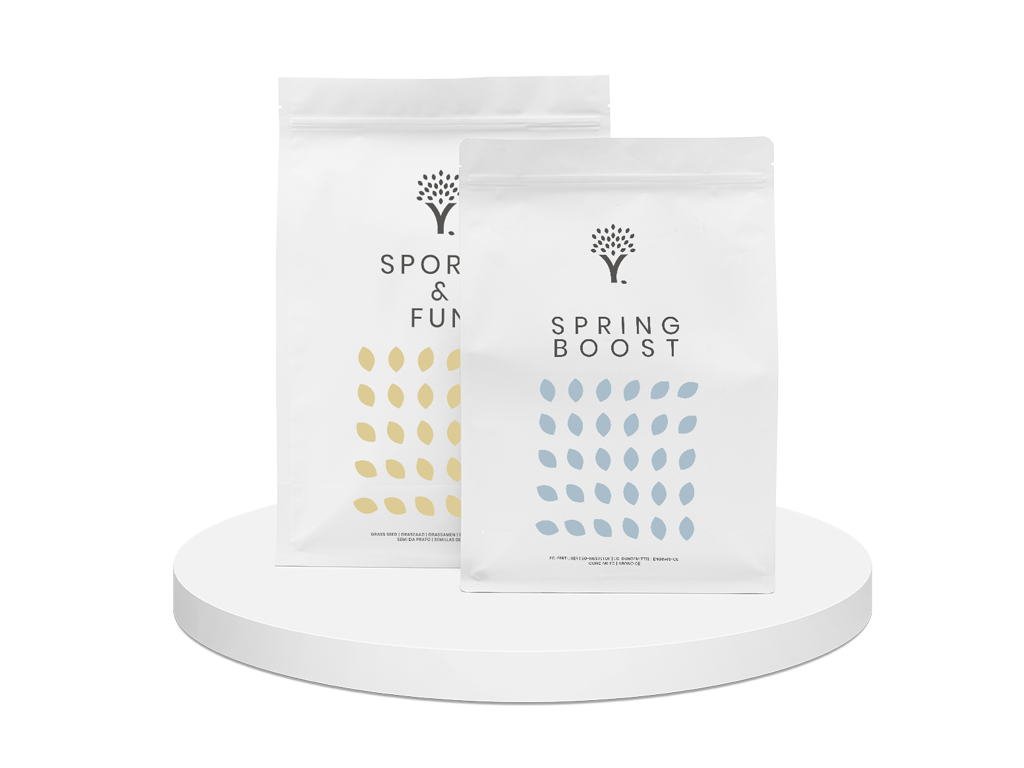 Scarifying Repair Kit
Scarification is the removal of the organic matter that chokes the roots of your lawn (such as thatch and moss). However, scarifying can stress your grass. So, after scarifying, treat your lawn with some MOOWY-style love to help it recover. Our Scarifying Repair Kit guarantees rapid, successful recovery with exceptional results.
From:

£

23.99
Top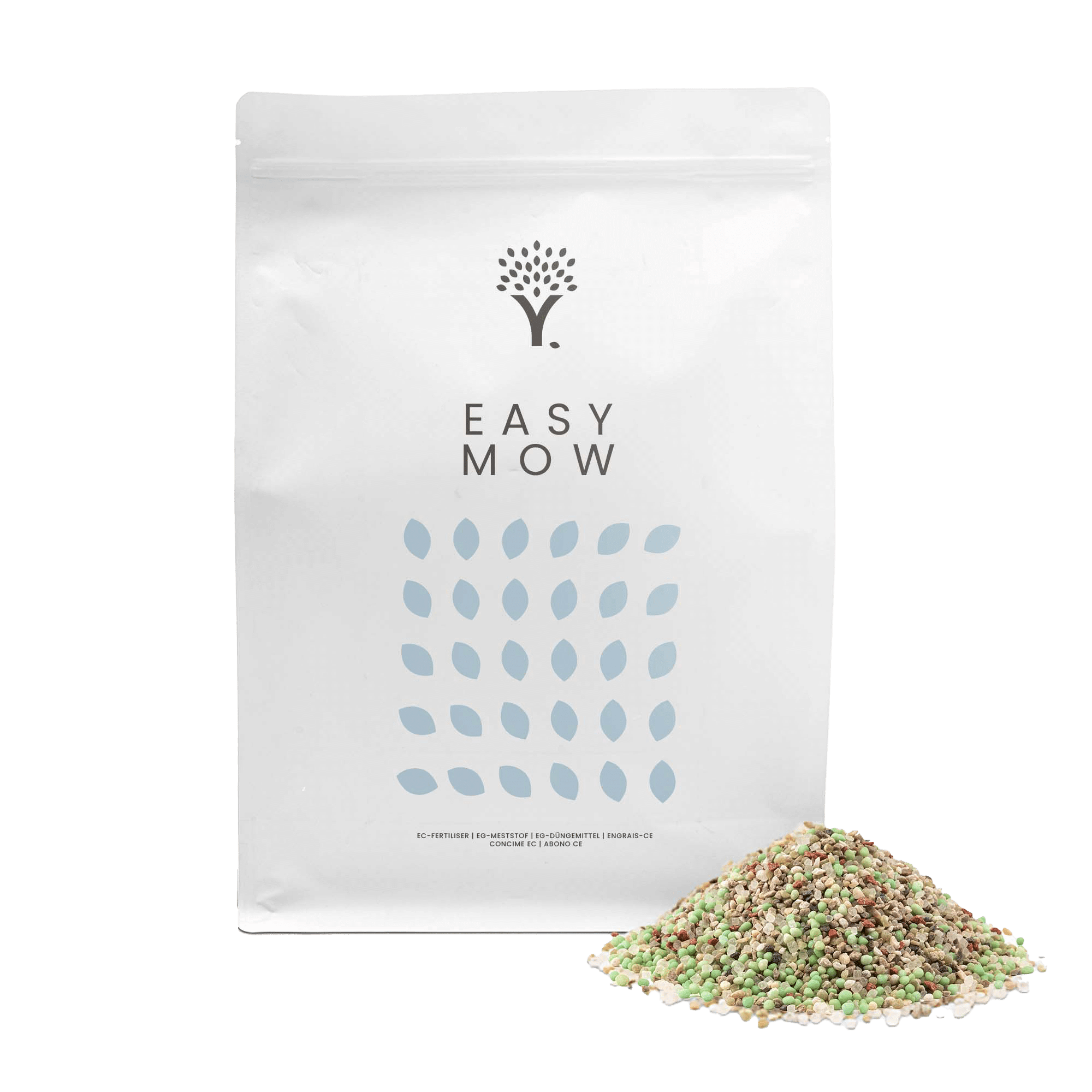 Long Lasting Lawn Fertiliser
Give your grass everything it needs without the excessive growth often associated with fertilising. MOOWY'S long lasting lawn fertiliser works for over 90 days and delivers quick results.
From:

£

13.99
SUBSCRIBE
Do you want your lawn care
calendar

?

Leave your email address and we will send you our useful lawn care calendar. It's free!
Get your lawn care calendar
Get your lawn care calendar