Spring

season

Spring, the best season to grow grass
We feel different when spring is in the air. Your drab and neglected garden bursts into life, and – with that – our mood lifts.

Spring is an excellent season for re-sowing and growing your grass. Your lawn may look a little sparse after the winter, so use the springtime to overseed – improving the density of your grass.

Winter lawns are nothing to write home about, but springtime is the perfect season to fertilise, aerate, and scarify so that you can enjoy a beautiful lawn for the rest of the year.

These are our 4 top tips to perform throughout the spring:


*

Kill that moss!

It sounds drastic, but moss is a natural enemy to a healthy lawn. Moss loves cold and wet conditions, so it can really take hold over the winter. Moss suffocates the roots of your grass, so the spring is a great time to think about killing it off. You might think about scarifying (basically scratching out the moss from between the grass plants) and fertilising your soil for the best results. Or you could just lay down a moss killer. But don't leave it – it will destroy a once-healthy lawn over time.


*

Overseeding

All lawns need a little extra TLC after the winter. Chances are, your springtime lawn has become a little patchy, with dead spots and yellow areas that make your lawn look tired and unloved. Overseeding is an essential springtime task – just sprinkle grass seed over your existing lawn, focusing particularly on the bald or dying spots – and you'll see fresh new growth within a couple of weeks.


*

Fertilising

Some people believe that a healthy lawn can get everything it needs from the sun, rain, and the soil. Unfortunately, your soil's nutrients become depleted over time, and eventually, an unfertilised lawn will look tired, yellow, and patchy. Treat fertilising as one of your essential springtime tasks. Fertilising enriches the soil and brings fresh vitality to the colour, texture, and density of your lawn.


*

Scarifying

Scarification is a stressful process for your lawn (it's not called love-i-cation, after all). When you scarify, you scratch away the moss and thatch layer surrounding your grass plants to improve oxygen penetration at the roots. However, as the name suggests, this process can stress your lawn and make it look temporarily worse – but not for long. Use MOOWY's moss killer, fertilisers, and seed mixes to reignite the beauty of your lawn within a couple of weeks.


Spring Boost Lawn Fertiliser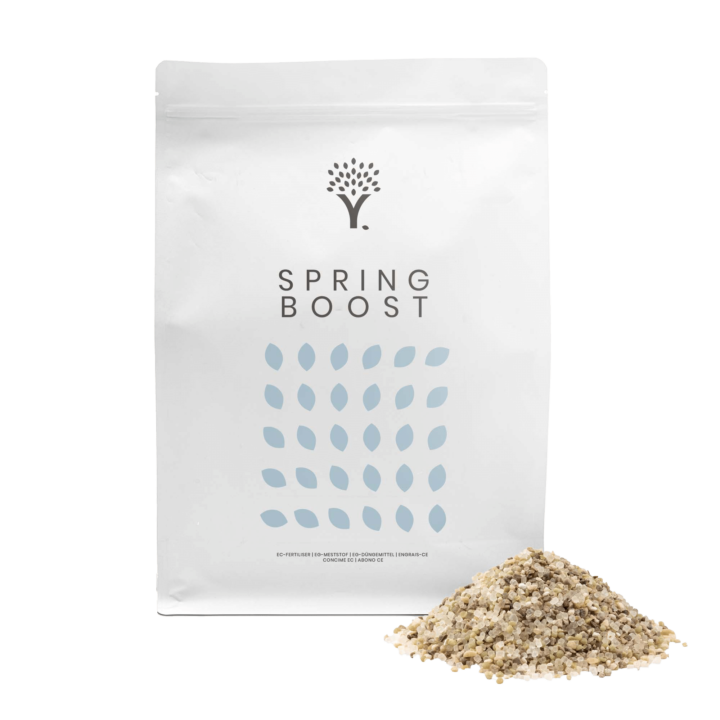 Best to use
OK to use
No good to use
Details
MOOWY's Spring Boost fertiliser is a premium-mix of nitrogen for grass leaf stimulation, phosphorus for healthy roots, potassium for disease resistance, and magnesium oxide for improved photosynthesis (and a better green colour). Spring Boost adds vitality to your springtime lawn, providing the exact nutrient mix it needs for healthy and sustained growth throughout the year. This granulated fertiliser offers slow-release nutrition for your lawn, avoiding the signs of over-fertilisation (grass burn). Suitable for all grass- and soil types, Spring Boost creates the ideal growing conditions for your lawn, which will brim with health all year round. Although Spring Boost is particularly recommended for springtime application, it can be used all year round. Fertilise three or four times a year for optimal results.
Power Lawn Grass Seed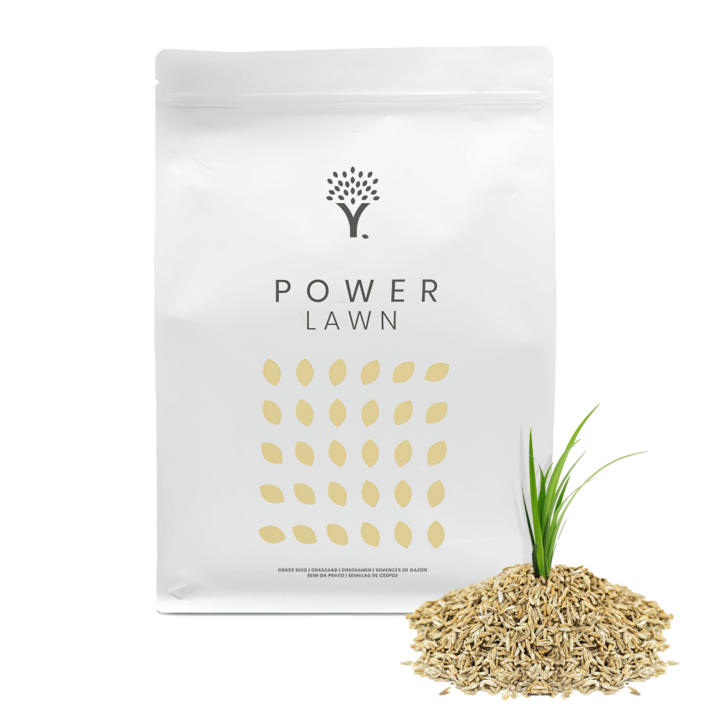 Best to use
OK to use
No good to use
Details
MOOWY's Power Lawn grass seed contains a high percentage of perennial ryegrass, which has a fine structure and establishes quickly. Combined with Red Fescue, your lawn becomes thick and full in no time.
Power Lawn grass seed is produced by the same company that supplies seed to FIFA for World Cup stadiums. Drought-resistant and tolerable of heavy downpours, this grass seed mix is ideal for overseeding and heavy-use lawns. With powerful and super-fast growth, you'll transform your lawn in around two weeks! Not recommended for shady lawns (try our Sun & Shade lawn seed if you don't enjoy full sun for excellent results).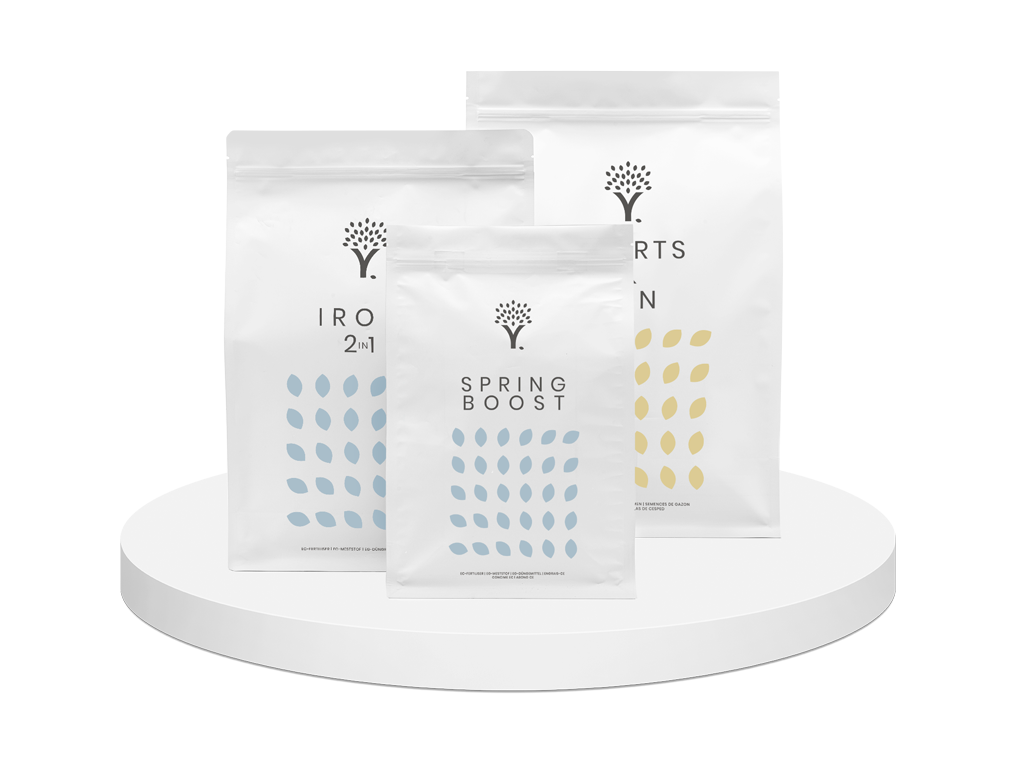 Scarifying Kit Standard
Has moss found its way into your lawn? An excellent way to get rid of this is to scarify. Our Standard Scarifying Kit contains everything you need to make your scarifying project a success – with stunning results
From:

£

36.99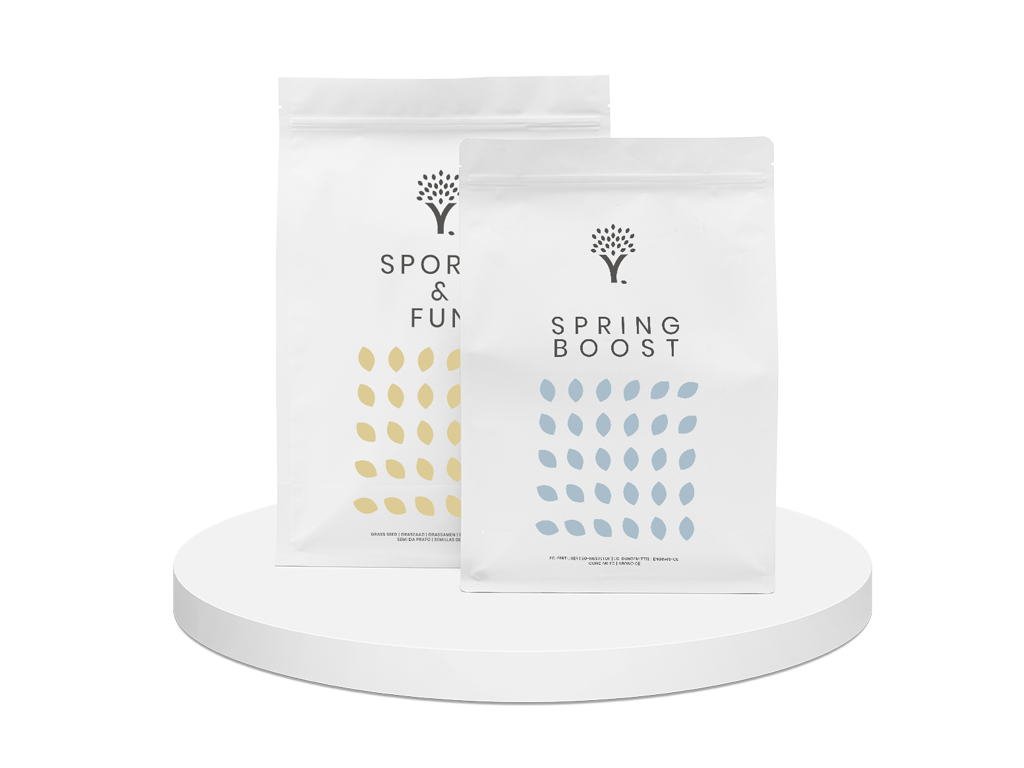 Scarifying Repair Kit
Scarification is the removal of the organic matter that chokes the roots of your lawn (such as thatch and moss). However, scarifying can stress your grass. So, after scarifying, treat your lawn with some MOOWY-style love to help it recover. Our Scarifying Repair Kit guarantees rapid, successful recovery with exceptional results.
From:

£

23.99
Top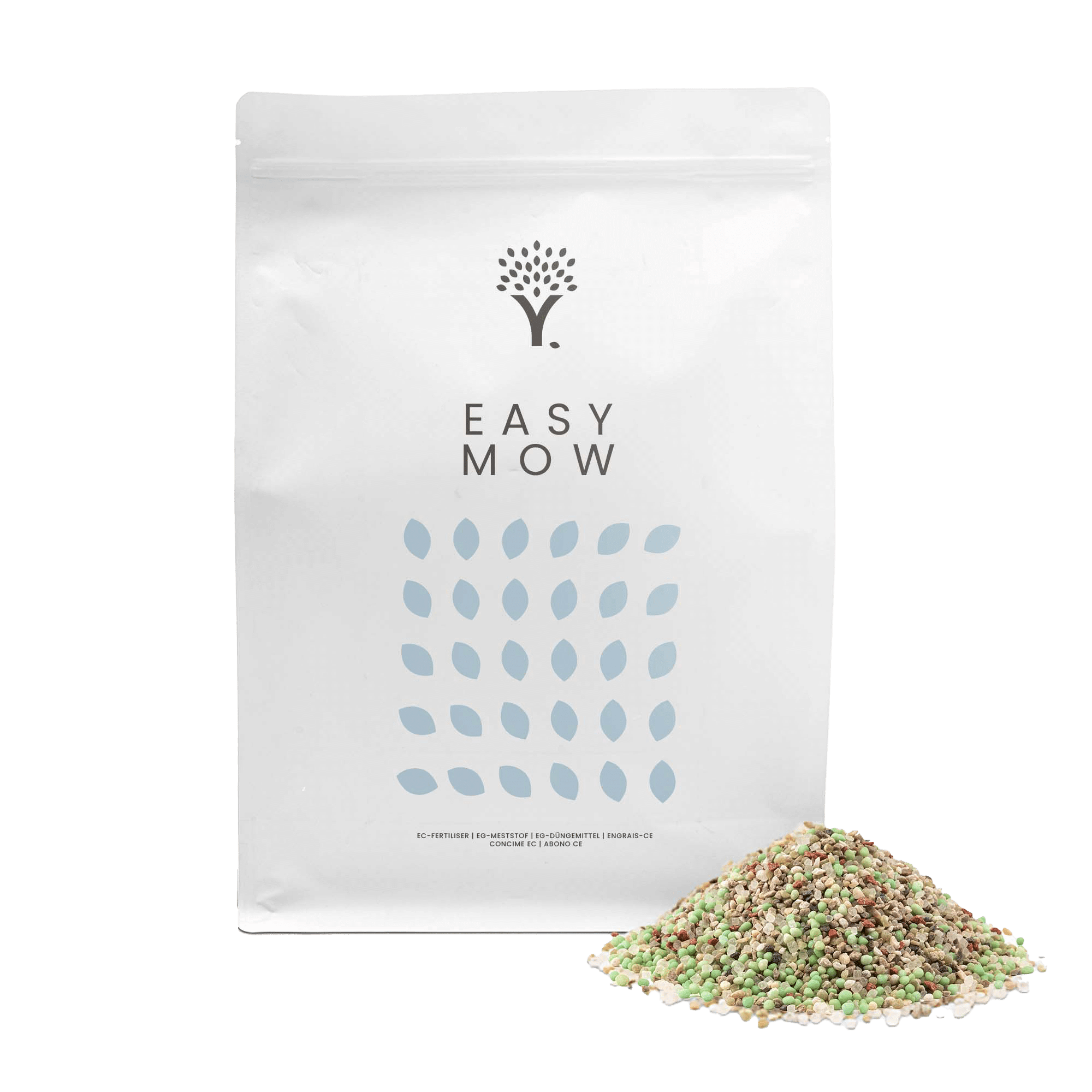 Long Lasting Lawn Fertiliser
Give your grass everything it needs without the excessive growth often associated with fertilising. MOOWY'S long lasting lawn fertiliser works for over 90 days and delivers quick results.
From:

£

13.99
FAQ
Spring
questions
You've got questions? We've got answers!
What does the 100% satisfaction guarantee entail?
If you're not happy with any of our products, please get in touch and let us know about it. We'll do everything we can to help. If we can't help and you're still not satisfied, we'll refund you once you've returned the product to us.
There is moss growing in my lawn: how do I get rid of it?
A good way to get rid of moss is to scarify. Use our Scarifying Kit Standard : it includes everything you need to prepare, scarify, and repair your lawn. Before scarifying, sprinkle Iron Plus 2-in-1 fertiliser after mowing. This makes the grass more robust and resistant to the scarifying process that can stress your lawn. After scarifying, spread more fertiliser to help your lawn recover. Then re-sow the entire lawn with fresh lawn seed (all included), and finally sprinkle lime on the lawn to counteract the acidification of the soil. Wait at least three weeks before spreading lime after fertilising.
Why does my lawn need lime?
Most soils become acid from the natural breakdown of organic matter. Lime restores the acidity level (pH) of overly acid soil. When the pH is right, the grass absorbs nutrients better. Lime, therefore, ensures that your soil absorbs fertilisers better.
When and how often should I spread lime?
Lime binds to nitrogen. If you spread lime and fertiliser too closely together, they bind to each other, and you lose the effect of both. Leave at least three weeks between liming and fertilising.
SUBSCRIBE
Do you want your lawn care
calendar

?

Leave your email address and we will send you our useful lawn care calendar. It's free!
Get your lawn care calendar
Get your lawn care calendar