Balcony Garden Ideas for Small Spaces
Beautify your balcony garden with plants and flowers. Clean the air with oxygen-releasing plants - the perfect remedy for poor city air quality. A step-by-step guide to a beautiful balcony garden.
Free download
Do you want a
lawn calendar?
🌱 All important maintenance moments for your lawn during the year. Leave your email and we will send you the lawn calendar for free.
Receive the lawn calendar in the mail
Enjoy a green lawn all year round!
You don't need a garden to exercise those green fingers. All you need is a window box, balcony, or yard to enjoy a haven of green. So, if you're stuck for space but still want to surround yourself with the energy of living things, you've come to the right place. Read on for balcony garden ideas.
Table of contents:
What is balcony gardening?

Advantages of a balcony garden

Planning your balcony garden

Choosing the correct plants for your balcony garden

Types of balcony gardens or gardens

A step-by-step guide to creating a balcony garden

Ongoing maintenance of your balcony garden

FAQs 
Whether you live in an apartment or have a tiny outdoor yard, any available sunny spot offers a valuable way to enjoy plants and flowers and even grow veg and herbs. Even shaded areas can thrive if you choose the right plants.
This article offers a range of yard and balcony garden ideas that will transform your outdoor space into a lush oasis for relaxing, entertaining, and thriving.
Ready? Let's get started.
What is balcony gardening?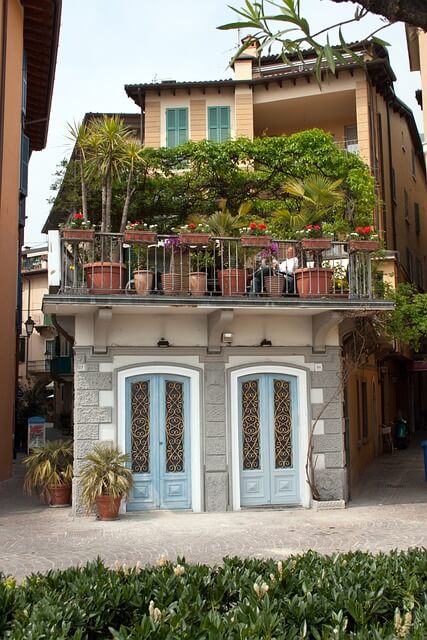 As the name suggests, balcony gardening is about, well: gardening on a balcony. But some considerations differ from typical garden spaces of which to be aware:
The climate
Balconies often have different climate conditions from open gardens. This is because the airflow around a balcony is typically different to gardens.
If you're up in the skies, you're likely to experience more wind (the weather type 😉 ), while gardens tend to be surrounded by walls and fences that protect them from heavy gusts. An open balcony is often more vulnerable to the elements.
Soil control
One of the best things about balcony gardening is that you better control the soil. If you have a garden, you're at the mercy of your local environment — you might have heavy soil that becomes soggy and rots your plants' roots or sandy soil that quickly dries out and loses nutrients.
You're going to use a lot of pots for balcony and yard gardening, so buy the best-quality compost and potting mix you can afford for optimal results.
However:
Pots dry out quickly
Remember that pots don't hold onto moisture as willingly as garden soil. So, you'll need to water regularly.
Some plants prefer dry soil, while others can't bear it. So before choosing your plants, determine the needs of each and do your best to cater to their exact requirements.
You could place all the thirsty plants on one side of your balcony garden and the less moisture-reliant ones on the other. This way, you'll remember which to water more regularly.
Advantages of a balcony garden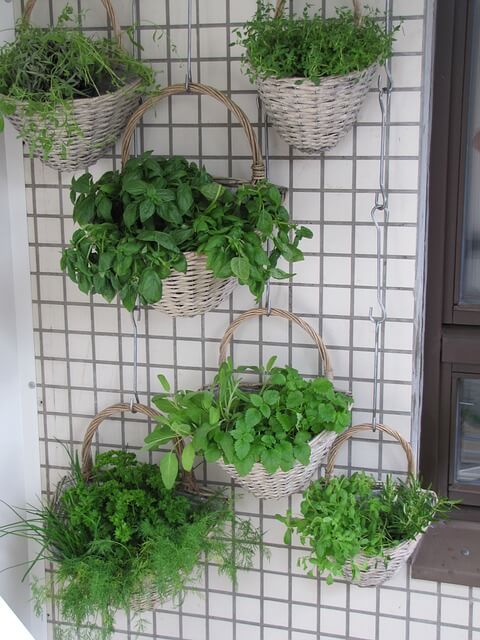 The advantages of balcony gardens extend beyond the purely aesthetic nature of the exercise, but these can't be overlooked!
Filling a space with plants and flowers brightens up the dullest of spaces but also introduces a genuine sense of calm.
You genuinely can't overestimate the value of green and luscious plants to provide an ambience of tranquillity — that's way better than cracking open a bottle of wine to wind down at the end of the day.
Air quality
Plants absorb carbon dioxide, which they use for photosynthesis, and release oxygen as part of the process. So, surrounding your outdoor space with plants is a great way to clear the air.
And that's perfect for those who live in cities surrounded by vehicle fumes.
Grow your own food
Balconies make perfect environments for growing various fruit, veg, and herbs. I've found the best edibles to grow on a balcony are:
Tomatoes — they thrive on sunny balconies
Chillis — small plants that produce plenty of fruit
Aubergines — beautiful plants that produce delicious spongey fruit
Carrots — you can grow them in a pot in a cluster. Perfect for delicious, sweet baby carrots.
Lettuce — I suggest growing "cut and come back" varieties for a continuous supply.
Planning your balcony garden
Firstly, evaluate your available space. Consider the light and wind conditions of your balcony or yard space. And identify how much rain tends to hit your balcony.
It's essential to pay heed to these as they'll dictate the types of plants that will thrive.
Don't worry if you get little or no direct sunlight — some plants love these conditions.
Seating space
Most balconies are on the snug side, so determine whether you have the floor space for seating and build your plan around that. Can you fit a table for working or enjoying a coffee, or can you squeeze into a seat?
Remember, pots don't need to sit on the floor — consider the benefits of a vertical garden, using the walls and the ceiling for beautiful hanging baskets.
Make a sketch
It's easy to get over-excited at the garden centre and buy everything in sight. But before filling your space with pots and plants, draw a basic sketch.
So, think about the layout of your planters and pots, and consider using the walls and ceiling.
The materials
Once you have a basic drawing, list the materials you'll need.
Consider:
Pots
Planters
Potting soil
Compost
Fertilisers
Tools, such as trowels and secateurs
You might even consider an irrigation system if you don't have someone to water your plants while you're away.
The space
If you have a small space, then you should consider the spread potential of the plants you choose.
So, always read the labels or the seed packets to find out how much room the plant needs at full size.
Tempting as it might be, avoid overcrowding your space — it's a recipe for poor growth, fungal diseases, and a lack of sunlight reaching your apartment.
Choosing the correct plants for your balcony garden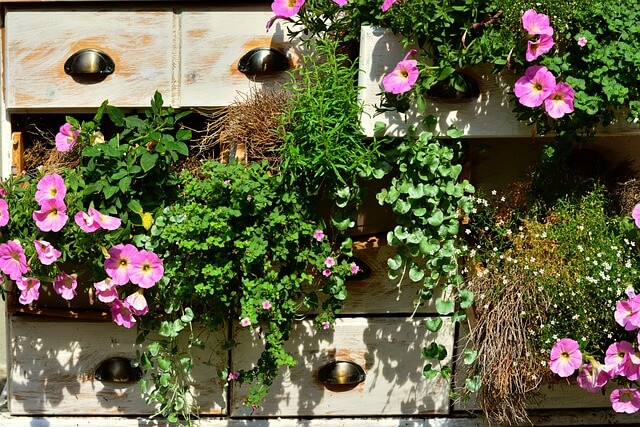 So, now you have the basic facts and a plan, think about the plants that will bring your space to life.
Popular balcony plants include:
Petunias — striking multicoloured flowers; easy to grow and thrive in hanging baskets
Geraniums — drought tolerant and brightly coloured. Great for sunny balconies
Violets — hardy plants that produce tiny but abundant flowers. Perfect for flower boxes and hanging baskets
Lobelia: delicate plants that flower abundantly in blue, purple, or white. Excellent spreading and trailing habits.
Herbs like basil, mint, and rosemary
Veg, like tomatoes and peppers
Choose a mix of perennials and seasonal plants for year-round foliage and seasonal interest.
These potted plants do well in full sun (south-facing):
Lantana
Petunia
Canna
Begonia
Lavender
Bougainvillea
Verbena
Zinnia
Coleus
These plants thrive in partial shade (east/west-facing):
Hostas
Impatiens
Hydrangeas (although these can grow large!)
Ferns
Heuchera
Coleus
Begonia
Lily of the Valley
These potted plants do well in shaded areas (north-facing):
Hosta
Ferns
Caladium
Begonia
Fuchsia
Touch-me-not
Coral bells
Coleus
Astilbe
Typically, fruiting edibles such as tomatoes, peppers, and chillis need good sun exposure to ripen. However, you can ripen fruits by wrapping them in newspaper and storing them in a dark drawer.
Use the railings
If your balcony is enclosed with open railings, consider inviting trailing plants to creep around the rails. This provides greater privacy for your balcony garden and a lovely organic barrier between your home and the outside.
Consider:
Climbing roses
Honeysuckle
Ivy
Clematis
Wisteria
Jasmine (smells delightful on summer evenings)
Types of balcony gardens or gardens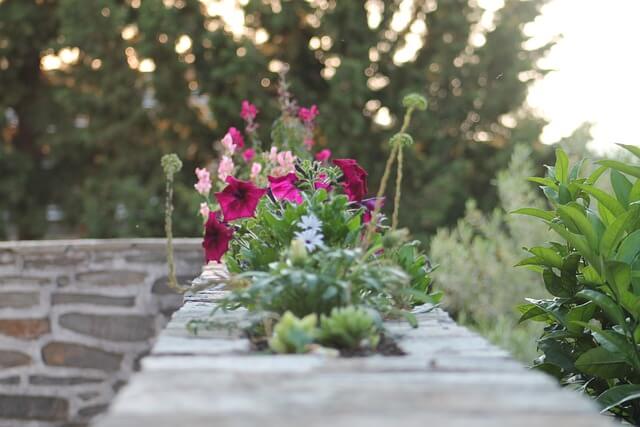 It's not just about pots; there are several ways of revitalising your outdoor space:
Vertical gardens — these make use of the walls and ceiling. Ideal if you have limited space or want to reserve your floor space for furniture. Check out our expert guide to building a vertical garden.
Herb garden — enjoy fresh herbs directly from your window box or balcony. Most herbs need very little space to thrive — my favourites for small spaces are mint, basil, oregano, thyme, and even rosemary.
Mediterranean garden — think lavender, dwarf olive trees, potted palms, and hibiscus. It might sound unlikely, but many Mediterranean plants do well on sunny balconies if protected from the wind.
A step-by-step guide to creating a balcony garden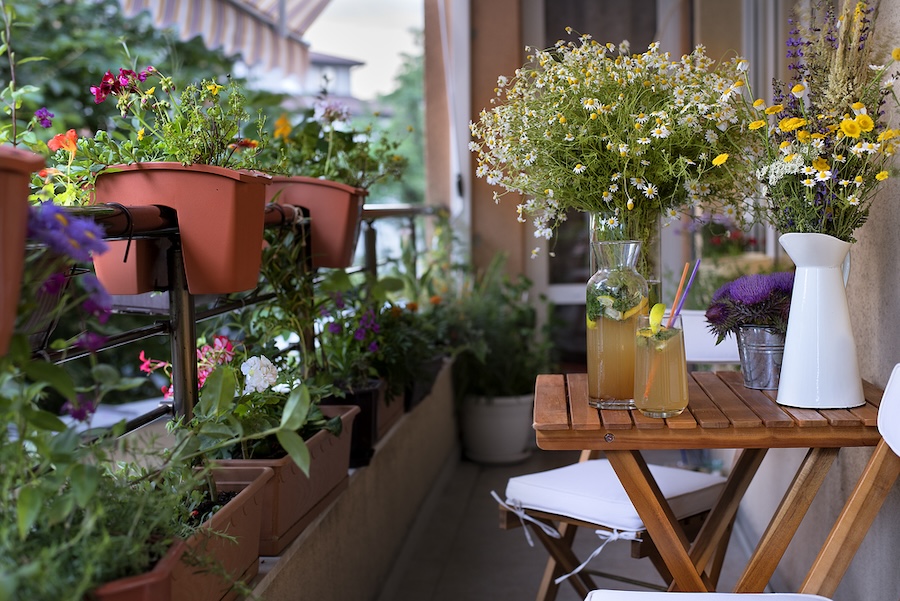 OK. So, we have an idea of the types of plants, tools, and materials we need for our balcony garden. But don't dive head-first in yet.
Follow these steps:
Prepare the space — clean your balcony and ensure it's free of debris, dust, and dirt, which can promote disease later on. Ensure your balcony is strong enough to take the weight of your plant pots and repair any defects before you get started.
Purchase materials — buy enough pots, potting soil, fertiliser (never forget the fertiliser!), and hand tools. If you're installing trellising or wall mesh, you may need a drill, screws, and a screwdriver.
Buy your plants — consider your balcony's exposure conditions and choose plants from the lists above. Of course, our list is in no way exhaustive, so always read the label of any plants not listed for sunlight and protective requirements.
Repot if necessary — if you're using planters, you'll need to fill them with plants. Always avoid overcrowding a planter; it results in poor growth and potential fungal infections.
Arrange your pots — earlier in the process, you identified the sunny spots and the wind-exposed areas. Arrange your plants to suit these conditions. Ensure your plants have the space to grow and that the soil drains well to prevent root rot.
Water and fertilise — remember: balcony gardening requires ongoing input. So, water your plants well after repotting and placing them, and keep them watered. Fertilise regularly (following the packet's instructions) because pots run out of nutrients more quickly than garden soil.
Maintain your plants — prune big plants back regularly to keep them healthy and from overgrowing. And remove dead leaves while keeping an eye on signs of pest infection. Always tackle infections as soon as you spot them to prevent them from spreading.
And enjoy! — ultimately, you've created your stunning balcony gardening to enjoy it. So, sit back and enjoy!
Ongoing maintenance of your balcony garden
You've set up your garden. Now, ensure you keep it thriving.
Watering — pots dry out quicker than garden soil. Press your finger into the top inch of soil — if it's dry, give your plant some water; if it's moist, you can leave it.
Feed — potted plants only thrive with plenty of nutrients, so fertilise regularly. Read the packet. For example, you can feed indoor potted plants every two weeks with BabyBio.
Pruning — keep your plants compact and in good shape by pruning a couple of times a year. Remove dead leaves and flowers to promote growth.
Fighting pests and disease — check your plants for signs of diseases or pests. Opt for natural pesticides wherever possible.
Protect from extreme weather — frost and intense heat are the enemies of many plants, so cover them with horticultural fleece or bring them indoors during prolonged frost.
FAQs 
What can you grow on a balcony?
Many plants are happy on a balcony, but consider the microclimate and match plants according to the expected weather exposure. Tomatoes, lettuce, and strawberries do well on sunny balconies, while hostas, ferns, and begonias enjoy more shaded outdoor spaces. Always read the instructions on the label when you buy a plant and follow the recommendations. 
How do I make a nice balcony garden?
Consider the available space, and remember you can use the walls and ceilings for hanging baskets and trailing plants if you lack floor space (or don't want to take all the floorspace up with pots). Some of the best balcony trailers include trailing rose, ivy, and honeysuckle.
Which plants thrive on a north-facing balcony?
If your balcony faces north, you won't get a lot of direct sunshine. But you can still grow plants and flowers on your shaded balcony. The best plants for shady areas are hostas, ferns, caladium, coleus, and fuchsia.
Any questions?
I hope I've answered all your questions about creating a thriving balcony garden. But if you have any questions, get in touch.
Or explore our comprehensive Help & Advice section — for everything lawn and garden-related.
Thanks for reading. And happy gardening.
Your answer will be displayed on the site and the interested party will be notified by email.
Have a question or want to share your experience? Leave us a comment.
Read
more
The best tips and tricks for a lush green lawn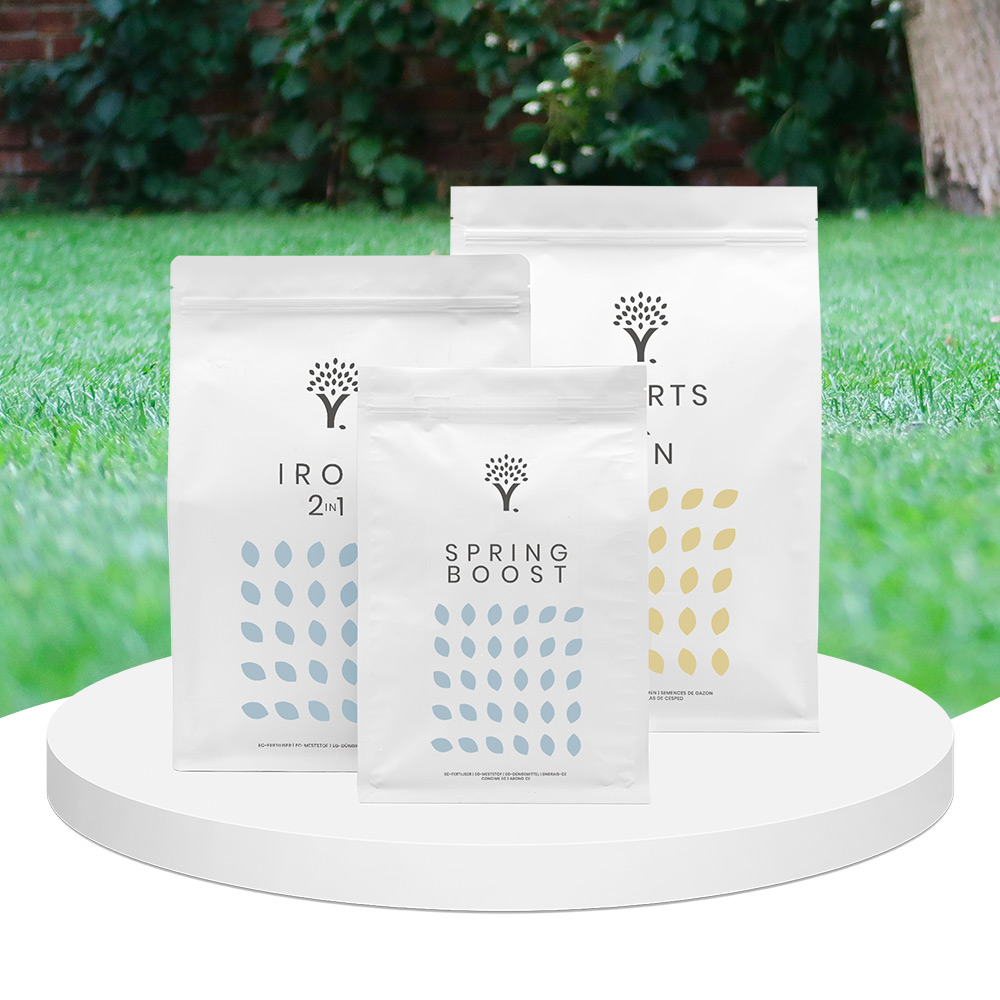 Scarifying Kit
All products after scarifying | Quickly restores the lawn after scarifying | Outsmart weeds quickly with the use of this kit
From:

£

39.99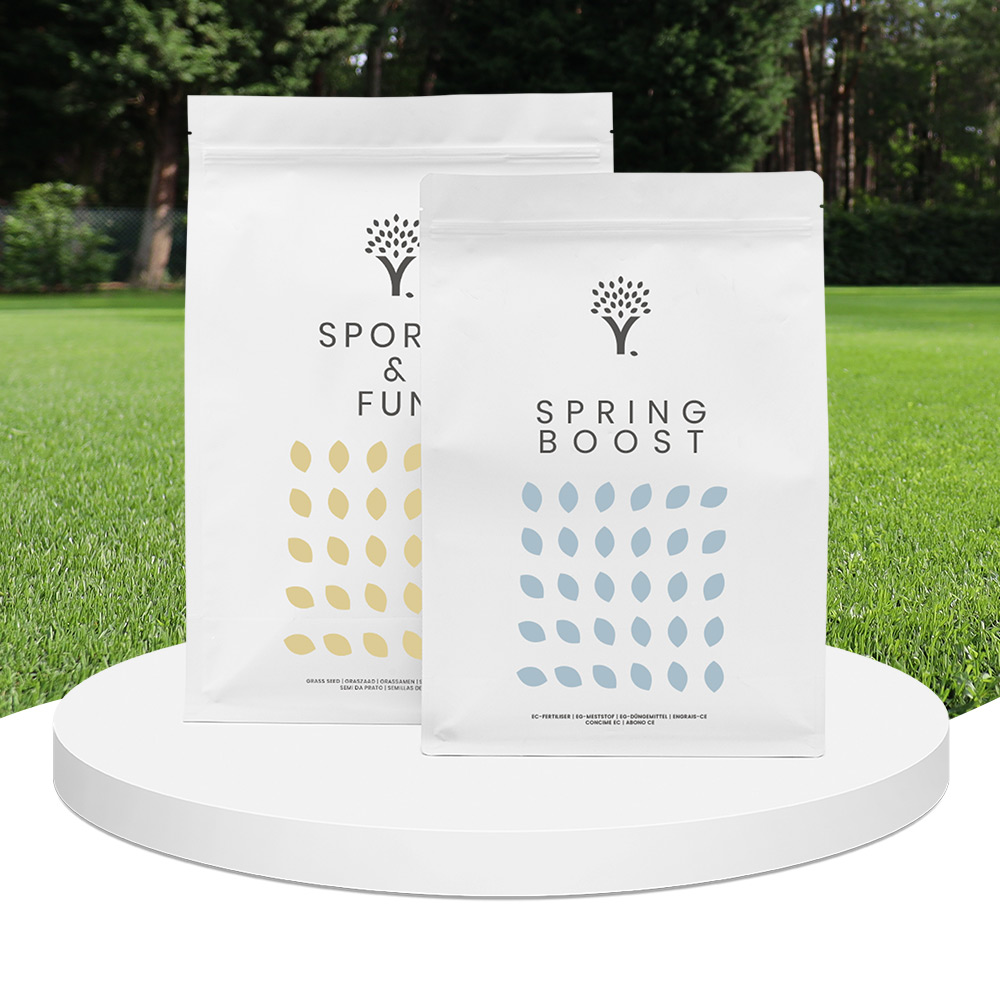 Spring Lawn Care Kit
MOOWY's choice for the spring | Quick recovery of your lawn after winter | A strong lawn prevents weeds
From:

£

25.99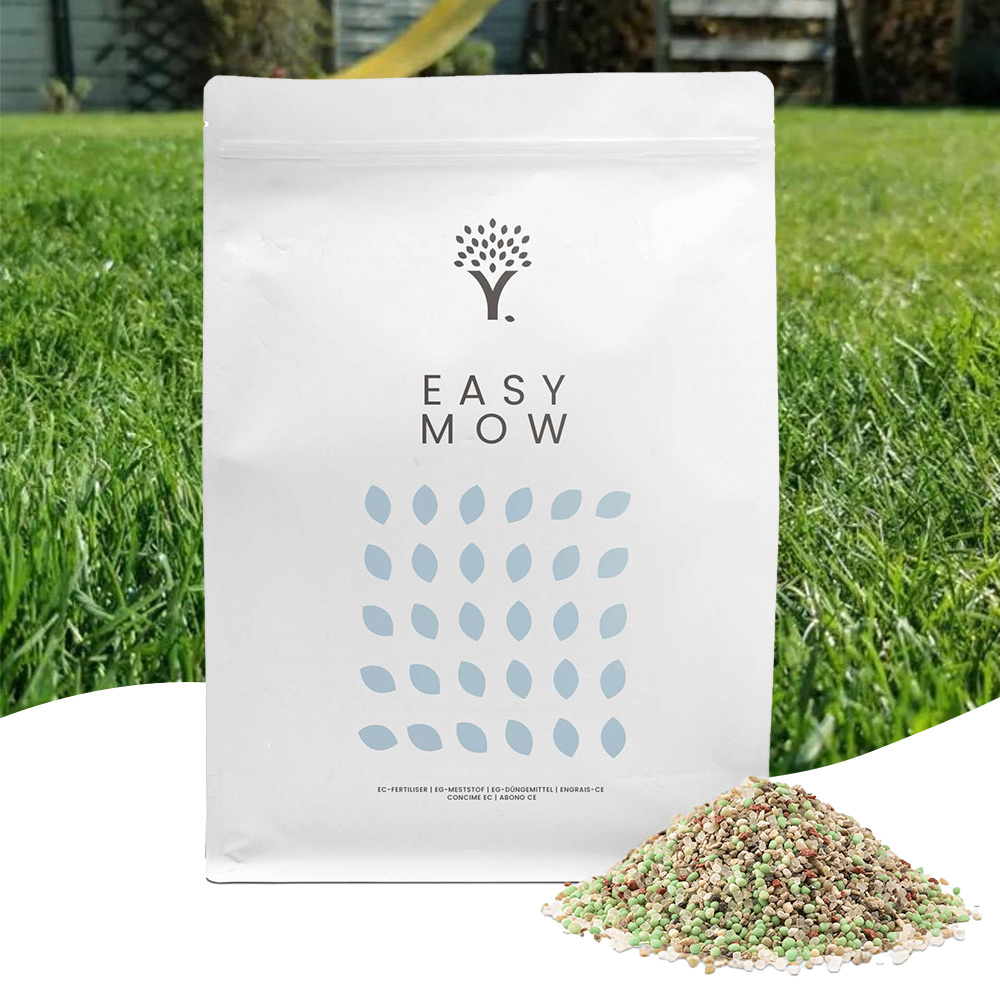 Long Lasting Lawn Fertiliser
Effective for 90 days | See results in 14 days! | Suitable for all types of grass and soil
From:

£

13.99
Free download
Do you want a
lawn calendar?
🌱 All important maintenance moments for your lawn during the year. Leave your email and we will send you the lawn calendar for free.
Receive the lawn calendar in the mail
Enjoy a green lawn all year round!