Easy Veg to Grow from your Windowsill
Growing veg on your windowsill is a fun way to supplement your food shop. Check out which plants do best indoors.
Free download
Do you want a
lawn calendar?
🌱 All important maintenance moments for your lawn during the year. Leave your email and we will send you the lawn calendar for free.
Receive the lawn calendar in the mail
Enjoy a green lawn all year round!
Do you want to grow your own veg but are unsure where to start? You don't need a large indoor space to enjoy a regular harvest of herbs, fruiting veg such as tomatoes and peppers, and even onions. You simply need to know how to grow veg from a windowsill.
Growing vegetables on your kitchen windowsill is a satisfying supplement to your weekly shop. Don't expect to grow root veg—you need lots of earth for those—but many fruiting and green edibles are perfectly happy growing before your very eyes.
In this blog, I'll share how to grow:
Spring onions
Lettuce
Tomatoes
Spinach
Peppers and chillies
Garlic
Pea shoots (yum!)
Ready? Let's sow!
What do you need to grow windowsill veg?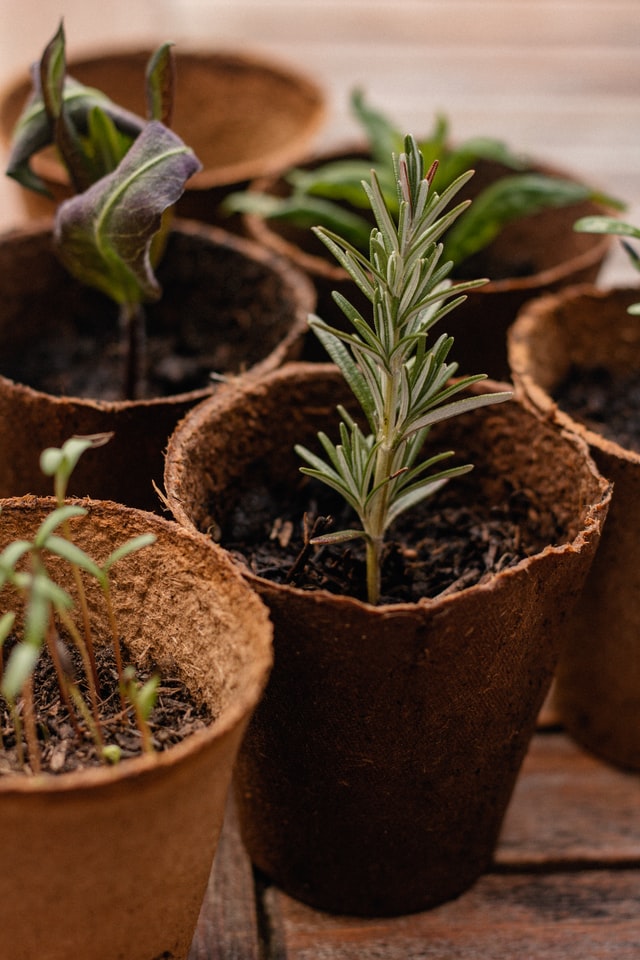 You don't need a lot of special equipment; you just need a bit of enthusiasm and patience. And don't throw out those plastic mushroom punnets – we'll use those as well.
You'll need:
Seeds or sets (depending on what you're growing
A bag of good quality compost
A windowsill that gets plenty of sunlight
Water
Patience
Windowsill veg: Spring Onions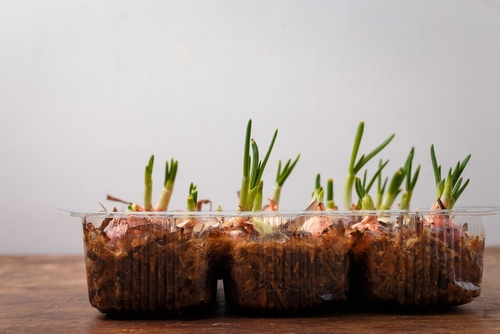 Spring onions are a delightful addition to your salad bowl. And although they're in plentiful supply at your local supermarket, there's nothing more satisfying than adding a few homegrown to your meal. Also, spring onions are delicious in a stir-fry.
Make sure your mushroom box has drainage holes. Alternatively, just use a standard pot.
Fill an old mushroom box three-quarters deep with good-quality compost.
Sow individual onion seeds, leaving space between them. Typically, you leave 10cm between each plant, but you can sow them closer in this case. There should be space for at least ten seeds.
Cover the seeds with 2cm of compost.
Water. Don't let the soil dry out.
Seedlings will appear within two weeks. Keep the soil moist (not wet). You know what a spring onion looks like. You can lift the entire bulb or chop off the leaves when it appears.
Alternatively, you could transfer your spring onions into the garden – they'll grow into full-sized onions.
TIP – Rather than lift the entire bulb, you could chop the top leaves for a delicious oniony addition to a stir-fry or a salad. Just let the leaves grow back, and repeat!
Windowsill veg: Lettuce
Loose leaf lettuce grows quickly and can provide an ongoing supply of salad leaves (as long as you keep the soil moist). It doesn't even require that much sunlight – just a few hours a day is plenty. And choose a "cut and come again" variety for the endless supply.
The process is remarkably similar. Well, exactly the same, actually, but you can sow the seeds a little more liberally.
Fill a pot of mushroom punnet with compost.
Sow the lettuce seeds.
Cover with compost.
Keep the compost moist.
And for an attractive aesthetic, combine red-leafed lettuces with green-leafed varieties in the same pot.
TIP – Be careful to avoid overcrowding your pot. Lettuce plants have surprisingly large roots.
Windowsill veg: Tomatoes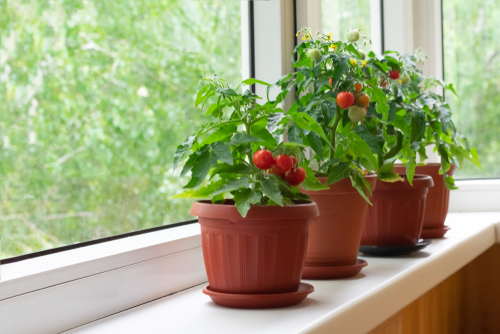 Tomatoes are larger plants, so they wouldn't do well in a mushroom punnet—they need a proper pot and plenty of sunlight.
Tomato plants are surprisingly robust – many experts recommend that you treat them mean to keep them keen. Roughly translated, that means that it's OK to let the soil dry out now and then. Don't overwater.
Full-sized tomato plants grow well over a metre in height, so those aren't ideal for a windowsill.
Choose dwarf varieties, such as cherry tomatoes, which grow in a medium-sized pot—they're much sweeter. Alternatively, grow cherry tomatoes in a hanging basket near a window for a beautiful trailing plant.
Other varieties that grow well inside are Early Salad, Pretty Patio, Tiny Tim, and Red Cushion.
Fill a pot with good quality compost and sow one or two seeds in each pot.
Water and leave in a warm, sunny position.
After a week or two, you'll see seedlings emerge. Let them grow to around 5cm in height.
At this stage, you only want one plant per pot. So pull out the weaker seedling to let the stronger plant thrive. Alternatively, separate the plants by lifting the soil out of the pot and dividing the plants; repotting both seedlings. Don't worry—they're robust little plants; they can handle a bit of disturbance.
Windowsill veg: Spinach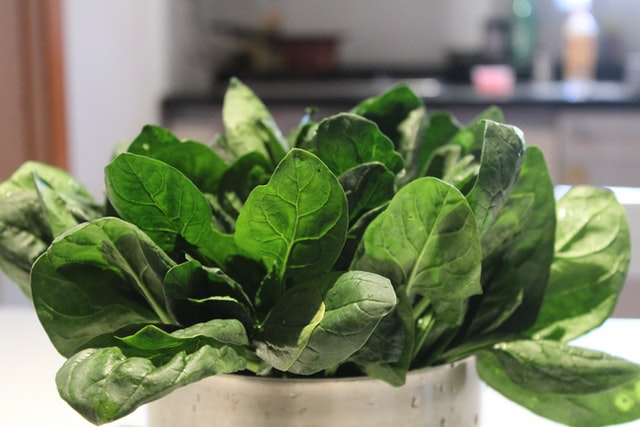 Spinach is super-easy to grow and can provide an ongoing supply of delicious leaves that not only taste amazing but will be the freshest spinach you're ever likely to eat.
Grow in 6-in deep pots, adding the compost almost to the top.
Sprinkle the seeds generously and cover them with 1cm of compost.
Water, and wait.
Keep the soil moist. Spinach will grow in partial sun—if the plant gets a few hours of sun a day, that's enough.
Windowsill veg: Peppers and Chillies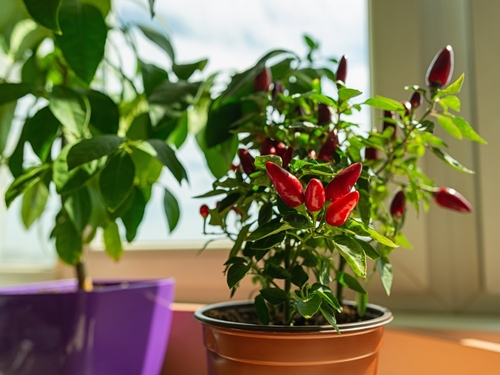 Peppers and chillies—like tomatoes—need sunlight. So, grow these plants on a sunny windowsill, and they'll repay you with delicious, fiery fruit that blows supermarket peppers out of the park!
You can sow pepper/chill seeds directly into the growing pot, but most seeds germinate better in a propagator or a seed pot. Once the seedlings are robust enough to transfer (about 5-6cm in height), move them into an 8-10in deep pot.
Then, keep the soil moist and watch the lovely green plant grow—eventually flowering and fruiting.
Pepper plants (that includes chilli!) are usually self-pollinating. Once the plant is in bloom, give the branches a gentle shake to help things progress.
Choose short, compact varieties of pepper plants, and snip the top growing leaves once the plant reaches around 12-16in in height. This will encourage bushiness rather than height.
Windowsill veg: Garlic
Garlic grown indoors is unlikely to split into bulbs because it requires a frosty snap to trigger division. But you'll love the garlic greens—the sprouts that quickly appear after planting your bulbs.
Garlic greens are DELICIOUS sprinkled over salads or added to your cooking dish just before serving. Or use them as you would spring onions.
You can plant supermarket garlic bulbs or buy special seed bulbs. Either way, the results are essentially the same. I think it's a bit of a waste to plant seed bulbs as they won't split into heads if grown indoors.
Just as an aside, garlic is incredibly easy to grow outside, whether in pots or the ground. Split a garlic head into individual bulbs, and plant root end down with the pointed top upwards. Cover with soil and water if the soil is dry.
In the kitchen, the process is primarily the same. Plant up to three bulbs in a pot and keep the soil moist. Don't over-water garlic; otherwise, it will rot.
Windowsill veg: Pea Shoots on your windowsill
Full-sized pea plants are way too big for a windowsill or window box, but the fresh shoots from pea seedlings are delicious. They have that inimitable pea flavour with a delightful crunch of crisp stalks.
Just add a handful of pea seeds to a pot—way more than you would ever add if you were sowing them to plant on—and cover with 1cm of compost. Keep the soil moist, and little sprouts will appear within a week or two.
As soon as the sprouts are around 5cm in length, they're good for garnishing your plates. Pile a handful of pea shoots on top of a pasta dish or risotto, or include them among your usual leaves for a tasty surprise that perks up a salad.
They grow back once cut, so this is definitely an excellent "cut and come again" idea that keeps giving!
Other veg that will happily grow on your windowsill
To be honest, I'd recommend giving anything a go! You could equally enjoy success with:
Radishes
Microgreens and sprouts
Strawberries
Nasturtium
Herbs, such as basil, oregano, thyme, rosemary, mint
Cress (grow it in compost for an extra peppery hit)
Baby beetroot
Rocket (aka arugula)
Do you have questions?
We hope we've provided some inspiration for your windowsill garden, but if you have any questions, don't hesitate to get in touch.
We love to hear from you, so email us, and we'll get right back!
Happy growing!
Your answer will be displayed on the site and the interested party will be notified by email.
Have a question or want to share your experience? Leave us a comment.
Read
more
The best tips and tricks for a lush green lawn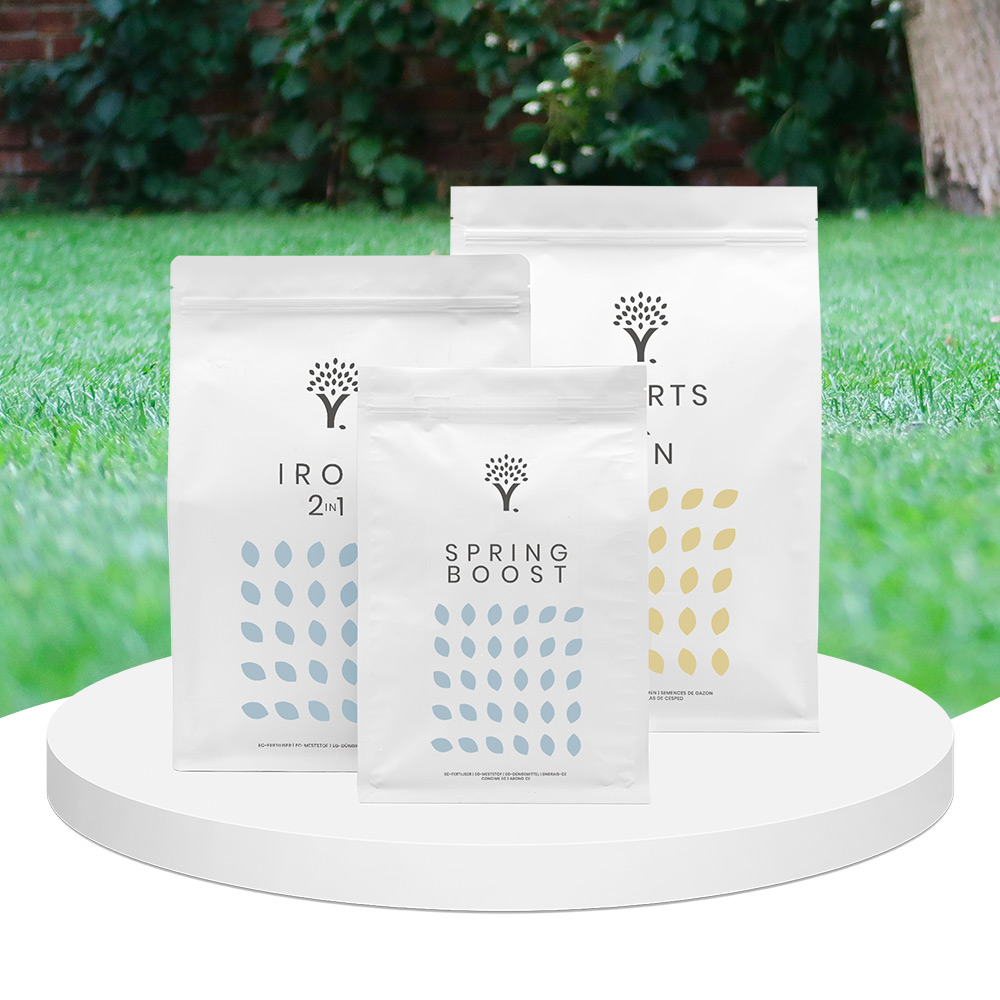 Scarifying Kit
All products after scarifying | Quickly restores the lawn after scarifying | Outsmart weeds quickly with the use of this kit
From:

£

39.99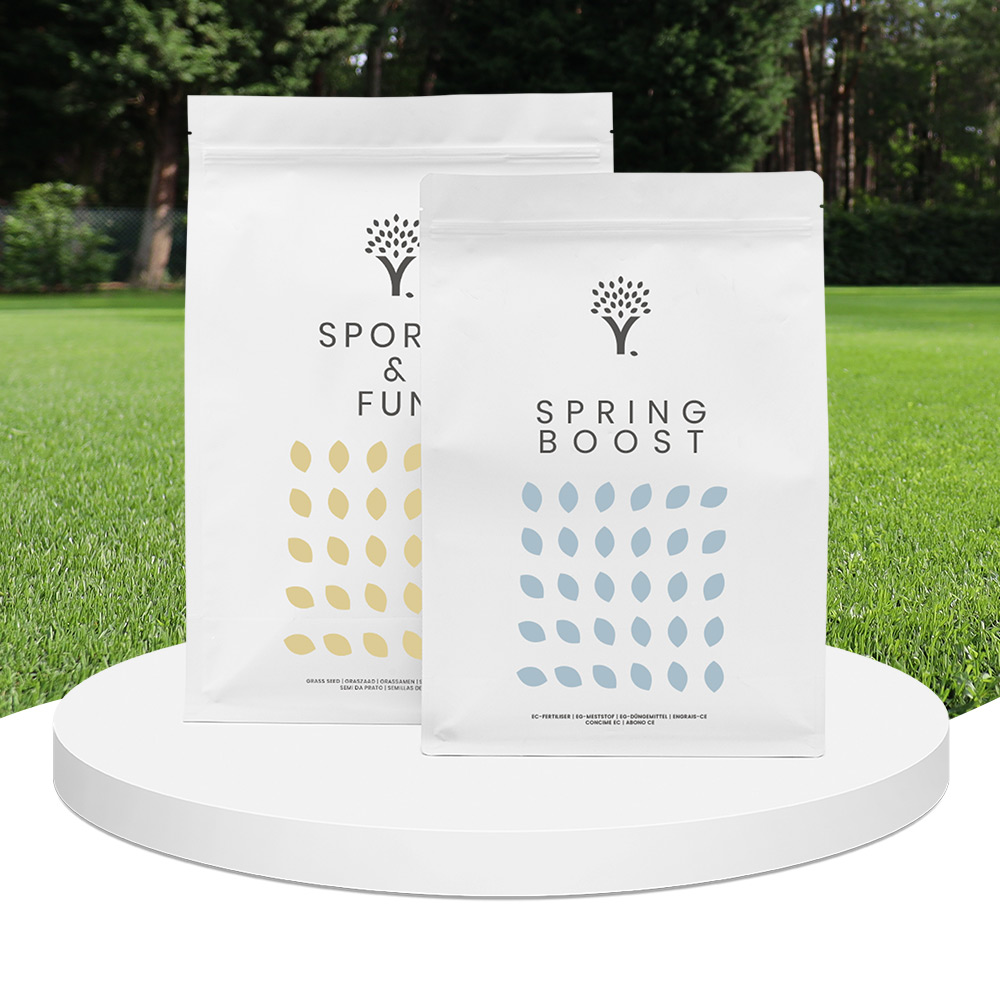 Spring Lawn Care Kit
MOOWY's choice for the spring | Quick recovery of your lawn after winter | A strong lawn prevents weeds
From:

£

25.99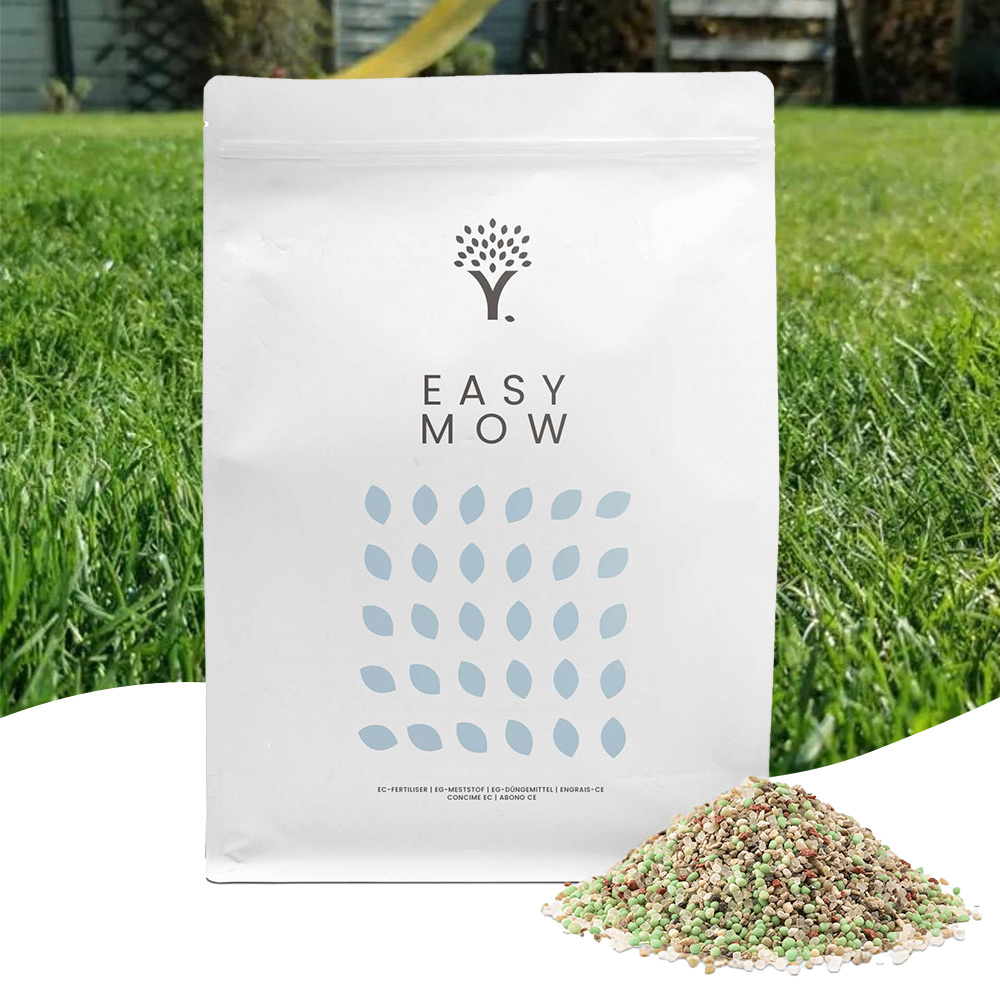 Long Lasting Lawn Fertiliser
Effective for 90 days | See results in 14 days! | Suitable for all types of grass and soil
From:

£

13.99
Free download
Do you want a
lawn calendar?
🌱 All important maintenance moments for your lawn during the year. Leave your email and we will send you the lawn calendar for free.
Receive the lawn calendar in the mail
Enjoy a green lawn all year round!