A Comprehensive Guide to Perennial Plants: Your Key to Choosing, Planting, and Caring
Perennials are long-living plants that provide years of joy. But it's essential to select the right perennials for your garden conditions for the best results. Find out all about which to choose here.
Free download
Do you want a
lawn calendar?
🌱 All important maintenance moments for your lawn during the year. Leave your email and we will send you the lawn calendar for free.
Receive the lawn calendar in the mail
Enjoy a green lawn all year round!
The world of gardening is exciting and diverse, with a myriad of plants to choose from. One particular group that's eternally popular are the perennial plants — often simply referred to as "perennials". Known for their resilience and enchanting beauty, perennials transform your garden into a lush oasis of colour and life.
Table of contents:
Demystifying Perennial Plants

The Aesthetic Appeal of Perennials

The Versatility of Perennials

The Value of Perennials

Growing Perennials: A Comprehensive Guide

Top 20 Perennials to Grow

When to Plant Perennials

How to Plant Perennials

Caring for Perennials

Propagating Perennials

Buying Perennials: Advice and Tips

FAQs
Perhaps the principal reason for the popularity of perennial plants is their longevity — you plant them once, and they return year after year. A gardener develops a relationship with a perennial that isn't possible with an annual.
Let's delve into the captivating world of perennials, from understanding what they are and the best varieties to grow them to how to care for these beautiful, long-living plants.
Demystifying Perennial Plants
Perennial plants live for over two years — in fact, the term 'perennial' originates from the Latin 'perennials' meaning 'through the years'. This is in contrast to annuals, which complete their lifecycle in just one season.
Perennials predominantly flower in the warm months of spring, summer or autumn, with some types even blooming in winter. They boast attractive foliage and innate resilience, with many tolerating low temperatures and capable of surviving outside all year round.
The world of perennials is diverse, with many subcategories.
For instance, herbaceous perennials die back to the ground in autumn and regrow in spring. Some examples include Verbena bonariensis, penstemon, and ornamental poppies.
On the other hand, evergreen perennials, such as certain varieties of heuchera and hosta, maintain their leaves throughout the year.
The Aesthetic Appeal of Perennials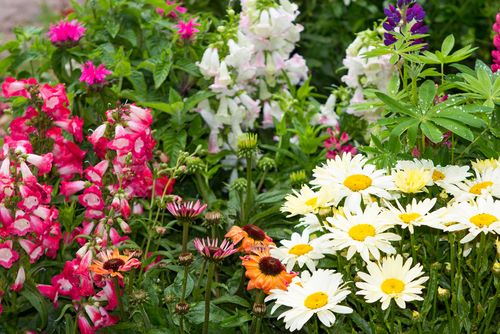 Perennials offer some of the most aesthetically pleasing garden plants, known for their colourful flowers and attractive foliage. Indeed, perennial plants add a touch of elegance to any garden, but unlike shrubs and trees, they lack a woody structure.
Deciduous vs Evergreen
Deciduous perennials die down to their roots every autumn. However, they resurrect in the spring, filling the garden with new life. They often return more robust and abundant each year, as long as they're given everything they need during their growing season for a successful dormancy.
Evergreen perennials keep their leaves all year round, offering a vibrant splash of colour to your garden during the cold winter months.
The Versatility of Perennials
One of the significant advantages of perennials is their versatility. They adapt to various soil types and garden conditions, making them a popular choice among gardeners. From sun-loving salvias to shade-adoring hostas, drought-tolerant succulents to aquatic water lilies, there are perennials to suit every garden.
However, it's worth noting that some perennials have specific requirements, such as full sun exposure or acidic soil. They may not thrive if planted in unsuitable locations.
Therefore, it's crucial to check the plant's specific needs before planting.
The Value of Perennials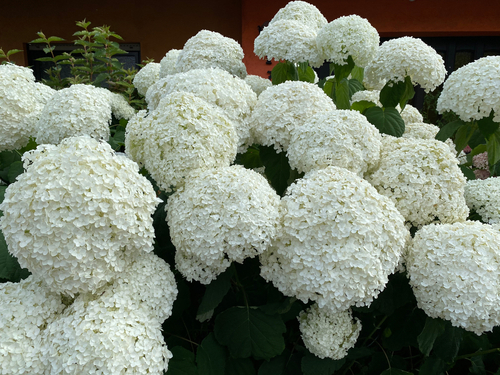 Perennials offer great value for money, given their long lifespan. They can live for many years, providing an enduring splash of colour to your garden.
In addition, it's generally fairly straightforward to propagate and split a perennial, allowing you to create more plants for free. This can be done by dividing clumps, taking cuttings, or collecting and sowing seeds. More about that later. (?)
Growing Perennials: A Comprehensive Guide
Growing perennials can be a rewarding experience. However, to ensure their healthy growth and vibrant blooms, it's essential to understand the right way to grow and care for these plants.
How to Grow Perennials
Before planting perennials, it's crucial to assess your garden conditions.
This includes:
Analysing the soil type — do you have clay, loamy, or sandy soil?
Identifying your soil's moisture retention — does it hold onto moisture or drain very quickly?
Recognising a flowerbed's sunlight and wind exposure — is it shady/exposed/windy/cold?
Ultimately, your perennial's long-term survival relies on matching its needs with your garden's conditions.
I recommend selecting a variety of perennials that flower at different times of the year. This way, you'll ensure a long-lasting display of blooms throughout the year. Combine your perennials with shrubs, ornamental grasses, and annuals to create a vibrant and dynamic garden.
Top 20 Perennials to Grow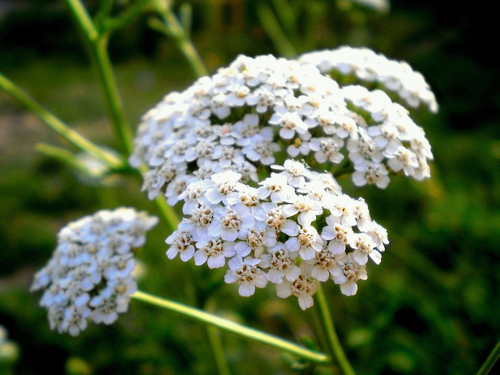 To help you get started, here's a list of the top 20 perennials you can grow in your garden:
Yarrow (Achillea): Known for its colourful summer display, Yarrow thrives in a sunny spot. Producing white or light pink flower clusters, yarrow exudes a strong, pleasant fragrance when in bloom. The flower heads appear in June, lasting till November.
Michaelmas Daisy (Aster): A late summer and autumn favourite, it prefers sunlight. Perfect for cottage gardens and mixed borders. Best suited to moisture-retentive (but never water-logged) soil, which has been fertilised with organic fertiliser, such as homemade compost or leaf mould.
Elephant's Ears (Bergenia): A tough perennial that loves both sun and shade. With glossy leaves and late-winter/spring flowers, they thrive in humus-rich, well-draining soil. They can tolerate poor soil conditions, which can actually improve the production of autumnal reds.
Crocosmia: A summer star with vibrant orange, red, or yellow funnel-shaped blooms and bronze-tinted leaves. It does well in most soils but isn't particularly drought-resistant, so it needs moist soil in summer. Does best in full sun but can tolerate dappled shade.
Delphinium: Known for its tall stems and beautiful blue, purple, or pink flowers, it thrives in sun or partial shade. Prefers free-draining soil and shelter from strong winds. Suitable for most soil types — add well-rotted manure or compost prior to planting.
Sea Holly (Eryngium): Loves sun and free-draining soil and produces gorgeous blue flower heads with spiky bracts. This lovely plant flowers in summer and autumn.
Spurge (Euphorbia): Known for its long-lasting architectural foliage and bold heads of acid-yellow 'flowers', similar to a hydrangea. Great for ground cover and perfect for a touch of tropical interest in your flowerbed.
Cranesbill (Geranium): An excellent choice for border fronts, raised beds, and underplanting larger plants. Quite happy in most soil types, it prefers well-drained, moist soil and is tolerant of acidic soil. This summer flowerer prefers full sun but is quite comfortable in partial shade.
Hellebores (Helleborus): A winter/spring-flowering perennial with pretty flowers ranging from white and green to shades of pink and purple. Also known as the Christmas rose, these lovely plants brighten up a winter garden. Likes moist, fertilised soil, although it can cope with most soil types. Preferring light shade, they'll cope with full sun as long as you don't let the soil dry out. Dislikes extremes — very dry/very wet/full sun.
Daylilies (Hemerocallis): Known for their profuse colourful summer blooms. An easy-going plant that likes free-draining, fertilised, moist soil. They're OK in partial shade but will produce more flowers in full sun.
Heuchera: Renowned for its all-year bold-coloured foliage interest, these are great plants for borders and containers placed in partial shade. Producing tiny white, pink, or red flowers, the Heuchera prefers dappled shade and most soils — just not too dry or wet.
Hosta: Known for its bold and handsome leaves, it thrives in full or partial shade. If they're happy in their shady spot, they'll produce cone-like droopy summer flowers. However, slugs and snails LOVE a hosta, so you might need to put some slug protection measures in place.
Ice Plant (Hylotelephium spectabile): Provides colour in late summer, attracting bees and butterflies; the ice plant looks similar to a hydrangea. Happy in well-drained earth, but not a fan of acidic soil. Prefers full sun in a south- or east-facing aspect.
Iris: A diverse genus that offers something for almost every garden situation, the Iris is an easy, undemanding plant, perfect in the ground or containers. There are so many Iris varieties that you'll need to pick one that suits your particular garden conditions. Pick the right variety, and you'll enjoy beautiful blooms every year.
Japanese Anemone (Anemone hupehensis): Easy and reliable for late summer saucer-like white or pink flowers, these plants prefer moist and free-draining soil. Fine in full sun but ideally suited to light shade. Dislikes cold, wet winter soil and won't flower in deep shade or arid conditions.
Lupin: An old favourite cottage garden flower. Water them regularly during their first year; after that, they're relatively drought-tolerant and will only need watering during severe drought. Prefers full sun in well-drained soil — will not flower in the shade.
Bee Balm (Monarda): Known for its gorgeous showy red or pink flowers in summer, Monarda grows in any fertile soil. Prefers moisture-retentive, well-drained soil, so a good choice if you have clay earth. Prefers full sun but copes well in dappled shade. Hates waterlogged soil, so make sure the soil drains well.
Oriental Poppy (Papaver orientale): Known for its enormous, showy blooms in spring and early summer, this variety prefers moist but well-drained soil and full sun. The plant grows up to 90cm in height, so it can take up a fair amount of room in a flowerbed.
Primroses (Primula): Beloved for their early spring flowers, primula are generally happy in most soils as long as it's neither too wet nor dry. Happy in full sun or light shade. Dislikes limey soil and won't flower in deep shade.
Lungwort (Pulmonaria): Known for its stunning white, pink or blue spring blooms, pulmonaria is tolerant of most soil types — just don't let them dry out. Best in light shade but can tolerate full sun once fully established.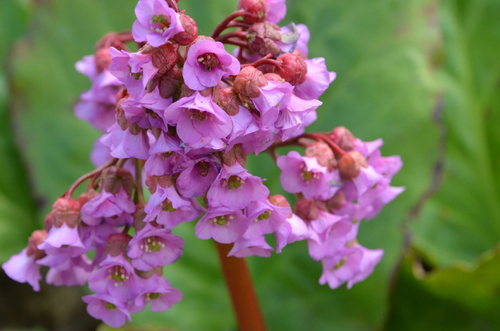 When to Plant Perennials
Timing is crucial when planting perennials.
Autumn is considered the ideal time to plant hardy perennials while the soil is still warm. This allows the plants to establish a sound root system in time for the following spring.
Spring is the next best time to plant perennials, especially for those that aren't reliably hardy.
Garden doctor Louis says:
You can plant hardy perennials during winter in mild areas, except when the ground is frozen or waterlogged.
How to Plant Perennials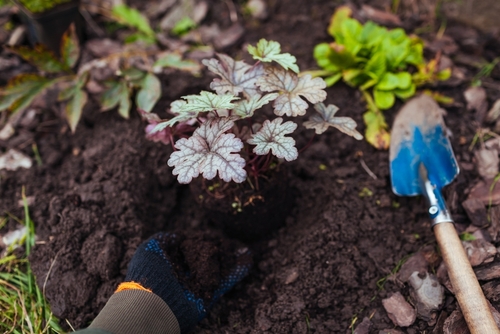 You must prepare the ground thoroughly, as most perennials will stay in their position for years.
So, improve the soil with plenty of well-rotted organic matter or soil conditioner, remove large stones, and clear all weeds.
Dig a hole slightly larger than the plants' roots or pot, remove the pot, and carefully unwind any roots that have spiralled around the rootball.
Then, plant the perennial so the top of the rootball is at soil level, then backfill with soil, firm to remove any air pockets, and water thoroughly.
Caring for Perennials
Caring for perennials involves a few crucial steps.
In early spring, feed your perennial plants with a general slow-release fertiliser and mulch the bare soil between plants with well-rotted organic matter.
Support tall-growing perennials with stakes such as canes and string during spring or early summer.
Remove dead and faded flowers to prolong the flowering season and keep plants looking good. In autumn, cut back fleshy-leaved perennials as soon as they die back.
Propagating Perennials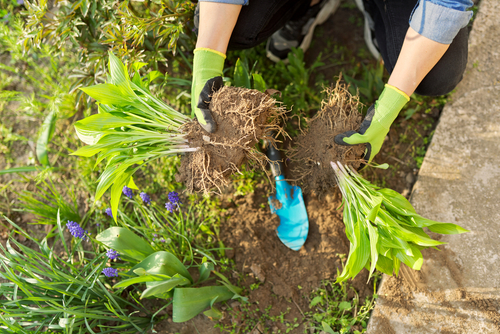 Propagating perennials can be a cost-effective way to get more plants.
Many can be raised cheaply from seed. And once they've formed good-sized clumps, nearly all can be propagated by division.
This involves breaking up the clump into good-sized chunks to replant while discarding the old, woody centre.
Buying Perennials: Advice and Tips
Perennials are widely available at nurseries and garden centres, and you can also buy them by mail order. They come in different pot sizes, allowing you to choose between immediate impact or smaller ones that take a year or two to grow.
You can buy perennials as plug plants, which need growing on in pots before planting in the garden.
So, now that you have a comprehensive guide to perennial plants, it's time to transform your garden into a blooming paradise.
Garden doctor Louis says:
Remember, gardening is not just about planting: it's about nurturing life and, in return, being nurtured by the beauty it brings.
FAQs
What is the best perennial plant?
Perennials are long-living plants that produce lovely flowers and foliage yearly. The best perennial plant for your garden really depends on your garden's conditions. For a shady garden, you can't go wrong with a hosta, while you'll get years of enjoyment from daylilies in full sun. 
What month is best to plant perennials?
The best optimal time of year to plant perennials is autumn when the soil is still warm. The second best time is early spring, especially if you're planting a less-hardy variety. Always check the label when you buy a plant from a garden centre for species-specific instructions. 
What is the difference between shrubs and perennials?
A shrub is a small, woody plant — generally smaller than a tree, which grows close to the ground. A perennial plant can be herbaceous or woody — herbaceous perennials die down to the roots in autumn and return in spring, while woody perennials tend to be evergreen. 
Any questions?
I hope I've provided all the info you need to choose, plant, and care for your perennial plants. But if you have questions, I'd love to hear from you.
Or check out our comprehensive Help & Advice section for all your lawn care and garden questions answered — all in one place!
Thanks for reading. And happy gardening!
Your answer will be displayed on the site and the interested party will be notified by email.
Have a question or want to share your experience? Leave us a comment.
Read
more
The best tips and tricks for a lush green lawn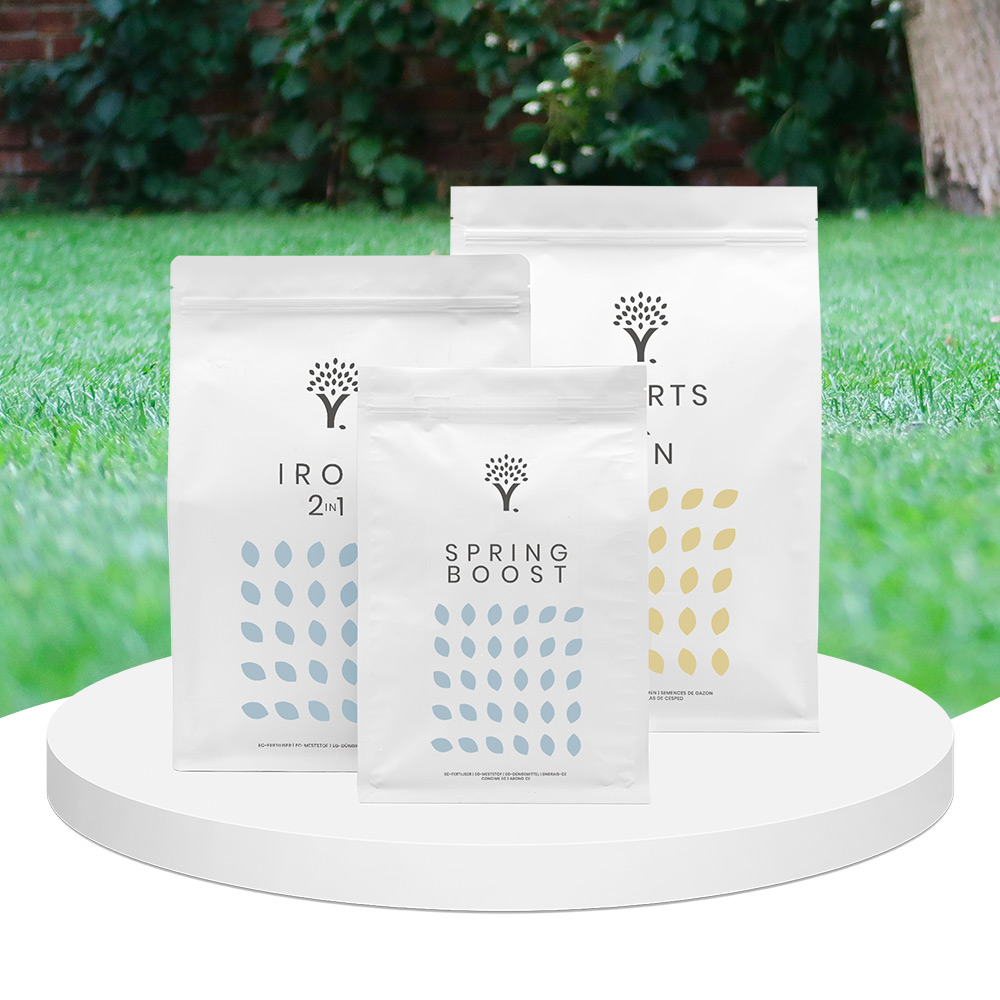 Scarifying Kit
All products after scarifying | Quickly restores the lawn after scarifying | Outsmart weeds quickly with the use of this kit
From:

£

39.99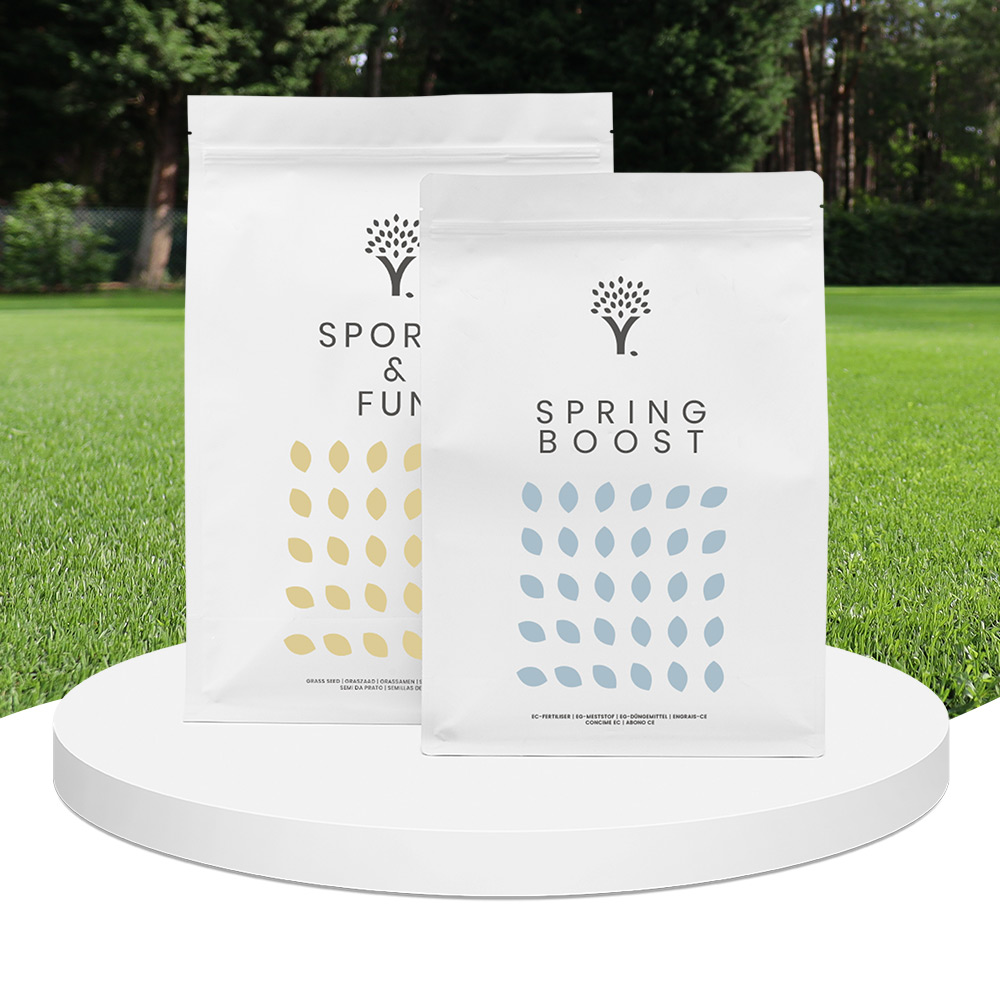 Spring Lawn Care Kit
MOOWY's choice for the spring | Quick recovery of your lawn after winter | A strong lawn prevents weeds
From:

£

25.99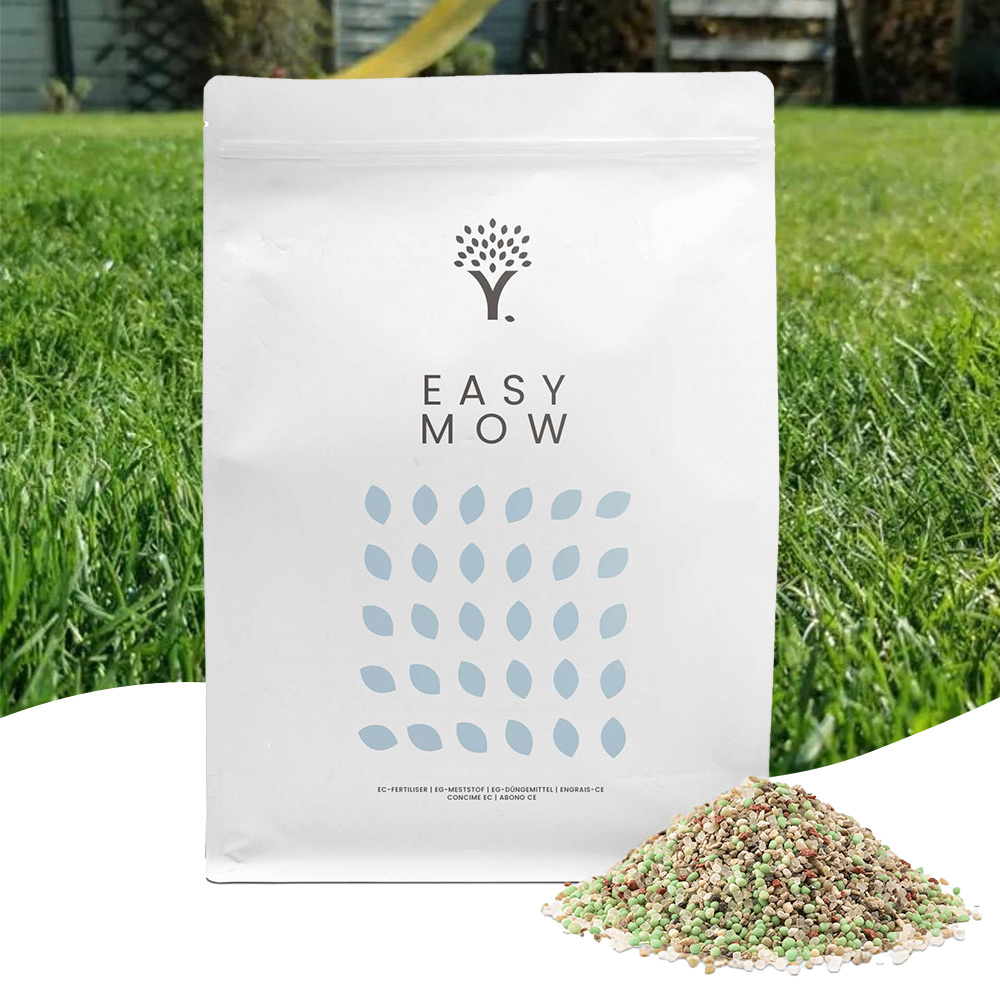 Long Lasting Lawn Fertiliser
Effective for 90 days | See results in 14 days! | Suitable for all types of grass and soil
From:

£

13.99
Free download
Do you want a
lawn calendar?
🌱 All important maintenance moments for your lawn during the year. Leave your email and we will send you the lawn calendar for free.
Receive the lawn calendar in the mail
Enjoy a green lawn all year round!