Gardening with Recycled Materials: Ingenious Tips and Tricks
Don't chuck your used tins, pallets, and plastic bags in the bin! Reuse them in the garden! Find out how in our guide to recycled materials in the garden.
Free download
Do you want a
lawn calendar?
🌱 All important maintenance moments for your lawn during the year. Leave your email and we will send you the lawn calendar for free.
Receive the lawn calendar in the mail
Enjoy a green lawn all year round!
Gardening can be rewarding, bringing a sense of accomplishment and tranquillity. But did you know that you could make it even more rewarding by integrating recycled materials into your gardening routine? 
This guide provides a wealth of ingenious tips and tricks for gardening with recycled materials.
Introduction to Recycling in the Garden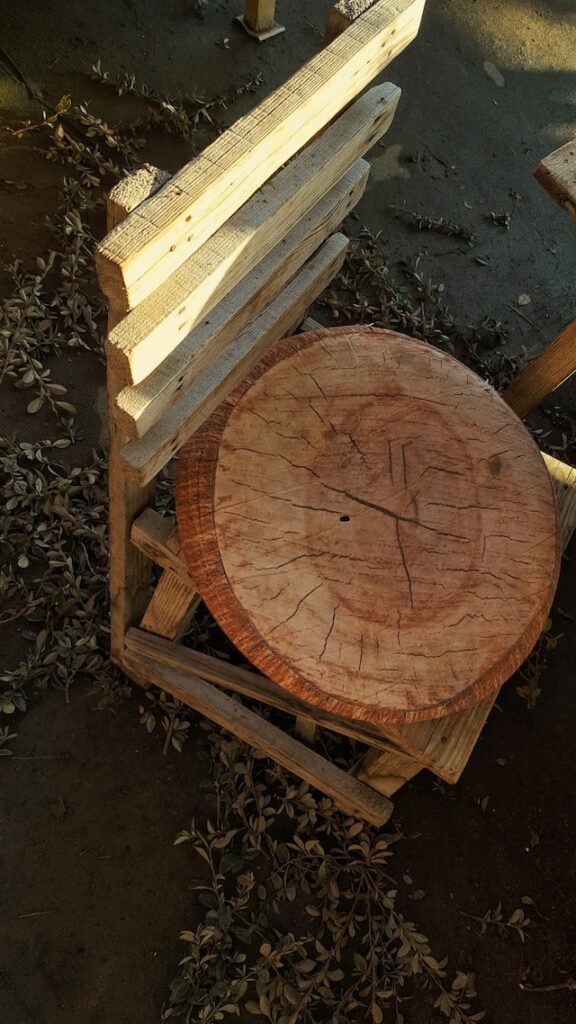 Gardening and recycling are two activities that go hand-in-hand beautifully. By repurposing items that would otherwise end up in the landfill, you can create unique garden features, reduce waste, and save money.
Moreover, incorporating recycled materials into your garden helps you practise sustainable living and contribute positively to the environment.
The Three R's in Gardening
Before diving into specific ideas, let's revisit the three R's of waste management: Reduce, Reuse, and Recycle. These principles can guide your gardening activities in a more sustainable direction.
Reduce
The first step is to reduce the amount of waste you generate. This means being mindful of the products you buy, their packaging, and how you use and dispose of them.
In the context of gardening, you could reduce waste by using less fertiliser, sharing tools with neighbours, or growing plants suited to your climate to minimise plant deaths and replacements.
Reuse
Reusing items in the garden can take many forms, from repurposing old furniture as planters to using takeaway coffee cups or egg cartons for sowing seeds.
You can also reuse old perfume bottles as vases or use broken ceramic pots to line new ones for better drainage.
Recycle
Recycling, for our purposes, is the processing of waste materials into new products. In the garden, this might involve composting food waste or recycling used potting mix bags.
You could also creatively recycle old chemical containers or plastic bakery containers.
Recycling Ideas for Gardening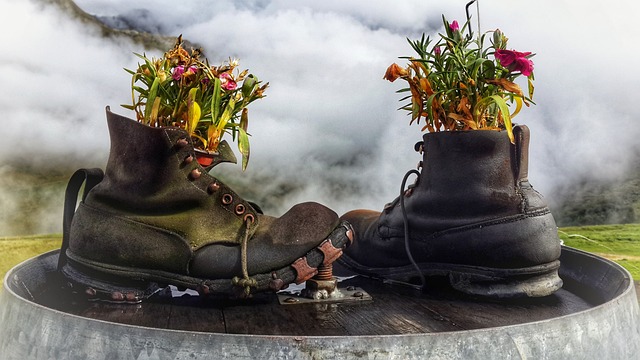 Now, let's delve into some practical ways to use recycled materials in your garden. These ideas will help you save money and add a unique touch to your garden.
Repurposing Household Items
You can find many items around your house that can be repurposed for gardening. Here are a few ideas:
Paper Cups and Toilet Paper Rolls
Paper cups and toilet paper rolls can serve as perfect seedling starters.
Simply punch a few holes in the bottom of the cup or roll for drainage, fill with potting mix, and plant away.
Toilet paper rolls are handy for sensitive seedlings that don't transplant well; you can plant the entire roll outside later.
Sinks, Bathtubs, and Furniture
Transform old sinks, bathtubs, or furniture into unique planters or garden features.
For instance, sink an old bathtub into the ground to create a small pond or convert an old dresser into a striking planter.
Plastic Bakery Containers and Water Bottles
Plastic boxes from bakery products can serve as miniature greenhouses for starting seeds that need a humid environment.
Similarly, plastic water bottles can be repurposed as mini greenhouses or cloches for your plants, protecting them from cool weather and pests.
Old Tyres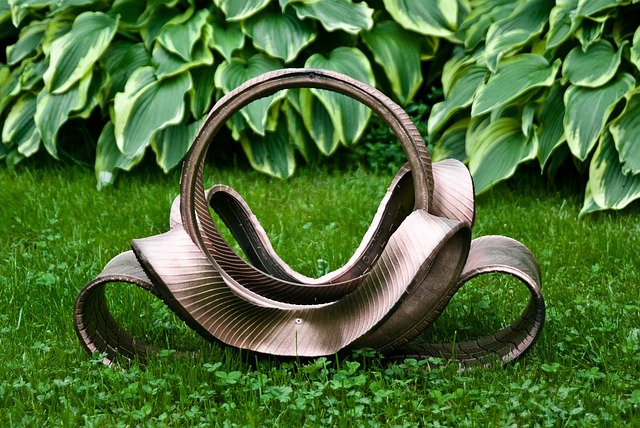 Tyres can be repurposed in the garden in various ways. You could use them as planters, fill them with soil, and grow your favourite plants.
Alternatively, stack them to create a potato tower, allowing you to efficiently harvest your potatoes by dismantling the tower.
Tin Cans and CDs
Use tin cans as planters, scoops for potting mix, or even decorative lighting elements if drilled with holes and fitted with tea lights. And hang old CDs (remember those?!) in trees to scare away birds and protect your fruit.
Eggshells and Egg Cartons
Eggshells and egg cartons are excellent materials for starting seeds.
Place eggshells directly on top of your garden soil, which keeps slugs away, and the cartons are perfect for starting multiple seedlings.
Shoes and Boots
Turn old shoes and boots into quirky planters for small plants. They can add a whimsical, fun touch to your garden.
Pallets
Use wooden pallets to create compost bins, planters, and even garden furniture. They are versatile, readily available, and easy to work with.
Incorporating Recycled Materials into Garden Design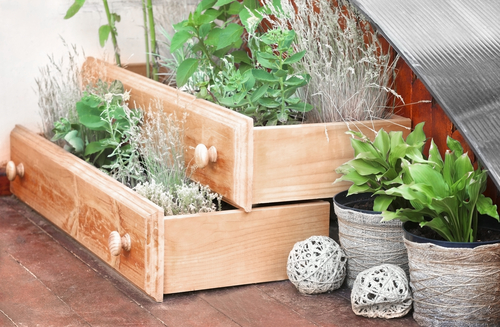 In addition to the practical uses of recycled materials, they can also be incorporated into your garden design to create a unique and eye-catching aesthetic. Here are a few ideas:
Creating Garden Art
Use recycled materials to create garden art.
For example, you can paint old tyres or pallets in bright colours to add a pop of colour to your garden. Integrate old furniture or appliances into your garden design as unique features.
Building Recycled Garden Structures
You can use recycled materials to build garden structures like trellises, raised beds, or greenhouses.
For instance, use old window frames to build a cold frame or mini greenhouse.
Creating Garden Paths
Recycled materials, such as bricks or pavers, can be used to create garden paths. These paths can add structure to your garden and make it more accessible.
Benefits of Recycling in the Garden
Recycling in the garden has numerous benefits. It can save you money, reduce waste, enhance your garden's aesthetic appeal, and contribute to a more sustainable lifestyle.
Here are a few points to consider:
Cost Savings
By using recycled materials, you'll save money on gardening supplies. Instead of buying new pots, trellises, or compost bins, you can repurpose items you already have.
Reducing Waste
Recycling in the garden helps reduce waste that would otherwise end up in the landfill. It's an excellent way to minimise your environmental impact.
Unique Aesthetic
Recycled materials can add a unique touch to your garden, making it stand out. Whether it's a planter made from an old boot or a trellis made from a wooden pallet, these items can add character to your garden.
Promoting Sustainability
By recycling in the garden, you're promoting sustainability. You're showing that it's possible to create a beautiful, productive garden while minimising waste and reusing materials.
Gardening with recycled materials 
Recycling in the garden is a fun, creative, and eco-friendly way to enhance your outdoor space. Whether you're a seasoned gardener or a beginner, there's always room for innovation and sustainability in your gardening practices.
So why not start today?
Revisit the three R's, get creative with recycled materials, and watch your garden transform while contributing positively to the environment.
Remember, gardening is not just about growing plants. It's also about nurturing a sustainable and responsible lifestyle. So, embrace the principles of recycling in your garden and enjoy the manifold benefits it brings to you and the planet.
More questions?
I hope you've enjoyed this blog. For more gardening tips, check out our Help & Advice section.
Your answer will be displayed on the site and the interested party will be notified by email.
Have a question or want to share your experience? Leave us a comment.
Read
more
The best tips and tricks for a lush green lawn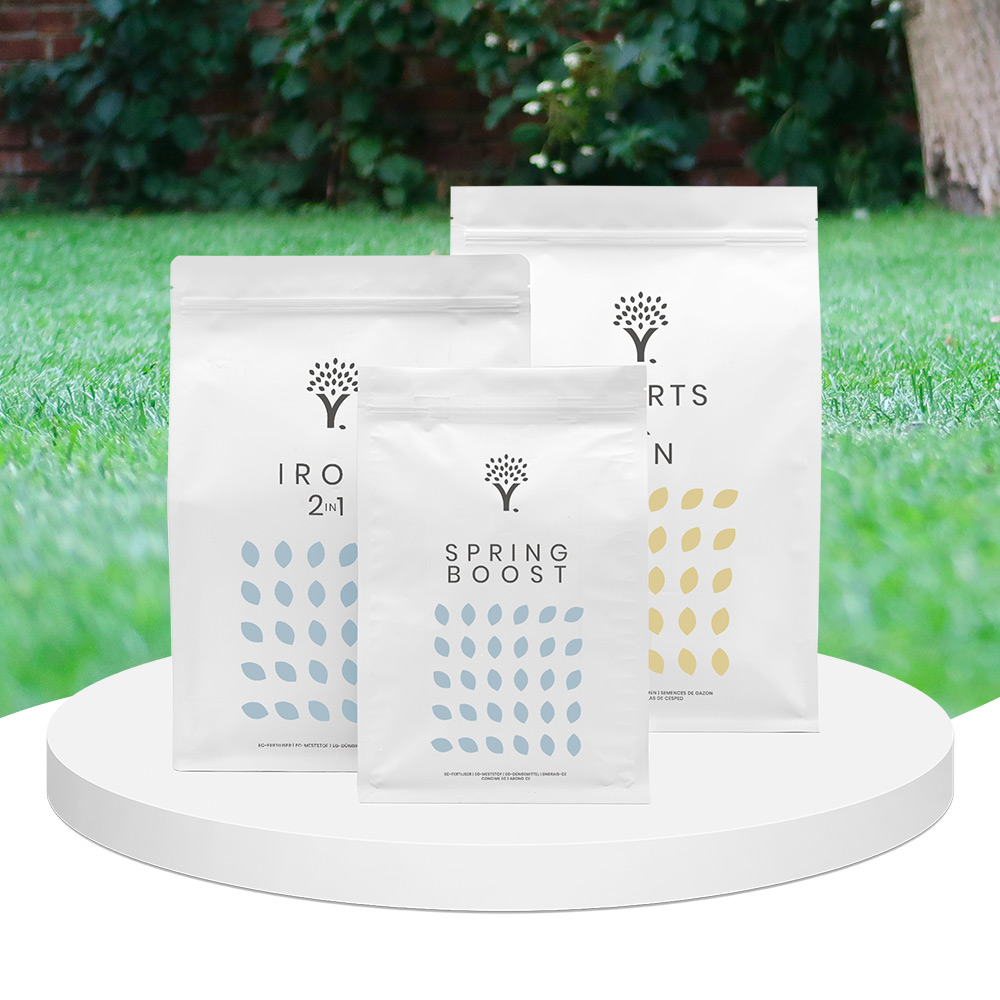 Scarifying Kit
All products after scarifying | Quickly restores the lawn after scarifying | Outsmart weeds quickly with the use of this kit
From:

£

39.99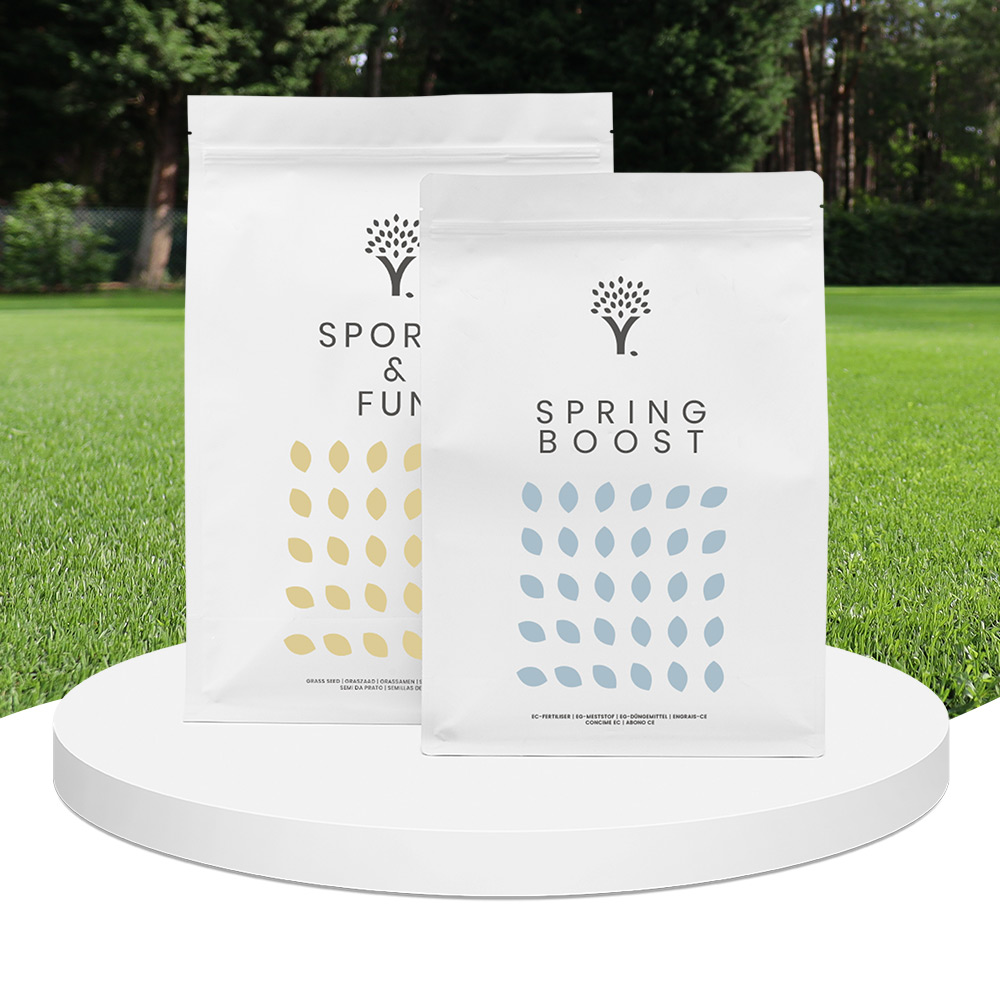 Spring Lawn Care Kit
MOOWY's choice for the spring | Quick recovery of your lawn after winter | A strong lawn prevents weeds
From:

£

25.99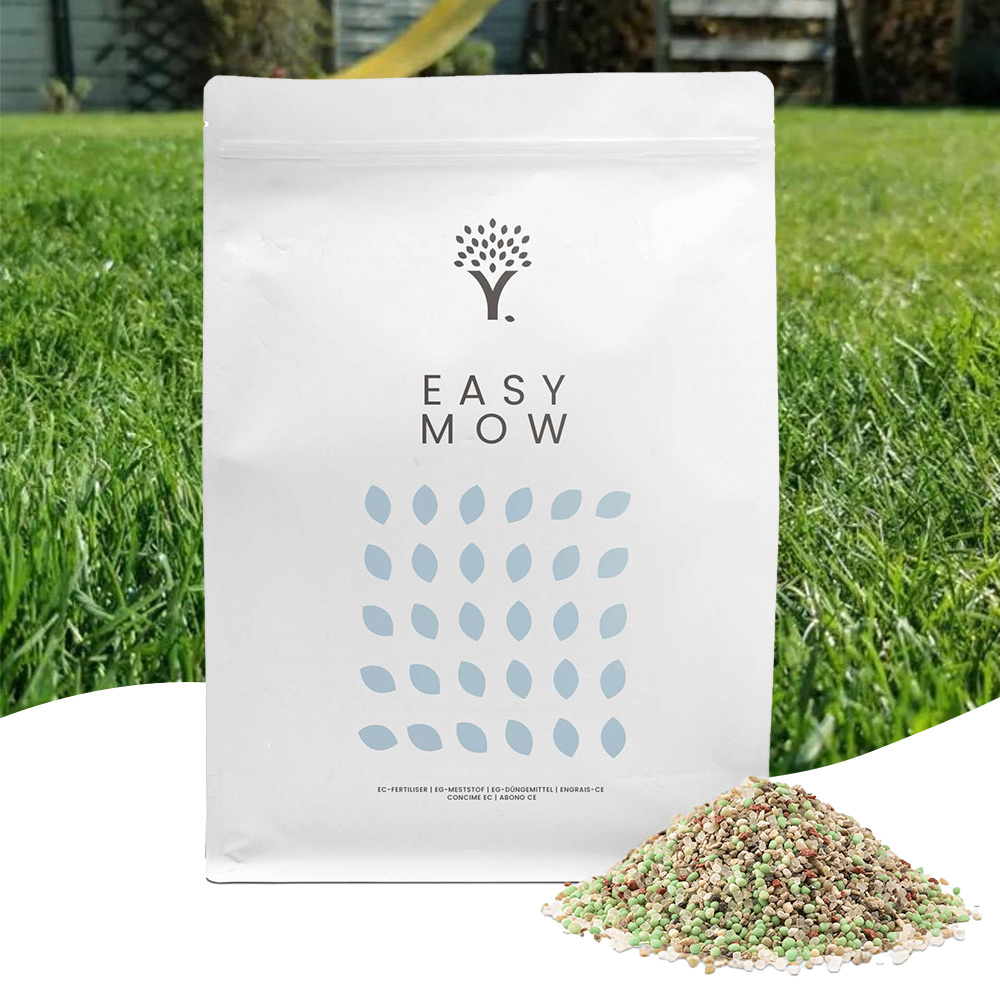 Long Lasting Lawn Fertiliser
Effective for 90 days | See results in 14 days! | Suitable for all types of grass and soil
From:

£

13.99
Free download
Do you want a
lawn calendar?
🌱 All important maintenance moments for your lawn during the year. Leave your email and we will send you the lawn calendar for free.
Receive the lawn calendar in the mail
Enjoy a green lawn all year round!