The Ultimate Guide to Summer Flowers: How to Choose and Care for the Best
Summer flowers bring beauty to any outdoor space, but they also attract butterflies, bees, and a range of beneficial insects into your garden. Find out how to choose the right flowers for your outdoor space.
Free download
Do you want a
lawn calendar?
🌱 All important maintenance moments for your lawn during the year. Leave your email and we will send you the lawn calendar for free.
Receive the lawn calendar in the mail
Enjoy a green lawn all year round!
Do you feel a little disappointed as you look out of your kitchen window? Perhaps the plants you've chosen are failing to bloom. Or maybe you've selected plants that aren't right for your soil type. Alternatively, you might be considering which summer flowers would thrive in your shady garden.
Table of contents:
Understanding Summer Flowers

Why Grow Summer Flowers?

Choosing the Right Summer Flowers

Our Top 10 Summer Flowers

Caring for Summer Flowers

Choosing your summer flowers is fun!

FAQ
Summer is synonymous with vibrant colours, warm weather, and, of course, beautiful summer flowers. But you have to pick the right flowers for your particular garden's conditions!
Whether you are a gardening novice or a seasoned horticulturist, this guide will help you choose and care for the best summer flowers and plants to transform your garden into a colourful sanctuary.
Understanding Summer Flowers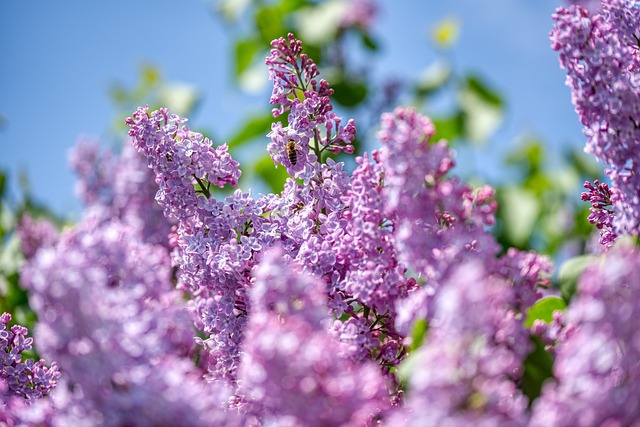 Before we delve into the specifics of our favourite UK summer flowers, it's crucial to understand which plants produce the best blooms.
Essentially, summer flowering plants thrive in full sunshine during the summer months, blooming to exhibit a wide array of stunning colours. But others, such as hostas, pansies, and lobelia, thrive in partial or even full shade.
If you have a shady garden, check out our expert's guide to plants for a shady garden!
But either way, you CAN get a stunning summer flowering bonanza in your UK garden!
Why Grow Summer Flowers?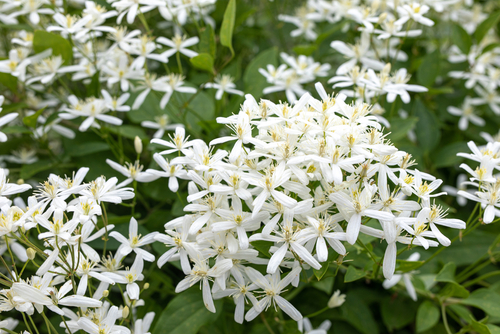 Growing summer flowers in your garden offers a range of benefits.
Not only do summer flowers enhance the aesthetic appeal of your garden, but they also have a positive impact on your mental and physical well-being.
Indeed, spending time in a green, flowery environment can significantly reduce stress levels, according to Gwenn Fried, manager of Horticulture Therapy at NYU Langone's Rusk Rehabilitation.
But summer flowers are also great for your garden's natural ecosystem — attracting butterflies, bees, and other pollinating insects that help your fruiting plants and bushes produce food for your dinner plate while sustaining other local wildlife, such as birds.
Choosing the Right Summer Flowers
You visit the garden centre, and you're quickly overwhelmed with the wide range of summer flowering plants available!
How do you choose which will thrive in your garden?
Firstly, check the plant's label — it will provide the basics, such as:
The sunlight requirements
The flowering period
Additional nutrition needs
Some plant labels also explain the ideal soil type for the plant. And while this all feels like a lot of information, it's just about understanding your garden's specific conditions.
Questions to consider about your garden
When selecting the most suitable summer flowers for your garden, consider the following:
The soil type — is it heavy clay or sandy? Heavy clay holds onto moisture, while sandy soil drains very quickly. Think about the water needs of your plant.
The sun profile — do you have a garden in full sun, or are there shady areas? Is your entire garden plunged into the shade by a nearby tree?
The existing plants in your garden — conifers, for example, are very thirsty, draining the surrounding water from the soil. So, choose drought-resistant summer flowers in this case.
Your availability — does the plant need a lot of attention, or does it grow happily on its own? Can you provide the level of care it needs to thrive?
Our Top 10 Summer Flowers
1. Hardy Geraniums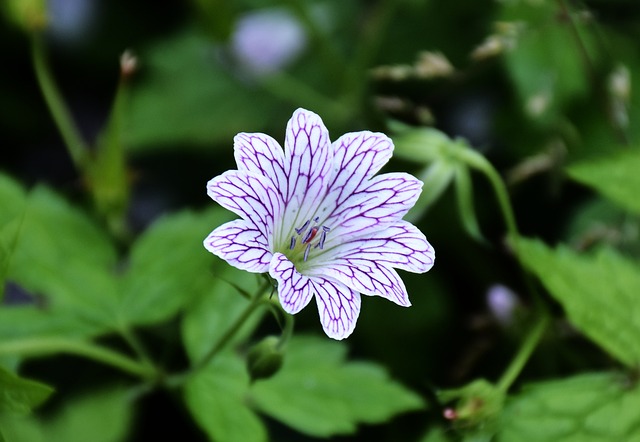 Easy to grow and great for pollinators, hardy geraniums are versatile perennials that bloom throughout summer and well into autumn.
They are available in various species, most of which can thrive in shade and sun.
Learn more about how to grow hardy geraniums.
Sunlight Requirement: Full sun to partial shade
Soil Type: Well-drained
2. Spreading Perennial Daisy (Erigeron karvinskianus)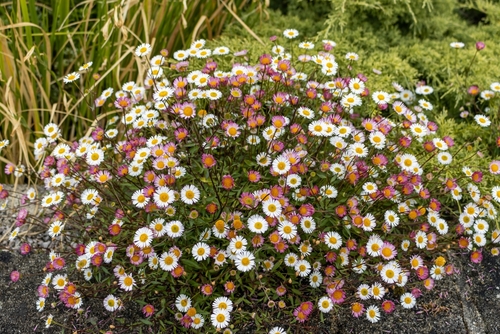 Also known as a spreading perennial daisy, Erigeron Karvinskianus provides an informal growth habit, making it perfect for planting in crevices of walls, steps or paving stones.
This stunning, cheerful plant blooms well into autumn, providing a prolonged flowering period.
Sunlight Requirement: Full sun to partial shade
Soil Type: Well-drained
3. Abutilons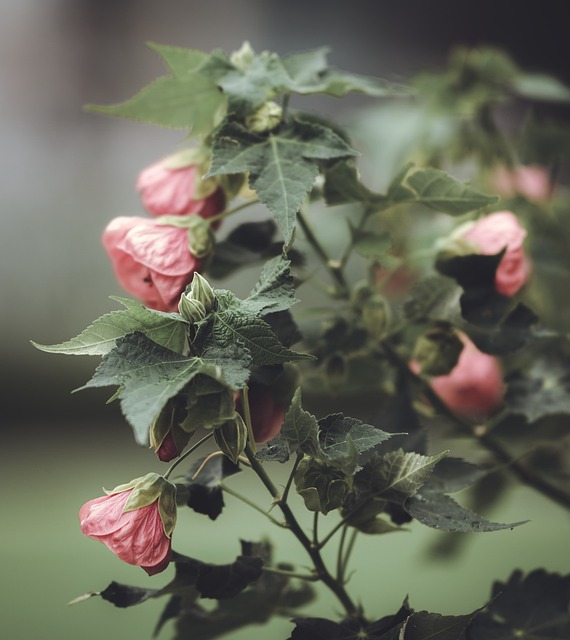 Abutilons, if protected from frost during winter, offer year-round flowering.
They require a sunny position with plenty of water and feeding for optimal growth. The trailing Abutilon, Abutilon megapotamicum, is a particularly popular choice, resembling the fuschia but with a lovely yellow teardrop beneath the central bloom.
Sunlight Requirement: Full sun
Soil Type: Rich, well-drained
4. Campanulas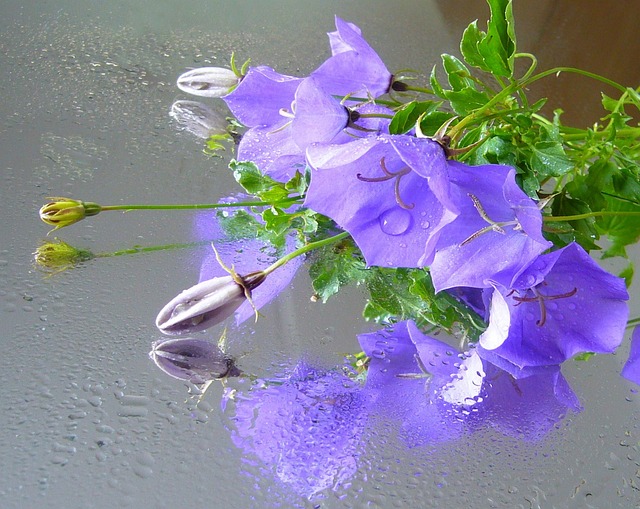 Creeping campanulas like Campanula portenschlagiana and Campanula poscharskyana are ideal for continuous flowering throughout summer.
Like Erigeron karvinskianus, they're perfect for growing in cracks and crevices.
Sunlight Requirement: Full sun to partial shade
Soil Type: Well-drained
5. Iberis Sempervirens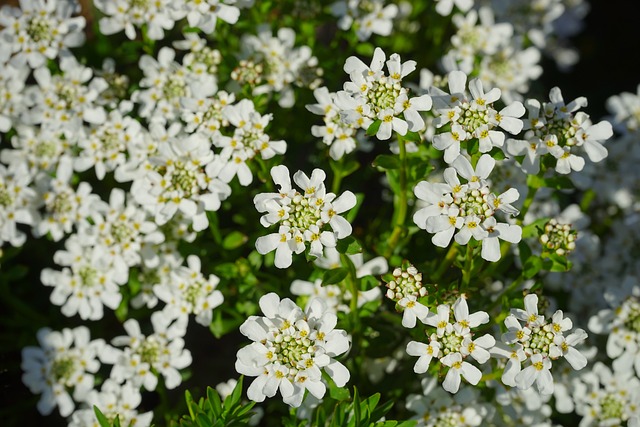 Commonly known as candytuft, these perennial, low-growing plants are excellent as ground cover for the front of borders or in containers.
They provide frothy blooms from spring to autumn.
Sunlight Requirement: Full sun
Soil Type: Well-drained
6. Rose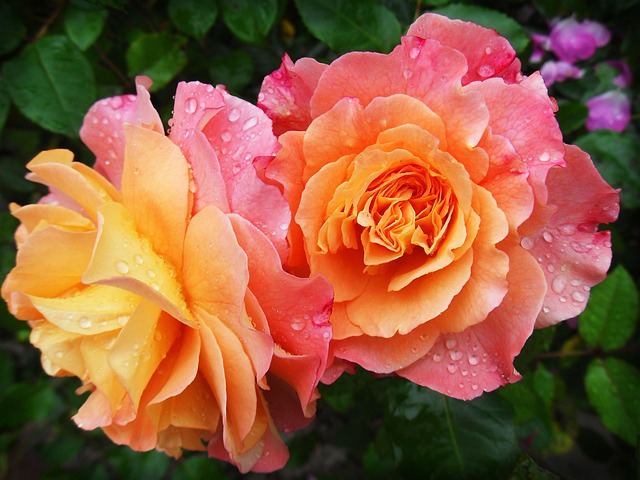 No English garden would be complete without a summer rose. And there are hundreds of varieties available, each suited to different garden conditions. Whether you go for a trailing or climbing variety depends on the space you have in your garden.
Tips for choosing the right rose:
Shady/North-facing wall: R. Madame Alfred Carriere
Sunny/Sheltered wall: R. banksiae Lutea
Training up pillars: R. Pink Perpetue
Gorgeous foliage R. glauca
Impressive rosehips: R. Geranium (moyesii hybrid)
Fragrance R. Gertrude Jekyll
Each rose has its individual needs, but — in general — they need well-fertilised soil. Well-rotted horse manure is excellent for your roses, but you can also buy a range of rose-specific fertilisers which offer excellent nutrition.
7. Sunflowers
Sunflowers are incredibly easy to grow, bringing a jolly yellow sunshiney feel to any garden. They grow in poor and well-fed soil — I've even seen them growing in cracks between paving slabs! But, in general, they'll always do better in well-nourished soil.
Fast-growing and requiring very little care, sunflowers are excellent companion plants around veg patches — attracting the bugs to their sticky sap and drawing potential pests away from your crops!
Sunlight Requirement: Full sun
Soil Type: Well-drained but well-watered soil
8. Dahlias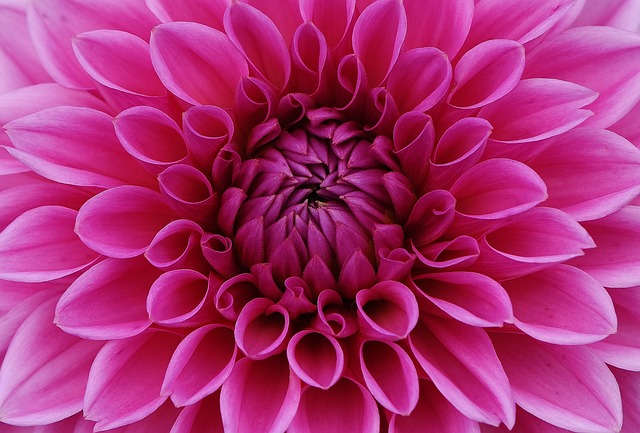 Dahlias are quintessentially English plants offering stunning flowers of almost every imaginable colour. With a wide-ranging palette of shapes and sizes — some as large as dinner plates — your garden will never feel dull with a range of dahlias in bloom between July and October.
These cheerful flowers complement the cosmos, Verbena, canna, and exotic grasses.
Originally native to Central America, they were introduced to Europe by the Spanish, who, along with potatoes and tomatoes, introduced Dahlias initially for eating! The flowers and tubers are edible, offering the crisp freshness of a water chestnut with a hint of spicy apple!
Sunlight Requirement: Full sun. Protect them from frost.
Soil Type: Well-fed, well-drained soil.
9. Marigolds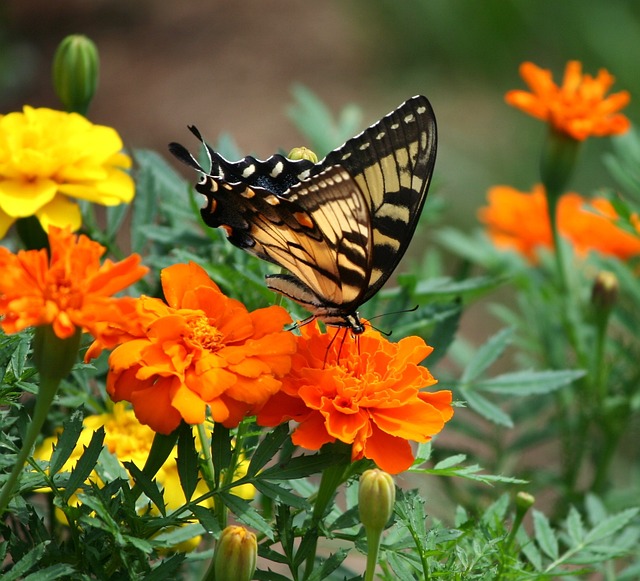 Marigolds are brilliantly colourful and prolific summer flowering plants which are equally happy in pots as they are in the ground. Offering blooms of yellow, orange, and even red and white, marigolds attract pollinating insects and make excellent companion plants for your veg patch.
These half-hardy annuals may survive longer than one season if there's a mild winter.
Needing full sun and fertile, well-drained soil, marigolds are relatively drought-resistant and intensely aromatic, introducing a delicious fragrance as you brush past the leaves.
Sunlight Requirement: Full sun.
Soil Type: Well-fed, well-drained soil.
10. Cosmos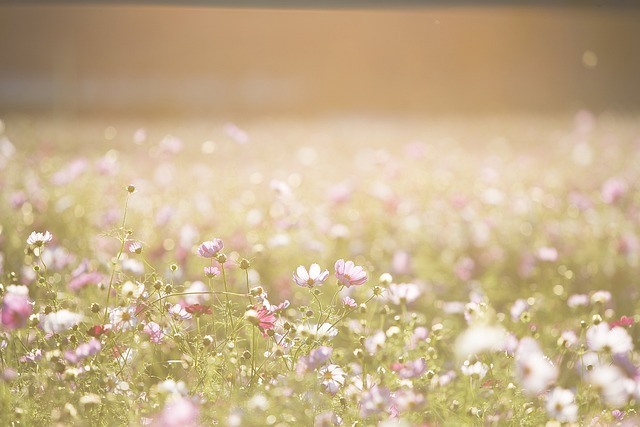 These lovely starburst-like flowers offer a jolly, exotic feel to a summer garden.
Sun-loving and with a long flowering season, the cosmos fills your flowerbeds with a shock of bright flowers ranging from white to pink, orange, and red. The feathery foliage provides textural interest in your summer flower bed.
Sunlight Requirement: Full sun. Deadhead to prolong flowering.
Soil Type: Well-drained soil.
Caring for Summer Flowers
Once you've chosen your summer flowers, the next step is ensuring they thrive. Here are some care tips:
1. Watering
During summer, most plants require regular watering to stay healthy and hydrated. However, be careful not to overwater – it could cause root rot.
Garden doctor Louis says:
If planting your summer flowers in pots, drill holes in the bottom of closed containers or fill the bottom with broken shards of terracotta to improve drainage.
2. Fertilising
Most summer flowers benefit from regular feeding. A weekly application of tomato fertiliser, for example, can promote new flower growth.
Alternatively, use well-rotted homemade composts or even a compost "tea" made from comfrey, nettles, or using the liquid from a wormery!
Find a fertiliser with plenty of nitrogen to help the plant grow more quickly.
3. Pruning & Deadheading
Pruning maintains the shape of your plants and encourages new growth. However, deadheading (or removing spent blooms) can extend the flowering period and keep your plants looking tidy.
Always remove dead flowers; otherwise, the plant will put its energy into generating seeds rather than producing new flower heads.
4. Mulching
Mulching helps to maintain soil moisture and suppress weeds. It also provides essential nutrients to your plants as it breaks down.
There are many types of mulch suitable for summer flowers, including:
Leaf mould
Wood bark
Homemade compost
Cloth or fleece mulch
Garden doctor Louis says:
Mulch helps minimise weeds around the base of your plants while helping maintain moisture within the soil.
Choosing your summer flowers is fun!
Growing summer flowers can be a rewarding experience, offering a kaleidoscope of colour to your garden and a host of mental and physical health benefits.
By carefully selecting the right varieties for your specific garden conditions and providing them with the care they need, you can enjoy a blooming garden that lasts all summer long.
FAQ
What kind of flowers are for summer?
Summer flowers bring beauty to your garden, but they also attract butterflies, bees, and other beneficial pollinating insects. Some of our favourite summer flowers include roses, marigolds, pansies, cosmos, hostas, dahlias, lobelia, campanulas, and sunflowers. 
What is the most common flower in summer?
There are many varieties of summer flowers to be found in UK gardens, but some of the most popular are hibiscus, petunia, amaranth, sunflowers, and roses. The summer flower most associated with England is probably the rose.
Which plants flower in spring and summer?
Most flowering plants have a relatively short window of bloom. However, some plants flower from spring through to summer and even autumn. These include hellebore, Virginia bluebells, Viola, Peony, Nepeta, Iris, Baptisia, Geranium, Echinacea, and Black-Eyed Susan. 
Any questions?
I hope I've provided some inspiration for your summer garden, but if you have questions, don't hesitate to get in touch.
Or check out our super-comprehensive and detailed Help & Advice section for everything lawn care and garden-related.
Thanks for reading!
Your answer will be displayed on the site and the interested party will be notified by email.
Have a question or want to share your experience? Leave us a comment.
Read
more
The best tips and tricks for a lush green lawn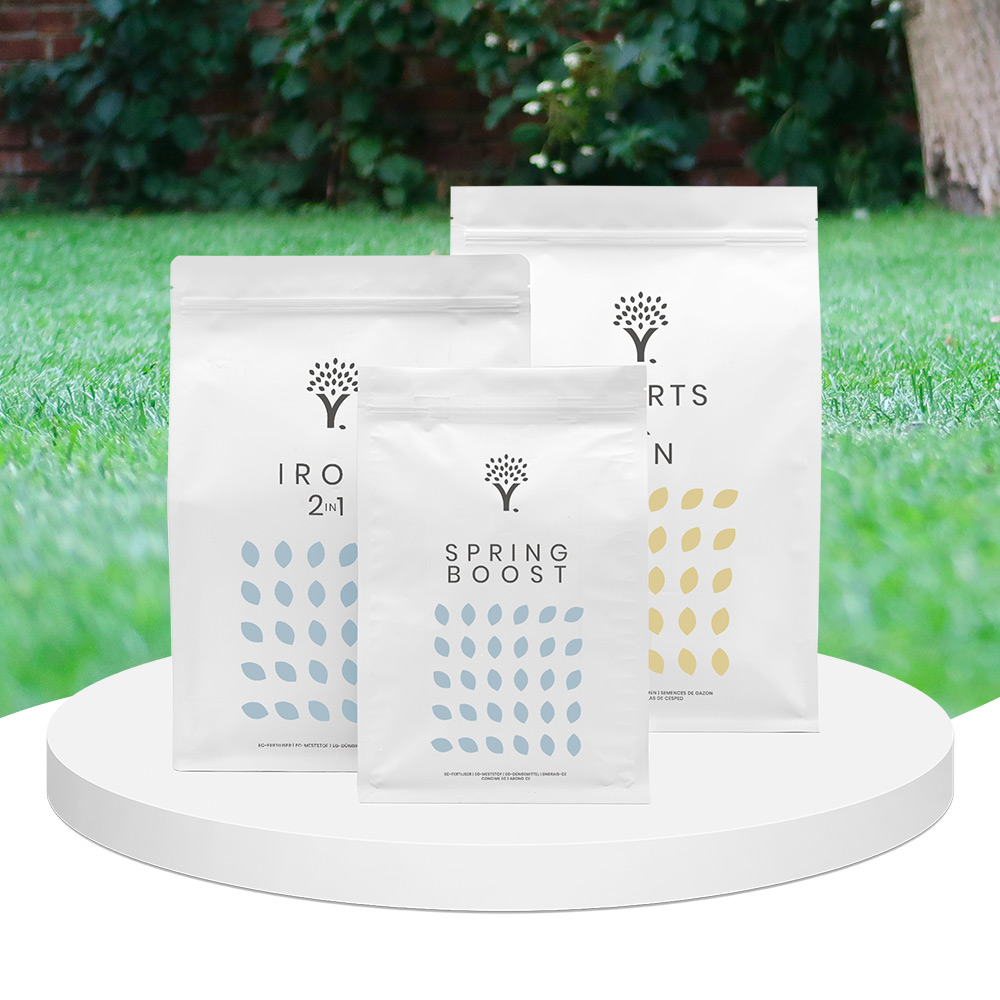 Scarifying Kit
All products after scarifying | Quickly restores the lawn after scarifying | Outsmart weeds quickly with the use of this kit
From:

£

39.99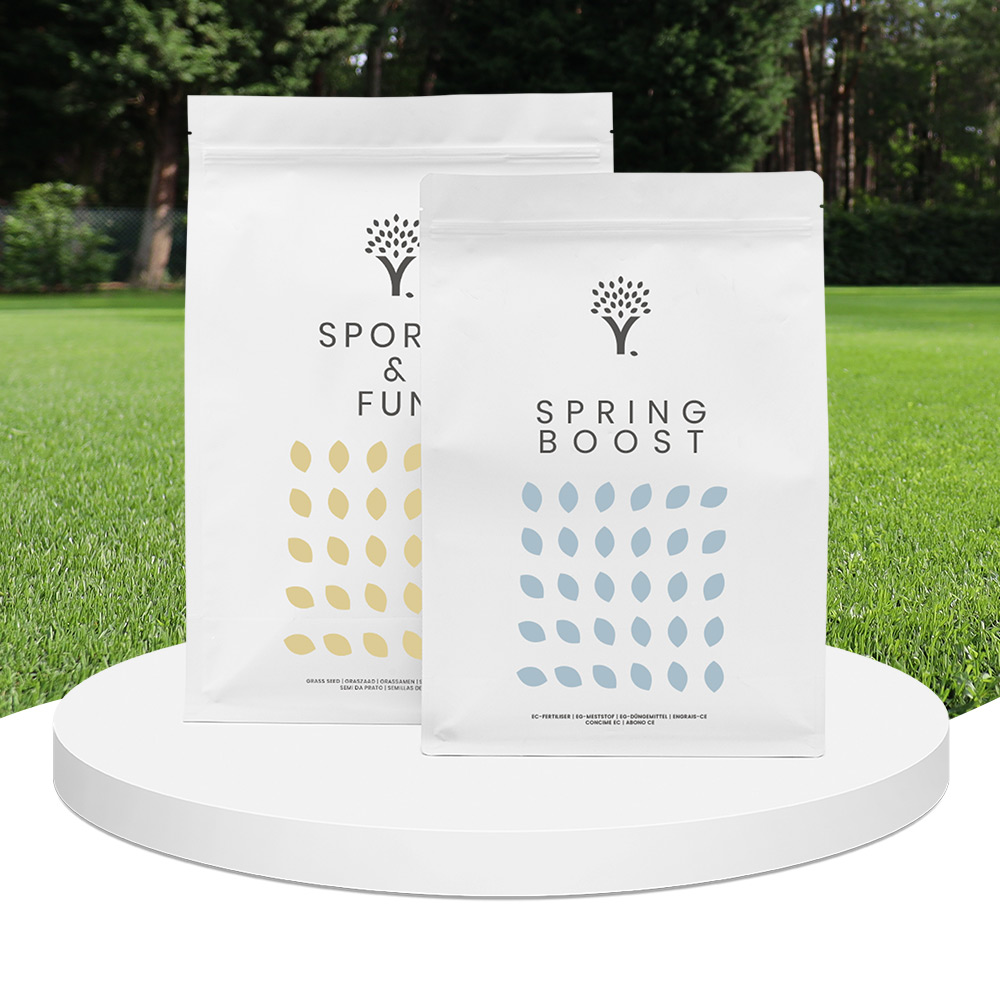 Spring Lawn Care Kit
MOOWY's choice for the spring | Quick recovery of your lawn after winter | A strong lawn prevents weeds
From:

£

25.99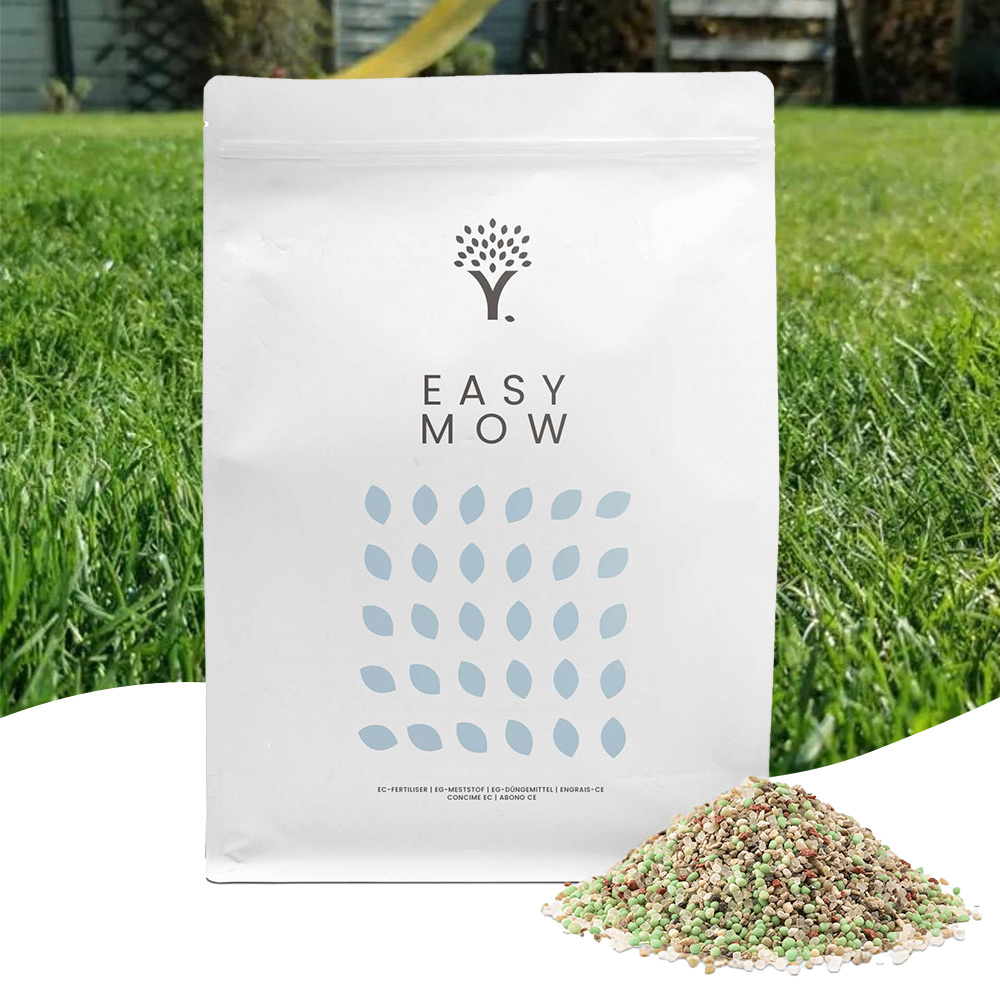 Long Lasting Lawn Fertiliser
Effective for 90 days | See results in 14 days! | Suitable for all types of grass and soil
From:

£

13.99
Free download
Do you want a
lawn calendar?
🌱 All important maintenance moments for your lawn during the year. Leave your email and we will send you the lawn calendar for free.
Receive the lawn calendar in the mail
Enjoy a green lawn all year round!