Vertical Vegetable Garden: A Step-by-Step Guide to Maximise Your Space
Grow more in a vertical vegetable garden. You don't need a lot of space; just a sunny wall and some imagination! Find out how to build your own vertical veg garden here.
Free download
Do you want a
lawn calendar?
🌱 All important maintenance moments for your lawn during the year. Leave your email and we will send you the lawn calendar for free.
Receive the lawn calendar in the mail
Enjoy a green lawn all year round!
Do you want to grow your own veg but lack the space in your back garden? Traditional farming works on the flat, requiring a lot of space. But it doesn't have to be like that — a vertical vegetable garden can be your saviour.
Table of contents:
What is Vertical Gardening?

Choosing the Ideal Location

Designing Your Vertical Vegetable Garden

Choosing Suitable Crops for a Vertical Garden

Some Vertical Garden Ideas

Maintaining Your Vertical Vegetable Garden

FAQs
Think about growing strawberries in hanging baskets, potatoes in tubs, and lining your accessible walls with pots and planters.
Now we're talking. Indeed, with some clever ideas and innovative techniques, you can transform your small spaces into green havens.
So, let's embark on this exciting journey to create your very own vertical paradise.
Ready? Let's get planting!
What is Vertical Gardening?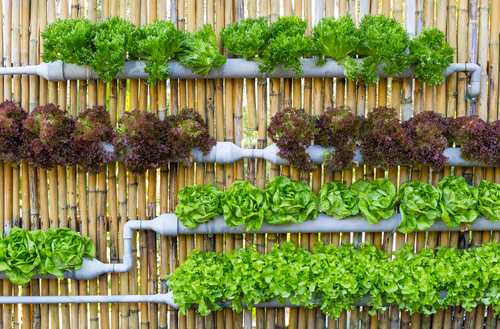 Growing vegetables vertically is an excellent way to maximise available space, especially if you don't have a large garden area. Or perhaps your garden has limited sunlight but a bright corner?
Vertical gardening is not only space-saving but also helps to reduce the potential for pests and diseases. It doesn't matter if your space is limited to a small backyard, a balcony, or even a sunny wall. With a vertical garden, you can grow vegetables and herbs with no air miles, transportation, or pollution!
Vertical gardening is an innovative and highly productive approach to growing your own veg. Using the principles of hydroponics to grow plants in stacked layers, I'll show you how to save space and resources — turning traditional gardening on its side, quite literally!
Choosing the Ideal Location
The first step to setting up a vertical vegetable garden or wall garden is to decide on the location. If you have a south-facing wall, you're laughing because it will get direct sunlight all day (as long as there are no shading obstacles, of course).
Additionally, southwest- and west-facing walls are suitable as they also get plenty of sun.
As with any garden, the priority is access to sunlight – ideally requiring between 6 and 8 hours a day. So, choose a location in the sun that's also easily accessible for watering and harvesting.
However, ensure your chosen wall or fence is sturdy enough to handle the weight of the plants and their containers. Remember, it's not just the weight of the pot and the compost; your plants will grow heavier as they grow.
Designing Your Vertical Vegetable Garden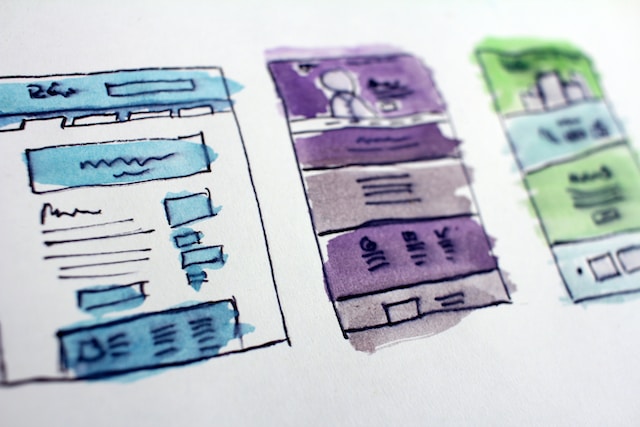 Designing your vertical garden can be fun and creative, but it's essential to consider the aesthetics and practicality. The layout should be attractive, and the plants should be arranged according to their growing habits and eventual size or height.
When designing your vertical garden, you'll need some equipment, such as:
Trellises — for training trailing plants, such as cucumbers and pumpkins, climbing up walls rather than spreading out across the ground
Stakes — to give tall plants, like tomatoes, courgettes, and peppers, the support to grow upright and towards the sun
Obelisks for vining plants — keeping climbing plants, like peas and broad beans, from collapsing
Hanging baskets — allowing trailing plants, like strawberries and tomatoes, to dangle rather than spread.
Pallets — more about these later, but rest assured, no vertical veg garden is complete without a supply of packing pallets.
Materials You'll Need for Your Vertical Vegetable Garden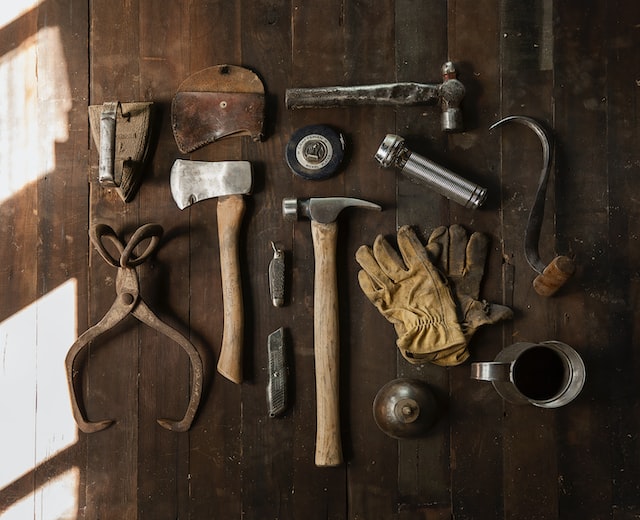 Before starting your DIY vertical vegetable garden, ensure that the wall or fence is sound and clean of debris.
You're going to build a timber frame, from which you'll have a mesh or trellis.
So, you'll need a metal grid, sturdy mesh, or a trellis strong enough to support your plant's containers and wet compost. The chosen area should have the space to allow plants to climb or cling as they grow.
In addition to the mesh, you'll need timber battens to hold the mesh away from the wall, allowing air to circulate around your plants.
Attach your timber frame to the wall with solid masonry screws, then attach the mesh to the timber frame with staples or self-tapping screws at regular intervals.
Preparing Your Containers
Almost anything can function as a container in a vertical garden. You simply need a tub or tin with drainage holes drilled into the bottom.
For example, old catering tins of Italian tomatoes, oil, or olives make beautiful, rustic, decorative pots that add a touch of charm to your gardening space.
Just ensure that whatever you use has drainage holes drilled into the bottom to prevent root rot and waterlogged compost — both of which will kill your veg.
Planting Up
Now comes the exciting part – planting up your containers.
Use a lightweight multi-purpose compost for your containers, adding a little water-retentive gel to keep the soil moist. You can buy it in garden centres — it comes in the form of squidgy granules. Simply mix the granules with the soil according to the instructions on the packet.
Leave a gap of at least 5cm above the compost surface and the rim of your straight-sided pot.
Attach the pot to the mesh with hooks to hold the weight (assuming you've already sown seed into the compost or transferred a nursery plant into the soil.
Once attached, water regularly. And apply a liquid tomato feed from mid-June onwards.
Garden doctor Louis says:
Grow fruit or veg that isn't readily available in your supermarket. It's easy to grow tomatoes, but they're cheap to buy in the supermarket. Consider veg like globe or Jerusalem artichokes, horseradish, and rhubarb, and have an abundant supply come harvest time.
Choosing Suitable Crops for a Vertical Garden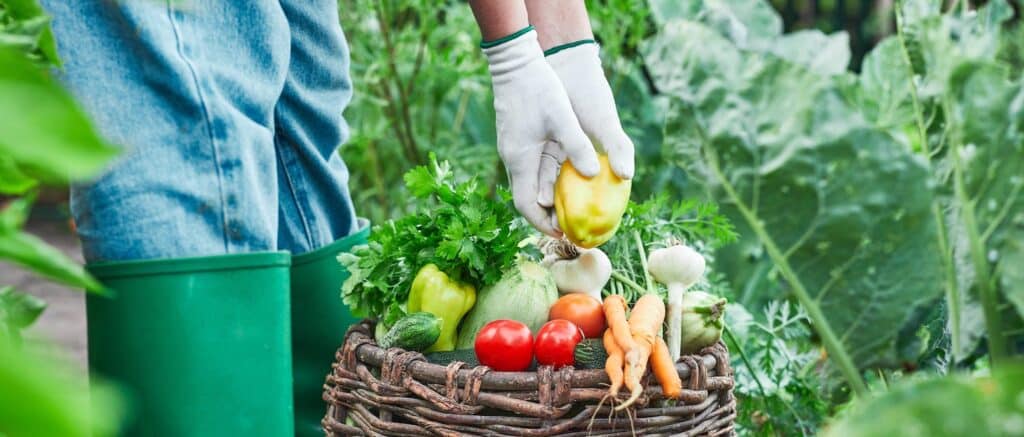 Now that your vertical vegetable garden planters are ready, it's time to pick suitable crops.
You can grow a massive range of vegetables and herbs vertically. However, it's vital to choose crops that are suitable for your specific region, climate, and light conditions.
Good performers for vertical gardening include:
Aubergine (miniature)
Chilli pepper
Cucumber (miniature)
Garlic and onions
Lettuce, rocket, cabbage, kale, spinach, and mustard greens
Strawberry
Oregano, basil, chive, coriander, marjoram, thyme, parsley
Squashes, such as pumpkins (but the fruits will need little "slings" to support their growth and weight)
Remember, pots dry out more quickly than your garden soil, so developing a thorough watering regime is essential to keep your vertical garden lush and productive.
Some Vertical Garden Ideas
Here are a few creative and easy-to-implement ways to build your vertical fruit and veg garden:
Salad Tower
A salad tower is a cylinder built from sturdy wire mesh, which is lined with plastic, then filled with soil.
Mix and match lettuce, rocket, spinach, chard, Asian greens, and kale for a beautiful tapestry of greens.
Hanging Baskets
Hanging baskets are excellent for growing strawberries or tomatoes.
Hang the basket in a sunny, sheltered spot. And don't forget to water and feed often. Alternatively, hang standard terracotta or plastic pots on the wall using a wall pot holder.
Pallet Garden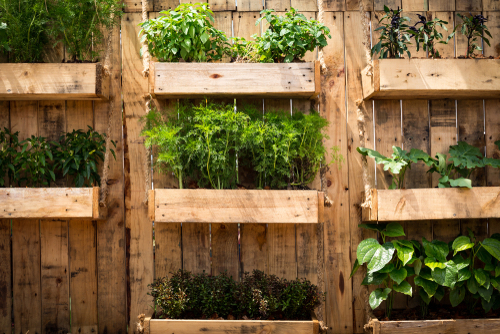 Pallet gardens have become an enormous garden trend in recent years.
You can grow compact vegetables and herbs like salad greens, baby kale, dwarf peas, bush beans, parsley, thyme, basil, and rosemary.
Lean or attach the pallet to the wall, and use the slots as mini shelves. Alternatively, build bottoms to each slot, fill with compost, and plant directly into the pallet pot.
Gutter Garden
A gutter garden attached directly to walls and fences or hung with chains is a smart idea.
You can grow curly parsley, alpine strawberries, lettuce, and spinach. If you angle the guttering in a zig-zag up the wall, you can water the top plants and let the water drain all the way down to the bottom, like a hydroponic system.
Maintaining Your Vertical Vegetable Garden
Maintaining a vertical garden is similar to caring for a traditional garden.
Regular watering, feeding, and pest control measures are essential.
Water your plants by hand or install an automatic watering system. And feed with a liquid tomato feed from June onwards.
FAQs
What vegetables are good for a vertical garden?
Vertical gardens are excellent space savers, allowing you to make use of a sunny wall or fence without dominating the floor space. Grow lettuces, onions, radishes, tomatoes, strawberries, aubergines, even pumpkins.
Are there any drawbacks to using vertical gardens?
The main drawback of vertical gardens is that they need more manual watering than planting your fruit or veg in the ground. This is because pots dry out more quickly, especially in hot weather. So, keep your vertical vegetable garden well watered, and you'll be laughing!
Can I grow vegetables vertically?
Yes. The only restriction is height if you're creating shelves of plants. However, grow the taller plants on the top shelf and use the lower shelves for smaller plants, like cherry tomatoes, strawberries, and onions.
Any questions
I hope I've given you lots of inspiration for your vertical vegetable garden. But if you have any questions, don't hesitate to get in touch. 
Alternatively, check out our Help & Advice section for a wealth of expert lawn care and gardening tips and step-by-step guides.
Thanks for reading. And happy vertical gardening!
Your answer will be displayed on the site and the interested party will be notified by email.
Have a question or want to share your experience? Leave us a comment.
Read
more
The best tips and tricks for a lush green lawn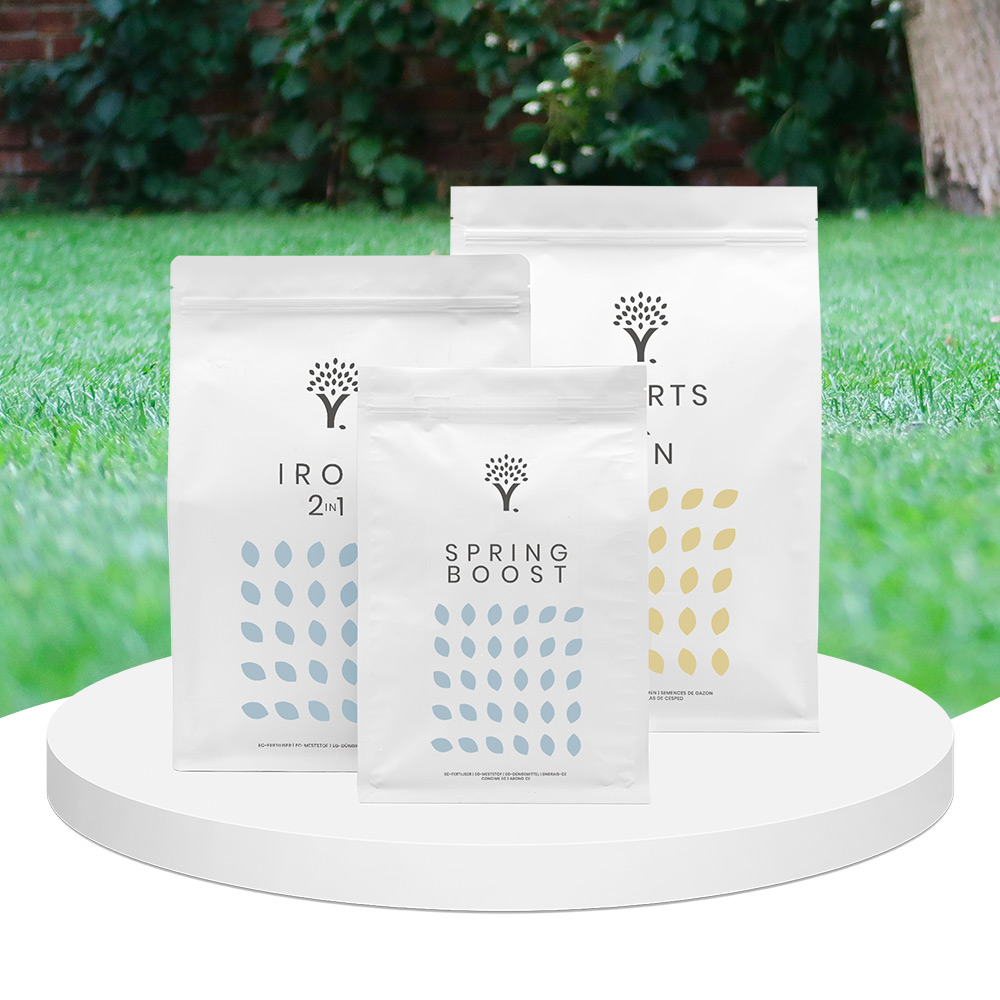 Scarifying Kit
All products after scarifying | Quickly restores the lawn after scarifying | Outsmart weeds quickly with the use of this kit
From:

£

39.99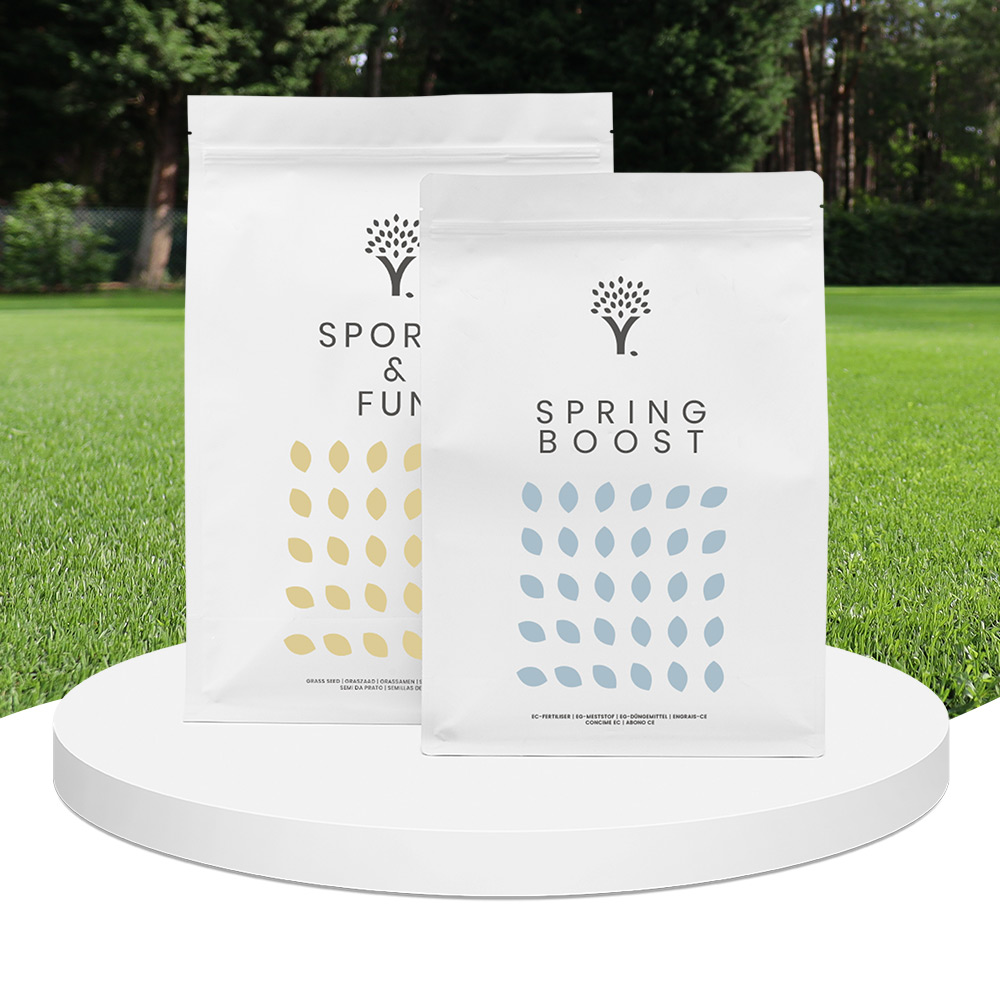 Spring Lawn Care Kit
MOOWY's choice for the spring | Quick recovery of your lawn after winter | A strong lawn prevents weeds
From:

£

25.99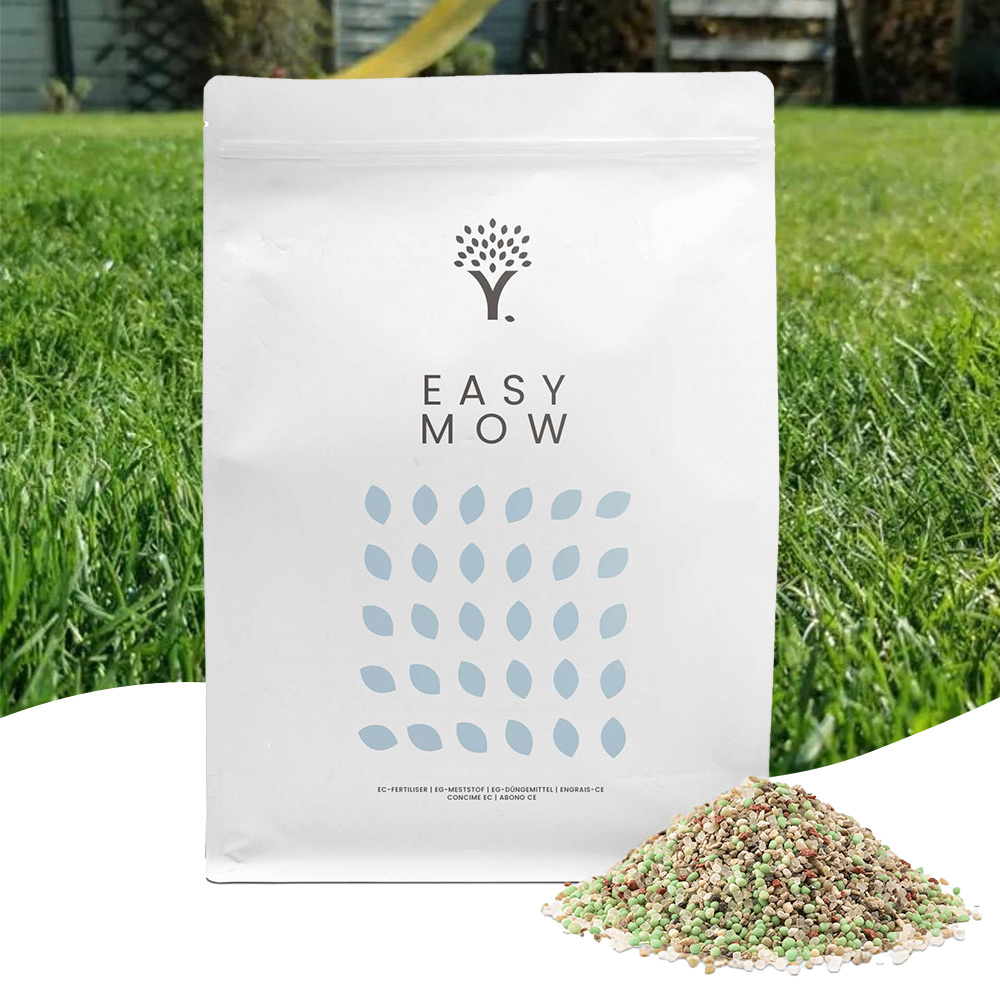 Long Lasting Lawn Fertiliser
Effective for 90 days | See results in 14 days! | Suitable for all types of grass and soil
From:

£

13.99
Free download
Do you want a
lawn calendar?
🌱 All important maintenance moments for your lawn during the year. Leave your email and we will send you the lawn calendar for free.
Receive the lawn calendar in the mail
Enjoy a green lawn all year round!