Garden Mulch: Everything you've ever wanted to know (but were afraid to ask)
Mulch warms up your flowerbeds, helps the soil maintain its warmth, and prevents weeds. Read on for everything you'll ever need to know about this essential garden job!
Free download
Do you want a
lawn calendar?
🌱 All important maintenance moments for your lawn during the year. Leave your email and we will send you the lawn calendar for free.
Receive the lawn calendar in the mail
Enjoy a green lawn all year round!
Do you find that your soil dries out quickly? Are your flowerbeds prone to hardy weeds? Do you need to protect your winter veg from frost? Garden mulch is the answer to all of these problems (and way more!).
Mulch is a layer of organic (or inorganic) matter placed over the surface of your flowerbeds and veg patch. From leafmould to wood bark, organic mulch helps preserve your soil's moisture while suppressing weeds and improving the general look (and soil quality) of your flowerbeds.
This article is all about garden mulch: exploring the best type of mulch for your soil, how to mulch, and what time of year is best.
So, grab yourself a brew. Sit back, and enjoy the easy bit – the reading. Then, once you're all clued up, you can don your wellies and a garden shovel and get mulching.
Ready? Let's go.
What is garden mulch?
Keen gardeners use a variety of materials to mulch their flowerbeds. Organic (aka biodegradable) mulches are loose coverings that sit on the soil's surface – applied to bare earth. Also, many people add mulch to the surface layer of their patio containers to help maintain heat and moisture.
There are two varieties of mulch: biodegradable and non-biodegradable. When applied to the soil surface, they both help suppress weeds by blocking out the sunlight and preserving moisture content.
Some of the benefits of garden mulch are:
Moisture retention
Weed suppression
Soil improver
Pest deterrent
Warms the soil in the spring
Temperature regulation
Organic mulch provides nutrients to the soil as it decomposes throughout the year. And it can deter some garden pests.
If you're growing pumpkins and other crops that come into contact with the soil, mulch helps prevent fruiting rot by creating a barrier between the earth and the fruit.
However, some people like to add mulch just because it looks nice.
More about that later.
What is a biodegradable mulch?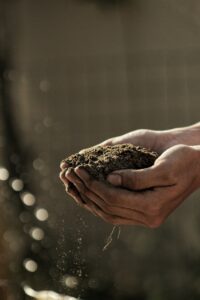 Biodegradable mulches break down over time, so they need replacing fairly regularly – probably every year in most cases.
It might seem like a faff, but biodegradable mulch actually contributes to the health of your soil. When the surface mulch rots down, it adds to the soil's structure while adding nutrients to the earth. If you have heavy clay soil, it helps drainage; if you have sandy soil, it helps the earth retain moisture.
So, win-win.
Typical biodegradable mulches include:
Garden compost
Wood chippings/tree bark
Leaf mould
Well-rotted manure
Straw (for strawberries and surface-sitting fruit)
Spent hops
Seaweed
Get your garden compost from your compost heap, or you can buy it from garden centres. Check out this article to find out how to make leafmould.
What are non-biodegradable mulches?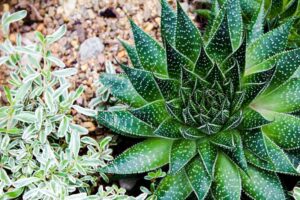 Non-biodegradable mulches suppress weeds and help conserve soil moisture. But they do nothing to boost the fertility of the soil.
However:
The main advantage of non-biodegradable mulches is that they look nice, and they don't need (as regular) maintenance.
Non-biodegradable mulches include:
Slate
Stone chippings
Shingle
Broken seashells
Pebbles
Gravel
Non-biodegradable mulch smartens up the spaces between your shrubs, giving your flowerbeds a nice, consistent surface.
Dark-coloured mulches help warm the soil when it's sunny, while light-coloured coverings reflect the light, keeping the ground cool.
Most parts of the UK don't overheat as a rule, but gardeners on the south coast may find that their plants will survive heatwaves better with a light-coloured mulch.
You can also buy a sheet- or woven mulch fabric, which is excellent for killing hardy weeds. It looks a little grotty, though, so it's a good idea to camouflage it with gravel or bark.
When should I mulch my garden?
The best time to mulch is mid-to-late spring before the weeds have taken hold or in the autumn when your plants begin to die back.
Mulch before the weeds have had a chance to germinate. Adding the mulch layer traps any airborne seeds that have planted themselves in your soil, starving them of sunlight.
Alternatively, it's fine to mulch at any time of year; whenever you add a new plant to your bed. This can help the new plant establish its root system without competition from weeds.
How deep should my garden mulch layer be?
If you're applying a biodegradable mulch, it needs to be at least 5cm/2in deep – preferably 7.5cm/3in. This ensures that there's enough surface covering to prevent moisture evaporation and to starve weeds of sunlight.
Remember: don't skimp on your mulch. Used correctly, it can transform your garden.
How do I apply garden mulch?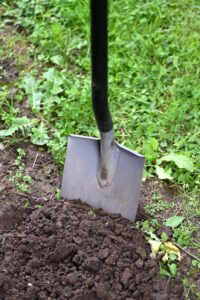 It's OK to cover the soil surface of an entire flowerbed. It looks neater than just piling it up around your plants, but both approaches will work.
When you apply your mulch, make sure that you don't smother low-growing plants. Be careful to avoid piling your mulch around woody stems – keep it to a maximum of 7.5cm in depth to prevent stem rot.
It's best to mulch over moist soil, so give it a good watering if it's looking a little dry.
And remember, thoroughly remove all weeds before you lay your mulch.
A couple of helpful mulch tips:
Trees and shrubs – if you're not mulching the entire surface of the soil/flowerbed, ensure that you mulch to the radius of the leafy canopy.
Creating new beds – add a woven mulch layer, making slits where the plants will grow. Cover with non-biodegradable mulch for improved aesthetics.
Frozen soil – don't do it. Wait until the soil has defrosted before you mulch.
Avoid mulching Thymus species – the mulch can rot the stems and foliage.
What should I put down before mulching?
It's easy to think that all you need to do is add a layer of mulch, and all will be well. Certainly, you will gain some benefits from that approach.
But:
For optimal results, it's crucial to prepare the flowerbed.
1. Kill off and remove the weeds
Just as mulch can benefit your plants, it can also create a lovely, warm, and nutritious bed from your weeds.
And we really don't want that, do we?
So, before you mulch, kill off the weeds. Pull out as much of the root as possible – otherwise, they'll grow back.
If you feel like you're fighting a losing battle with your weeds, then you could consider a chemical weed-killer. Always read the label as it can kill your plants as well.
If you'd prefer a natural weed-killer, lay sheets of newspaper doused in vinegar across the top of your soil. The paper will block out the light, and the acid in the vinegar will burn the leaves of the weeds.
If you use a chemical weed-killer, leave it for two weeks before you mulch to make sure the weeds are dead.
2. Trim your trees and bushes
You might wonder what the heck trimming your trees and bushes has to do with mulching. And – let's face it – it's a good question.
This is a matter of neatness. Trees and bushes drop seeds that can infiltrate your flowerbeds. So, if you want perfectly neat, mulched flowerbeds, make sure that your trees and bushes are cut back.
3. Rake your flowerbed
Rake the surface layer of the soil to remove organic material such as leaves, sticks, or seeds. This keeps everything neat but also ensures that your beds don't grow wild!
4. Cultivate the surface soil
While you want the mulch layer to block out the sunlight to prevent the germination of weed seeds, you also need oxygen and water to penetrate the mulch layer so that it reaches your plant's roots.
So, breaking up (or cultivating) the surface soil helps strengthen your beds by permitting moisture and air to reach the earth.
After cultivating, smooth out the top surface. Again – this is about neatness.
At this stage, you could add a pre-emergent herbicide to make sure that the smaller weed seeds that you can't see are also killed off.
5. Get mulching!
Mulch away!
Can I just put mulch over weeds?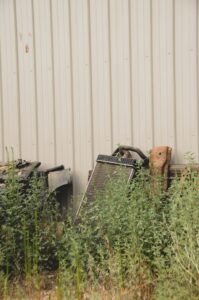 If you want your weeds to grow back more intensely, then go ahead.
Otherwise, remove them before you mulch! 🙂
Do I need to mulch my vegetable garden?
It's a good idea to mulch your veg patch – it's just as likely to suffer from weed invasion. And your plants might benefit from a drier surface layer to stop low-growing fruit and veg from rotting.
Many gardeners use black plastic sheeting to mulch their plots – this is long-lasting and prevents weeds.
You could use non-biodegradable mulches, like stones and pebbles to help avoid slugs – they dislike sliding over sharp and inconsistent surfaces.
But:
Non-biodegradable mulches can become trodden or tilled into the earth, which makes for a gritty soil consistency. So, if you're cultivating veg over the long term, I'd recommend plumping for biodegradable mulch or plastic sheeting.
Should I remove old mulch?
Expert gardeners say that you shouldn't need to remove old mulch before overmulching.
Does mulch turn into soil? Yes. At least, the biodegradable stuff does. As the mulch breaks down over the year, it nourishes the soil.
Win-win.
Ready to mulch?
Hopefully, we've given you all the information you'll ever need to become an expert mulcher. If you have any further questions about mulching or anything lawn-related, then please get in touch.
We're always happy to help.
Thanks for reading. 🙂
Your answer will be displayed on the site and the interested party will be notified by email.
Have a question or want to share your experience? Leave us a comment.
Read
more
The best tips and tricks for a lush green lawn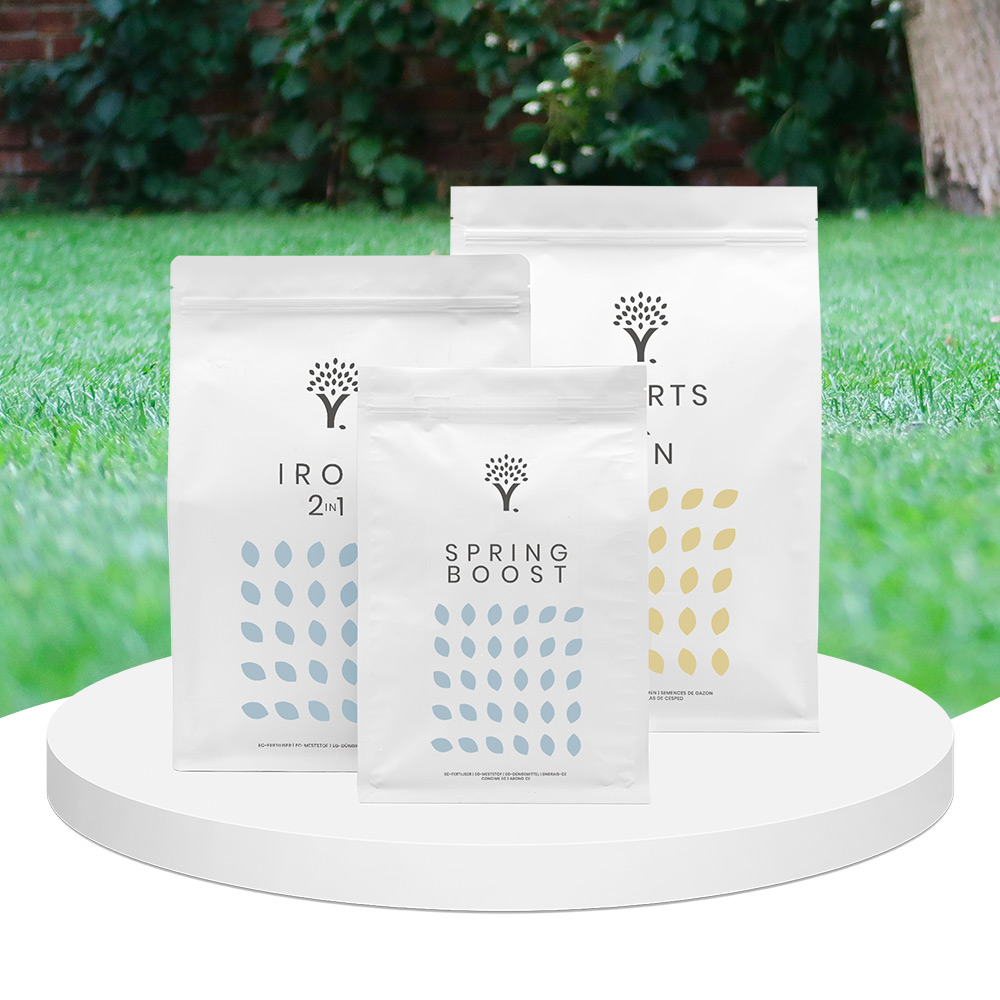 Scarifying Kit
All products after scarifying | Quickly restores the lawn after scarifying | Outsmart weeds quickly with the use of this kit
From:

£

39.99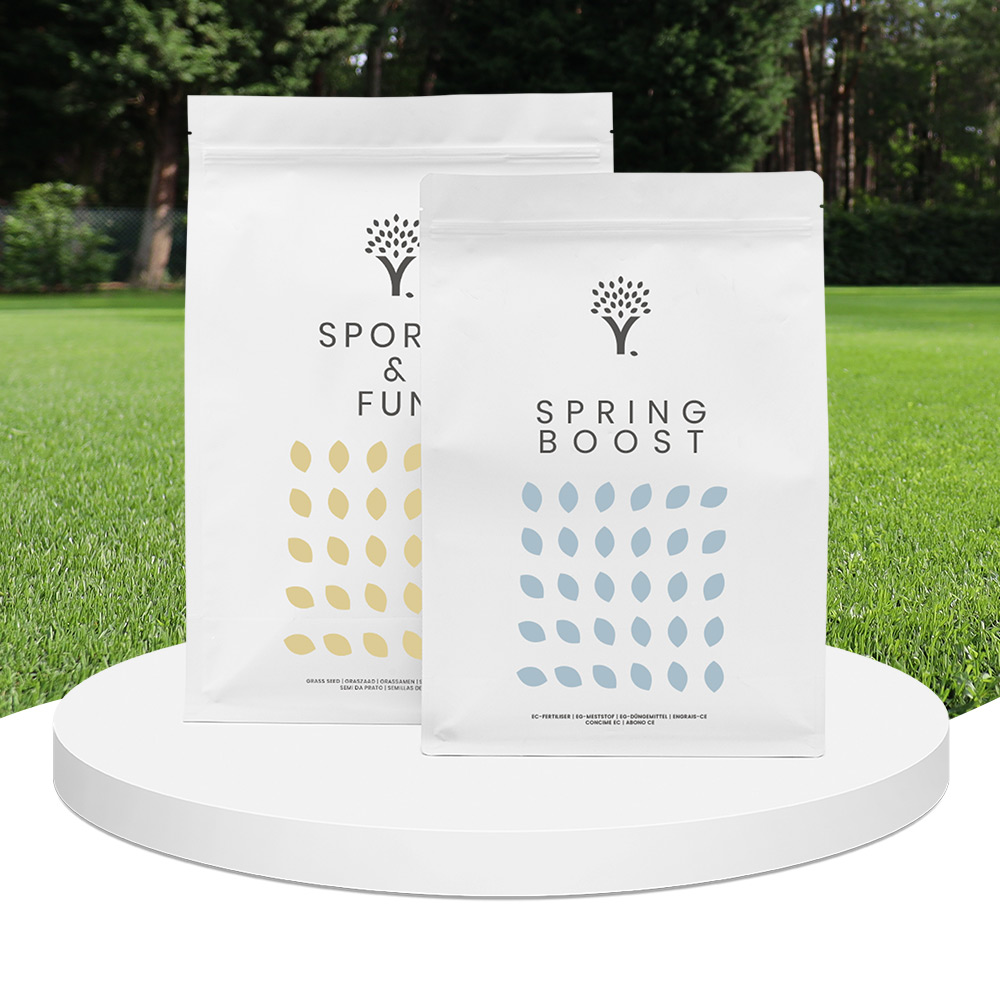 Spring Lawn Care Kit
MOOWY's choice for the spring | Quick recovery of your lawn after winter | A strong lawn prevents weeds
From:

£

25.99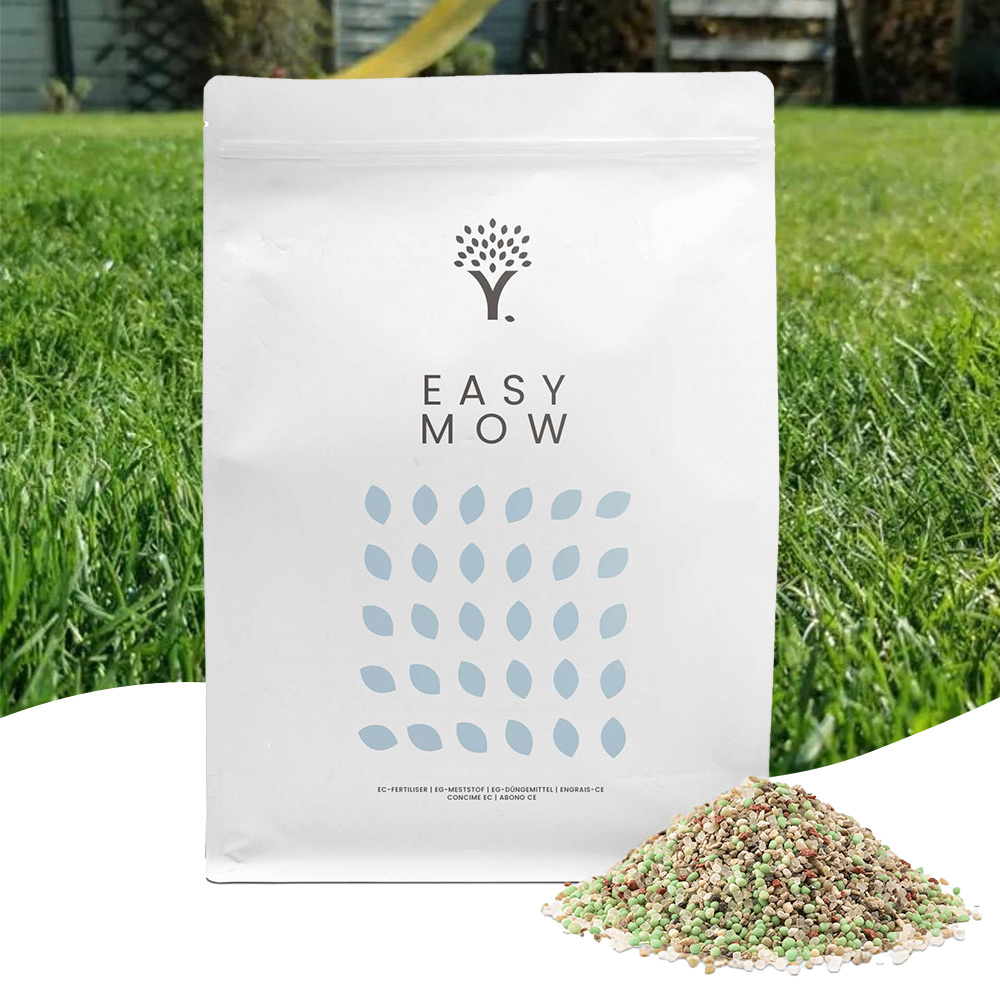 Long Lasting Lawn Fertiliser
Effective for 90 days | See results in 14 days! | Suitable for all types of grass and soil
From:

£

13.99
Free download
Do you want a
lawn calendar?
🌱 All important maintenance moments for your lawn during the year. Leave your email and we will send you the lawn calendar for free.
Receive the lawn calendar in the mail
Enjoy a green lawn all year round!