Top 12 Lawn Edging Ideas to Spruce Up Your Garden in 2023
Adding a formal edge to your lawn is like dotting the i's and crossing the t's as far as lawn finish is concerned. Somehow, your lawn just doesn't look complete without one. Let us help inspire lawn edging that suits your outdoor space.
Free download
Do you want a
lawn calendar?
🌱 All important maintenance moments for your lawn during the year. Leave your email and we will send you the lawn calendar for free.
Receive the lawn calendar in the mail
Enjoy a green lawn all year round!
Do you have a beautiful lawn, but something is missing? You've scarified, overseeded, fertilised, and dutifully mown — but something about your lawn still doesn't seem right. Perhaps it's your lawn's edges that are failing the general aesthetic? You need expert lawn edging ideas.
Table of contents:
The Importance of Lawn Edging

Which tools do I need to define an edge into my lawn?

How to Edge a Lawn: Step-by-Step

1. Galvanised Steel Lawn Edging

2. Rubber Edging

3. Bamboo Lawn Edging

4. Gravel Lawn Edging

5. Log-Effect Edging

6. Metal Edging

7. Plastic Edging (aka Flexi Curve)

8. Paving Stones

9. Brick Soldier Edging

10. Glass Bottle Grass Borders

11. Glow in the Dark pebbles

12. Mini fencing

Lawn edging ideas to smarten your garden

Frequently Asked Questions
Indeed, a well-defined edge adds a neat and ordered aesthetic to your outdoor space. So, it won't surprise you that lawn edging is the art of maintaining distinct borders between your lawn and other parts of your garden, such as your flowerbeds, patios, paths, and decking areas.
This guide presents 12 innovative lawn edging ideas to enhance the charm of your garden in 2023 — some simple, others more labour-intensive.
Ready? Let's get started!
The Importance of Lawn Edging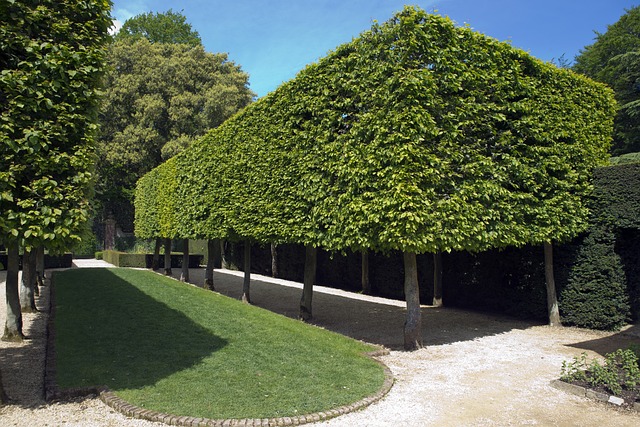 Creating boundaries between your lawn and other areas, such as flower beds or driveways, gives your outdoor space a curated, well-maintained look.
And while a well-defined edge gives your garden a clean and organised appearance, it also helps prevent your grass from creeping into unwanted areas.
Moreover, lawn edging helps define clear boundaries for mowing and trimming, offering greater ease in lawn maintenance.
Which tools do I need to define an edge into my lawn?
There are a variety of tools that help achieve a neat, professional finish on your lawn's edge — some of which you'll have in your shed; others might require a trip to the DIY store (or try your local Library of Things).
Half-moon edger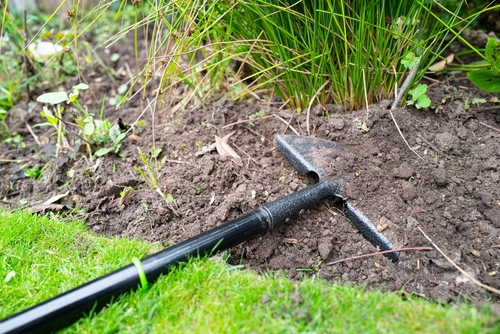 One of the most popular lawn edging tools is the half-moon edger. This widely available tool has a sharp half-moon-shaped blade that loosens the soil around the edge of your lawn, allowing you to define a nice, neat edge of your lawn area.
Like all garden tools, keep the blade sharp for effective use. You can sharpen it by filing the cutting edge with a metal file or a sharpening stone.
Rotary edger
Another manual tool to consider is a rotary edger. This device is beneficial for maintaining straight lines or perfect curves as it uses a rolling blade for greater precision.
The rotary edger is particularly beneficial when dealing with tough grass or deep roots.
Garden spade
The standard garden spade is also a boon for lawn edging. Its flat edge and sturdy build make it perfect for cutting through soil and grass to create a clean edge.
The spade's blade is typically longer and broader than rotary- and half-moon edgers, which makes it particularly useful if you need to dig down deep to remove your grass's roots to prevent it from spreading into your flowerbeds.
One of the drawbacks of using a garden spade is that it's harder to get a perfectly straight line.
Powered edgers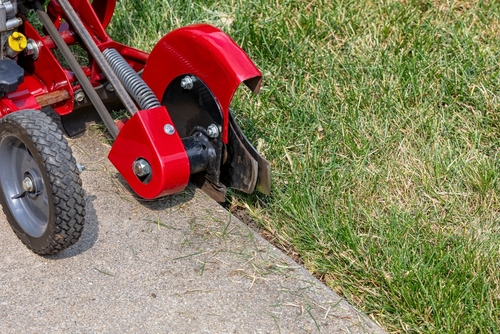 While manual tools are affordable and provide good control, they require a fair degree of physical effort.
So, depending on the size and shape-complexity of your lawn, you might want to consider power edging tools, which can make the job quicker and easier.
Power-edging tools include:
Strimmers (with an edging attachment)
Grass trimmers (with edging attachments)
Lawnmowers (with edging attachments)
One of the drawbacks of power tools for edging is that you get less control, especially if you haven't used the tool before. However, with practice, a power tool offers a quick and neat solution to lawn edging.
And remember: regular maintenance of your manual and power tools – particularly keeping the edges sharp – will ensure they remain effective and extend their lifespan.
How to Edge a Lawn: Step-by-Step
Edging a lawn is satisfying because it offers an excellent, immediate result. But you need to know what you're doing for the best results.
So, follow these steps for excellent results:
Identify the Areas to be Edged: Start by deciding which areas of your lawn require edging. It could be around trees, flower beds, pathways, driveways, or simply the perimeter of your yard.
Select the Right Tool: Choose an appropriate edging tool depending on the area's complexity and size. It could range from a manual edger, a half-moon edger, or an electric- or petrol-powered edger.
Mark the Edge: Use a hose pipe or spray paint to mark the desired edging line. Alternatively, tie a piece of string to two small posts at either end of the edge — this only works for straight lines, of course. For curves, hammer in posts at closer intervals between the two ends of the border before tying the string. This serves as a helpful guide during the cutting process.
Cut the Edge: Start cutting the edge along the marked line using your chosen tool. Use your foot to push the blade into the ground for manual or half-moon edgers.
Remove Excess Soil: After cutting the edge, use a shovel or rake to remove any displaced soil or grass to create a clean and even trim.
Add a Border: Depending on the type of edging you've chosen, you can add a border. This could be a strip of plastic, metal, bricks, stones, or even plants. Read on for ideas!
Maintain the Edge: Regular maintenance of the edge is crucial. Trim any grass or weeds growing into the edged area to keep it neat and defined.
Now, let's explore some creative lawn edging ideas.
1. Galvanised Steel Lawn Edging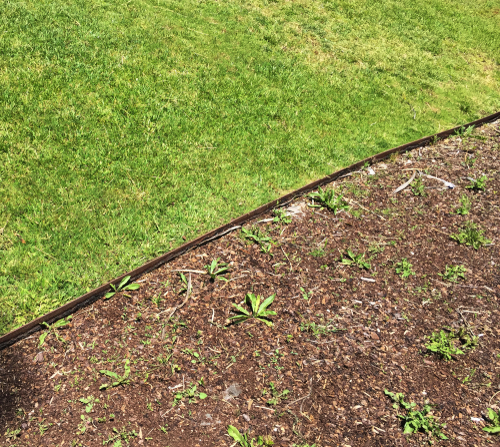 Galvanised steel offers a robust, cost-efficient option for lawn edging, fitting perfectly with a modern garden design.
Installation is straightforward: simply unroll, cut to size with tin snips, and tap the spikes into the ground.
The rustproof steel withstands regular contact with gardening equipment, ensuring durability. And it won't rust, meaning that your lawn edging remains beautiful for years to come.
Most commercial rolls (available in garden centres and online) are 10m long and around 17cm tall, providing plenty of height for a clean, neat divide between your lawn and flowerbeds.
2. Rubber Edging
Ideal for precise edging in smaller gardens, recycled rubber edging offers efficiency and affordability. Besides being durable and flexible, it's eco-friendly and can be easily held in place using long pegs.
Also, thick, high-density rubber edging provides a practical additional subsurface barrier to prevent spreading plants, such as bamboo, from taking over the garden.
Rubber is remarkably durable and resistant to strimmer and mower contact, and it's the perfect solution to curves and straight lines. And choosing a recycled product means you're doing your bit for the planet.
3. Bamboo Lawn Edging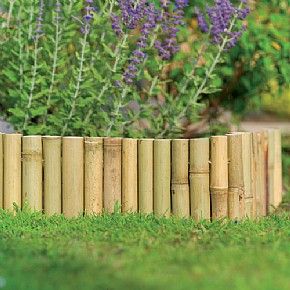 For an eco-friendly and aesthetically pleasing option, consider bamboo lawn edging. Bamboo is fast-growing and sustainable, so if you're concerned about your garden's impact on the planet, bamboo is the way ahead.
Bamboo's natural look blends well with Asian-inspired or tropical themes but actually adds an attractive addition to any garden. And its durability and affordability make it an excellent choice.
The strips of bamboo trunks make an excellent choice for edging curved lawns but are also ideal for durable right angles.
4. Gravel Lawn Edging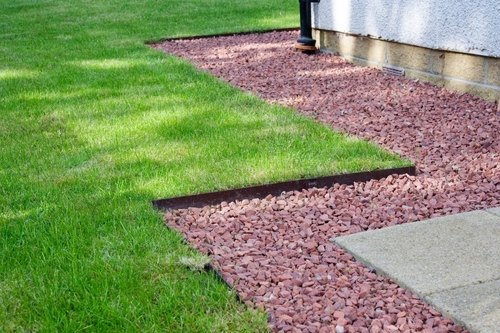 Gravel is a popular choice for rustic and cottage-style gardens, which won't degrade over time.
Gravel offers a low-maintenance lawn edging option and improved lawn drainage, which could help prevent waterlogging.
Gravel's versatility allows it to be used in various garden styles, ranging from cottage gardens to modern landscapes.
Use fine gravel for smaller gardens or around water features, sheds, and patios. Larger gravel pebbles are perfect for more substantial gardens.
And you'll be pleasantly surprised by the wide range of colours and textures of gravel available in garden centres or online. From stark white to rainbow glass, there's a gravel for your garden that brings a natural feel while aiding drainage. Win-win.
5. Log-Effect Edging
Plastic logs that resemble natural wooden logs offer a rustic feel, suitable for all types of gardens. However, plastic has a longer lifespan than wooden logs, which rot over time.
Log edging is suitable for flower beds and garden borders, offering a natural look with the durability of plastic.
Another benefit of plastic logs is that they're cleanable — every time it rains, mud and debris get washed off the logs, keeping your lawn edging looking good for longer.
6. Metal Edging
One of the biggest problems with plastic is what you do with it when it has served its purpose. Do you throw it in landfill? Is it possible to recycle? So, metal is one of the best alternatives to plastic for sleek and durable garden edging.
These thin metal strips are easy to install and demand very little maintenance, creating a clean and defined edge around lawns, flower beds, or borders.
And choose from a wide range of finishes, from galvanised steel for rust protection to gloss-painted to complement your garden's aesthetics.
7. Plastic Edging (aka Flexi Curve)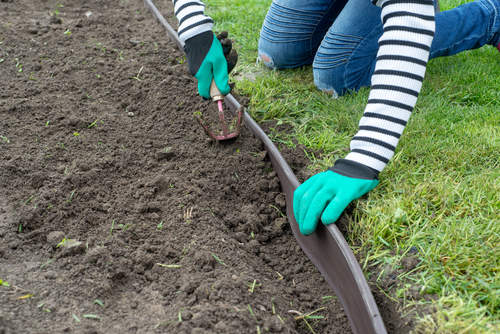 Flexi curve plastic edging is made from recycled car tyres, offering an affordable option for lawn borders that works well in various garden styles.
It is lightweight and one of the most accessible lawn edging systems to install, offering long-term durability and multiple colours and designs to suit your taste.
And while plastic can look ugly, its flexibility allows you to create organic shapes that blend well with the natural contours of your garden.
8. Paving Stones
Paving stones offer an elegant lawn edging option in formal and traditional gardens. Remember, you can get paving stones in various shapes and sizes, so it's possible to get creative with your design.
Paving stones provide a sturdy, long-lasting border that defines your outdoor space and adds visual interest, doubling up as a durable path that protects your lawn.
And if you have an ornamental lawn, you'll want to keep feet off your grass, so paving stone edging is the perfect solution. 
MOOWY's Premium Lawn Seed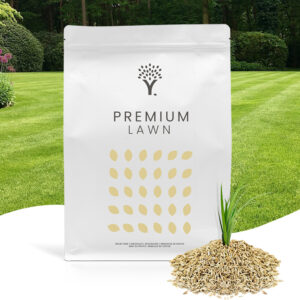 MOOWY's Premium Lawn Seed
Premium Lawn Grass Seed
Excellent ornamental grass
Tolerates close mowing for a manicured look
Drought-tolerant
View Product
9. Brick Soldier Edging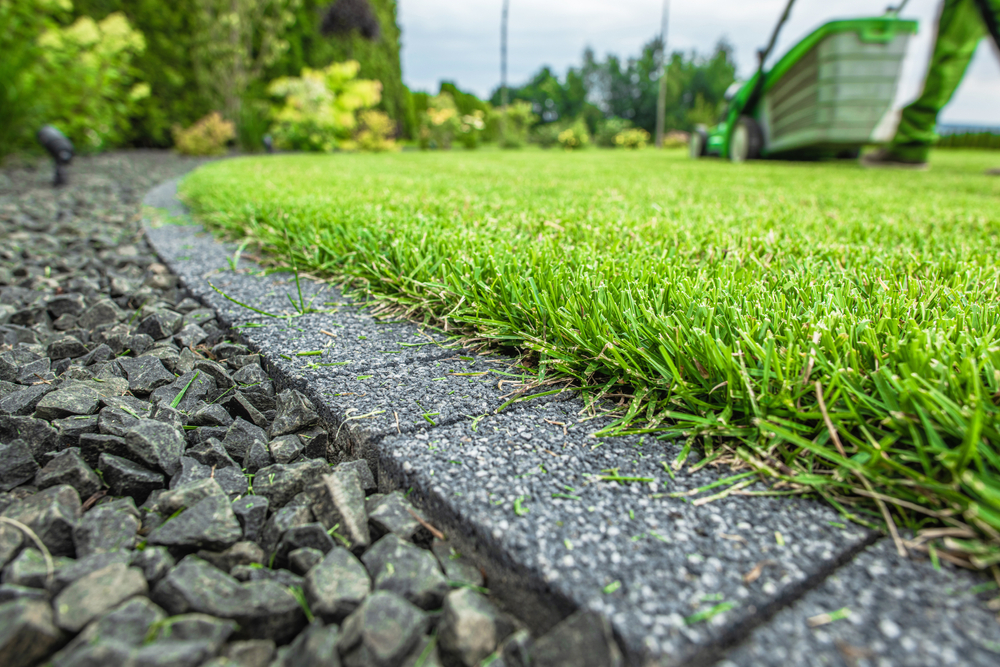 Brick edging is a classic option for lawn borders that can work well in traditional and cottage-style gardens. And while conventional bricks are possibly the most popular option, it's now possible to use solid recycled rubber bricks that interlock — perfect for straight or slightly curved lawns.
Aligning bricks like soldiers adds stability and organic visual interest to your lawn. This helps define your outdoor space and requires very little maintenance. They're also mower and strimmer-proof, so they will last for decades
10. Glass Bottle Grass Borders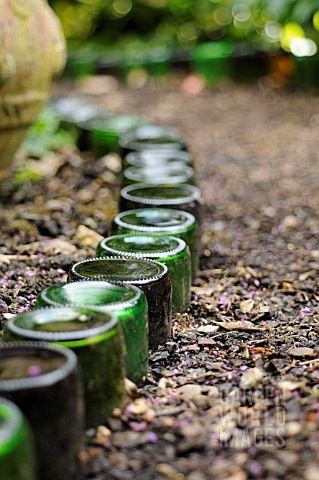 Glass bottle grass borders are creative, eco-friendly options for lawn borders in quirky and eclectic gardens. You'll need a lot of bottles for this, so start collecting your empties!
This unique and eye-catching border idea adds colour and texture to your lawn. You can pair your glass bottle border with solar-powered rope lighting for an attractive and enchanting lawn edging border that appears to twinkle at night.
11. Glow in the Dark pebbles
Glow pebbles bring a quirky, ghostly glow to nighttime gardens, charging up through daylight hours and lighting up your garden during the evening.
Available in various colours, sizes, and shapes, these fun lawn edgers should last as long as 15 years. Also perfect for adding to flowerpots and along paths for navigational support.
12. Mini fencing
A lovely way to differentiate garden zones, mini fencing brings an attractive decorative aesthetic to your outdoor space.
Typically more suited to straight lines than curves, fenced edging looks wonderful around water features, ponds, and decorative lawns.
Lawn edging ideas to smarten your garden
Lawn edging can significantly enhance the appeal of your garden, making it the envy of your neighbours.
Whether you prefer the classic elegance of brick and stone or the eco-friendliness of recycled rubber, there is a wide variety of options.
And don't forget to incorporate seating areas into your garden design – a comfortable spot to relax and enjoy your beautifully edged garden is an essential element of any outdoor space.
Frequently Asked Questions
Is Edging Good For Your Lawn?
Yes, edging is generally beneficial for your lawn. It creates a defined border, helping to prevent grass from growing into unwanted areas and providing a neat and organised look.
When Should I Start Edging My Lawn?
It's best to edge your lawn in the spring or autumn when the grass is actively growing. This helps you clearly define the boundaries of your property.
What Is The Best Edging Around Grass?
There are many different types of edging around grass, including plastic or metal strips, bricks, stones, and even plants or shrubs. The best kind of edging depends on your personal preferences and your landscaping style.
Any questions?
I hope I've given you some good ideas about edging your lawn, but if you have questions, email us or add a message in the comments section below. And we'll get back to you as soon as we can!
Alternatively, check out our comprehensive Help & Advice section!
Thanks for reading!
Your answer will be displayed on the site and the interested party will be notified by email.
Have a question or want to share your experience? Leave us a comment.
Read
more
The best tips and tricks for a lush green lawn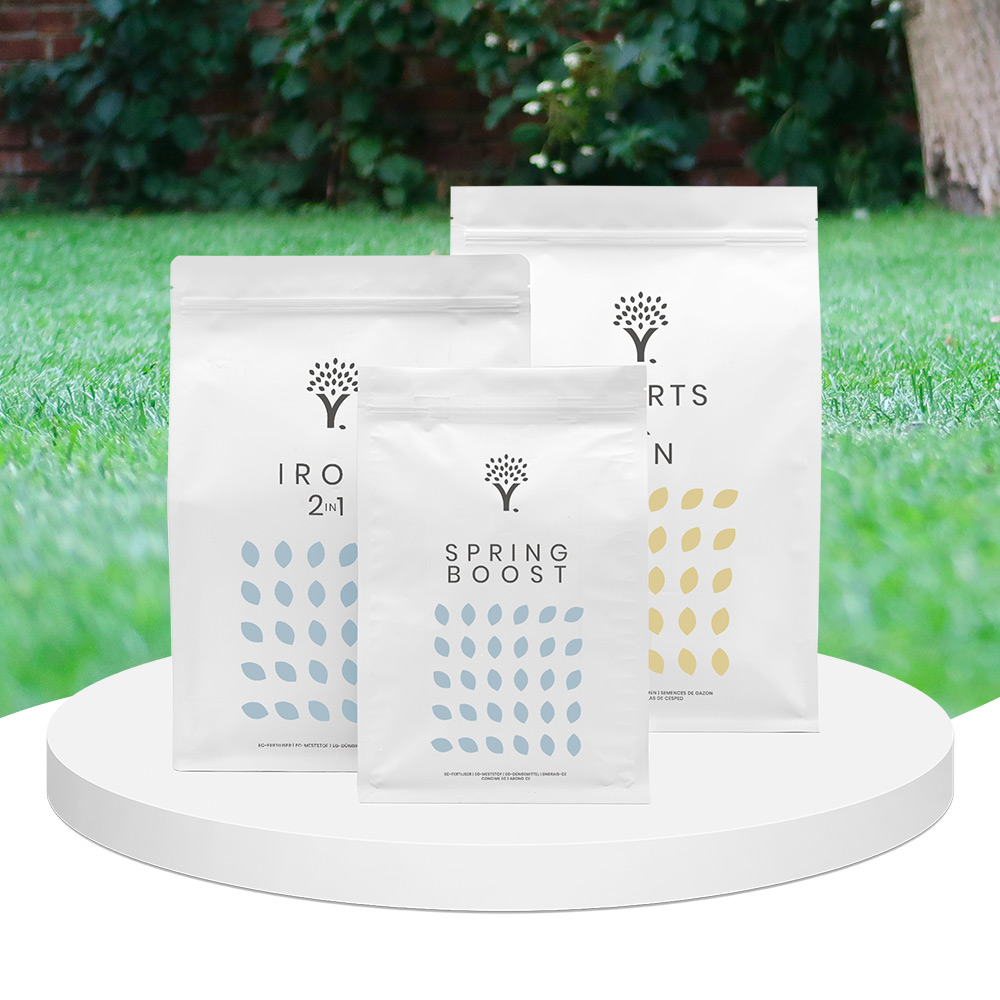 Scarifying Kit
All products after scarifying | Quickly restores the lawn after scarifying | Outsmart weeds quickly with the use of this kit
From:

£

39.99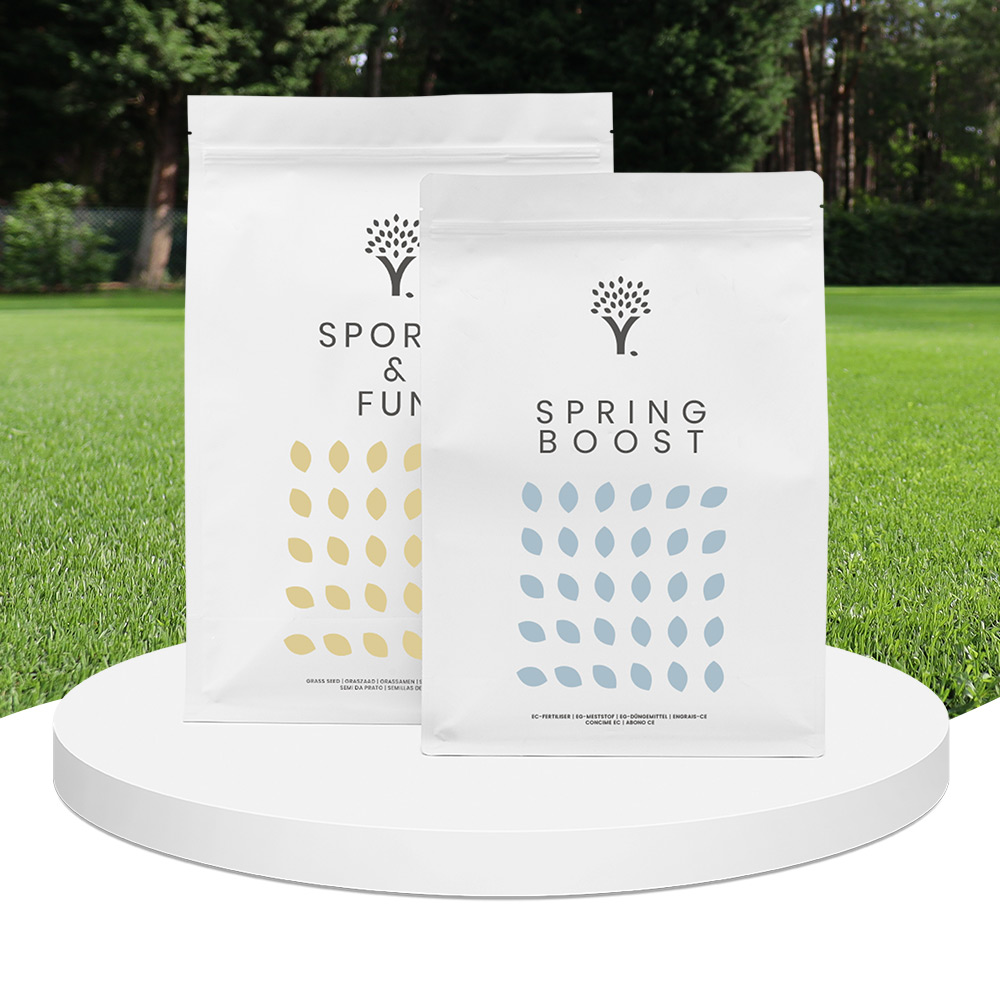 Spring Lawn Care Kit
MOOWY's choice for the spring | Quick recovery of your lawn after winter | A strong lawn prevents weeds
From:

£

25.99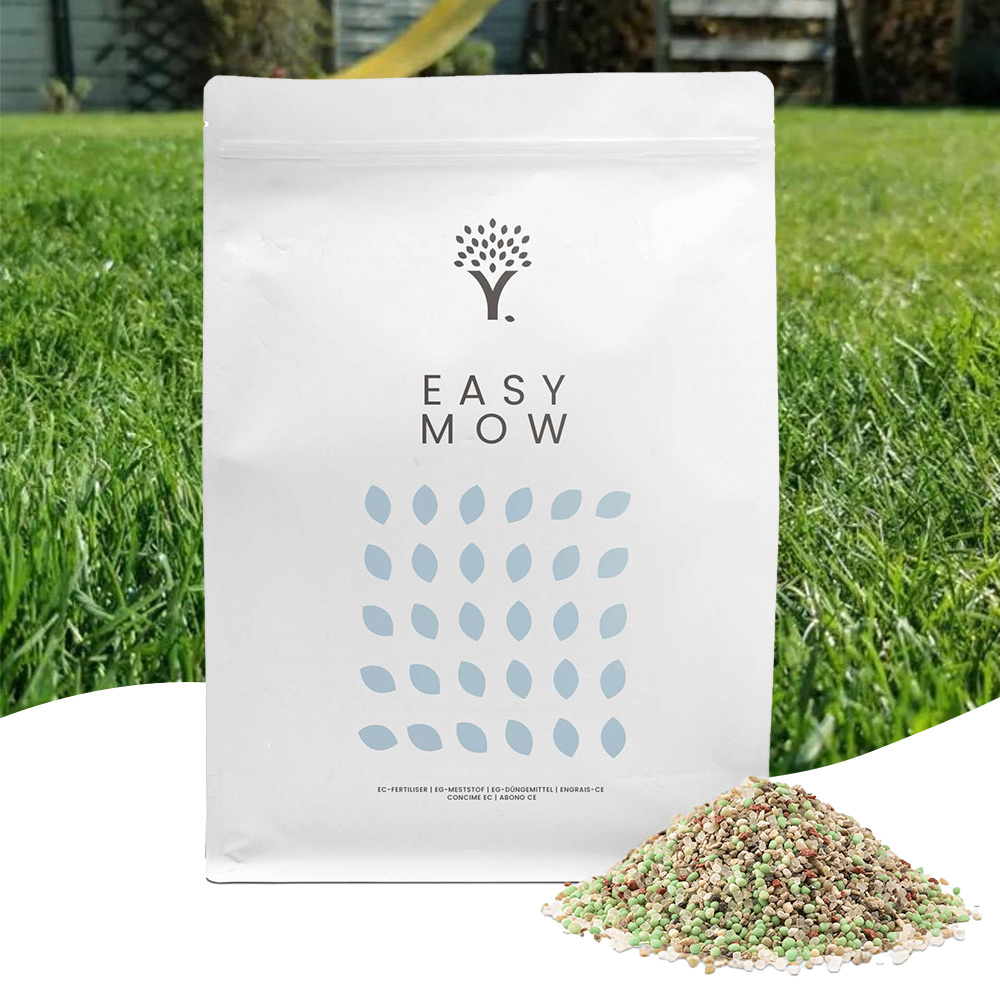 Long Lasting Lawn Fertiliser
Effective for 90 days | See results in 14 days! | Suitable for all types of grass and soil
From:

£

13.99
Free download
Do you want a
lawn calendar?
🌱 All important maintenance moments for your lawn during the year. Leave your email and we will send you the lawn calendar for free.
Receive the lawn calendar in the mail
Enjoy a green lawn all year round!