The top 10 gifts for gardeners
What do you buy someone who already has everything? If they love nothing more than a potter in the garden, we have 10 top gifts for gardeners they'll absolutely love.
Free download
Do you want a
lawn calendar?
🌱 All important maintenance moments for your lawn during the year. Leave your email and we will send you the lawn calendar for free.
Receive the lawn calendar in the mail
Enjoy a green lawn all year round!
As you know, we're utterly potty about pottering in the gardening here at MOOWY (awful, compound pun intended). So we've put together a list of gifts for gardeners that we'd love to receive (heavy hint intended 🙂 ).
We love nothing better than being out in the open air and getting our hands dirty. And because we have such enthusiasm for gardening, we've tried literally every gardening gadget that's ever been invented.
Which is handy, because this blog is all about our favourite gardening gadgets. So, if you're looking for a bit of inspiration for that extra special gift, look no further.
We're going to explore a range of affordable gift ideas that any gardening fanatic will love and use (rather than bung it in the bottom of the drawer).
Ready? Let's go
1. A Mushroom Knife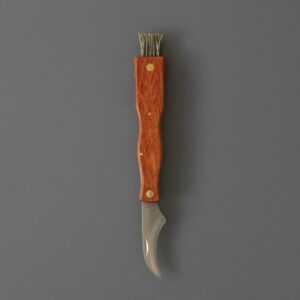 You might be astonished to learn that fungi can actually be beneficial for your lawn. Letting fungi grow and live on in your garden is an excellent idea because mother nature uses these complex organisms to help decompose organic matter.
And decomposed organic matter makes excellent compost. Fungi is the only type of microbe that can decompose wood, so sticks and branches from fallen trees rely on our mushroomy friends to feed the soil.
However, you're not alone if you'd rather have a mushroom-free lawn.
If you're looking to eradicate the fungi from your lawn, you need a mushroom knife. This type of tool is ideal for both edible and inedible fungi, with a crafted blade that cuts the mushroom clean from the stalk and a brush for cleaning soil from the mushroom itself.
Of course, you have to know what you're doing if you're looking for edible mushrooms. Never eat a mushroom unless you are 100% sure you know it's edible. Always forage for mushrooms with an expert – otherwise, you could be in for an odd, psychedelic experience or worse.
2. Engraved garden tools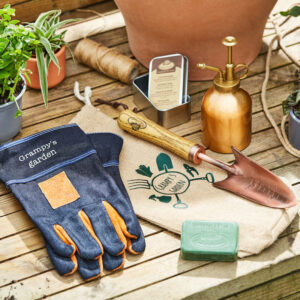 Personalised gifts are memorable and will remind the individual of your thoughtfulness each time they use their tools in the garden!
There are some tools that no avid gardener can do without:
Gardening gloves to protect your hands from thorns
Measuring trowels for transplanting and digging small sections of soil
Plant mister for keeping plant leaves moist when the temperature is hot, and the air is dry
Decent soap for cleaning all the muck off your hands after a full-on gardening session
Luckily, all of these items are packaged together in a beautiful hessian sack with this kit – each item is personalised with a beautiful engraving of your choice.
So, if you're looking for a great set of personalised gardening tools, look no further.
How cool are these?
3. A Robust Garden apron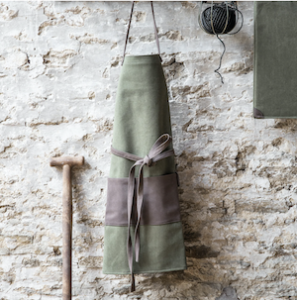 As we all know, gardening can be a dirty business. Whether you're digging, re-potting, planting seeds, or just maintaining your plants, there's plenty of opportunities to ruin your clothes.
Therefore, a garden apron is an essential accessory for anyone who loves nothing more than getting down and dirty in the garden.
This beautiful khaki garden apron is crafted from waterproof canvas, with a large central compartmentalised pocket to hold your trowels and seed packets and, of course, your phone.
Functionality aside, we love this stylish unisex garden apron at MOOWY – in muted autumnal colours; this would make a lovely, thoughtful gift.
4. Personalised garden gloves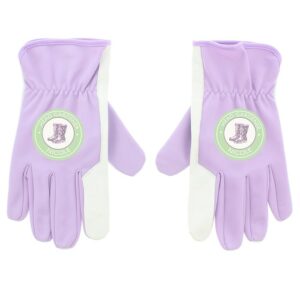 Every gardener needs a robust pair of gardening gloves. It's not so much about keeping your hands clean (although they do help, of course), but it's more about protecting your hands while you prune and chop. And, come late autumn/early winter, summer bush growth will start dying back.
So, if you want optimal growth next year, it's essential to prune your bushes and shrubs.
But it's scratchy work.
These excellent personalised garden gloves are durable but breathable, with strong leather palms for maximum protection. The backs of the gloves are flexible nylon that helps your skin breathe – no more sweaty hands!
What a thoughtful gift!
5. A Golden watering can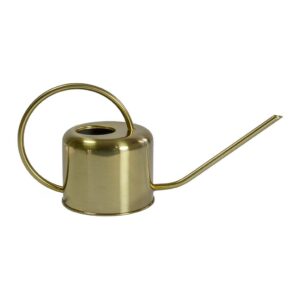 Everyone loves a bit of bling!
Watering cans come in a range of sizes. Your large, multi-litre watering can is great for irrigating large areas, but the water flow from the rose spout can damage small plants and seedlings.
So, a houseplant watering can is perfect for greenhouse watering (and, of course, houseplant watering!). The spout is long and thin – perfect for reaching the soil rather than spraying the leaves.
The thin spout flow makes it easy to gauge how much water you're providing for your plant – you can't always tell when you water the leaves.
This funky gold-coloured watering can holds 1 litre of water and makes for a super-stylish gift for a green-fingered friend. They'll be the envy of the neighbours in no time!
6. Garden inspiration book
There has always been this idea that giving books as a present is a bit dull. At MOOWY we think giving a book makes a fantastic gift! Especially when this book is full of garden inspiration.
7. A Funky Firebasket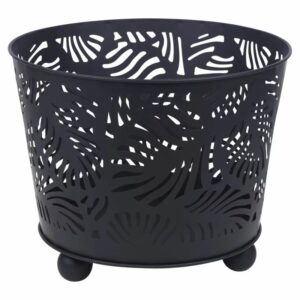 Those of us lucky enough to have outdoor space have certainly made the most of it through the intermittent lockdowns of 2020/2021.
Homes with gardens are like hot cakes on the housing market these days, providing an escape from the isolation of the home. Indeed, the garden becomes another room of the house.
Of course, the optimal time for lounging in the garden is during the day when the sun is high in the sky. However, the garden makes an excellent venue for nighttime parties, even if the temperature drops.
This funky palm leaf cast iron fire basket would make a brilliant gift for garden lovers, allowing you to sit around a dancing, warming flame into the wee small hours.
Just make sure you don't place this little firepit directly onto your lawn – put it on a raised platform to protect your grass!
8. Soil and Light tester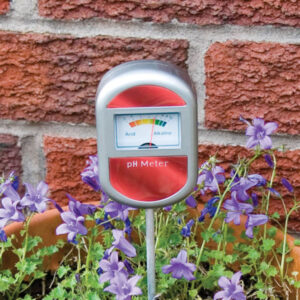 All gardeners know that you need the correct type of soil or compost for plants to thrive. So, these affordable soil and light tester kits would make a great gift for a keen gardener.
These devices help control the soil's pH level, testing for acidity or alkalinity to help the gardener create the most hospitable home for their plants.
Acidity is often localised – one part of the garden could have high acidity levels, making it great for acid-loving plants such as magnolias and Japanese anemones. Other areas might have more alkaline soil, making it perfect for geraniums, lavender, and dianthus.
Soil acidity can be affected by other plants. For example, pine needles that drop from pine trees make the soil acidic below the tree. You can add Lawn Lime to acid soil to neutralise it.
So, a soil and light tester gift helps your friend or family member identify where to plant their veg and bedding plants for the best chance of success.
9. Aerator sandals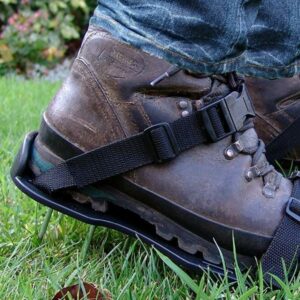 Aerating your lawn is one of those essential garden tasks that lots of gardeners dread. If they have a large lawn, aerating can take forever. However, failure to regularly aerate the soil causes the earth to become compacted, making it difficult for deep grassroots to spread.
And strong roots make for healthier lawns.
These lawn aerator sandals might look a bit out of place on your average Paris catwalk, but they fit in nicely as part of your gardening arsenal. And any keen gardener will appreciate these in their Christmas stocking.
Lawn aerator sandals strap onto your shoes – the spikes on the bottom aerate the soil as you walk around your lawn.
They might look like torture weapons, but grass loves them!
10. A Bee hotel
Our bees are facing an enormous crisis. Much of their natural habitat has been lost to urban buildings over the last 60 years, so our most essential pollinators are under serious threat.
Compounded by harsh pesticides, bees really are experiencing their nadir.
All gardeners love bees. They pollinate our crops and flowers and help the ecosystem of our gardens to flourish. So, this fabulous bee hotel would make a brilliant gift for your gardening chums – and, of course, the bees.
OK – it might not have a pool and room service, but bees just need a safe place to live and thrive. Because a healthy bee population keeps the human population intact, after all.
Get in touch
Hopefully, our list of fantastic garden gift ideas will make future birthdays and Christmases that little more straightforward. But if you know of a brilliant item that we've missed, please let us know, and we'll include it in our list.
Get in touch with questions and suggestions at hello@moowy.co.uk. We love hearing from you!
Thanks for reading.
Your answer will be displayed on the site and the interested party will be notified by email.
Have a question or want to share your experience? Leave us a comment.
Read
more
The best tips and tricks for a lush green lawn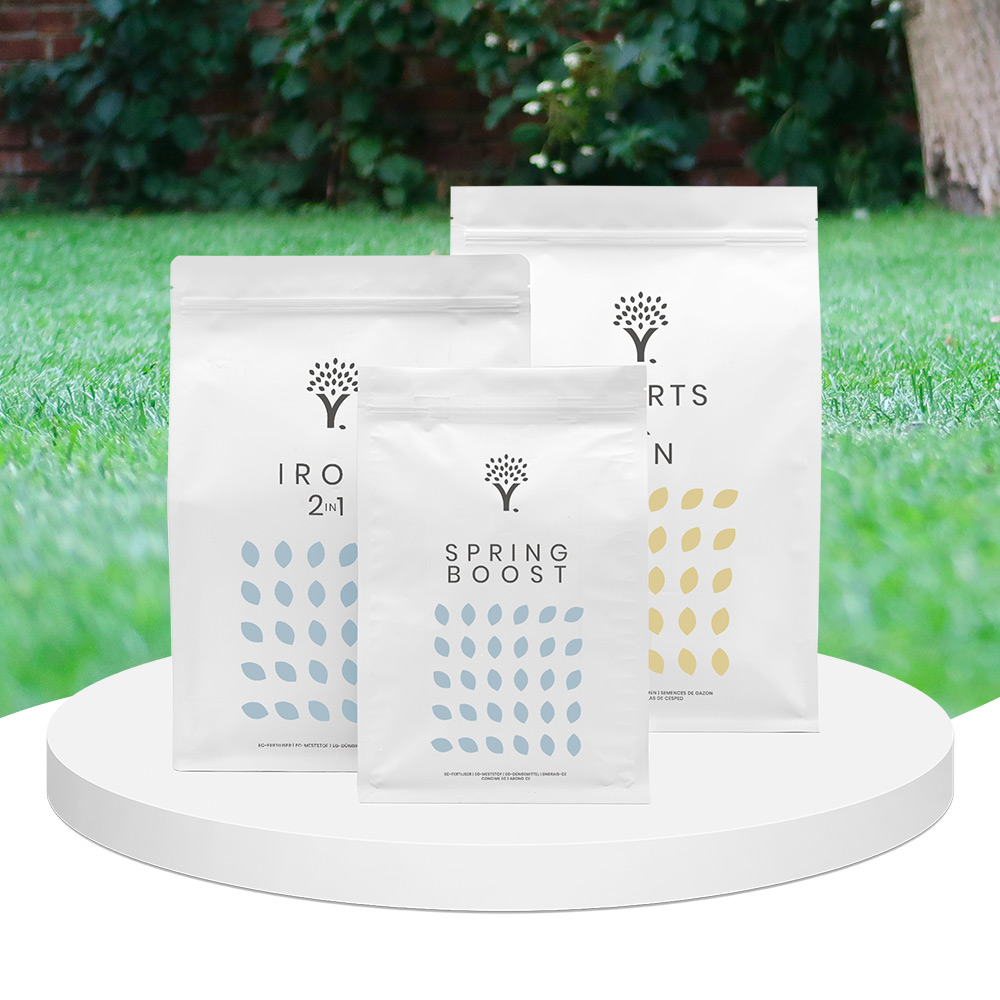 Scarifying Kit
All products after scarifying | Quickly restores the lawn after scarifying | Outsmart weeds quickly with the use of this kit
From:

£

39.99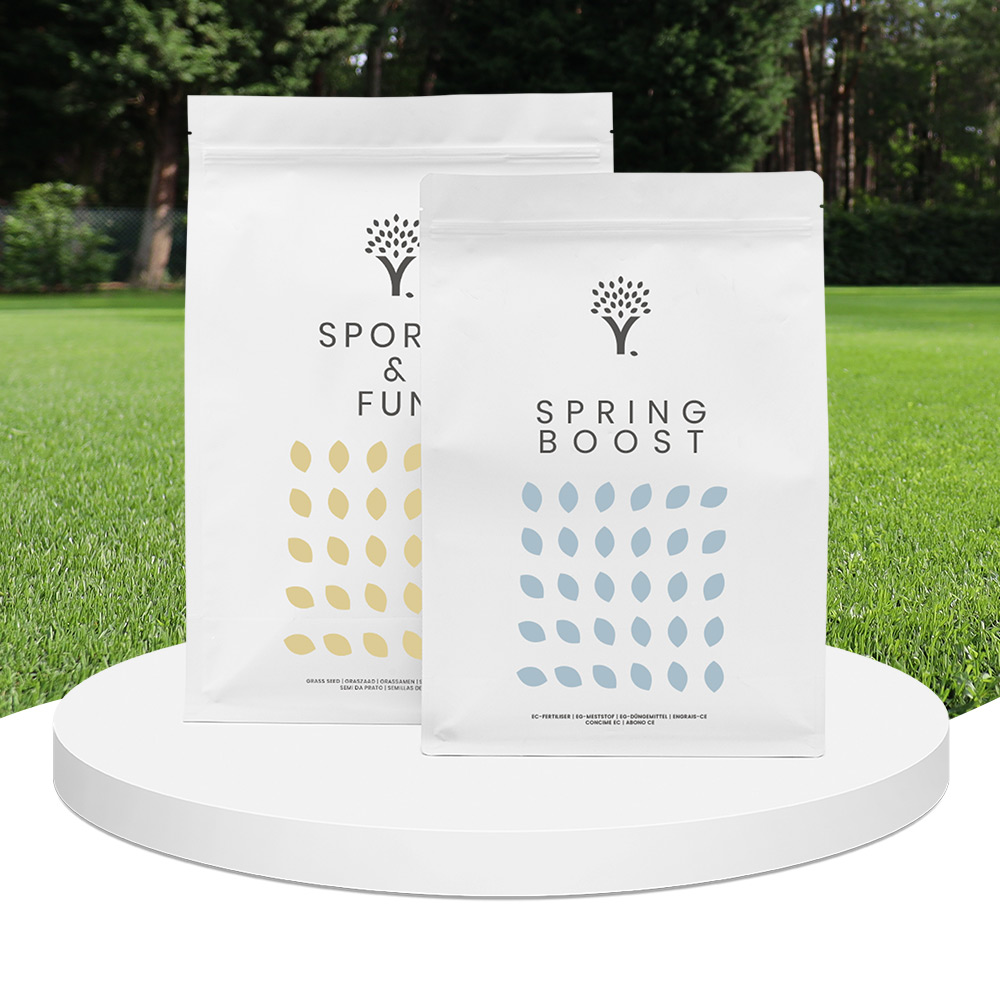 Spring Lawn Care Kit
MOOWY's choice for the spring | Quick recovery of your lawn after winter | A strong lawn prevents weeds
From:

£

25.99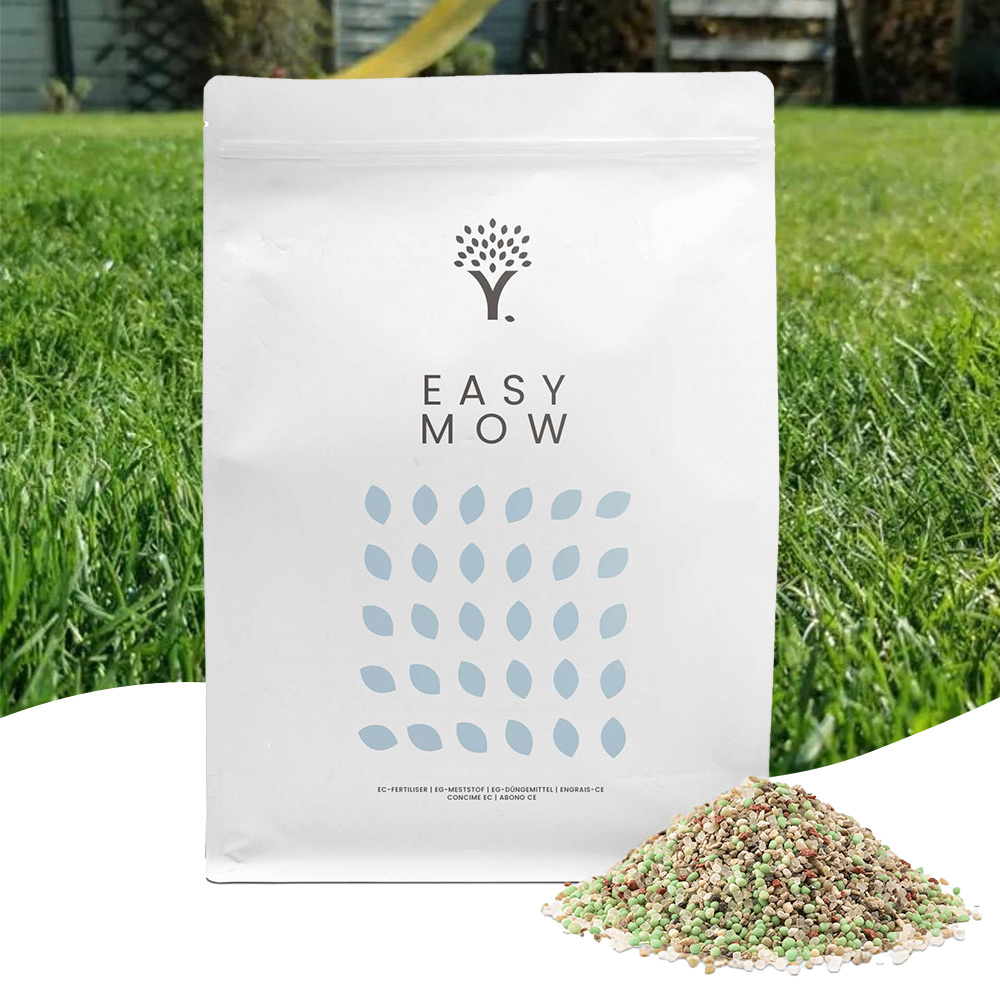 Long Lasting Lawn Fertiliser
Effective for 90 days | See results in 14 days! | Suitable for all types of grass and soil
From:

£

13.99
Free download
Do you want a
lawn calendar?
🌱 All important maintenance moments for your lawn during the year. Leave your email and we will send you the lawn calendar for free.
Receive the lawn calendar in the mail
Enjoy a green lawn all year round!