Gardening in April 
April is the perfect time for gardening. Get your checklist of April gardening tasks and some top tips along the way!
Free download
Do you want a
lawn calendar?
🌱 All important maintenance moments for your lawn during the year. Leave your email and we will send you the lawn calendar for free.
Receive the lawn calendar in the mail
Enjoy a green lawn all year round!
At last, spring is here! The ground is getting warmer, and the clouds are clearing to let in more of the sun's rays. And while there's still some risk of frost and plenty of rain, April sees the transformation of your garden from its winter slumber to its springtime splendour.
This blog is about the gardening task to complete in April so you can enjoy a beautiful garden for the rest of the year.
Garden maintenance in April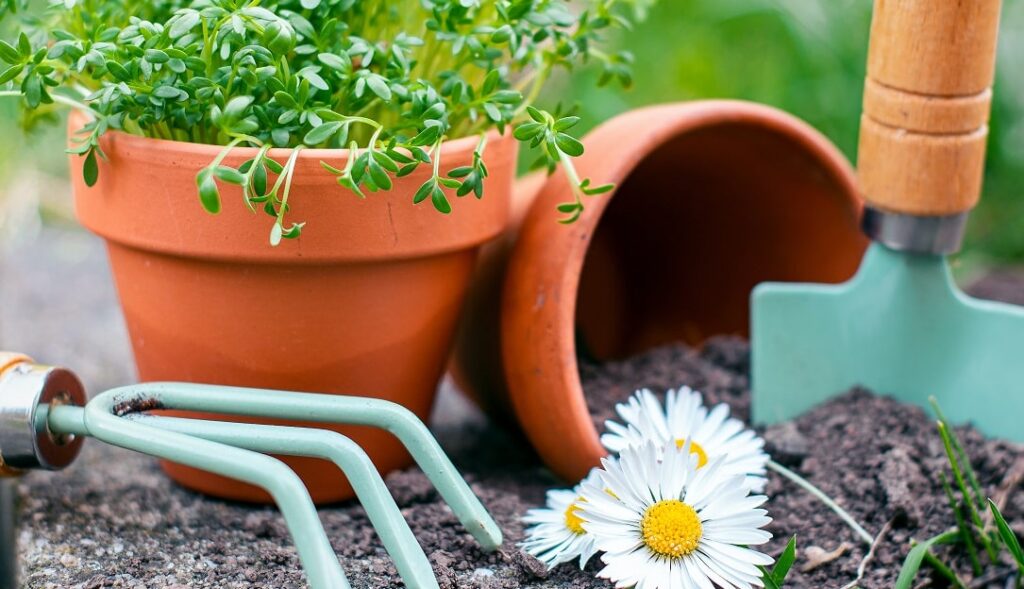 No matter the shape or size of your garden, April is the month to dust off the tools and get gardening. From lawn care to renovating your flower beds and hedges, there's a list of tasks to complete.
Here's your April gardening task list:
Scarify your lawn
Fertilise your lawn
Mow your lawn
Sow new lawn seed/overseed
Plant flowers
Plant veg and create a veg patch
Prune shrubs and roses
Remove winter protection
Lawn care in April
Your lawn awakens from its winter slumber and needs some attention. But a springtime lawn will only thrive throughout the rest of the year if you complete a few tasks early on.
Spring time lawn care kit!
Spring time lawn care kit!
Spring Lawn Care Kit
A kit for springtime lawn care!
All the nutrients your lawn needs for spring!
View Products
Scarify your lawn
After the winter, you'll probably find that your lawn has developed a mossy layer of organic matter sitting on top of the soil. This thatch layer will stunt your lawn's growth throughout the year, so it's a good idea to get rid of it in April.
Scarifying is the process of removing the moss and thatch using a scarifying rake or a scarifying machine. And while it's no gardener's favourite task of the year, the results are stunning (once you get over the catastrophe left in scarifying's immediate wake!).
For the full low-down on scarifying like an expert, check out our full article.
Lawn doctor Louis says:
Ensure the ground is at least 10℃, and the lawn is already growing before scarifying. And sow fast-growing lawn seed and fertiliser to help it bounce back. Within a few weeks, you'll have a radiant lawn again.
Fertilise your lawn
If you're not going to scarify, you should still provide a good feed for your soil. MOOWY's 2-in-1 moss killer and fertiliser provide ample nutrition while killing off the winter moss, which will help your lawn recover from winter when combined with overseeding.
Lawn doctor Louis says:
"If only a little moss and weeds have accumulated after the winter, you can also use a hand-held rake to get rid of the unwanted thatch. But don't forget to overseed!"
Mow your lawn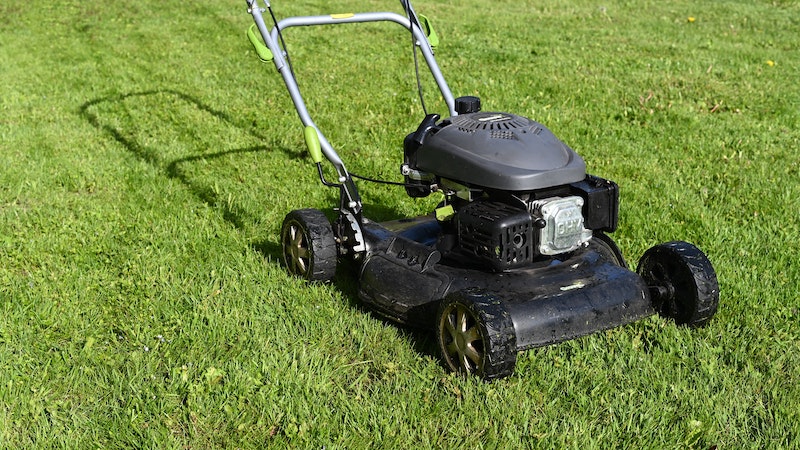 As soon as your lawn grows, it's time to start regularly mowing. I mow my lawn weekly during the growing season, and my lawn repays me with abundant growth throughout the summer.
The weekly cut releases growth hormones that give your lawn a burst of energy, which helps fight weeds and moss later in the year. And your lawn will recover more quickly from garden parties and ball games.
Ensure the grass is dry before mowing, and always cut with a sharp cutting blade to avoid damage to your grass plants. I recommend mowing in the afternoon to prevent the midday sun from drying out the exposed grass tips, turning them yellow.
Lawn doctor Louis says:
Mowing trains the roots of your lawn to grow at least 15cm deep, making the overall lawn much more resistant. Check out my expert guide to mowing your lawn for all the tips.
Sow lawn seed
Grass plants don't last forever — over time, they grow old and become less vibrant and robust. So, keep your lawn young and vigorous by overseeding in the spring.
Overseeding is simply the process of laying new grass seed over your existing lawn, focusing specifically on bald patches that may have developed over the winter.
Lawn doctor Louis says:
Use half the amount of lawn seed you would for sowing a new lawn. Then keep your lawn moist for 14 days to allow the seeds to germinate. Only enter your lawn to mow and remove weeds.
Plant flowers
You'll see flower bulbs emerging in April, bringing beautiful springtime colour to your awakening garden. But it's not too late to add more colourful splashes to your garden for the summer.
So, it's time to sow flower seeds or buy plants from your local garden centre. If you've already germinated your flower seedlings, then it's time to prick them out and plant them.
These plants do particularly well in April:
common sage
Plume
Hyacinths
Country carnation
Alyssum
Forget-Me-Not
April is also perfect for sowing the following seeds: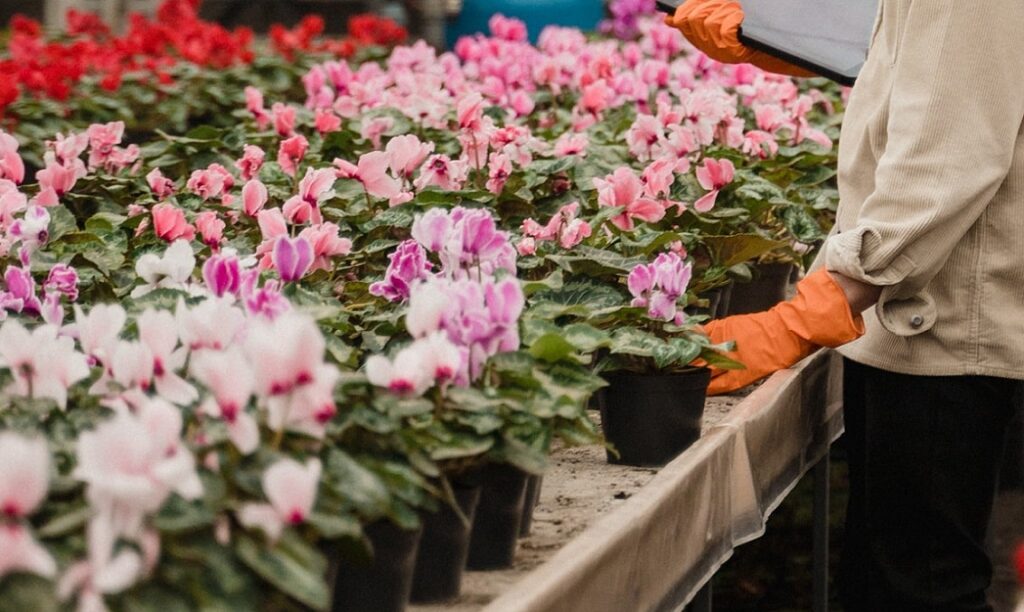 Daisy
Bluebell
Country carnation
Snapdragons
Summer aster
Find out all you need to know about planting flower bulbs in our expert articles.
Lawn doctor Louis advises:
How about a wild meadow in the corner of your yard? Plant different flowers and let them grow. You support the local population of butterflies and other insects.
Do you want to plant flowers? Then April is perfect for:
golden poppy
marigolds
Rhododendrons
gypsophila
Sunflowers
Create a vegetable patch
April is the perfect time to start growing your fruit and veg. So, start gathering your seeds and get germinating.

It's always a good idea to buy new seeds, even if you have some left over from the year before (check the Use By date). Fresh seeds are more likely to have a higher germination rate.
However, you can buy pre-germinated seeds, including:
Chinese cabbage
Garlic
Pumpkin
Oregano
Peppermint
Chives
Or sow the following in April:
Lettuce
Broccoli
Peas
Carrots
Potatoes
Spring onions
Lovage
Chard
Cabbage
Parsely
Broad bean
Radish
Beetroot
Sage
Germinate these in a greenhouse or on the windowsill: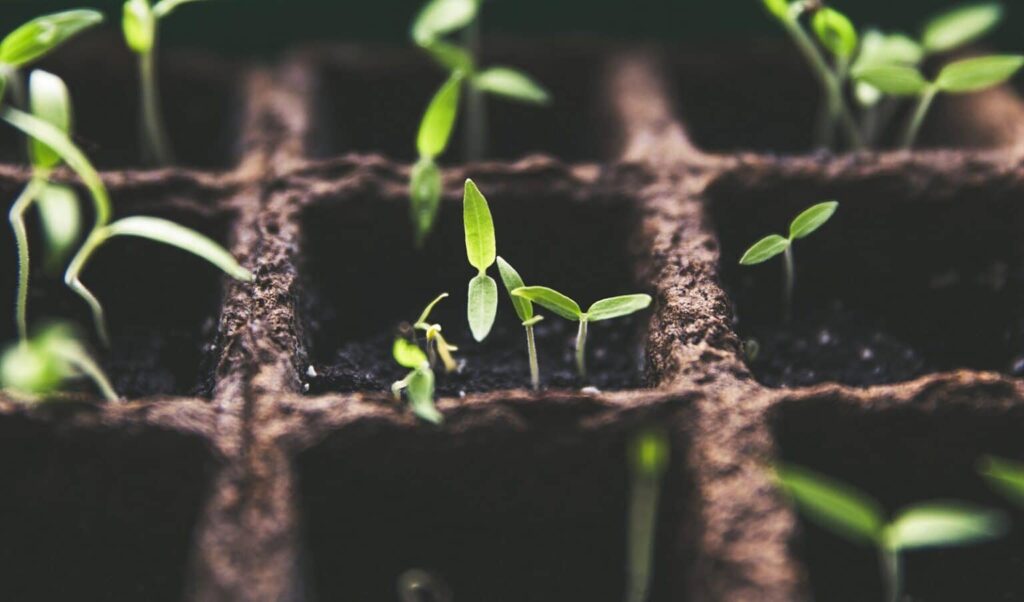 Fennel
Cucumber
Kohlrabi
Herbs
Pumpkin
Corn
Melon
Cauliflower
Tomatoes
Courgette
Wait until the risk of frost has passed before taking these seedlings off the windowsill for hardening outside: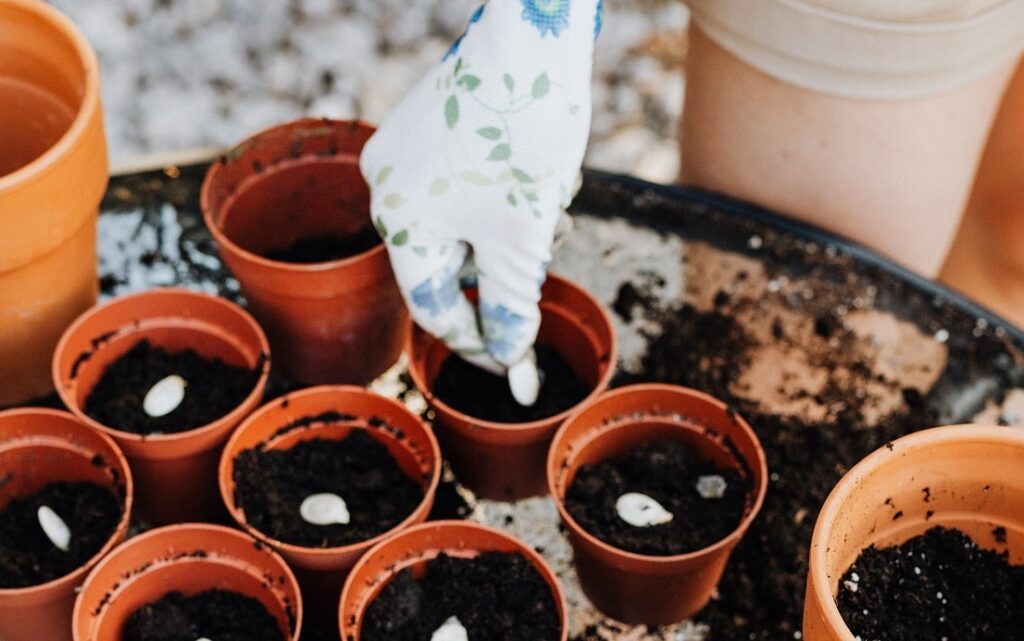 Broad beans
Melon
Tomato
Courgette
Prune shrubs and roses
Roses, shrubs and small hedges are lovely decorative plants. But to maintain their desired shape, they need pruning. April is an excellent time for pruning as the plants experience the first burst of life after winter.
They'll recover faster from cuts and amputations at this time of year and will reward you with early flowers and foliage after pruning.
Lawn doctor Louis advises:
April is also ideal for planting new roses. You could also plant vines and other softwoods now.
Remove winter protection
If you protect your plants and containers with fleece, wraps, or covers for the winter, it's time to remove them.
Let your plants breathe again, experiencing the lovely springtime rays while giving them a fresh burst of life as they awaken from their winter hibernation. 
And if you have any questions about any of the content of this blog (or anything else garden-related), get in touch. We'll reply as soon as possible.
Happy gardening, everyone!!!!
Your answer will be displayed on the site and the interested party will be notified by email.
Have a question or want to share your experience? Leave us a comment.
Read
more
The best tips and tricks for a lush green lawn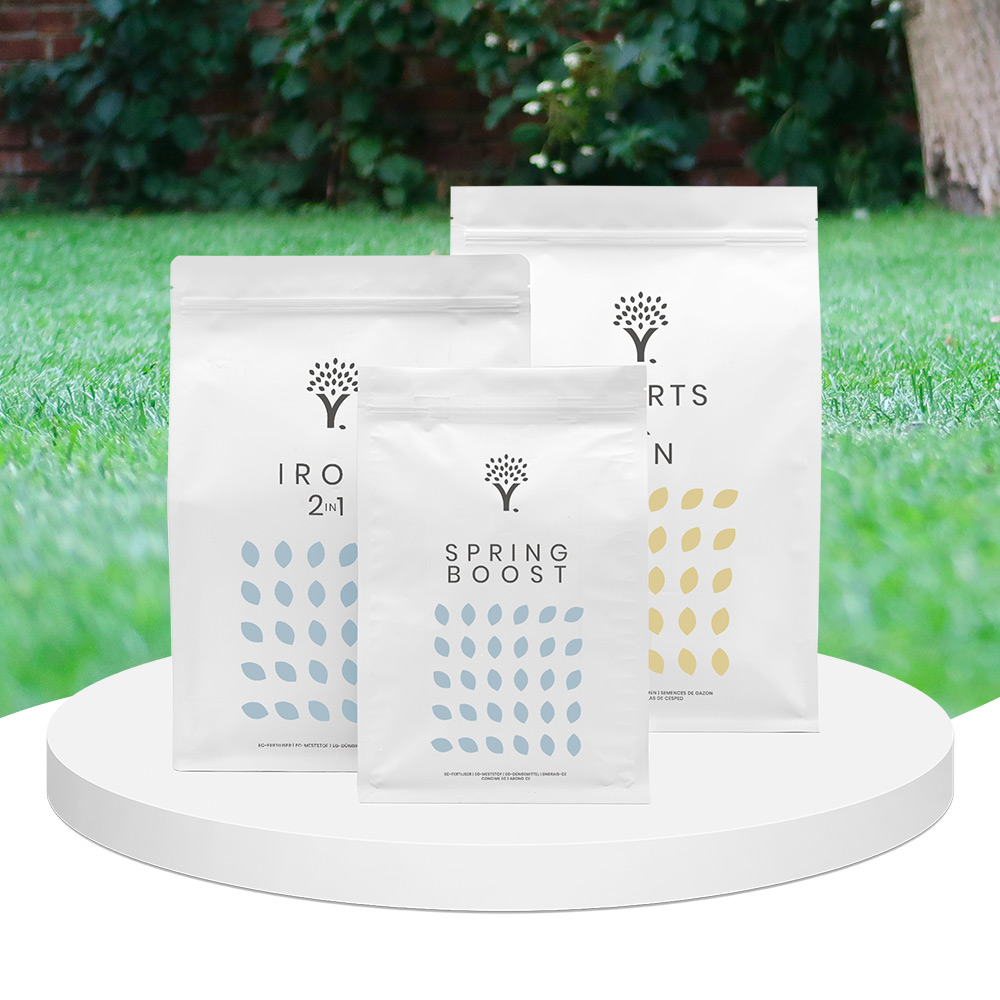 Scarifying Kit
All products after scarifying | Quickly restores the lawn after scarifying | Outsmart weeds quickly with the use of this kit
From:

£

39.99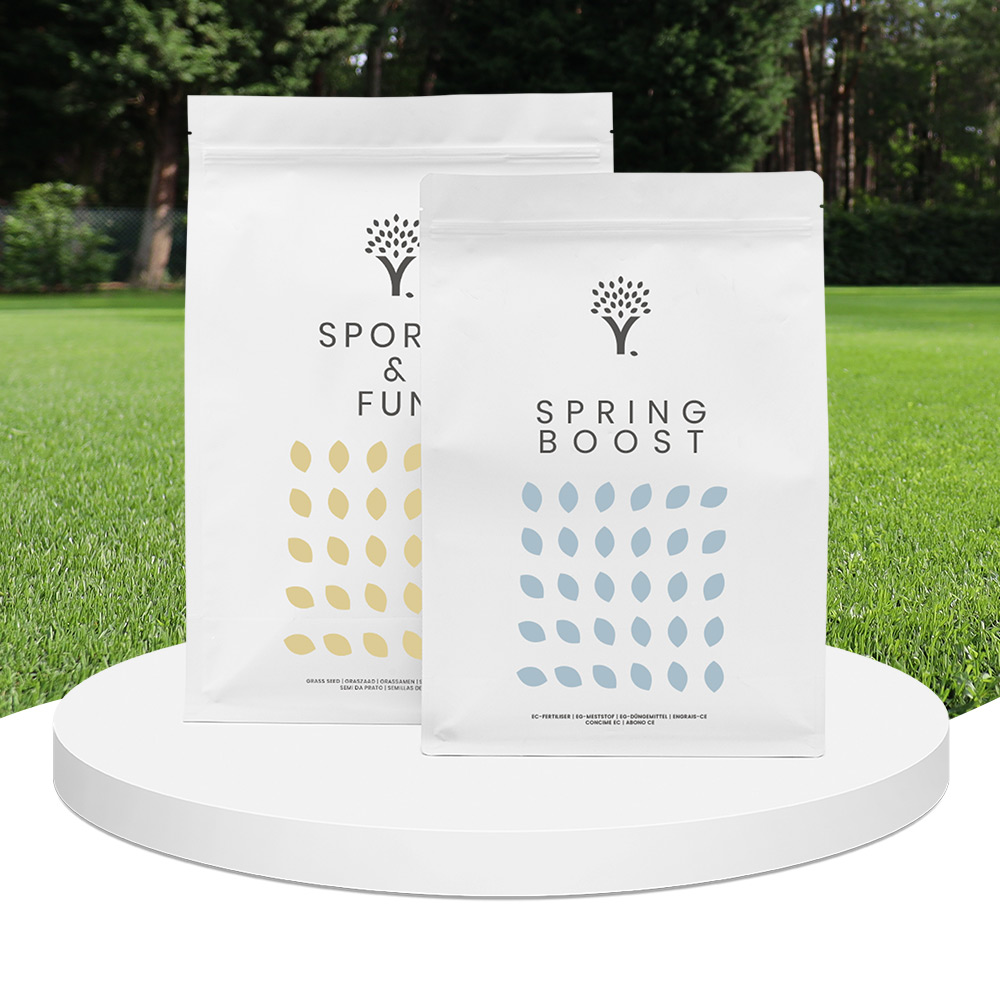 Spring Lawn Care Kit
MOOWY's choice for the spring | Quick recovery of your lawn after winter | A strong lawn prevents weeds
From:

£

25.99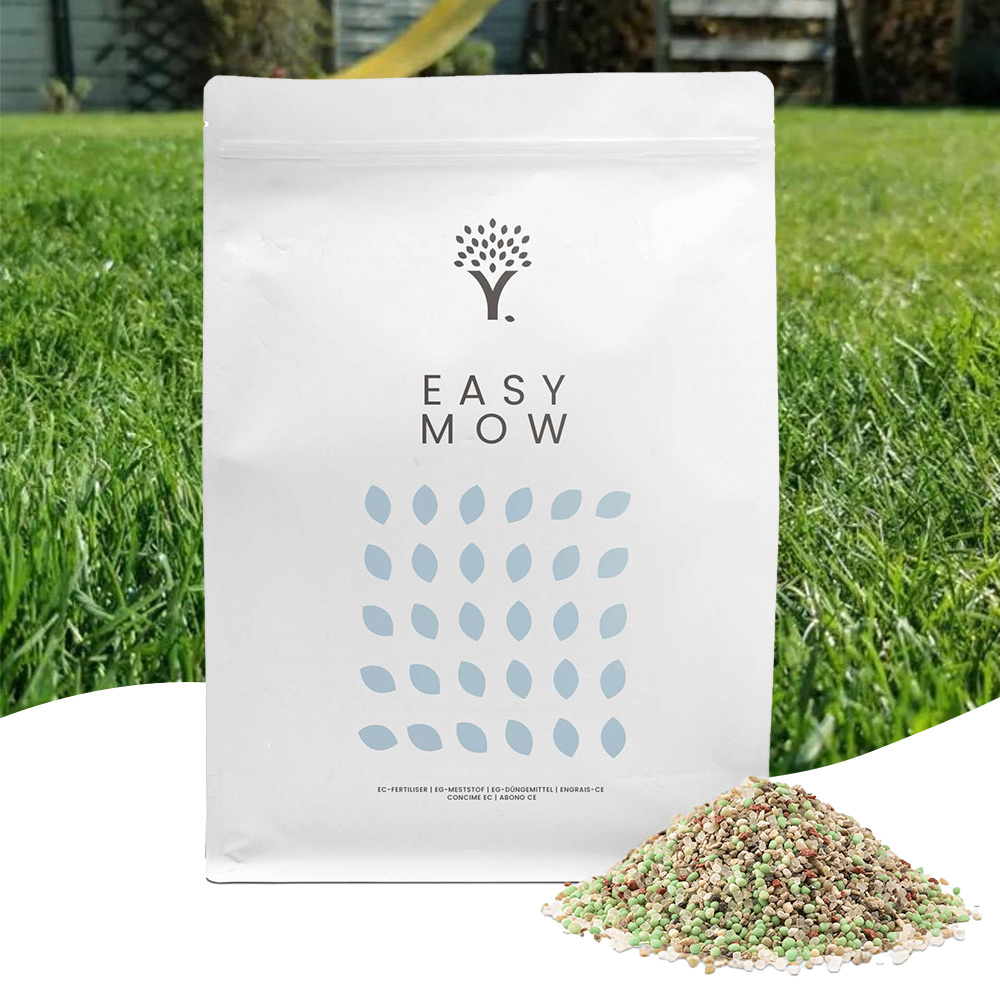 Long Lasting Lawn Fertiliser
Effective for 90 days | See results in 14 days! | Suitable for all types of grass and soil
From:

£

13.99
Free download
Do you want a
lawn calendar?
🌱 All important maintenance moments for your lawn during the year. Leave your email and we will send you the lawn calendar for free.
Receive the lawn calendar in the mail
Enjoy a green lawn all year round!