Organic fertiliser for your garden: what is it and how to use it
What's the difference between organic and synthetic fertiliser? And which is best? Or do they complement each other?
Free download
Do you want a
lawn calendar?
🌱 All important maintenance moments for your lawn during the year. Leave your email and we will send you the lawn calendar for free.
Receive the lawn calendar in the mail
Enjoy a green lawn all year round!
Organic fertiliser: you'll have heard of it, of course, but what exactly does it do? What's in it? And is it better than chemical-based fertilisers? And what does it do for your soil's condition?
Table of contents:
Why do you need to fertilise?

The difference between organic and non-organic fertilisers

What is an organic fertiliser?

When and how to fertiliser with organic feeds

Types of organic fertilisers

Advantages and Disadvantages of synthetic fertilisers

Do synthetic and organic fertilisers complement each other?
You might already fertilise your lawn regularly — but have you considered going organic?
In this article, we'll explore how organic fertiliser works and the benefits of organic over other types of shop-bought fertilisers.
Ready? Let's go!
Why do you need to fertilise?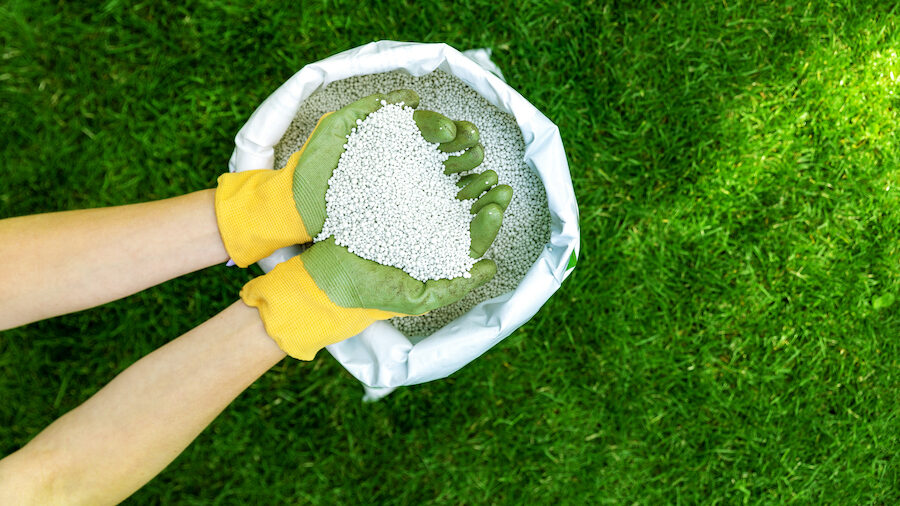 All plants need several elements to survive and thrive: water, light, and nutrients.
Of course, your lawn gets water when it rains or when you manually water it, and light comes from the sun. And while the soil is naturally nutritious, it loses its nutritional potency over time.
So, while water and light are pretty much provided by nature, your soil needs a helping hand regarding its nutrient content.
Think about it: your grass grows, and you mow it to make it look neater and to boost growth. However, you remove part of the leaf when you cut, which is where your grass plants store their sugars from photosynthesis, meaning that your plants need to draw more energy from the soil to recover from mowing.
And over time, your lawn strips the soil's essential nutrients. So, we apply fertiliser to help return the necessary nutrition back to the earth.
The difference between organic and non-organic fertilisers
There are three principal types of fertiliser:
Organic
Non-organic
Mineral
Mineral fertilisers are a mix of organic and non-organic fertilisers.
Non-organic fertilisers are manufactured from synthetic substances to provide the nutrition your plants need to thrive. These have an immediate effect, and you'll see quick results.
And while we often consider "synthetic" to have negative connotations, we simply mean that the chemical compounds have been selected and manufactured to feed the soil precisely — they're not bad!
Organic fertilisers, such as compost or well-rotted animal manure, feed the soil with high-quality nutrition and consist of vegetable or animal raw materials. They're usually wholly biodegradable but have a slower effect on plant life.
What is an organic fertiliser?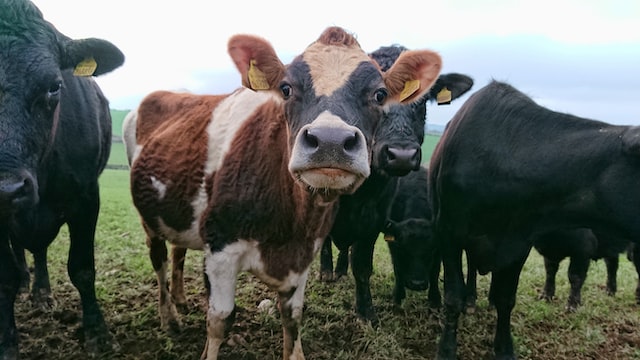 Like manufactured fertilisers, organic feeds contain Nitrogen (N), phosphorus (P), and potassium (K). However, they generally have lower NPK content than specifically manufactured feeds.
Check out our expert's guide to NPK fertilisers to learn how to differentiate one fertiliser from another.
However, organic fertilisers are made from compost, waste animal products, or manure, which has been rotted and dried.
Here are some of the most popular organic fertilisers widely available:
Farmyard manures
Which is better? Cow, chicken, or horse manure?
All farmyard manures are nutritious and will benefit your garden. However, horse manure has more Nitrogen and a higher nutrient content than cow dung, which tends to contain significantly more water.
Horse manure is brilliant for nitrogen-hungry plants, such as potatoes, garlic, corn, and lettuce, and it's a great addition to your lawn.
However, as mentioned, the manure must be rotted down and dried before applying.
Chicken manure is available in pellets and doesn't smell bad like horse or cow manures can. Chicken manure is an excellent nitrogen source and ideal for green leaf growth.
Can I use raw manure to fertilise my garden?
No.
While farmyard manures are nutritious for your soil and plants, you could burn them with raw manure because the ammonia levels are likely too high.
Well-rotted manure is left for at least three-to-four months, but it can take up to a year to ensure the carbon/nitrogen ratio is suitable for your soil.
Mulch as an organic fertiliser
Mulching is a natural form of organic fertilisation, bringing nutrients to your soil, helping the earth retain its moisture, and improving the soil structure.
You can mulch with decayed grass clippings, garden compost, fallen leaves, or leaf mould. It's also OK to leave a fine layer of grass clippings on your lawn, which returns some of the lost nutrients to the soil.
However, the clippings need to be in tiny pieces to help it rot down more quickly — if the clippings are too long, they can contribute to a felt layer that can suffocate your lawn.
If a felt layer develops underneath your lawn's surface, scarify to re-aerate the topsoil.
Horn meal as an organic fertiliser
Horn (and hoof) meal is an organic plant feed made from dehydrated and ground cattle horns and hooves from slaughterhouses.
This feed has a high nitrogen content (12%) and 2% phosphorus, boosting the vitality of roots and stems.
Fish blood and bone organic fertiliser
Ideal for flowering plants, fruits, and vegetables, Fish, Blood and Bone (FBB) is an organic fertiliser which supports robust and healthy plant growth.
FBB meal is faster-acting than beef bone meal and is perfect for improving soil conditions.
Use it as a top dressing during growth periods or a soil improver for depleted earth.
When and how to fertiliser with organic feeds
Before your plants can absorb organic fertiliser, it needs to have rotted down into humus (dark, rich soil), which provides a better, more moisture-retentive soil structure. Just like compost from your compost heap needs to have rotted entirely down into rich, dark soil before you apply it to your ground.
However, the effects of organic fertilisers can take up to three months to demonstrate their full effect, whereas manufactured feeds are faster-acting. The weather can also affect the speed with which your plants absorb organic nutrients — feed releases more nutrients in humid and warm conditions than in cold weather.
Types of organic fertilisers
As mentioned, there are different types of organic fertiliser.
Fertiliser granules
You can spread fertiliser granules over the soil surface by hand or with a spreader. And they begin to break down as soon as they're exposed to water, slowly releasing nutrients into the earth.
Granules tend to offer longer-lasting nutrition than liquid feeds, so you don't need to apply granulated fertilisers as often as their liquid counterparts.
Liquid fertilisers
These are added to water and administered to the plant using a sprayer or watering can. BabyBio is a popular brand of liquid feed suited to house plants.
Fertiliser powders
Powdered fertilisers are fast acting because of the smaller size of the fertiliser grain, offering a visibly more immediate difference in your plant's performance.
Lawn doctor Louis says:
Do not fertilise your garden with fresh animal manure — the ammonia content is too high and could burn your plants. Let it dry out for at least a year before applying.
Advantages and Disadvantages of synthetic fertilisers
Synthetic fertilisers are a compound of chemicals designed to accommodate particular plants. Lawn fertilisers are described by their NPK value, which represents the amount of Nitrogen, phosphorus, and potassium in the mix.
The benefits of synthetic fertilisers
Highly effective and targetted nutrition
Works quickly — you see quick results
Provides a speedy growth boost
Often cheaper than organic fertilisers
The disadvantages of synthetic fertilisers
While synthetic lawn fertilisers are super-efficient and cost-effective, it's essential to understand the potential disadvantages.
Not a natural product — made in a factory, with a carbon footprint associated with the manufacture
Quicker acting but not as long-lasting as organic fertilisers, you have to apply synthetic fertilisers more regularly.
Fertiliser is naturally salty — too much salt can damage your soil's ecosystem.
Potential for grass burn if over-used or used incorrectly
Do synthetic and organic fertilisers complement each other?
Don't add synthetic and organic fertiliser simultaneously; they'll cancel each other out. You can add a manufactured fertiliser for quick results in spring, then use an organic fertiliser during summer to stimulate the soil.
It's good to use a mix of feeds to avoid unnaturally fast growth spurts that can weaken a plant's resistance to disease and drought. 
Spring Boost Lawn Fertiliser

🌱 Perfect for spring

View Product

Long Lasting Lawn Fertiliser

90 days' effect from one fertilization

View Product

Iron Sulphate Lawn Fertiliser

For a deep green ans moss free lawn

View Product
Do you need more information?
I hope you've got all the information you need to make a decision about how to feed your garden, but don't hesitate to contact us if you have other questions.
We'll get back to you with an answer in no time!
Happy gardening!
Your answer will be displayed on the site and the interested party will be notified by email.
Have a question or want to share your experience? Leave us a comment.
Read
more
The best tips and tricks for a lush green lawn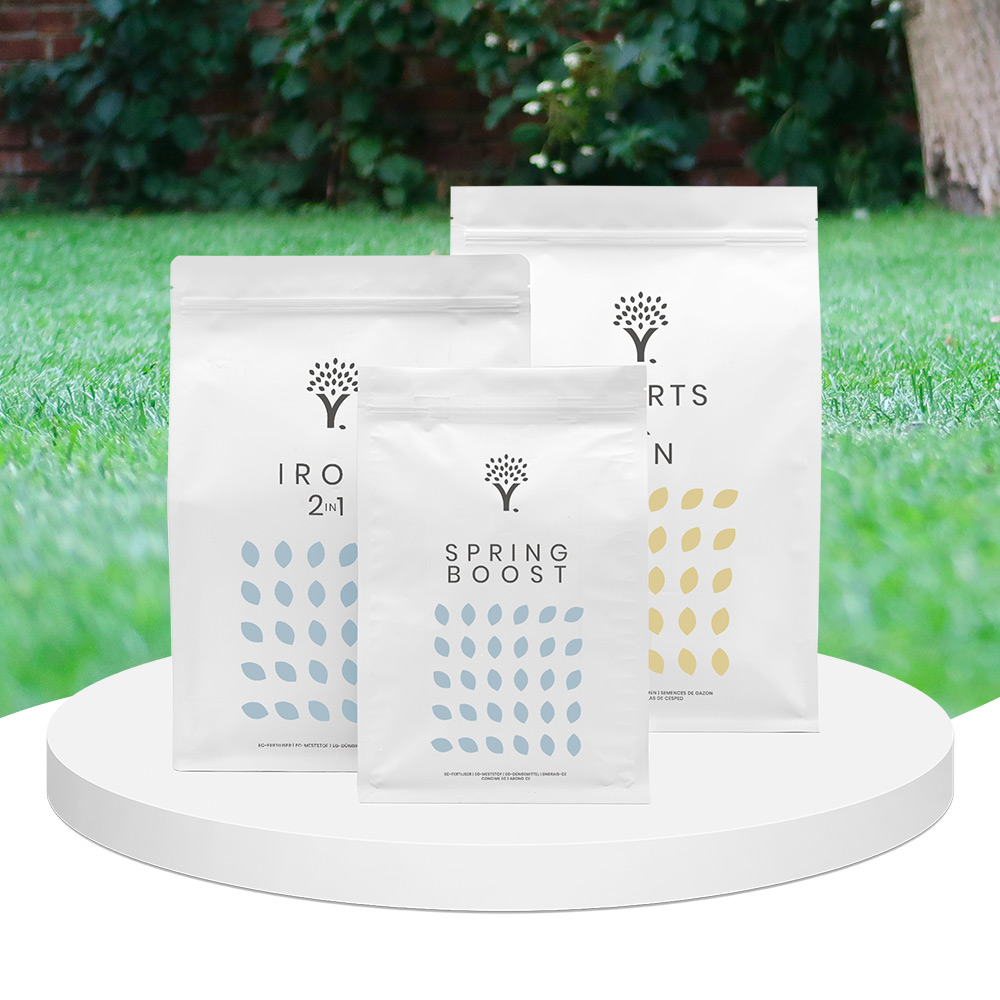 Scarifying Kit
All products after scarifying | Quickly restores the lawn after scarifying | Outsmart weeds quickly with the use of this kit
From:

£

39.99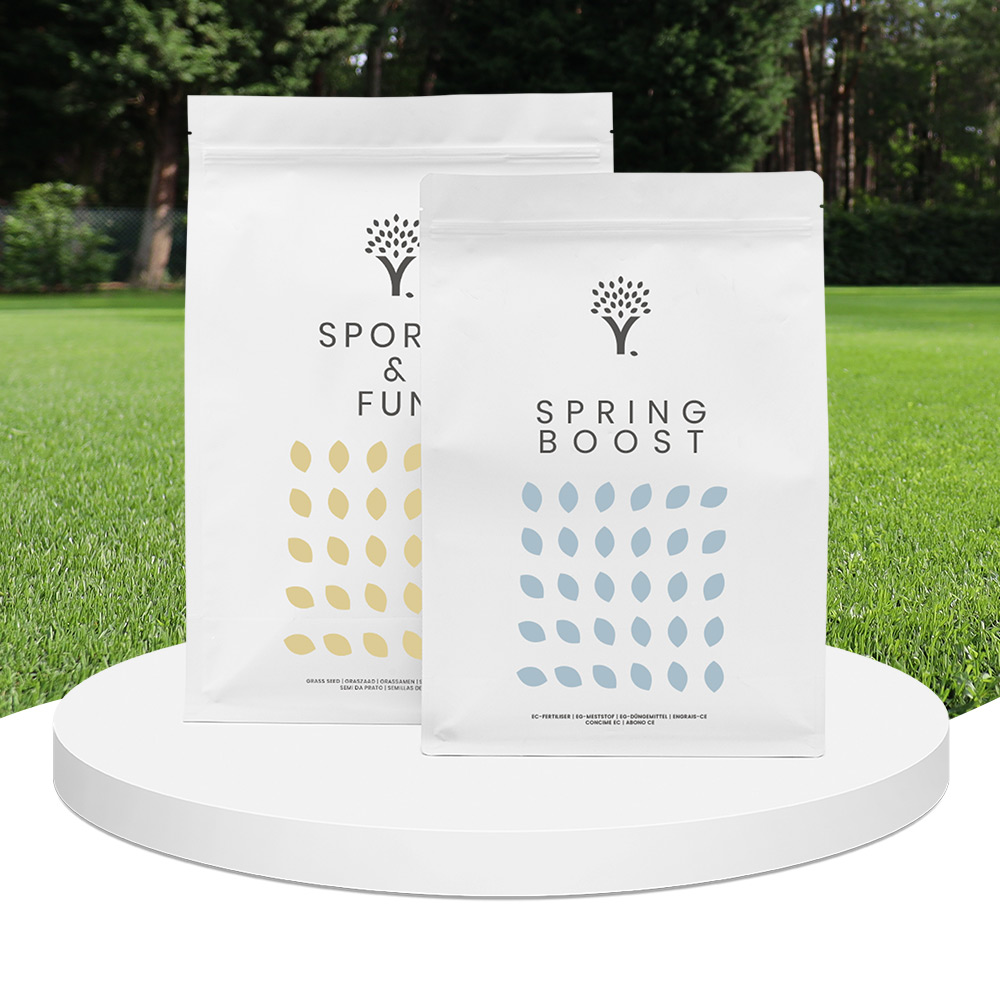 Spring Lawn Care Kit
MOOWY's choice for the spring | Quick recovery of your lawn after winter | A strong lawn prevents weeds
From:

£

25.99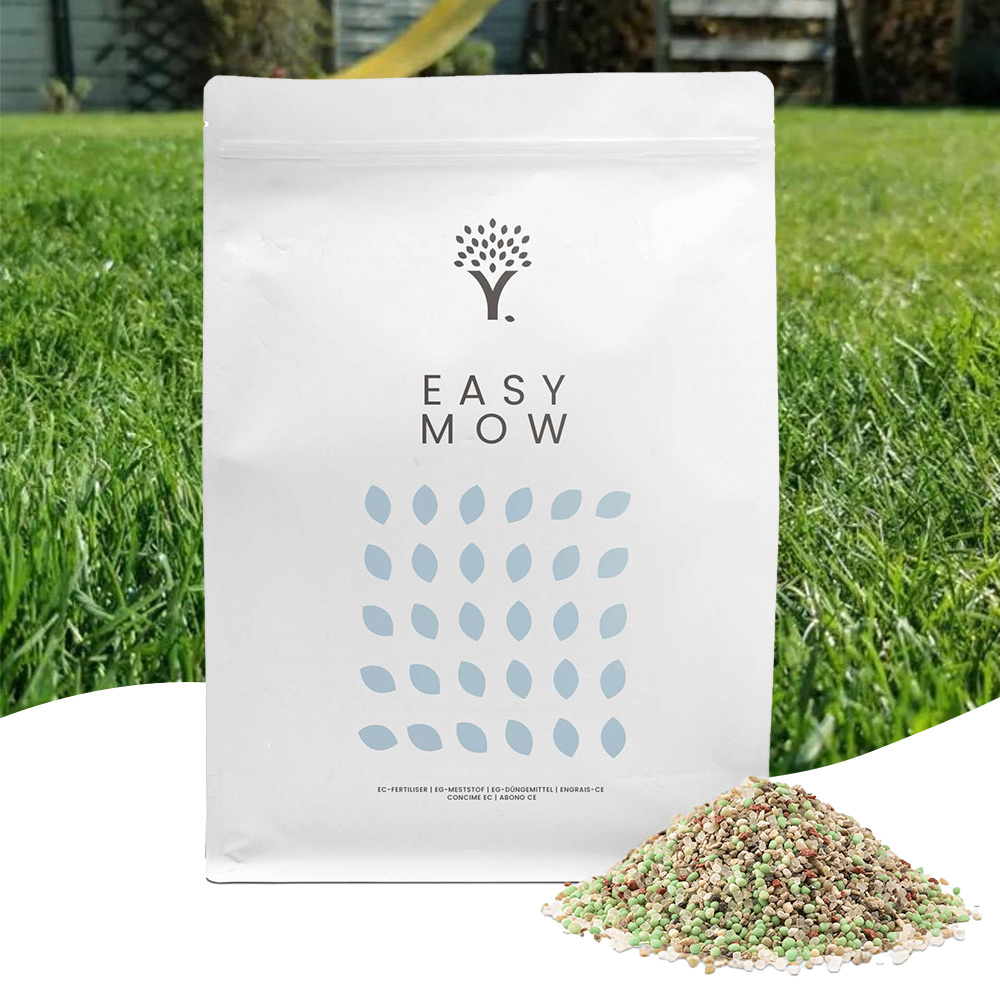 Long Lasting Lawn Fertiliser
Effective for 90 days | See results in 14 days! | Suitable for all types of grass and soil
From:

£

13.99
Free download
Do you want a
lawn calendar?
🌱 All important maintenance moments for your lawn during the year. Leave your email and we will send you the lawn calendar for free.
Receive the lawn calendar in the mail
Enjoy a green lawn all year round!