How to Scarify Your Lawn: With a Scarifier or a Rake?
Scarifying is an intensive task that requires a fair amount of effort. So, do you choose a scarifying rake machine? Find out the pros and cons.
Free download
Do you want a
lawn calendar?
🌱 All important maintenance moments for your lawn during the year. Leave your email and we will send you the lawn calendar for free.
Receive the lawn calendar in the mail
Enjoy a green lawn all year round!
A scarifier is an essential lawn care tool, but it's surprising how many keen gardeners have never even heard of this vital lawn care task. Scarifying (aka verticutting) helps your grass plants breathe, returns nutrients to the roots, and makes way for a denser, more luxurious role.
But there are several different ways of scarifying — so which do you choose? Are you going to bite the bullet and opt for a scarifying machine, a manual push-powered scarifier, or a scarifying rake?
This article is all about the different ways to scarify your lawn, including the best approaches depending on the size and shape of your lawn. And, of course, we'll ask the question, "Why do I need to scarify my lawn" and "How often?"
Ready? Let's get scarifying.
Why should I scarify my lawn?
Grass roots need fresh air. So, if your soil is covered with a layer of moss, weeds, or thatch (organic matter such as rotting leaves), it's time to clear it away because it's suffocating your grass plants' roots.
Scarifying is best tackled at least once a year — twice is even better. That way, you keep on top of the inevitable moss and thatch layer that's bound to develop.
But scarifying is quite a stressful process for your lawn because it effectively tears a lot of the grass up as it removes the thatch. However, there's nothing to fear because your lawn bounces back with abundance within a couple of weeks — more robust and vital than before.
MOOWY Scarifying Kit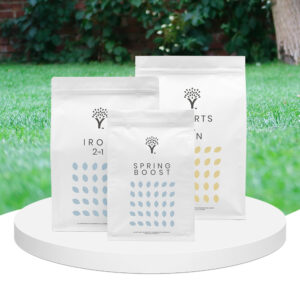 MOOWY Scarifying Kit
Scarifying Kit
Everything you need for a successful scarifying project
Lawn seed for overfeeding
Fertiliser to help your lawn bounce back
View Product
Should I use a dethatching rake or a machine?
Scarifying is an intensive job, requiring a fair amount of effort.
However, there are several valuable tools that take most of the effort out of this essential lawn care task.
The choice between the manual- or machine-assisted route depends on the amount of work you're prepared to put into the job and the size of your garden.
Garden doctor Louis says:
Your lawn will look totally battered immediately after scarifying. But don't worry: with proper aftercare, it will bounce right back!
Scarifying Rake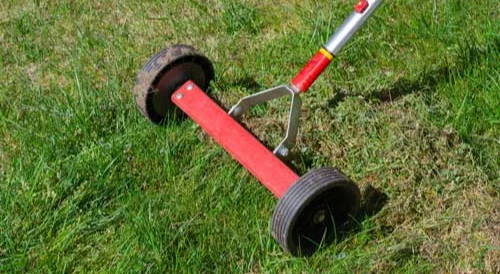 The scarifying rake has two sides: one with short, sharp blades, and the other with longer, blunter blades.
How to use a scarifying rake
Use the shorter blades first — these will remove the top layer of thatch. Work the rake up and down your lawn horizontally. Then, run the rake diagonally up and down, ensuring a thorough dethatching.
Don't panic as you go — your lawn will look ropey directly afterwards. It's worth it in the end!
After using the shorter blade, repeat the entire process with the longer blades. This will access the remaining moss and weaker grass blades. If you fail to complete this stage of the process, moss will come back more quickly.
The pros and cons of scarifying rakes
The advantages of scarifying rakes are:
Cheap to purchase
Easy to control
Takes up very little space in your garden shed
The bad side of scarifying rakes is:
So, if your lawn is larger than 100mᒾ, I'd recommend a scarifying machine.
Scarifying machine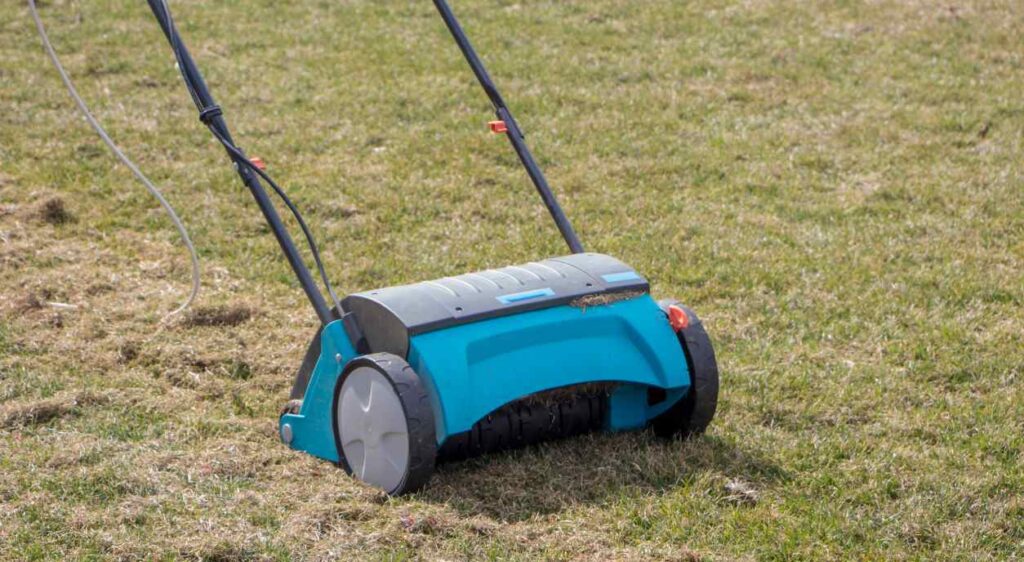 A scarifying machine makes the task MUCH easier. Resembling a lawn mower, the job of removing thatch becomes a cinch, requiring very little work (other than emptying the collector).
In fact, if you haven't scarified before, the hardest part of the job IS emptying the collector because you'll be running back and forth to your compost bin every couple of minutes.
Choose from an electric scarifier — perfect for smaller spaces because of the power lead — or one with a petrol engine, which is ideal for larger lawns.
Remember, scarifying isn't a one-off job. For best results, you should scarify at least once a year. So, consider buying rather than hiring your scarifier; it works out cheaper in the long run. 
Kills lime and feeds your lawn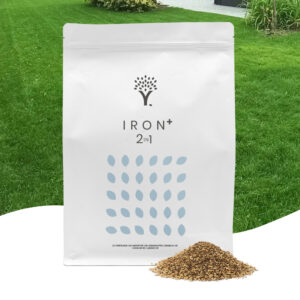 Kills lime and feeds your lawn
Iron Sulphate Lawn Fertiliser
Kills moss quickly
Fertilises your lawn
Safe for use around pets and children
View Product
Performance of rakes vs machines
Scarifiers come in a range of designs and price ranges. You can choose between:
Fixed blades
Loose blades
Needles
Fixed blades cut better, wear less quickly, and are generally cheaper. Loose blades work better on surfaces with lots of stones and debris, while needles are more suited to aerating the soil.
Most powered scarifiers come with a collection box, which is a priceless addition because there will be a surprising amount of debris to collect otherwise.
Should I buy or rent a scarifier?
Scarifying rakes are pretty affordable, so for less than £50, you'll get a good quality rake that does the job well and remains operational for years.
Machines are more expensive — up to a couple of hundred pounds. However, many hardware companies run special offers, and I picked up my Klarna scarifier for less than £70. And when I looked into hiring, I found that the prices for a day weren't that different.
So, I figured it's better to buy one than pay the same amount to hire and give it back — only to have the same expense the next time I scarified.
Alternatively, you might find a local Library Of Things, a low-cost way to hire a scarifier, then give it back.
Aftercare
I'm not going to lie: after scarifying, you'll wonder what the heck you've done to your lawn. It will look like the ground around the Pyramid stage after a Rolling Stones gig at a wet Glastonbury.
But with the correct aftercare, it WILL bounce back quickly.
The recovery process starts immediately, so fertilise and water your muddy patch! And overseed — that way, the lawn will return much lusher than before. And set the sprinkler once or twice a day for the next couple of weeks until the lawn shows signs of returning.
For the total lowdown on scarifying, check out our expert guide to scarifying.
Spring Boost Lawn Fertiliser

🌱 Perfect for spring

View Product

Scarifying Kit

The complete set for scarifying

View Product

Power Lawn Grass Seed

Powerful and quick-growing

View Product
Any questions?
I hope you've got all the information you need for expert scarification.
But if you need more assistance, check out the encyclopedia of lawn care and gardening tips in our website's Help & Advice section.
And if you have any questions, don't hesitate to get in touch.
We love to hear from you and will get back to you asap.
Thanks for reading!
Your answer will be displayed on the site and the interested party will be notified by email.
Have a question or want to share your experience? Leave us a comment.
Read
more
The best tips and tricks for a lush green lawn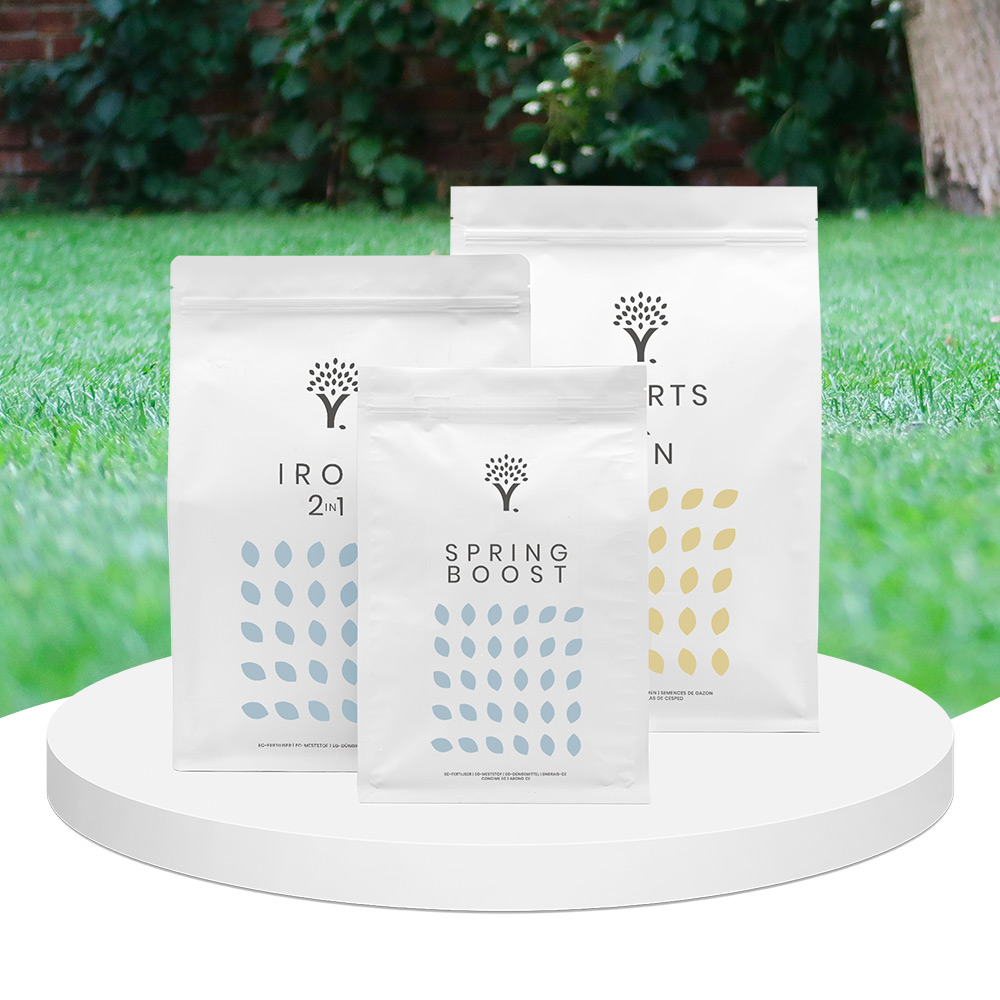 Scarifying Kit
All products after scarifying | Quickly restores the lawn after scarifying | Outsmart weeds quickly with the use of this kit
From:

£

39.99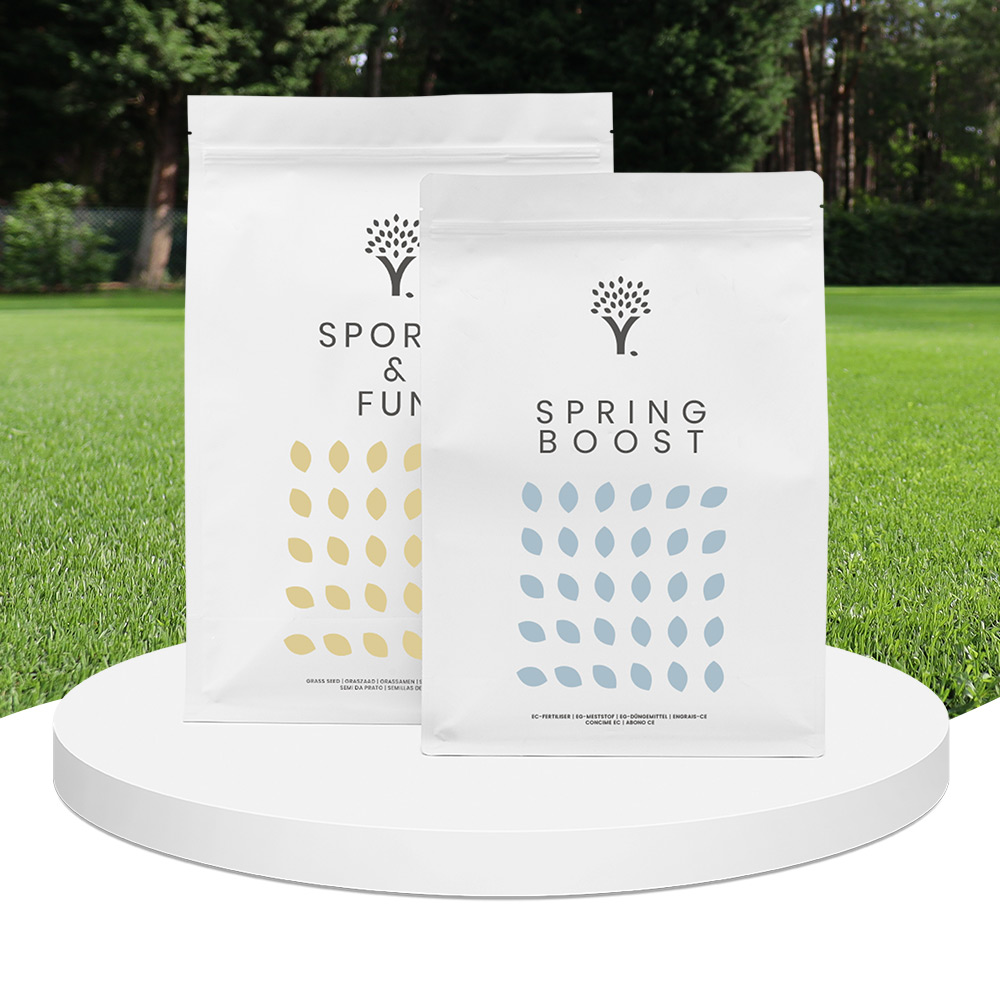 Spring Lawn Care Kit
MOOWY's choice for the spring | Quick recovery of your lawn after winter | A strong lawn prevents weeds
From:

£

25.99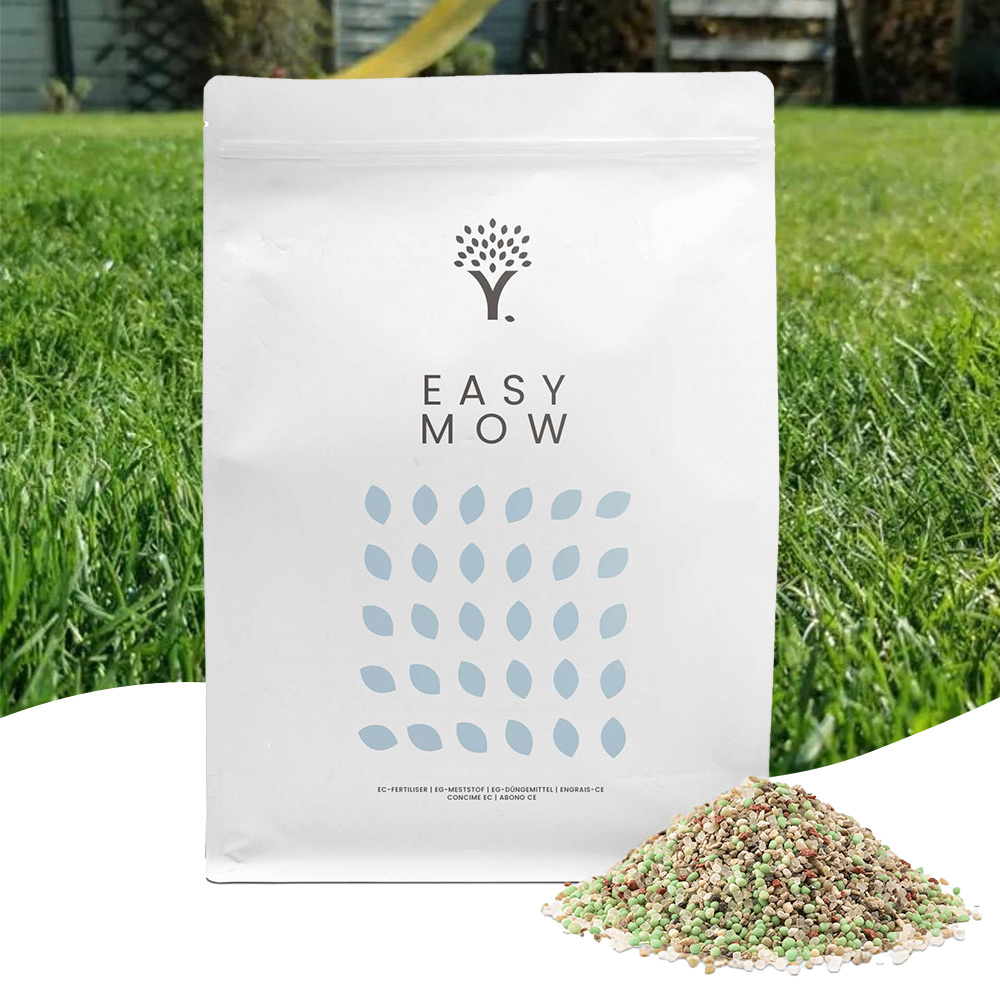 Long Lasting Lawn Fertiliser
Effective for 90 days | See results in 14 days! | Suitable for all types of grass and soil
From:

£

13.99
Free download
Do you want a
lawn calendar?
🌱 All important maintenance moments for your lawn during the year. Leave your email and we will send you the lawn calendar for free.
Receive the lawn calendar in the mail
Enjoy a green lawn all year round!