Designing and creating your new garden: a complete guide!
Your garden is your sanctuary - or it could be. Check out our expert garden design tips. And dare to believe!
Free download
Do you want a
lawn calendar?
🌱 All important maintenance moments for your lawn during the year. Leave your email and we will send you the lawn calendar for free.
Receive the lawn calendar in the mail
Enjoy a green lawn all year round!
Perhaps you've moved into a new home with a garden. Or maybe you've been staring at the same blank piece of scrubby grass for the past few years. Either way, considering a good garden design can make all the difference in how you use and enjoy your outdoor space.
Table of contents:
What makes a beautiful garden?

How to create a garden plan

Make a garden design sketch

Are your garden objectives realistic?

Preparing your garden for the work

Optimise your soil for new planting

Creating and designing a garden

Design your garden with plants

Consider privacy

Laying out your lawn

FAQs
But it can be intimidating when you consider all the options. Should you lay a new lawn? Could you add decking or even a summer house?
In this article, we explore some stunning garden design ideas to help you develop a plan you'll be excited to bring to life.
Ready? Let's go!
What makes a beautiful garden?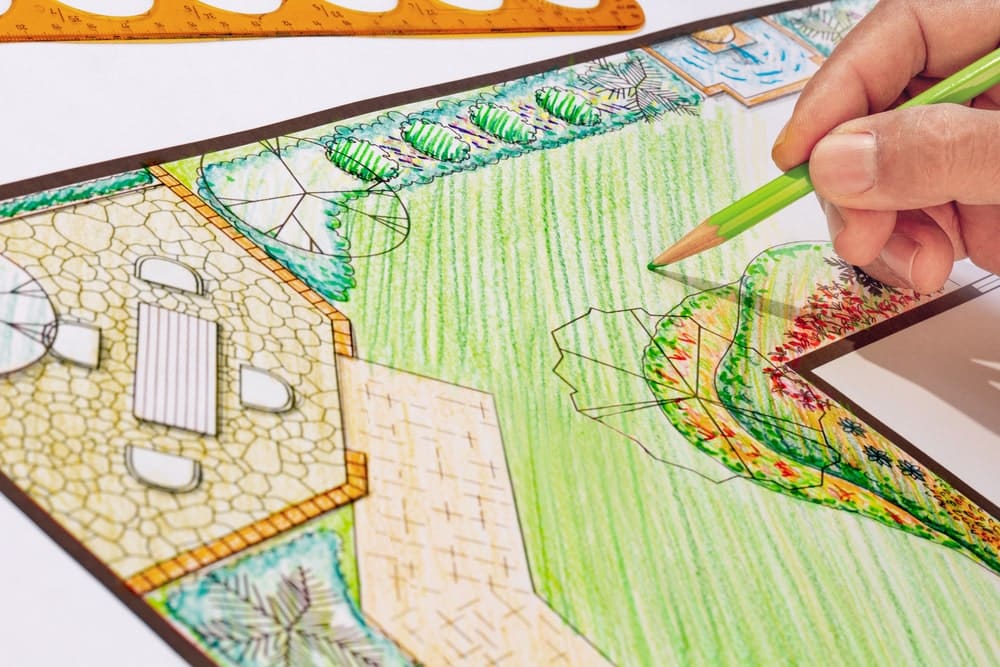 Well, this is a matter of opinion. But, actually, it's a great question to begin with because we'll all have different answers. And the answers we give should determine where we go with our garden design ideas.
Think about the most important elements for you. Do you want a:
Lawn — a beautiful decorative lawn or a robust play lawn suitable for ball games, BBQs, and garden furniture.
A patio — it doesn't need to be attached to the house. You could create some decking underneath an old tree — perfect for relaxing with a book or entertaining friends.
A veg patch — find the sunniest spot for the best results
A greenhouse
A summer house
A brick-built BBQ area
Create a tick-list of your wants — and put them in priority order. Is it a one-year or a ten-year plan?
Here's a list of some reasons you might want to transform your garden to give you some inspiration:
Gardening activities
Planting and nurturing for a vegetable patch
Host barbecues and social events
Practice lawn sports
Mowing
Planting perennials
Planting and caring for flowers
Reading under a tree
Building a garden office or studio
Chilling out in a hammock
Hanging Laundry
Sitting in the shade, drinking tea
Harvesting fruit
Swimming in a pool
Luxuriating in a hot tub
Building a fish or wildlife pond
Meditate
Watching the wildlife
Hide Easter eggs
Soak up the sun
Painting or drawing
Sculpture
Now list your desires in priority order. And you have the makings of a plan!
How to create a garden plan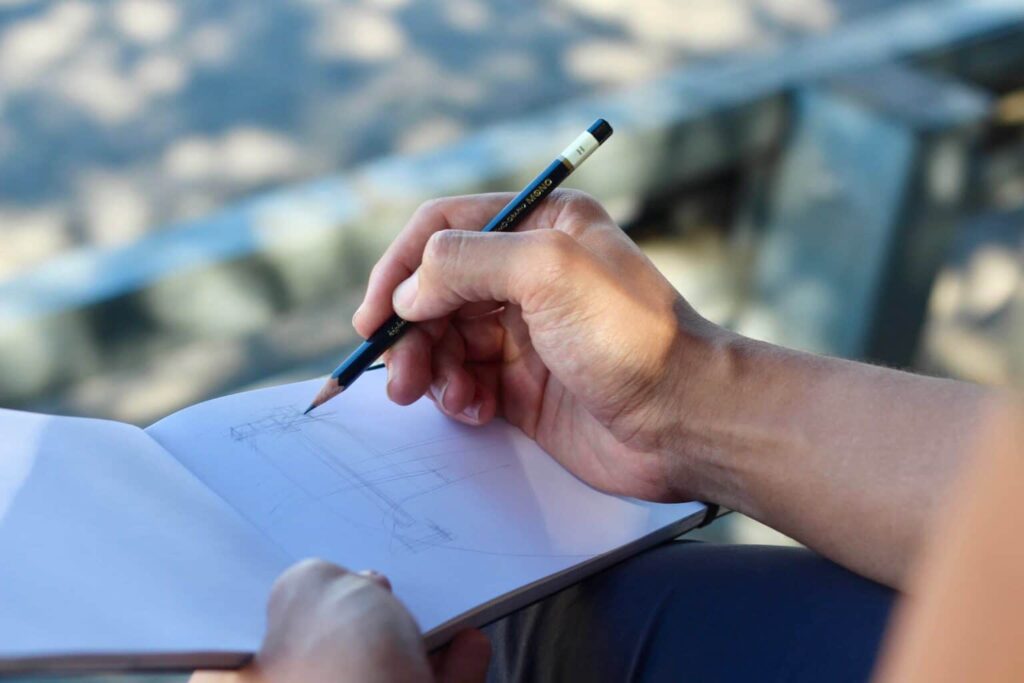 Let's consider the practicalities of each aim. For example, it might seem like a great idea to plan your BBQ area in the middle of the garden in full sun. But that's not always practical because your guests will want some shade if you're considering day parties that lead into the night.
And think about the distance from the kitchen to your BBQ site. Sure, you can carry prepared meats and veggies over on a tray, but if you're lucky enough to have a large garden, do you really want to be hiking from the kitchen to the end of the garden all day?
Alternatively, you might plan your BBQ area under a big tree for shade. But does the tree drop sap? And does it attract flies? Sit underneath it on a hot day to find out!
However:
Consider the sun and your plants
If you're thinking about a patio area in the shade, is there enough sun for sun-loving plants? Maybe not — in which case, choose shade-loving plants. There's always a fix!
Look at the sunny spots in your garden, and identify the areas mainly in the shade. You can always cut down a tree if you need more sun (but is it protected?).
Think about a pergola for a plant-drenched shade solution. And remember, the sun's angle changes throughout the day — so think about those cosy areas to lap up some early evening sun in the summer.
The perfect location for your garden design
Divide your existing garden into zones. Think about the best places for:
Flower beds
Veg patches
Seating areas
Play areas
BBQ area
A pond
A patio or decking
Consider your proximity to neighbours and the potential that you might disturb them with noise (or they might disturb you). A tree casting shade over your proposed veg patch area, for example, could cause problems for the success of your harvest.
Maybe you might want to place your seating area away from noise and busy roads.
Make a garden design sketch
No one's judging your artistic skills here — I'm presuming you won't be sending your drawings to Tony Hart for The Gallery!
Sketch some initial ideas on paper or use an app to create a digital floor plan. It doesn't need to be inch-accurate at this stage — it's just something to help you visualise your ideas.
Think about including all of these:
Typical garden elements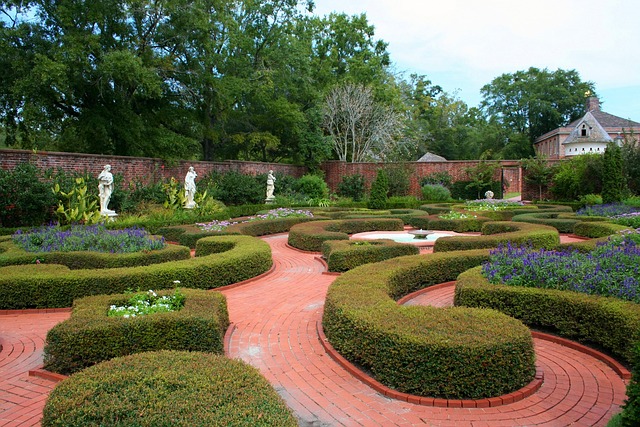 Lawn
Seating area/outdoor lounge
Pond
Swing or play equipment, such as a sandbox
Raised beds
Flower beds
Veg patch
Pool
Terrace
Pavillion or summer house
Shrubs, hedges, and trees
Fences
Paths
Light sources
Shed
Pergola or arbour
Carport
Play
Are your garden objectives realistic?
Run your plans past your other family members. Is there anything your partner or kids want that you haven't thought about?
Look at your plans objectively — try to identify problems with them. This will help you recognise the practicality, allowing you to come up with reasonable solutions! Make the mistakes now — it's better than spending a lot of money on your new garden and regretting your decisions down the line.
Ask your friends what they think. You're still in the planning phase, so be open to suggestions.
And once planning is over, it's time to prepare.
Preparing your garden for the work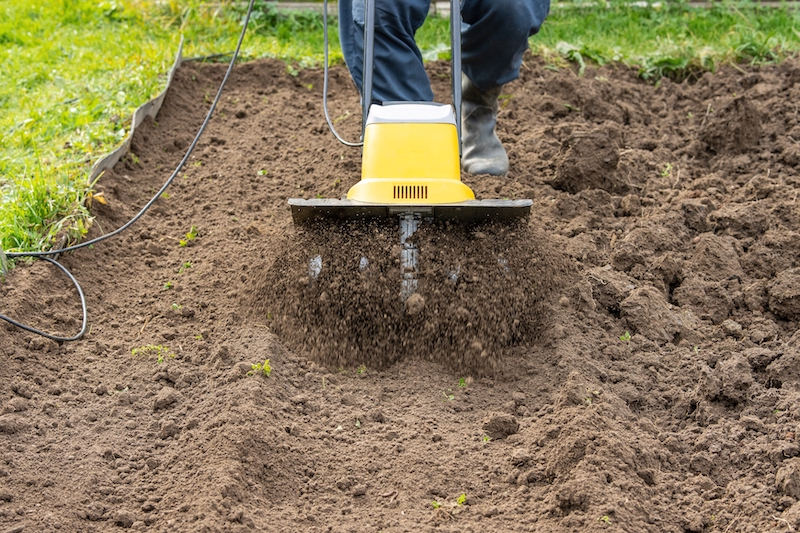 Perhaps your garden already has a lawn or flowerbeds, a terrace or a path.
Can you keep these, or are you going to need to clear the land to make way for your transformation?
Optimise your soil for new planting
Your soil is the lifeblood of every garden. So, poorly nourished soil will produce disappointing results — it might be compacted, lacking in oxygen, or sandy, lacking in moisture.
Garden doctor Louis says:
Construction machinery is heavy and further compresses the soil. Heavily compacted soil prevents healthy roots and waterlogging — a lousy starting point for your plans to grow plants.
What is the soil's pH?
Test the soil's pH level. Most plants are happier in neutral or slightly alkaline soils than acidic — especially if you want a new lawn.
Here's a short list of the pH needs of a range of common garden plants:
Roses prefer well-drained soil with a slightly acidic pH of 6.0 to 6.5.
Apple trees like nutrient-rich but well-drained loamy soils with a pH of 6.0 to 7.0
Boxwood prefers to grow in well-drained soils with a neutral pH.
Lavender is often planted for beetränder and prefers well-drained, calcareous or sandy soil with a pH of 6.5 to 7.5.
Lawns like well-drained soil with a pH of 5.5 to 7.5.
Carry out a pH test
The best way to determine the chemical balance of your soil is with an inexpensive shop-bought pH test. Find out more about how to test your soil in this article.
MOOWY's Lawn Lime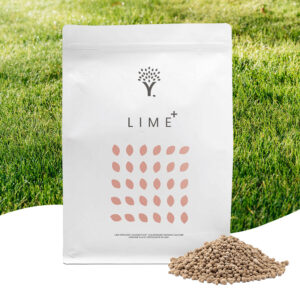 MOOWY's Lawn Lime
Lawn Lime
Naturally lowers the lawn's pH
Helps prevent moss and weeds
Restores natural balance to your garden soil
View Product
Determine your soil structure
The soil structure is influenced by the composition of the earth. Good soil structure aids drainage but keeps hold of its nutrients.
Grab a handful of your garden soil and squeeze it in your palm:
If the soil sticks together like clay, you have heavy clay soil, which is usually high in nutrients but poorly draining (and prone to waterlogging or flooding)
If the soil holds its shape but falls apart when prodded, you have relatively neutral soil — this is the best!
If the soil immediately falls apart and loses its shape, you have sandy soil – often low in nutrients because the rain washes them away.
Garden doctor Louis says:
Look for a crumbly texture that allows water and air to pass through it. But don't worry if you have clay or sandy soil — there are fixes!
Heavy and light soils
As mentioned, clay soils are dense and can be challenging to work with. They tend to retain water and nutrients but can be susceptible to flooding. Address compacted soil by aerating it and mixing it in well-rotted compost or topsoil.
Light soils are loose and well-ventilated (which is good), but it doesn't hold onto water very well, meaning it's prone to drying out quickly. And the water that passes through it tends to wash the nutrients away. Address sandy soil by adding soil improvers, such as compost, leaf mould, or topsoil.
Testing your soil's drainage
Good soil drainage is crucial for healthy roots. So, assess your soil's drainage with a "percolation test".
How to perform a percolation test
Dig a hole in the ground, and fill it with water. If the soil drains away reasonably quickly, you have good drainage. If it doesn't drain at all, you'll need to treat the soil for compaction.
Optimising the nutrient content of your soil!
There are several approaches to improving soil fertility and nutrition levels. And one of the best methods is using compost, which is nutrient-rich and can help improve soil structure.
Alternatively, use slow-release fertilisers, which are long-lasting (MOOWY fertilisers last up to 90 days).
Long Lasting Lawn Fertiliser

90 days' effect from one fertilization

View Product

Spring Boost Lawn Fertiliser

🌱 Perfect for spring

View Product

Iron Sulphate Lawn Fertiliser

For a deep green ans moss free lawn

View Product
Creating and designing a garden
To help your ideas take shape more quickly, here are a few design tips:
Design an irrigation system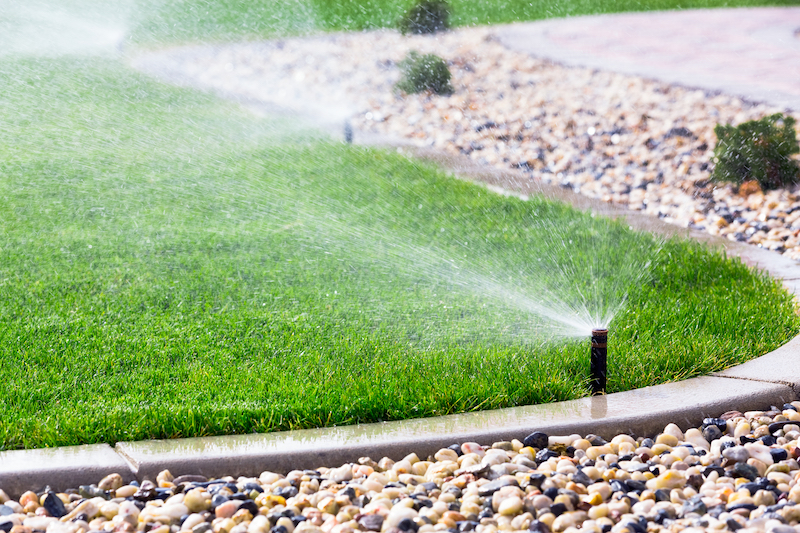 If you have a large lawn, consider how you will keep it watered. Is there a nearby tap, or can you set up an underground irrigation system feeding sprinklers that could go off on a timer?
Look where your lawn is yellow and dry, and ensure you cover those areas.
Style and materials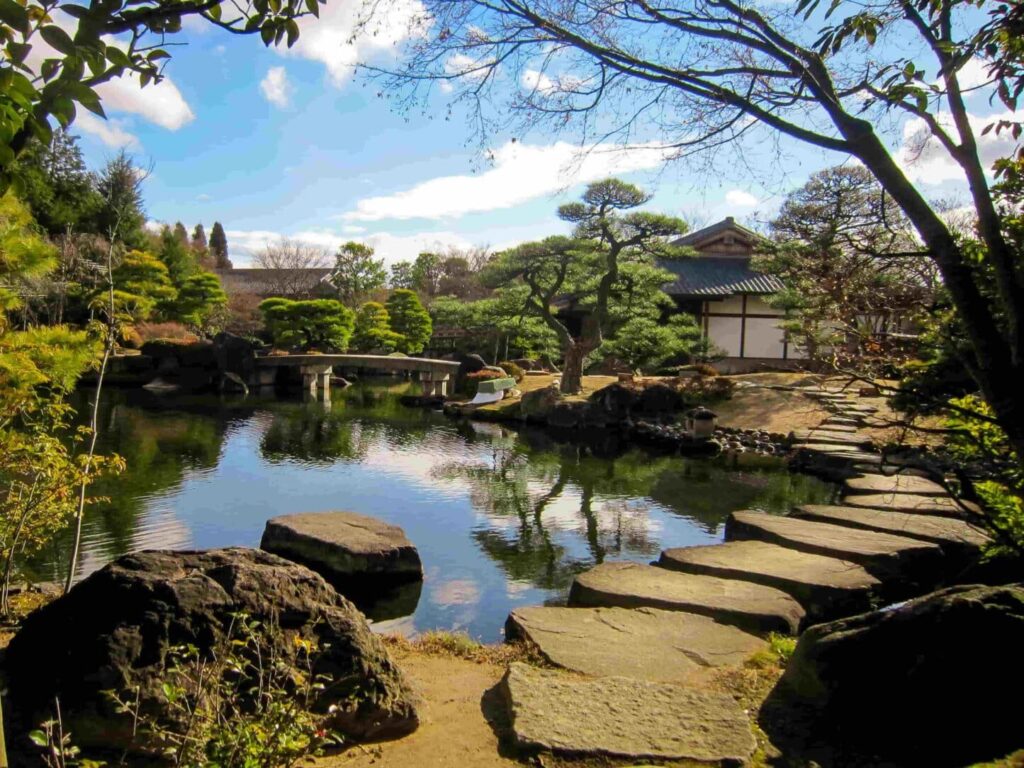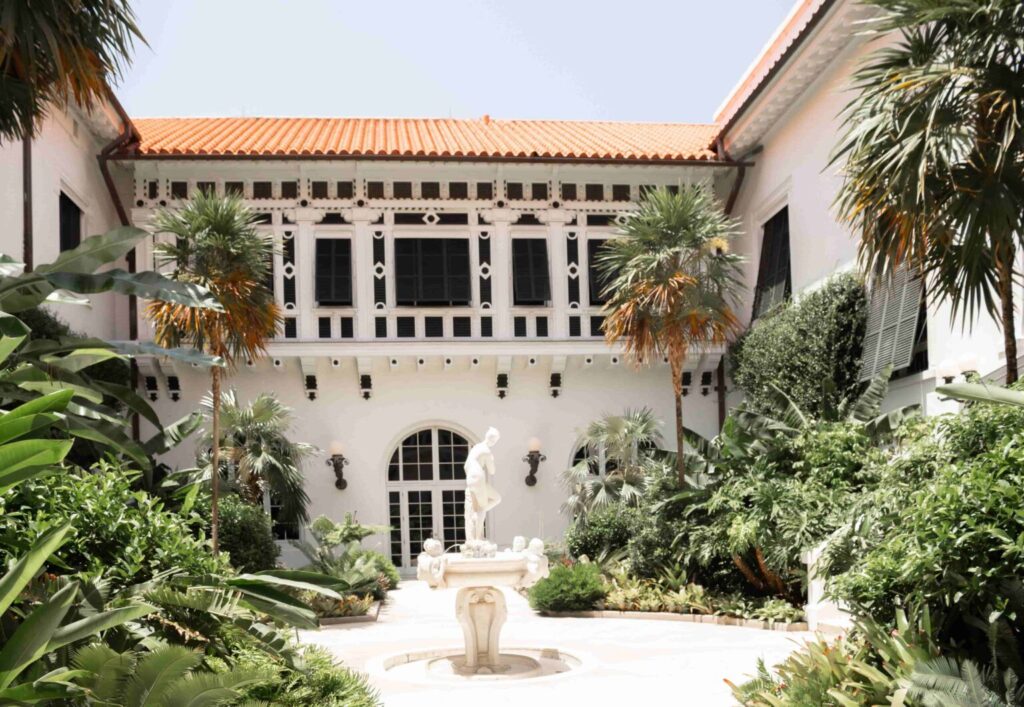 Are you inspired by Japanese garden designs, using stone and water to create zen around your outdoor space, or do you favour a modern Meditterean look with white- or blue-painted walls, fences, water features, statues, and matching lounge furniture?
Create the ideal terrace
A terrace acts as an extension to your living room, and you're likely to spend a lot of time there in the summer. But what about autumn, when the temperature cools, but it's still warm enough to sit outside?
Think about retractable canopies and outdoor heaters. If you're considering an outdoor heating system, consider far-infrared heaters rather than gas burners — they're better for the environment and can be cheaper to run.
Make sure there's plenty of room for your chosen garden furniture. Do you want just a table and chairs, or do you dream of outdoor lounge furniture, such as armchairs and sofas?
Garden doctor Louis says:
Plan several seating options around your garden. That way, you can enjoy the daytime sun, then move to another area to enjoy the early evening sun while watching it set.
Child-friendliness and safety
You might not have kids but think about the saleability of your home. You don't need to have swings and slides but think about how children and teenagers might want to use a garden.
Think about potential hazards, such as water- and power-points and sharp corners.
For more ideas, check out my article about how to create a child-friendly garden.
Factor lighting into your garden design
Some well-selected lighting choices can transform your garden at night. And lighting can be as simple as straightforward string lights, which add a lovely Bohemian touch and ample ambient lighting for an evening outdoors.
Alternatively, think about solar and LED spots to highlight different areas of your garden.
Garden furniture
You don't necessarily need to spend a fortune on garden furniture — just make sure that whatever you buy is waterproof, durable, and coverable.
Even high-quality furniture will age rapidly if you leave it open to the elements all through the winter — so invest in a good-quality tarp or rain cover to protect your investment. 
Create paths
Garden paths connect different areas of the garden while protecting your lawn. One of the best ways to determine where to lay a path is to look at the natural paths you follow when walking from one part of your garden to the next after it has snowed.
We instinctively take the shortest route — so consider how you use informal paths when deciding where your paths should go in your garden.
You can use the following materials for lovely paths:
Gravel
Stone
Concrete
Wood
Garden decoration
Finally, embellish your garden with decorative features like statues, fountains, birdhouses, and wind chimes.
These elements can bring character and charm to your outdoor space.
Design your garden with plants
Think about your theme — are you going Mediterranean, traditional English, or Japanese? Select plants that represent those nations — many Japanese plants thrive in the UK because we have a similar climate.
Meditteranean plants don't always do so well in the UK, so do your research beforehand.
Consider privacy
Your garden is a haven of relaxation, so it needs to be private.
Consider erecting a fence or wall, from wood, metal, or even stone, depending on which fits your design theme.
Hedges are excellent for privacy screens and look great once established, but you'll need to keep on top of pruning and feeding your hedges.
Laying out your lawn
Creating a new lawn takes several steps. Firstly, decide between sowing a new lawn from seed or laying turf.
Whichever approach, you'll need to clear your existing soil of weeds, stones, and plants, then level out the soil. Check out our expert guide to levelling your lawn and preparing the soil.
Once you've done the groundwork, you'll need to know how to sow seed or lay turf. Luckily, we have expert guides to both:
Creating a new lawn from scratch (inc. a step-by-step plan)
How to lay turf — complete 8-step guide
FAQs
How do I get structure in my garden?
First, write out a list of wants. Consider how you'll use your redesigned garden and take into account the amount of sunlight, access to water, and the types of plants you hope to grow. Choose a mix of small flowering plants and substantial shrubs, breaking up your lawn space with paths, hedges, and decorative features. 
What is the best way to design my garden?
Take your time, and consider which activities you want to enjoy in your outdoor space. Create a sketch, zoning your garden for different purposes, and run your plans past your friends and family. Be open to ideas and criticism. 
How do I design my garden with little money?

Absolutely. Ask friends and family for plant cuttings, sow your own lawn, and bring in second-hand garden furniture. Upcycle old junk and give it a new, stylish life in your beautiful garden. Repurpose pallets, old tyres, and house furniture — giving it a life in the garden. 
Any questions?
I hope you've got all the ideas you could possibly need for your garden design inspiration. But if you have any questions, get in touch!
Or check out our comprehensive Help & Advice section!
Thanks for reading. And happy garden designing!
Your answer will be displayed on the site and the interested party will be notified by email.
Have a question or want to share your experience? Leave us a comment.
Read
more
The best tips and tricks for a lush green lawn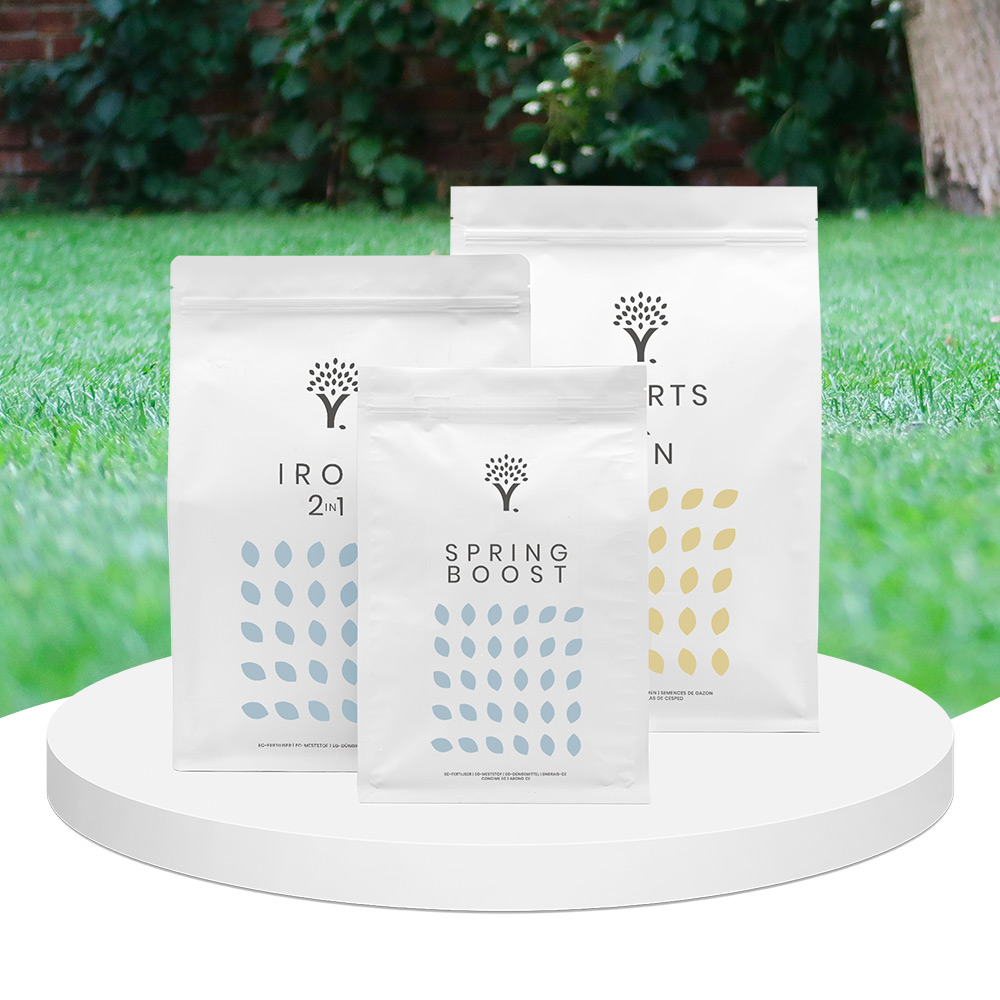 Scarifying Kit
All products after scarifying | Quickly restores the lawn after scarifying | Outsmart weeds quickly with the use of this kit
From:

£

39.99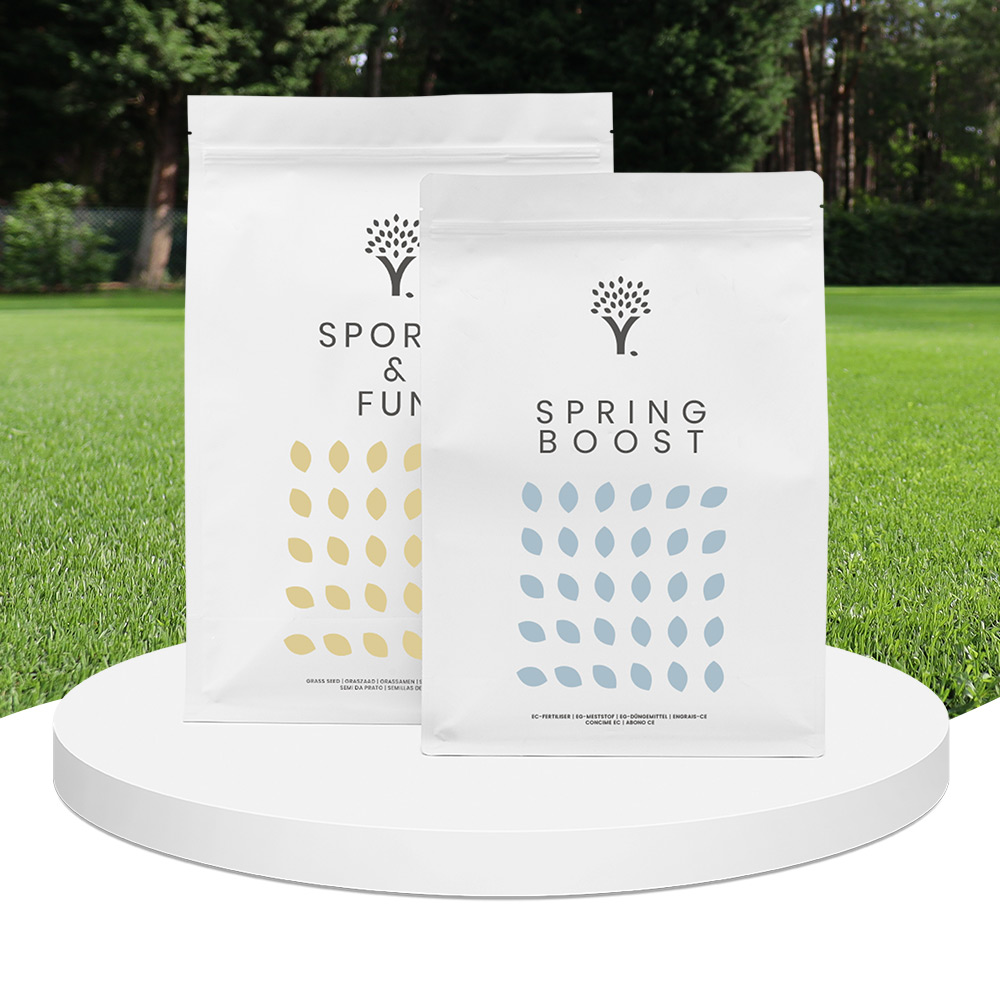 Spring Lawn Care Kit
MOOWY's choice for the spring | Quick recovery of your lawn after winter | A strong lawn prevents weeds
From:

£

25.99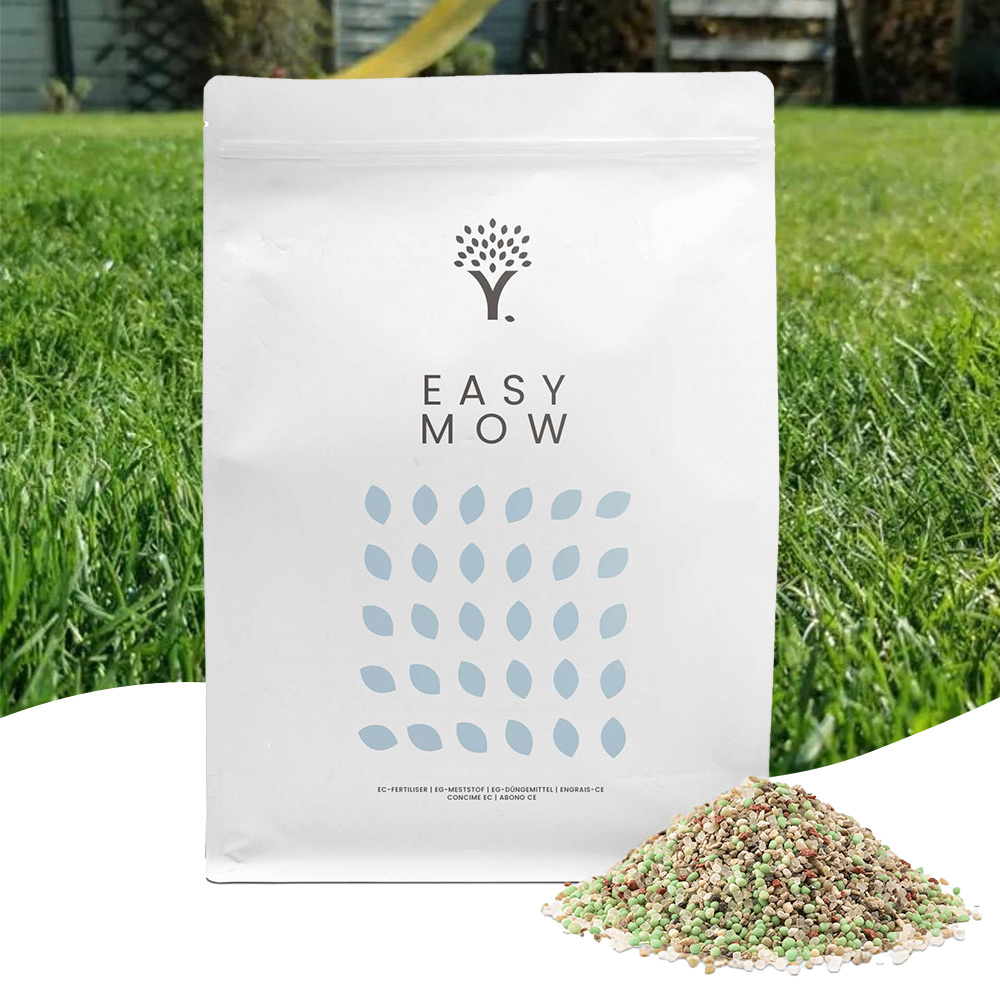 Long Lasting Lawn Fertiliser
Effective for 90 days | See results in 14 days! | Suitable for all types of grass and soil
From:

£

13.99
Free download
Do you want a
lawn calendar?
🌱 All important maintenance moments for your lawn during the year. Leave your email and we will send you the lawn calendar for free.
Receive the lawn calendar in the mail
Enjoy a green lawn all year round!