Lawn Care Tasks for June
Well, May has been a bit of a washout, hasn't it? According to the Met Office, most of the UK has seen rainfall well above the long-term averages, with the Southwest and Northeast experiencing double the typical precipitation for the month. In fact, Wales has had its wettest May since records began. So, while all […]
Free download
Do you want a
lawn calendar?
🌱 All important maintenance moments for your lawn during the year. Leave your email and we will send you the lawn calendar for free.
Receive the lawn calendar in the mail
Enjoy a green lawn all year round!
Well, May has been a bit of a washout, hasn't it? According to the Met Office, most of the UK has seen rainfall well above the long-term averages, with the Southwest and Northeast experiencing double the typical precipitation for the month. In fact, Wales has had its wettest May since records began.
So, while all that rain means we don't need to water our lawns, it's not so great for mowing and getting out in the garden. But fear not, for June is forecast to be dryer and warmer – perfect weather for getting out and about.
In this article, I'll go through all the lawn care tasks for June so that your grass can thrive in our changeable climate.
What needs to be done in June?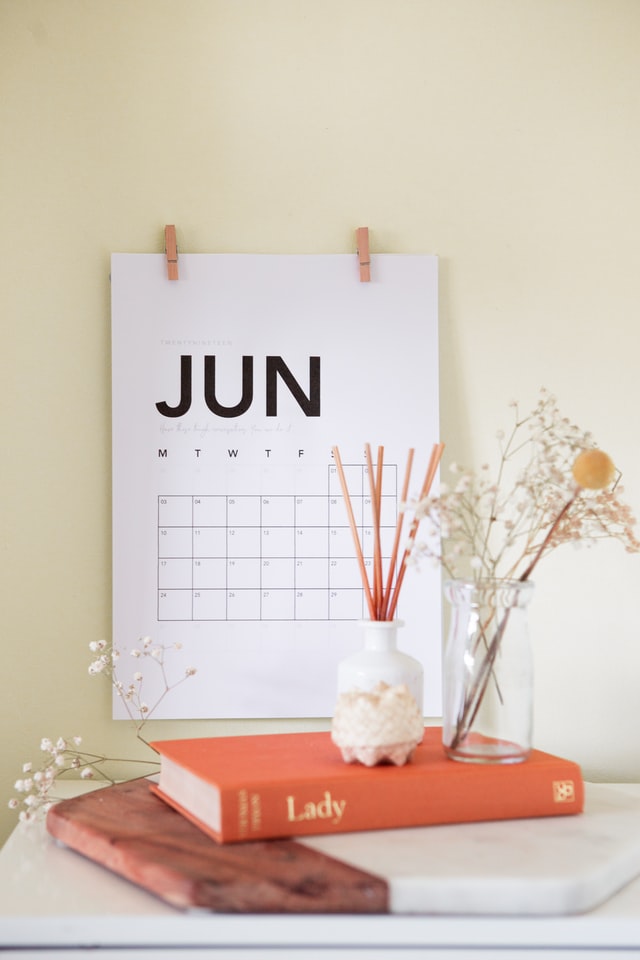 With some dry and sunny weather forecast for June, we can start enjoying those BBQs and maybe even a little sunbathing. But before we put our feet up and enjoy those rays, there are some essential lawn care tasks to complete.
June's lawn care tasks are:
Summer fertilisation
Mow
Control weeds
Aerate your soil
Repair & reseed
Watering (if necessary)
Lawn care for June: Summer fertilisation
During the warmest season of the year, drought and humidity can put considerable stress on your lawn. On the one hand, your grass needs water – while on the other, humidity promotes lawn diseases that significantly damage your grass plants.
There's a particular risk of Red Thread in the summer – a fungus that manifests in hot weather. Look at your lawn: if you notice yellow spots – and when you look closer, you see tiny red fungal threads – it's a sign:
your soil needs nitrogen.
So, if you haven't fertilised your lawn yet this year, June is your optimal window. Use a slow-release fertiliser, such as MOOWY's excellent All-Round Lawn Fertiliser – it will last for 2-3 months.
Alternatively, if you're looking for a high-nitrogen fertiliser to combat summer lawn diseases, try MOOWY's Long Lasting Lawn Fertiliser, which includes Magnesium for the deepest green you can get!
Check out our expert article on lawn diseases to help you keep your lawn in tip top condition this summer.
Lawn care for June: Mow your lawn in June!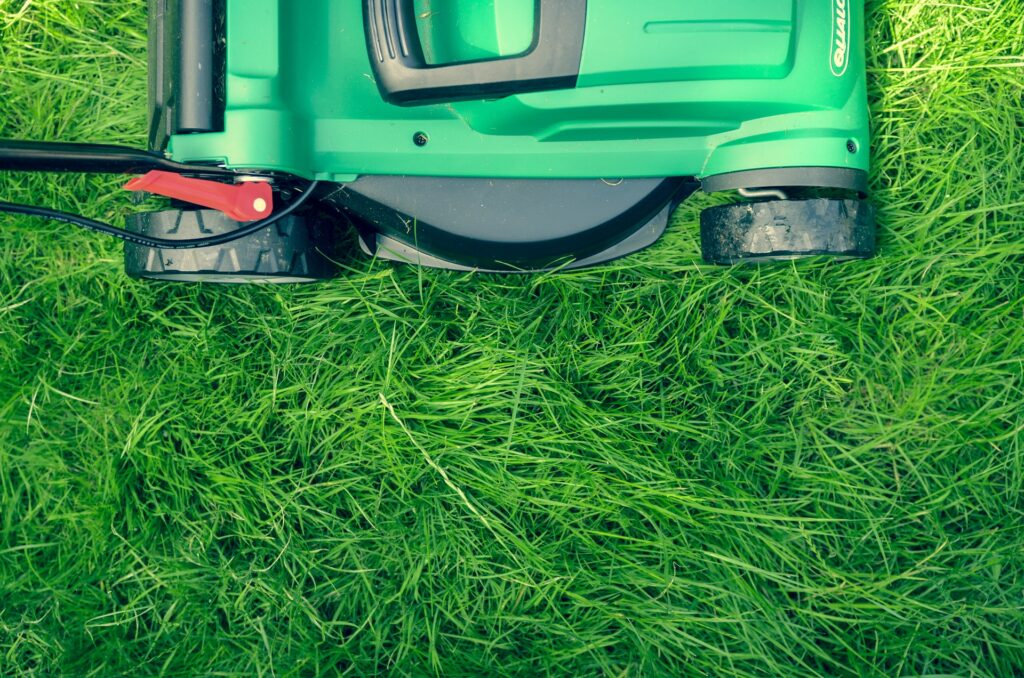 Regular mowing (with sharp blades!) is the key to a beautiful lawn. This is because cutting stimulates a growth hormone (auxin), bringing fresh vitality and growth to your lawn.
And with balmy June temperatures on the way (and a touch of morning dew to keep the lawn watered), growth is at its most vibrant.
So, mowing at least once a week brings excellent results for a beautiful, dense lawn.
However, don't be tempted to cut too short, though. Stick to the golden rule:
Never mow more than ⅓ of the grass's length.
Overmowing causes grass plants to direct all of their energy into leaf growth, neglecting the roots. This makes your roots shallow and less resistant.
Check out our expert mowing tips for the best possible results.
Watch the weather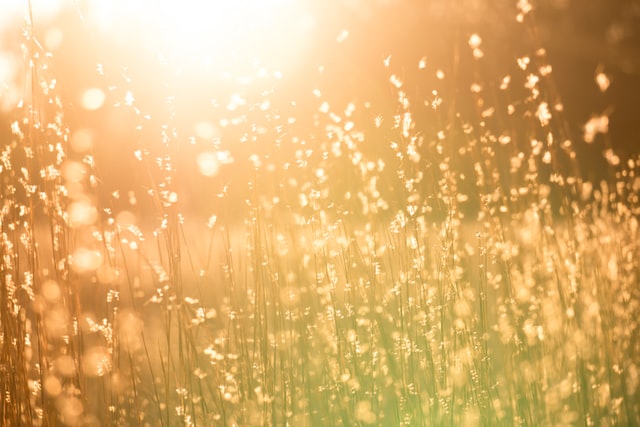 If conditions become dry, growth will slow down. So, mow less frequently in dry weather – once every 10 days should suffice.
Don't let your lawn dry out. Read on for watering tips.
Warm weather mowing tips
In hot weather, longer grass helps creates a barrier of protection from the sun's drying power. Slightly longer grass helps the soil maintain its moisture for longer.
Long grass helps keep the soil cooler. This will also help it maintain its moisture.
Longer grass captures more dew than short grass. So, keeping your lawn longer ensures your soil gets some water every day.
Grass is 85% water. So, if you mow too short, you strip the grass plants of their precious water supply.
If you're just trimming your grass's tips, mow without the grass collector. This adds mulch, which returns the nutrients lost from cutting back to the soil. Fine clippings will dissolve in 24 hours. NOTE: If weeds are in seed, mow with the collection box. When weeds are in bloom, it's no problem.
Lawn doctor Louis says:
MOWING TIP! When the grass is damp, it sticks to your mower. Scrape and wipe out your mower's undercarriage after use – this will keep it in tip-top condition. And maintain sharp blades for the best cut and minimal moisture loss.
Lawn care for June: Control weeds
I'm not a fan of chemical weed killers. I think the best way to combat weeds in your lawn is to mow regularly – that tends to cut weed-life short.
But if you need to rid your lawn of weeds more quickly, cut them out with a weed removing tool. Ensure you remove the roots – otherwise, they'll just grow back. If this leaves a bald patch, overseed the area to prevent new weeds from developing.
However, if you use a chemical product, follow the instructions carefully, and use when the weeds have their leaves; not after mowing. This is because week killers are absorbed through the leaf. And only use chemicals on the weeds – it's a waste of money and bad for the environment to treat the entire lawn.
Lawn care for June: Aerate your soil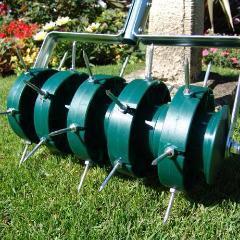 A well-ventilated lawn absorbs water better and stays greener for longer during dry periods.
Regularly aerate areas of your lawn that receive heavy footfall to prevent compaction. Sink the prongs of a garden fork into your lawn soil every inch or so for focused spot aeration.
However, that's quite a lot of effort for a large area.
So, use an aeration roller or hollow tine aerator for more extensive lawns. And for smaller lawns, use aeration sandals – not only will you look super-glam walking across your grass with that satisfying sink, but you'll allow oxygen to reach your grass's roots.
Check out our "how to" guide for perfect aeration.
Lawn care for June: Repair & reseed
June isn't the ideal time of year for scarifying because your grass plants are more likely to dry out. But your lawn may still require some repair and overseeding, especially as your grass sees most of its action during the summer.
If kids and pets play outside, your grass plants can receive a bit of a hammering from ball games and digging. So, if possible, try to get the kids to move their goal posts regularly so that the damage is distributed evenly across the lawn – it's more likely to recover and survive that way.
However, heavy wear areas will need aerating, watering, and fertilising – and possibly overseeding.
And remember: renovations (however minor) need water to recover, so only repair when rain is forecast or if you know you'll be able to provide regular water.
Lawn care for June: Watering your lawn (if necessary!)
We all know that the UK's weather is unpredictable. And while June is traditionally dry, try telling that to the mucky revellers at the Glastonbury festival.
Yes, rain can be heavy in June – but, equally, we could have a beautiful period of sweltering drought.
So, make sure you water your lawn when it's dry. But don't overwater: it makes the roots of your grass plants lazy.
As a general rule, your lawn needs at least 2.5cm of rainfall water each week. It can be difficult to judge how much water that actually is, so check out our expert guide to watering your lawn for all the trade secrets of the perfect watering regime.
Are you ready to get started? Or do you have questions?
We hope you've got all the info you need for a flourishing lawn during June. But if you have any questions, drop us an email.
We love to hear from you, and we'll reply as soon as possible.
Thanks for reading. Have a great June.
Your answer will be displayed on the site and the interested party will be notified by email.
Have a question or want to share your experience? Leave us a comment.
Read
more
The best tips and tricks for a lush green lawn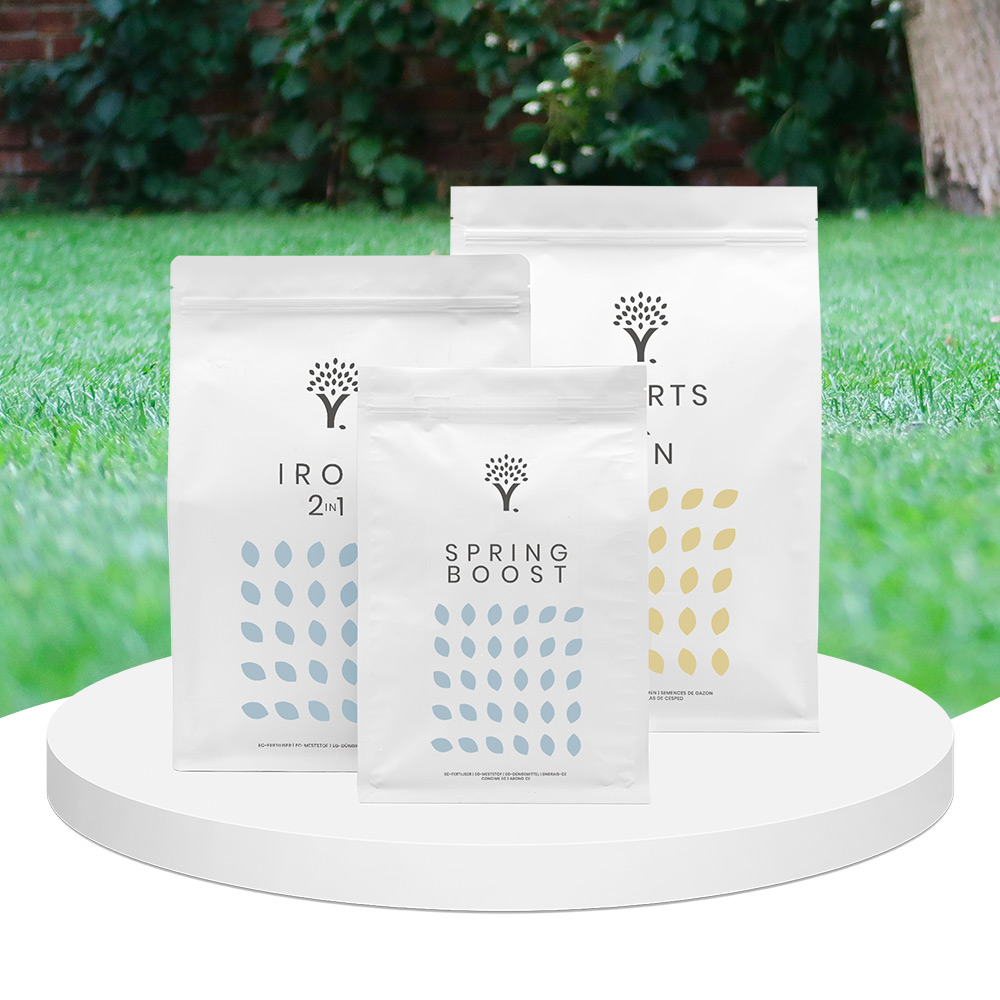 Scarifying Kit
All products after scarifying | Quickly restores the lawn after scarifying | Outsmart weeds quickly with the use of this kit
From:

£

39.99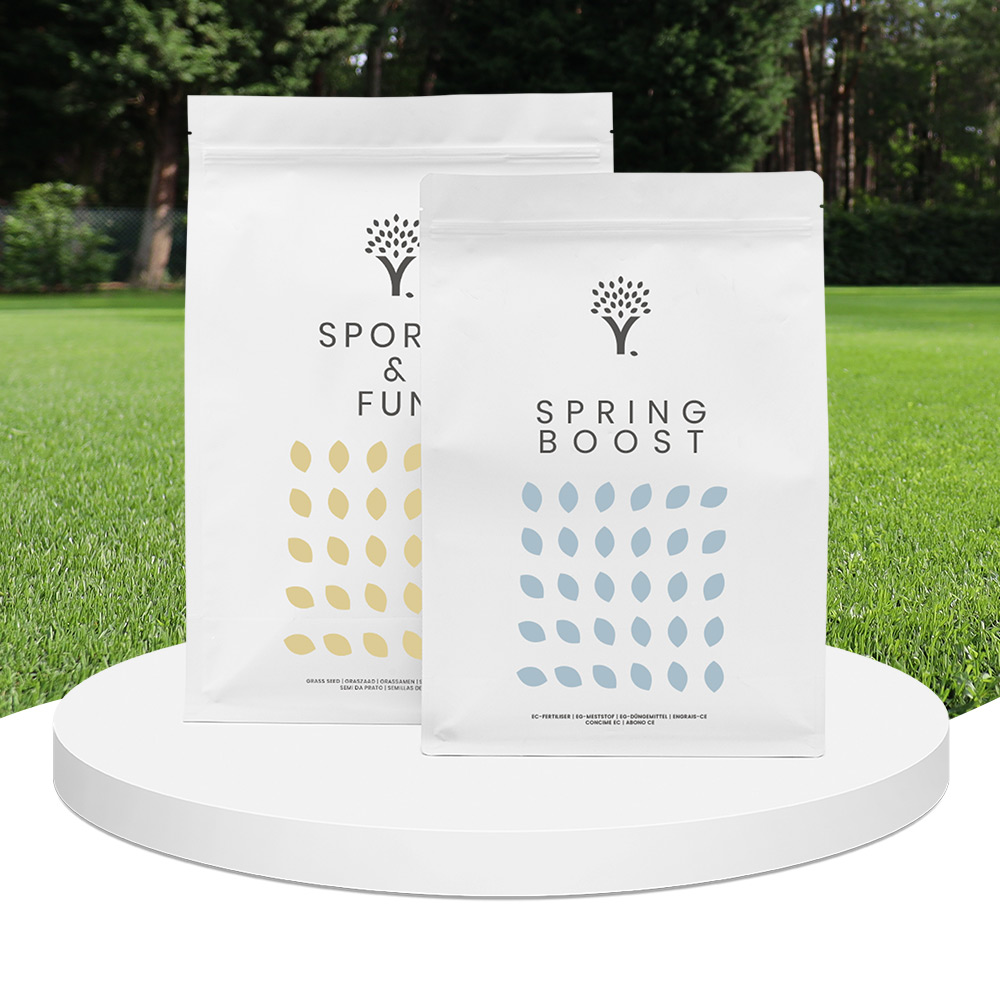 Spring Lawn Care Kit
MOOWY's choice for the spring | Quick recovery of your lawn after winter | A strong lawn prevents weeds
From:

£

25.99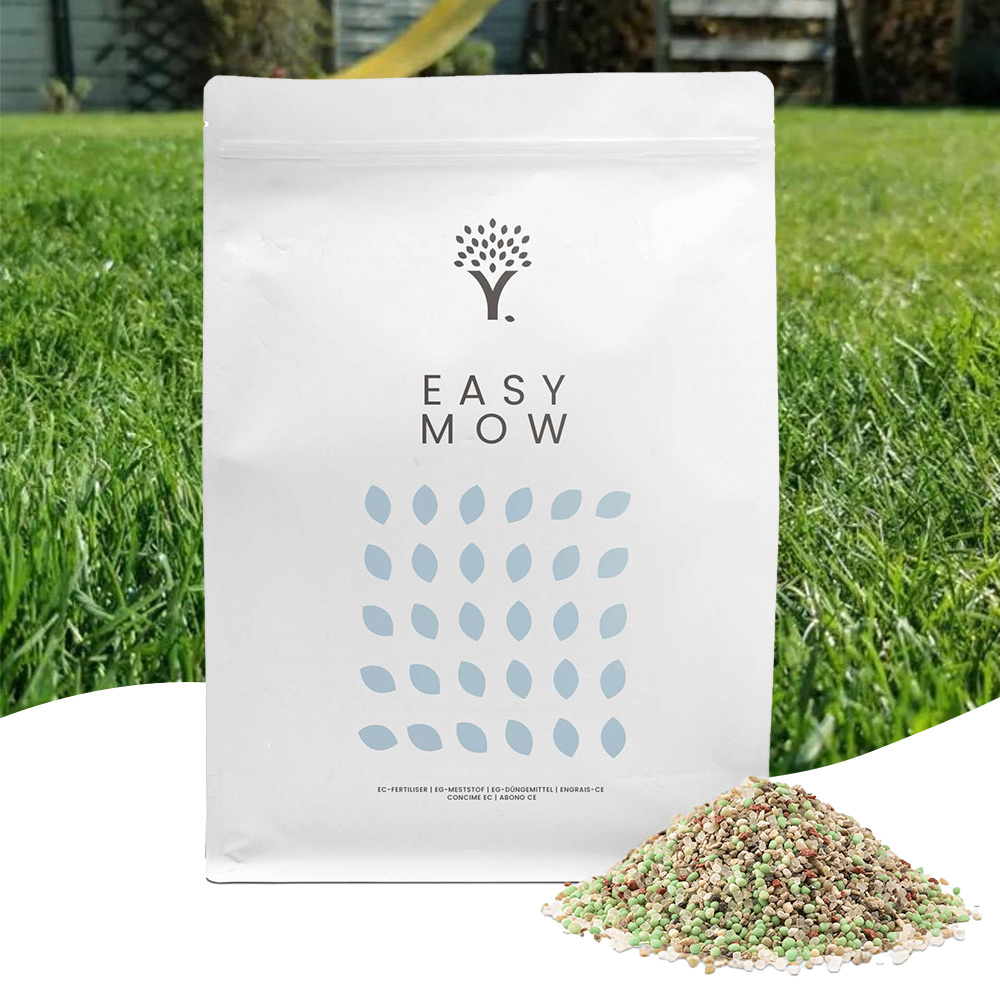 Long Lasting Lawn Fertiliser
Effective for 90 days | See results in 14 days! | Suitable for all types of grass and soil
From:

£

13.99
Free download
Do you want a
lawn calendar?
🌱 All important maintenance moments for your lawn during the year. Leave your email and we will send you the lawn calendar for free.
Receive the lawn calendar in the mail
Enjoy a green lawn all year round!