Lawn maintenance tasks for April
Springtime is the right time to get our into the garden. Here are our helpful tips for a great start to your lawn care year.
Free download
Do you want a
lawn calendar?
🌱 All important maintenance moments for your lawn during the year. Leave your email and we will send you the lawn calendar for free.
Receive the lawn calendar in the mail
Enjoy a green lawn all year round!
It's April and officially the start of spring, which means that the gardening season has finally arrived. So, if we want a beautiful lawn to enjoy throughout the year, it's time to get scarifying, sowing, fertilising, weeding, and mowing. Indeed, there are lots of lawn maintenance tasks in April.
Springtime marks the beginning of the growing season, giving us plenty to keep us occupied. But sometimes, it's challenging to know what to do and when.
This article explains everything you need to know about your April lawn maintenance tasks. We cover aeration, fertilising, mowing, fighting weeds, and sowing grass seeds.
And remember: all successful gardening tasks are all in the preparation.
Ready? Let's get gardening.
Lawn Maintenance Task #1: Aeration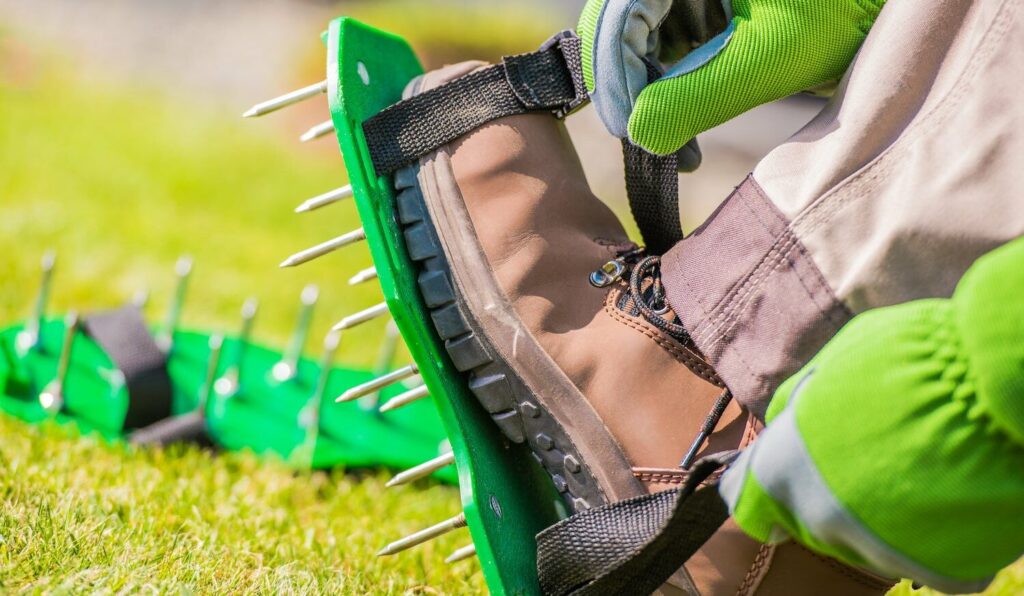 Over the winter, your soil gets wet and cold; if you have clay soil, these conditions can cause soil compaction. Even sandy soil gets compacted, but it's more a problem with heavy earth.
And while we recommended aeration in our "lawn care tasks for March article", perhaps the weather wasn't right, or maybe you didn't get round to it.
It's never too late to aerate!
Aerating your lawn is a process of sinking holes into your soil, improving drainage and introducing more oxygen into the roots of your grass plants.
Aeration is one of the quicker of the April lawn care jobs. Use the right tools for the best results:
Aerator sandals slip over your shoes. They have large spikes attached to the underside, which sink into your soil when you walk the length and breadth of your lawn. A good bit of exercise as well.
A hollow tine aerator is more robust, removing larger divots from the soil. Use one of these for heavily compacted soil.
For more extensive lawns, use a lawn aerator device. These are quicker to use than hollow tine aerators and offer excellent results.
For more information on aerating your lawn, check out our expert article.
Lawn Maintenance Task #2: Scarify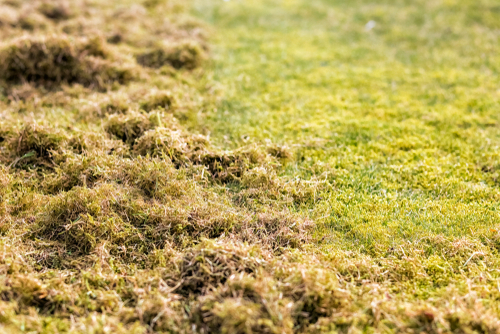 Again, something you could have done in March, scarification is the removal of the thatch layer that sits over the soil surface, which can suffocate your lawn.
Perhaps March was a bit too cold for you to get out and about, so make April your time for dethatching.
For best results, wait until you've dethatched before the first fertilisation of the year. Scarification is particularly stressful for your lawn, but grass plants recover more quickly if you use a high-quality springtime fertiliser after dethatching.
Check out our expert article on scarifying, which will answer all the questions you might have about this essential lawn care task.
Lawn Maintenance Task #3: Fertilise your lawn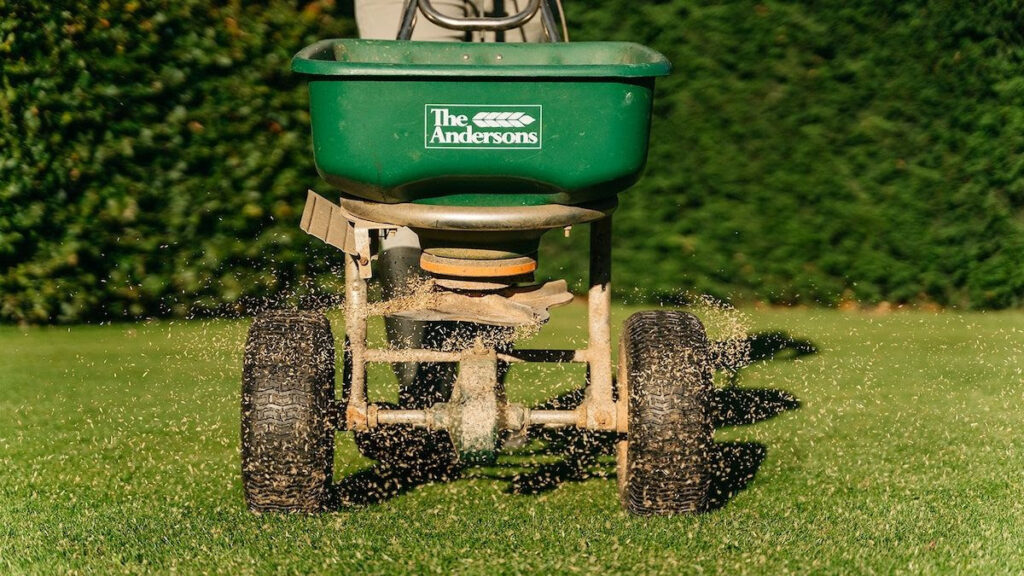 Whether you're scarifying or not, it's essential to give your grass plants the fighting chance they need to flourish.
Spring fertilisation helps your lawn recover from its winter dormancy, providing extra nitrogen to boost the colour and vitality of your grass.
MOOWY's specially developed Spring Boost fertiliser gives your lawn everything it needs to burst back into life. It's odourless and safe to use around pets and children, so get fertilising for a beautiful lawn this year.
A specialist springtime fertiliser gives your lawn:
Improved resistance – healthy soil is less susceptible to diseases and pests, giving your lawn a better chance during drought.
Density – a dense turf makes a healthy lawn.
Boosted growth – spring fertilisation makes your grass grow faster, developing less space for weeds.
Lawn Maintenance Task #4: Mow your lawn
Your grass will have started growing back in March, so you might have already mowed a couple of times by now. But if you haven't, it's time for that first mow of the season.
Mowing helps neaten the appearance of your lawn, of course, but there are other benefits. For example, mowing kickstarts a chemical reaction in grass plants, flooding cells with growth hormone as a reaction to the damage from the cutting blade.
However, ensure that your cutting blades are sharp for a clean cut. Blunt cutting blades tear the grass, leaving a larger wound, which leaves the plant more open to infection.
Problem: My grass is wet
The biggest problem at this time of year (and let's face it, this April has been pretty cold and wet so far) is that your lawn probably never gets dry enough to mow.
So, if your grass is still wet but you want to mow, follow these top tips on mowing damp grass:
Drag your garden hose across the surface of your lawn in the morning to remove raindrops and dew, allowing the blades to dry more quickly.
Mow in the afternoon, once the grass has had time to dry.
Set your lawnmower to its highest setting, and mow quickly and gently.
Clean your mower well after mowing. Wet grass gets stuck to the underside of the mower and can cause problems later in the year.
Lawn Maintenance Task #5: Fight weeds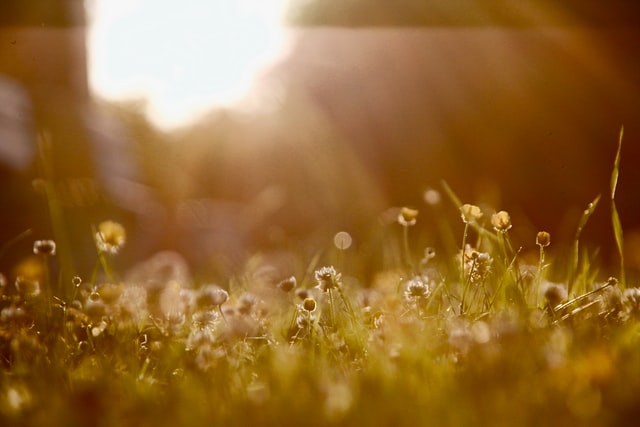 When your lawn bounces back after winter, so do the weeds. So, wherever you see these unwanted plants, remove them immediately.
Check out our article on how to remove, control and prevent weeds. If you have a moss problem, check out how to get rid of moss.
Lawn Maintenance Task #6: Sow new grass seed
This isn't about ripping up your lawn and starting again; all lawns benefit from a yearly overseeding.
Bald spots appear on all lawns eventually. And April is the perfect month for over overseeding because the soil hits peak growing temperature, while April showers provide plenty of natural water.
Overseeding thickens your existing turf, depriving weeds of space to establish. And young lawns are more resistant to disease. So, you'll rejuvenate your lawn by overseeding, giving it the facelift it probably needs.
Ready to get out into the garden? Or do you have questions?
Check out our Help & Advice section for expert tips on everything lawn-orientated. But if you have questions, why not get in touch.
We love hearing from you, so send us an email. And we'll get back to you as quickly as we can.
Thanks for reading!
Your answer will be displayed on the site and the interested party will be notified by email.
Have a question or want to share your experience? Leave us a comment.
Read
more
The best tips and tricks for a lush green lawn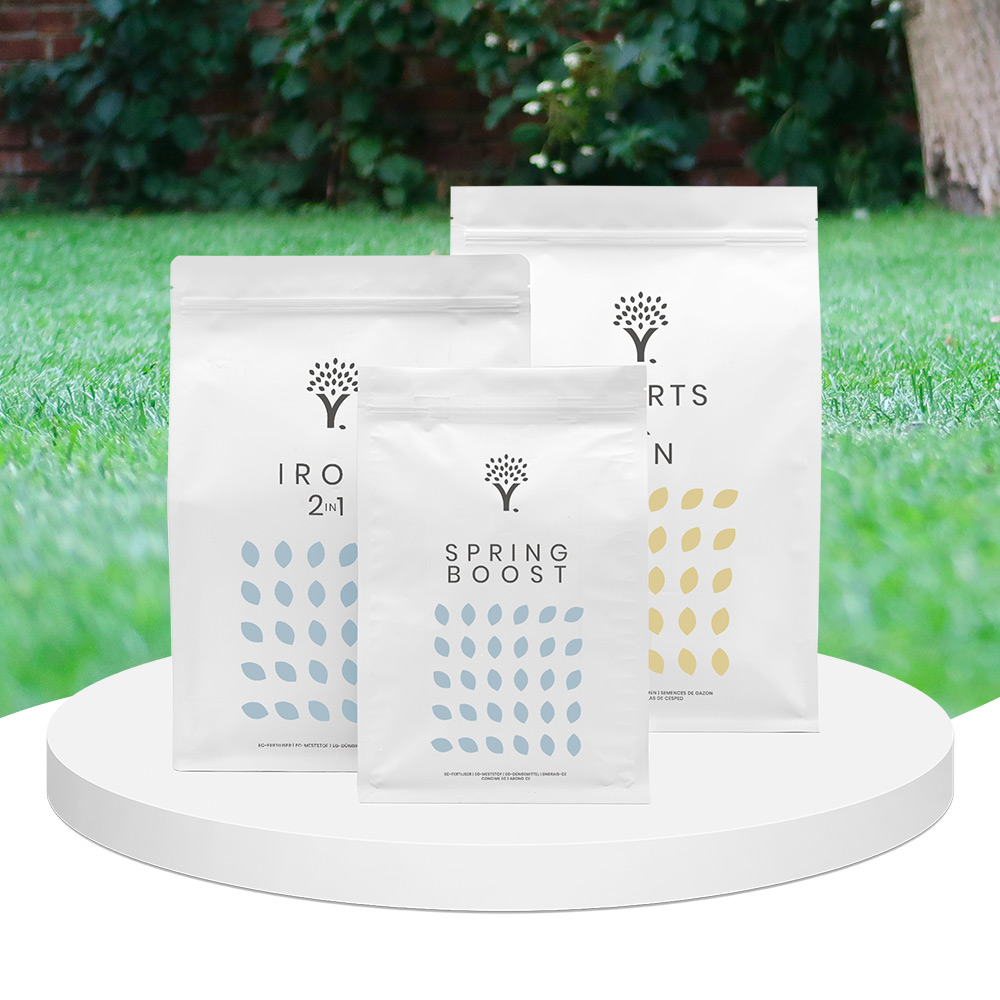 Scarifying Kit
All products after scarifying | Quickly restores the lawn after scarifying | Outsmart weeds quickly with the use of this kit
From:

£

39.99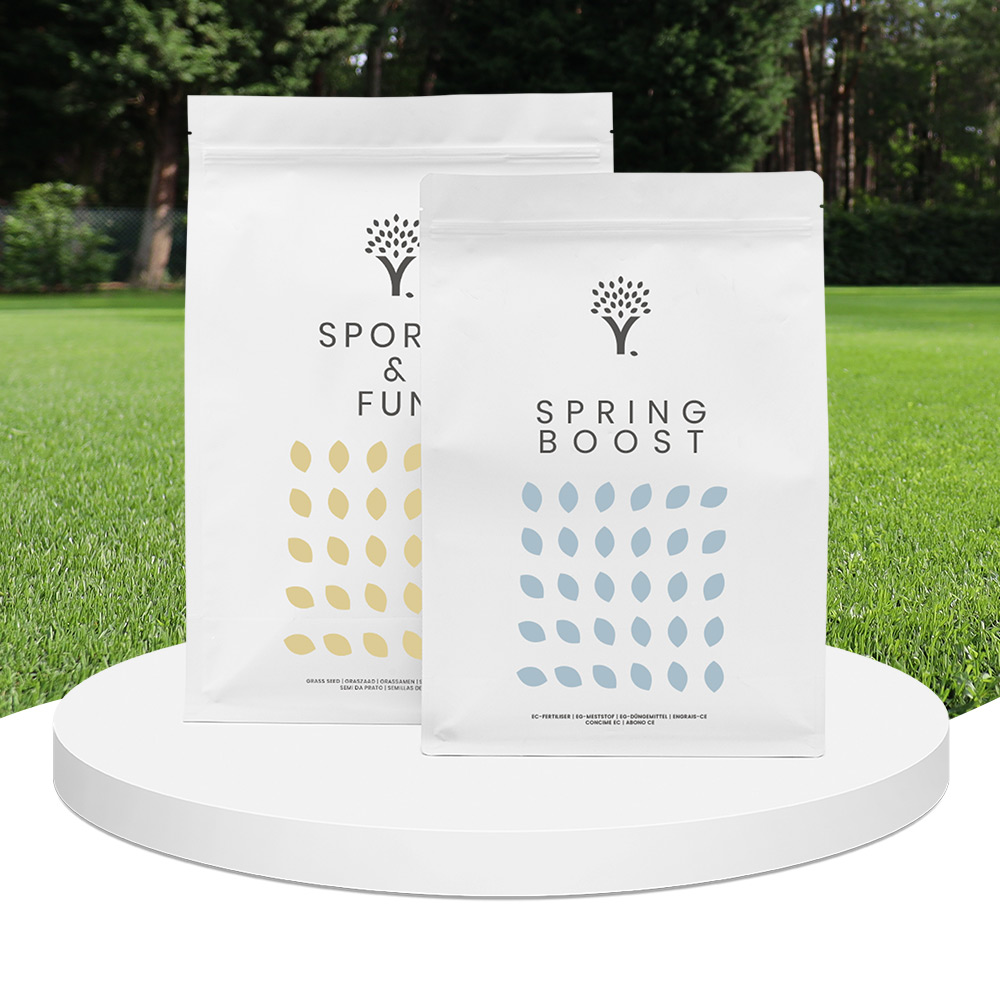 Spring Lawn Care Kit
MOOWY's choice for the spring | Quick recovery of your lawn after winter | A strong lawn prevents weeds
From:

£

25.99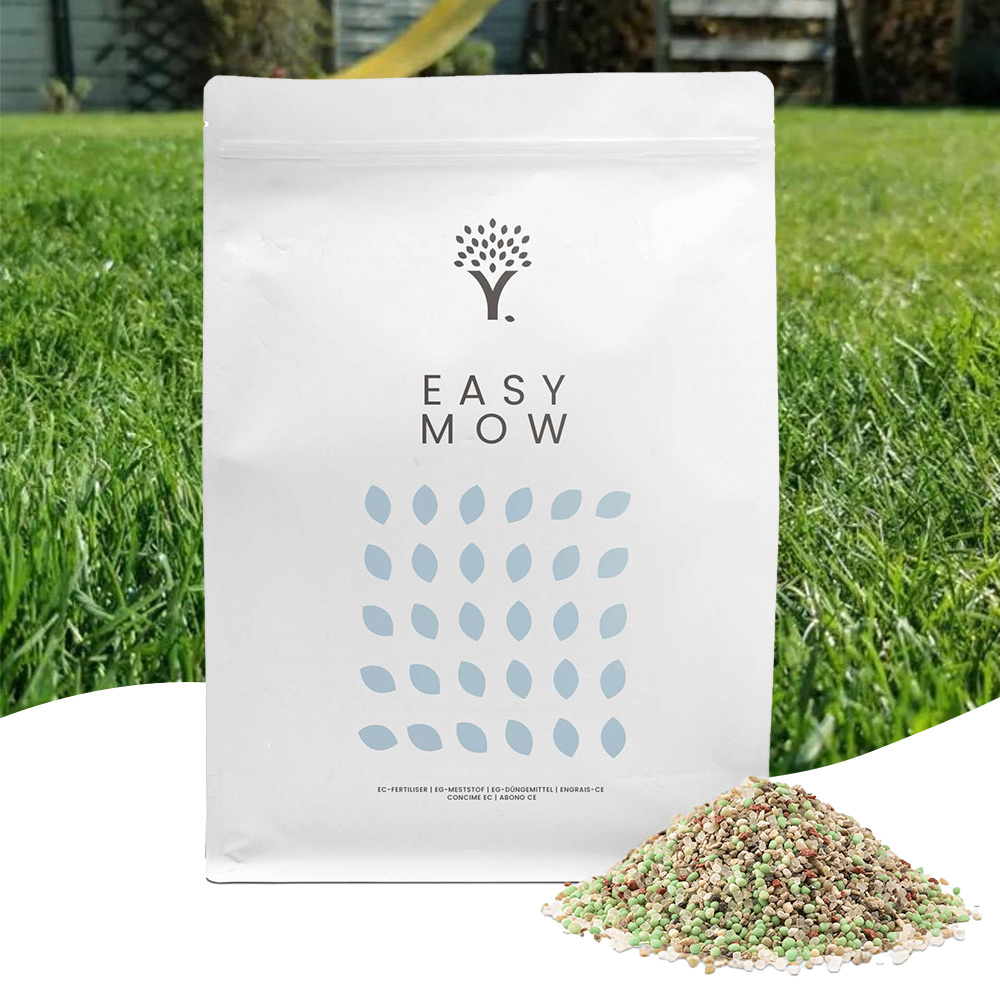 Long Lasting Lawn Fertiliser
Effective for 90 days | See results in 14 days! | Suitable for all types of grass and soil
From:

£

13.99
Free download
Do you want a
lawn calendar?
🌱 All important maintenance moments for your lawn during the year. Leave your email and we will send you the lawn calendar for free.
Receive the lawn calendar in the mail
Enjoy a green lawn all year round!