Autumn lawn care: The Complete Guide to a green lawn
There are plenty of autumn care lawn tasks to complete, ensuring a robust turf before winter.
Is your lawn looking a little tired after the summer? Perhaps it's started to thin out a little, and maybe there are areas of compacted soil? And perhaps some of the soil surface has dipped? Autumn lawn care is all about restoring your lawn in time for its winter dormancy.
All lawns get their heaviest battering during the summer with all the barbeques, ball games, sunbathing, and outdoor activities. So, by the beginning of autumn in September, your lawn will likely need some renovation.
This article explains your autumn lawn care tasks, providing a complete guide to a green lawn that will withstand the harsh winter and leap back into growth come spring.
We're going to look at:
Aerating
Flattening
Scarifying
Overseeding
Feeding and weeding
Mowing
Ready? Let's get planning!
Why lawn care in autumn?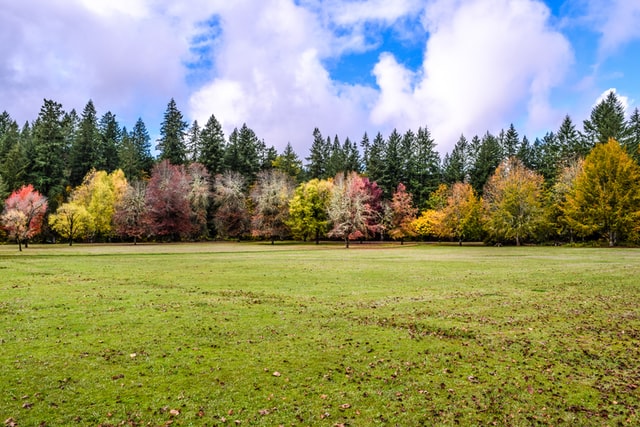 Your lawn usually experiences its highest use during the summer, and heavy use often leads to problems, such as:
Soil compaction and uneven surface
Bald spots
Poor nutrition
Leaving your lawn untreated weakens your grass plants as they try to recover naturally. And weaker grass plants are less likely to survive a wet, cold, frosty winter.
So, autumn is the perfect time to restore your turf and get your grass plants into their most robust state possible before the winter dormancy.
Never neglect your autumn lawn care tasks — you'll regret it come spring.
When can you start with autumn lawn care?
Autumn lawn care tasks include some fairly harsh preparations, such as aerating and scarifying. So, aim to start your autumn lawn care regime in early September — that way, your grass plants will have time to recover (and reseed where necessary) before the temperature drops.
It's possible to renovate your lawn in October if the weather is still warm, but don't leave it any later.
Autumn lawn care: hollow-tine aeration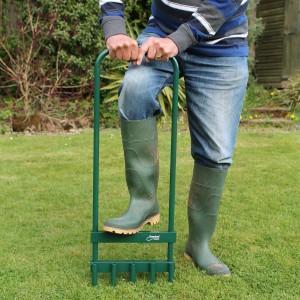 Sometimes, we use certain areas of our lawns more than others. Maybe we have a favourite sunny spot, perfect for sunbathing? Or perhaps your kids have their goal at the back of the garden? Either way, heavy use is likely to result in soil compaction.
Why is soil compaction a problem?
Well, compacted soil becomes dry and hard, preventing water from penetrating the crust. Additionally, your grass plants need oxygen, so compressed soil can prevent oxygen from reaching below the surface, stunting your grass plants' root development.
Aerating with a garden fork
A well-aerated lawn is more drought resistant and drains more easily. It's possible to aerate with a garden fork, sinking the tines into the soil surface every 10-15cm.
To speed up the process, you could walk around your lawn wearing aerator sandals or use an aerator machine.
But if the compaction is severe (or if you have clay soil), a hollow tine aerator will do a better job.
Aerating with a hollow tine aerator
Hollow-tine aerators remove plugs of soil from your lawn, leaving small air tubes within the soil surface. This helps oxygen reach the roots of your grass plants and breaks up the soil compaction.
After aerating with your hollow-tine aerator, rake some top-dressing into the holes. This will add nourishment and texture to your ground.
What is top-dressing made of?
Top-dressing is made of:
3 parts sandy loam
6 parts sharp sand
1 part compost or leafmould
Or buy a ready-mixed top-dressing.
Measure the parts using a bucket or flower pot — the bigger the container, the more top-dressing you'll make. Mix well, and apply around 2-3kg per square metre (roughly a shovel-full).
Rake the top-dressing into the aeration holes until the mix appears to have disappeared.
Autumn lawn care: flattening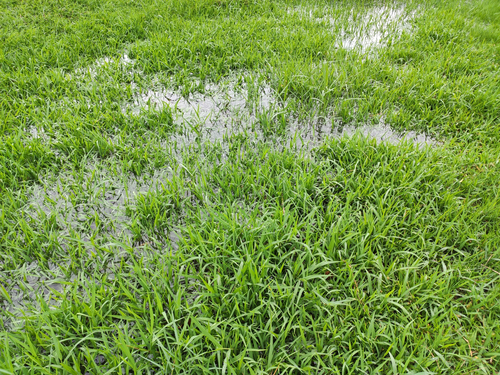 You'll find dips on your lawn surface in areas of high wear-and-tear. And, over time, these small dips become prime flood areas, damaging your grass plants.
So, autumn is an excellent time to address dips and bumps in your grass's surface – that way, you'll avoid flooding when the autumn rains come.
Correct troughs and bumps with a spade:
Slice through the turf. Then, roll it back.
Using a garden fork, work the underlying ground to add or remove soil to correct the bump or dip.
Roll the turf back down, focusing on pressing down the edges.
Water thoroughly.
Autumn lawn care: scarifying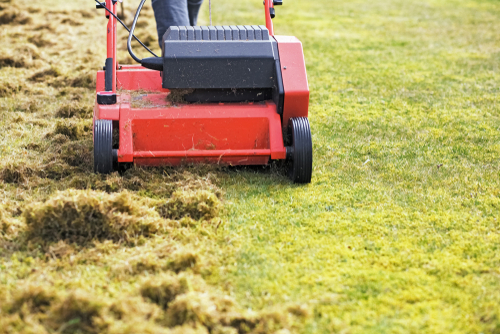 If you already scarified in spring, you could rake out the thatch layer with a regular telescopic rake. Work the top surface around the grass plants until you've removed the dead grass, moss, and other organic matter, such as leaves and petals.
That thatch layer sitting on the soil surface has a similar effect to compaction — it prevents water, nutrients, oxygen, and light from getting down to the plant's roots. And eventually, the thatch layer will suffocate your grass plants.
If you haven't scarified this year yet, autumn is a great time to do it. That way, your lawn will have recovered before its winter dormancy.
How to Scarify a Lawn
If there's a lot of thatch to remove, you're probably better off hiring or buying a scarifier. It's good to scarify twice a year — once at the beginning of the growing season in spring and then again at the start of autumn in September.
It's possible to scarify a little harder in September because your grass has had the entire spring and summer to bounce back. In spring, it's better to be a little more delicate to protect young growth.
However, don't scarify too deeply — you can damage your turf.
Check out our expert's guide to scarifying for the full lowdown on successfully renovating your lawn with a scarifier.
Autumn lawn care: overseeding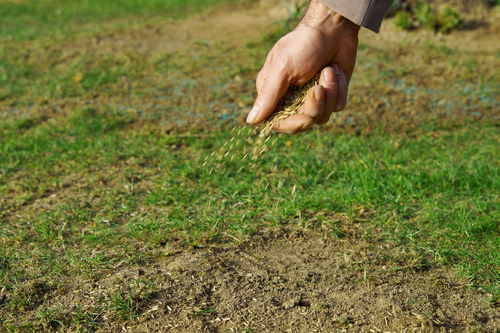 Your lawn will probably appear a little sorry for itself after scarifying. In general, it will look like you've completely wrecked your turf.
But don't worry — it will bounce back, and with greater vigour. The act of scarifying triggers a growth hormone in your grass plants, which gives them a vitality boost.
Nonetheless, it's a good idea to overseed an autumn lawn, helping overcome the inevitable bald patches that occur from heavy summer use.
How to overseed
Focusing on the areas that were thinning out before you scarified, sow 17g of high-quality grass seed over the soil surface. Ensure the seed makes full contact with the soil; otherwise, it won't germinate.
You don't need to cover the seed, but you should press it with a roller if you have one, ensuring that the seed makes full soil contact. If you don't have a roller, use a plank of wood, and press it on top of the seed by standing on it — repeating this around the entire lawn.
TIP — Low-quality seed is the most likely cause for a poor germination rate. But, high-quality seed won't germinate unless pressed firmly into the soil after sowing.
Lawn doctor Louis says:
Low-quality seed is the most likely cause for a poor germination rate. But, high-quality seed won't germinate unless pressed firmly into the soil with a roller after sowing.
You might have more questions about overseeding — check out our expert's guide to overseeding your lawn.
Autumn lawn care: feeding and weeding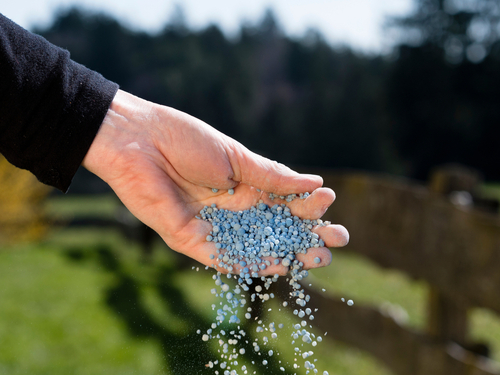 Although you can buy all-in-one weed-and-feed mixes, the pros don't apply weed killer and fertiliser at the same time. Wait until your lawn is actively growing again after overseeding before you feed your lawn.
For best results, apply a good quality, high-nitrogen autumn fertiliser, such as MOOWY's Long Lasting Lawn Fertiliser. This will give your turf a sudden shot of green and the robustness to survive the autumn and into the winter.
Wait for 10-14 days before you apply a broadleaf weed killer (or appropriate weed killer for your particular lawn weeds).
Alternatively, you can dig out the weeds — just make sure you remove the entire root; otherwise, it could grow back. Overseed any bald patches that occur as a result of weeding.
Autumn lawn care: mowing


Autumn is a truly beautiful time of year — and as the leaves on the trees take on a vermillion hue, the days become shorter, and the temperature drops. This means that you'll need to mow less frequently — but you'll still need to trim, especially if you've scarified and overseeded.
00As you head towards winter, increase the cutting height of your grass to keep it green and vibrant — this will also add some protection from the elements as the temperatures reach freezing in December and January.
Make sure your cutting blades are sharp — blunt blades tear the grass, which could cause dehydration and disease.
Remember, never cut more than ⅓ of the grass blade's length to maintain your grass plants' ongoing health.
For everything you'll ever need to know about mowing, check out our expert's guide to cutting your grass.
Clean up the edges of your lawn
Your lawn's edges might have become a little overgrown over the summer, so autumn is the ideal time of year for trimming back the boundaries. It makes your lawn look neater and prevents grass from spreading into your flower beds.
Checklist: Autumn lawn care
So, that's it — your autumn lawn care guide for a beautiful lawn that's more likely to survive the winter.
Here's your tick list:
Aerate — using a hollow-tine aerator if possible
Flatten — removing dips and bumps with a spade and some soil
Scarify — eradicating the thatch layer that could suffocate your turf
Overseed — replenishing your lawn to keep it young and vital
Feed and weed — to keep your lawn strong for the winter
Mow and edge — making sure your lawn remains neat and healthy.
Do you have any questions?
We hope we've provided you with all the info you need to complete your autumn lawn care regime. But if you have any questions, please don't hesitate to get in touch.
We love to hear from you and will reply as soon as possible. Drop us an email, and ask away!
Thanks for reading. 
FAQ
What should I do to my lawn in autumn?
Your lawn will likely be a little tired after the summer's heavier use, so it's time to aerate, flatten, scarify, overseed, feed, and mow your lawn. Don't neglect your autumn lawn care tasks — they strengthen your turf for the winter.
When should I put down autumn lawn feed?
Sprinkle fertiliser in September after you've aerated and scarified. Your lawn needs a good nitrogen boost as it moves from autumn into winter, so use a high-quality, high-nitrogen fertiliser, like MOOWY'S Long Lasting Fertiliser.
What should I do with my lawn in October?
If you've already aerated, flattened, scarified, overseeded, and fed your turf, it's time to keep mowing. It's good to raise the cutting height as you move into winter. Keep mowing regularly until your grass goes dormant for the winter.
Read
more
The best tips and tricks for a lush green lawn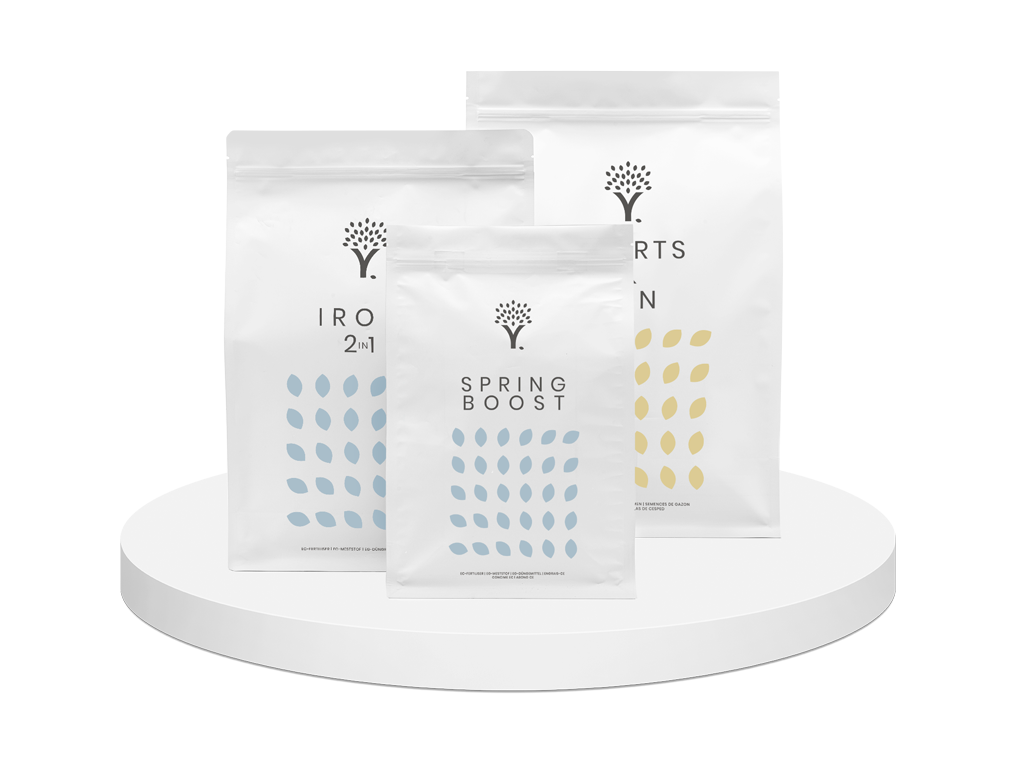 Scarifying Kit Standard
Has moss found its way into your lawn? An excellent way to get rid of this is to scarify. Our Standard Scarifying Kit contains everything you need to make your scarifying project a success – with stunning results
From:

£

36.99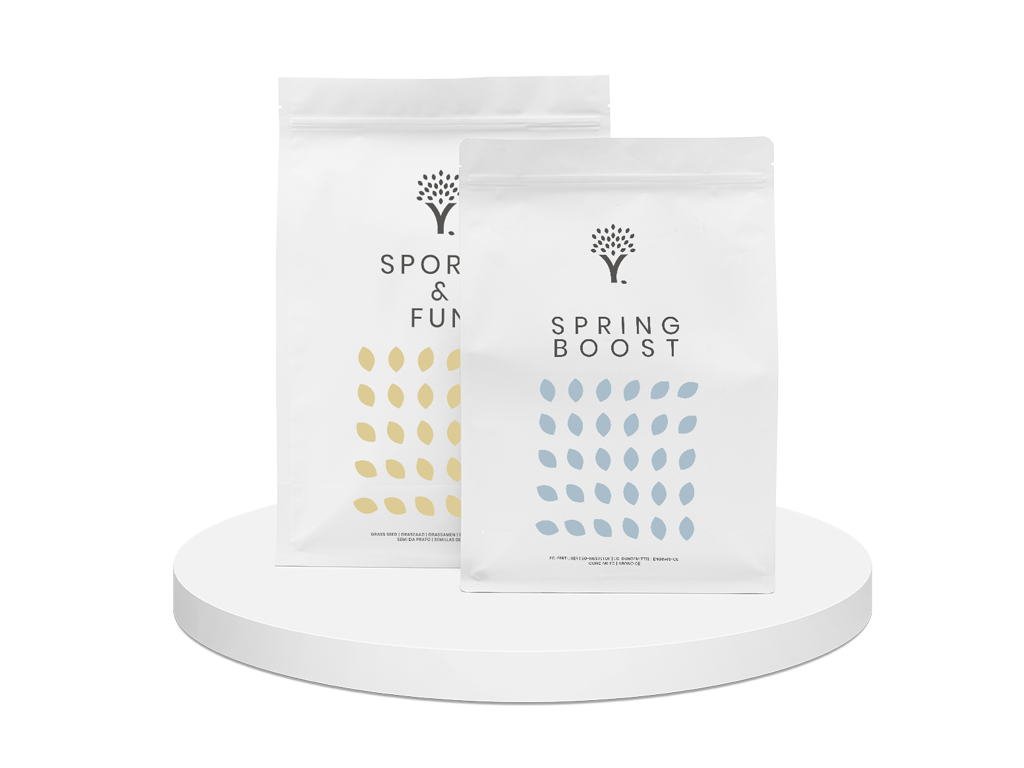 Scarifying Repair Kit
Scarification is the removal of the organic matter that chokes the roots of your lawn (such as thatch and moss). However, scarifying can stress your grass. So, after scarifying, treat your lawn with some MOOWY-style love to help it recover. Our Scarifying Repair Kit guarantees rapid, successful recovery with exceptional results.
From:

£

23.99
Top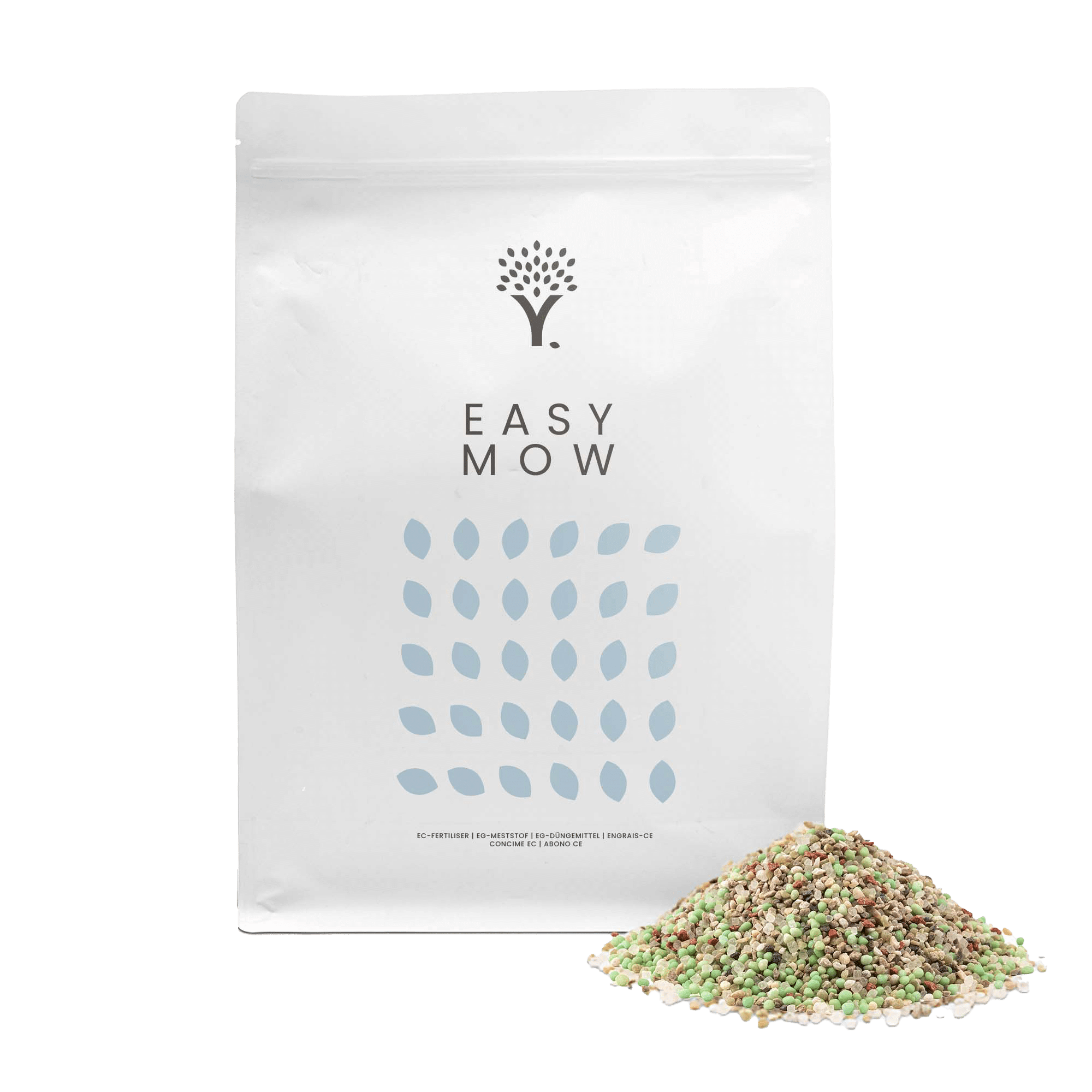 Long Lasting Lawn Fertiliser
Give your grass everything it needs without the excessive growth often associated with fertilising. MOOWY'S long lasting lawn fertiliser works for over 90 days and delivers quick results.
From:

£

13.99
SUBSCRIBE
Do you want your lawn care
calendar

?

Leave your email address and we will send you our useful lawn care calendar. It's free!
Get your lawn care calendar
Get your lawn care calendar