Lawn care in July: your monthly task list
Summer is for sitting in the sun, but you'll want your lawn in tip top condition. Check out our essential July lawn task checklist!
Free download
Do you want a
lawn calendar?
🌱 All important maintenance moments for your lawn during the year. Leave your email and we will send you the lawn calendar for free.
Receive the lawn calendar in the mail
Enjoy a green lawn all year round!
We had quite a cold and relatively wet start to June in the UK this year, but things improved as the month progressed. Fingers crossed, even the Glastonbury Festival escapes the dreaded torrential downfalls! Read on for our list of July lawn tasks.
So, with longer hours of daylight and warm, sunny spells, our lawns have enjoyed plenty of sun for extra verdancy.
But our lawns never rest, and there are tasks to complete to ensure your grass reaches peak beauty this July. And while predicting the UK weather is like guessing the National Lottery numbers, so far it's set to be a relatively dry, warm July – perfect mowing weather!
This blog is all about the essential lawn care tasks for July. From mowing to aerating and everything in between.
What needs to be done this month?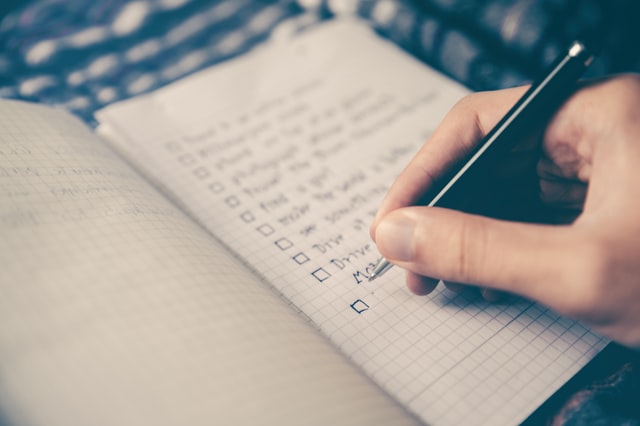 Your garden to-do list for July is:
Mow
Summer fertilisation
Control weeds
Aerate the soil
Repair & reseed
Watering (if needed)
July lawn tasks – Mowing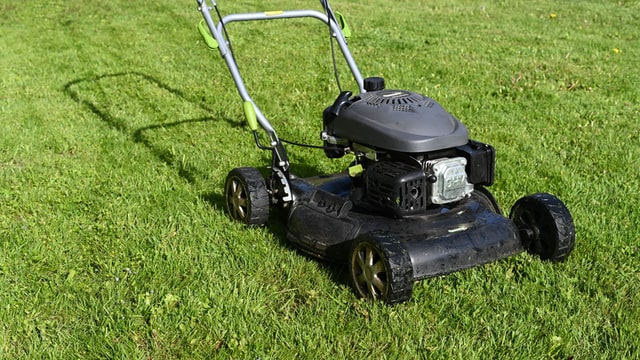 Regular mowing is the key to a beautiful lawn. This is because the grass's roots release a growth hormone when cut, pushing extra vitality into the plant. So, it's essential that you mow throughout July.
However:
The higher temperatures and the lack of rainfall (hopefully!) mean that your grass begins to grow more slowly.
So, while humidity is high, mow once a week in July; or cut every 10-14 days if the weather is dry.
And make sure you always mow your lawn with sharp blades to ensure a clean cut. Blunt cutting blades cause a severe wound on the tips of the grass, making the plant more susceptible to weeds, disease, and yellowing.
TIP – Never mow your lawn in hot weather!
Some tips for summer mowing:
Leave your grass a little longer during the hot weather. This helps create a barrier between the sun's drying power and the soil, helping maintain soil moisture.
Longer grass keeps the soiler cooler, helping maintain your lawn's growth.
Dew forms on your grass when the evenings hit lower temperatures. Longer grass absorbs the dew more efficiently, giving your grass plants a daily drink.
Grass is 85% water, so mow without the collector if you only cut the tips. This helps your grass plants re-absorb the moisture they lose from cutting. The fine tips will disappear into the soil within 24 hours, allowing your lawn to retain its vitality.
TOP TIP: Use the grass collector when weed seeds are in the air. You can mow without the collector if the weeds are in bloom.
Make sure you clean your mower after use. Brush, scrape, or wipe the underside of your mower to ensure optimal service throughout the year (make sure it's unplugged first!).
Check out our expert's guide to lawn mowing for all the tips you need to keep your grass looking lush and beautiful all year round.
July lawn tasks – summer fertilisation
Use a slow-acting nitrogen fertiliser during the summer to prevent overgrowth, which stresses your grass plants.
The dry, hot weather brings with it the risk of disease, such as red thread. So keep your lawn soil well fed with a high-quality, slow-release, lower-nitrogen fertiliser throughout July.
MOOWY's All-Round Fertiliser is perfect for this time of year, especially if this is the first time you've fertilised. With just 6% nitrogen and 12% potassium, the slow-release formula helps strengthen your lawn's disease resistance without the growth burst of higher nitrogen blends.
Remember, water your lawn to activate slow-release fertilisers unless you expect rain.
July lawn tasks – control the weeds!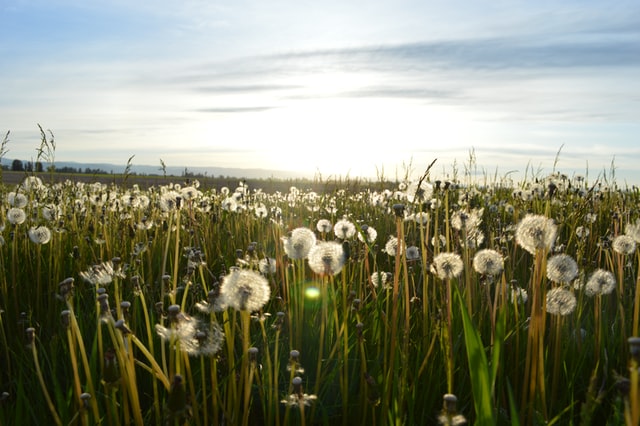 July is clover and shamrock season. And while many of us love the hot weather in the summer, so do the weeds.
I'm not a fan of chemical weed killer because it can damage the soil. So mowing frequently will help control the weeds that thrive throughout July.
A well-fed lawn will overcome a weed invasion if you persistently attack them with the mower. However, mowing won't kill the weed's roots – you'll need to dig them up to ensure you get rid of them more permanently.
But:
Digging up the weeds can leave bald patches on your lawn, so ensure you overseed to prevent new weeds from taking root.
Weed killers are absorbed through the plant's leaves, so if you opt for a chemical solution, apply it before you mow (and wait for the weeds to start dying).
July lawn tasks – aerate your soil
Well ventilated soil helps your grass remain greener for longer because it allows the ground to absorb water more effectively. And aerating your lawn helps prevent soil compaction, ensuring that nutrients reach your grass plants' roots.
For speedy aeration, wear aerator sandals that slip over your shoes while walking around your lawn. Focus on heavy traffic areas as these are more likely to experience soil compaction.
But if you have a huge lawn, you might choose an aerator roller or a hollow tine aerator. However, it's best to avoid hollow tine aerators if the weather is excessively warm – the larger holes can cause the soil's top layer to dry out.
Check out our expert's guide to aerating your lawn for more information.
July lawn tasks – repair & reseed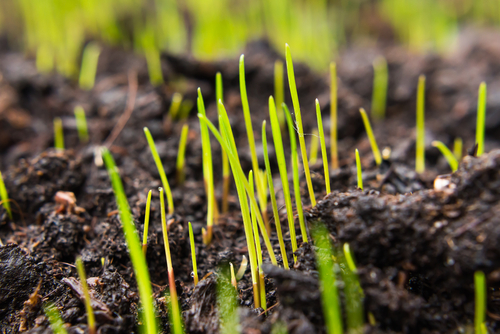 Most of us use our lawns the most during the summer, which puts heavily used areas under significant stress (especially if it's hot and dry). So, July and August are the prime months for repairing patches that show signs of stress.
If your kids are using your lawn as a football pitch, encourage them to alternate the location of the goal posts. This will take the pressure away from one spot, distributing it around the lawn.
Of course, asking the kids to do something and them actually doing it is another matter altogether. So, chances are, you'll need to repair and reseed areas that experience the most damage to avoid weed invasions.
Cure worn-out areas by aerating, watering, and fertilising. Then, use a fast recovery lawn seed, such as Sport & Fun grass seed.
And remember, lawn seeds need water, so don't allow the soil to dry out wherever you overseed.
July lawn tasks – water your lawn (if needed)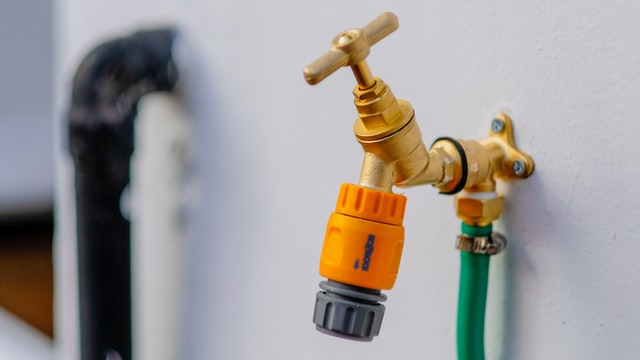 If the weather holds its promise and July remains dry, you'll need to water your lawn with a sprinkler every few days.
Keep an eye on soil moisture by digging your finger into the topsoil. Dig down a couple of inches to feel whether it's dry – if the soil is moist underneath the surface, leave it another day.
Overwatering your lawn makes the grass roots lazy, so don't be tempted to leave the sprinkler on for too long.
Get the lowdown with our expert's guide to watering your lawn.
Do you have any questions?
We hope you've got all the information you need from our July lawn care task list. But if you have questions, get in touch by email. Or maybe leave a comment below?
We love to hear from your and will reply to all emails as quickly as possible.
Your answer will be displayed on the site and the interested party will be notified by email.
Have a question or want to share your experience? Leave us a comment.
Read
more
The best tips and tricks for a lush green lawn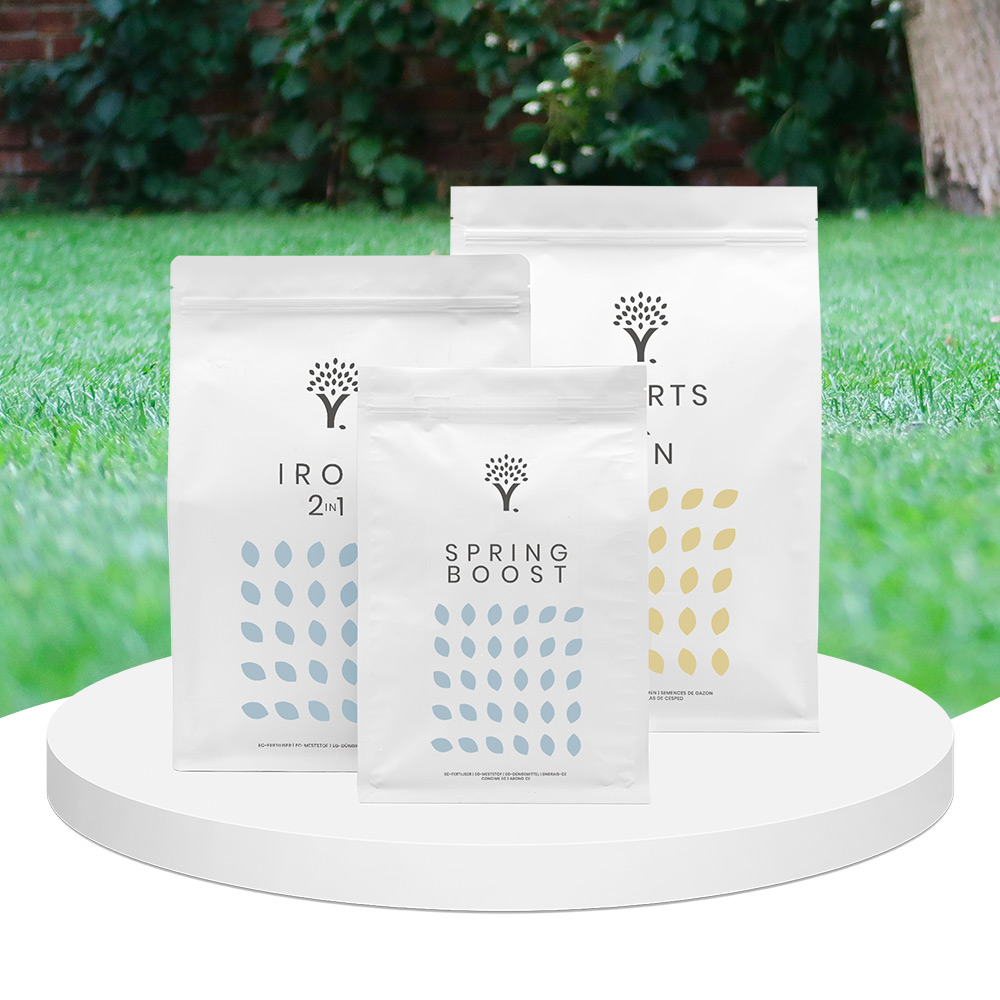 Scarifying Kit
All products after scarifying | Quickly restores the lawn after scarifying | Outsmart weeds quickly with the use of this kit
From:

£

39.99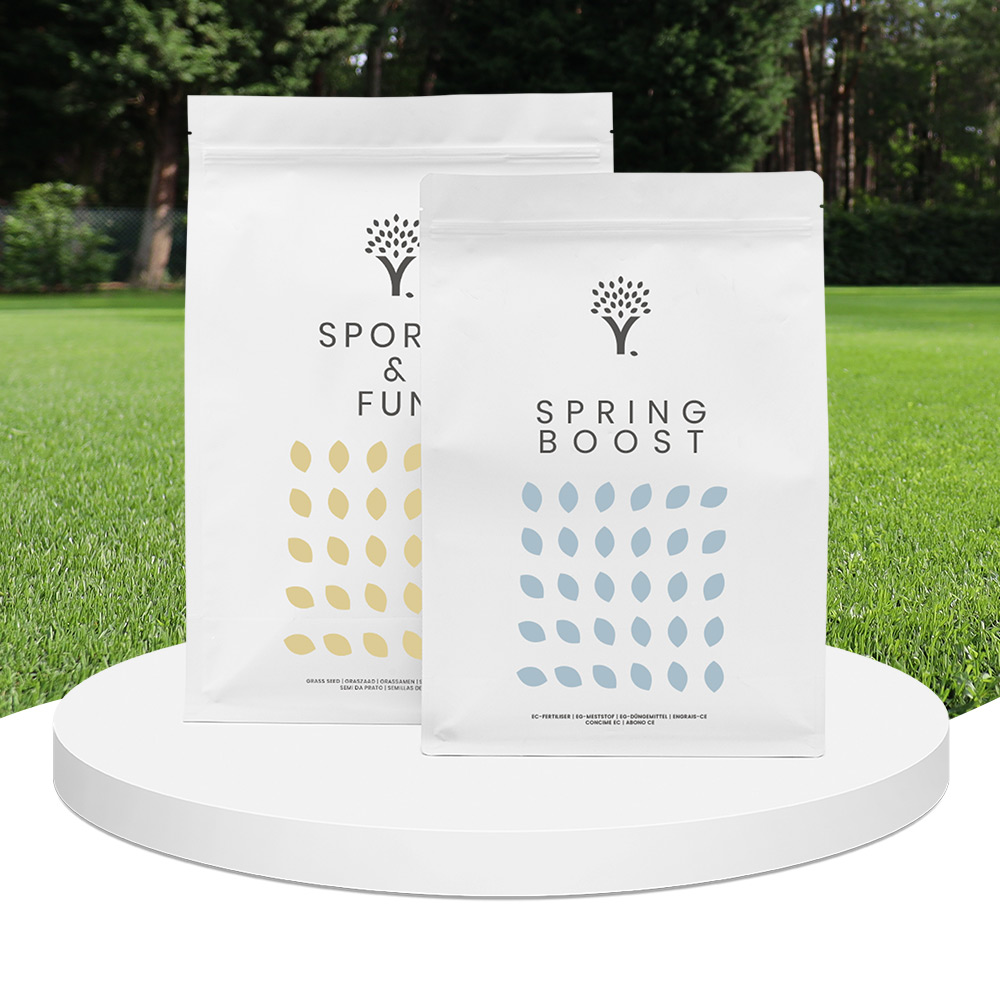 Spring Lawn Care Kit
MOOWY's choice for the spring | Quick recovery of your lawn after winter | A strong lawn prevents weeds
From:

£

25.99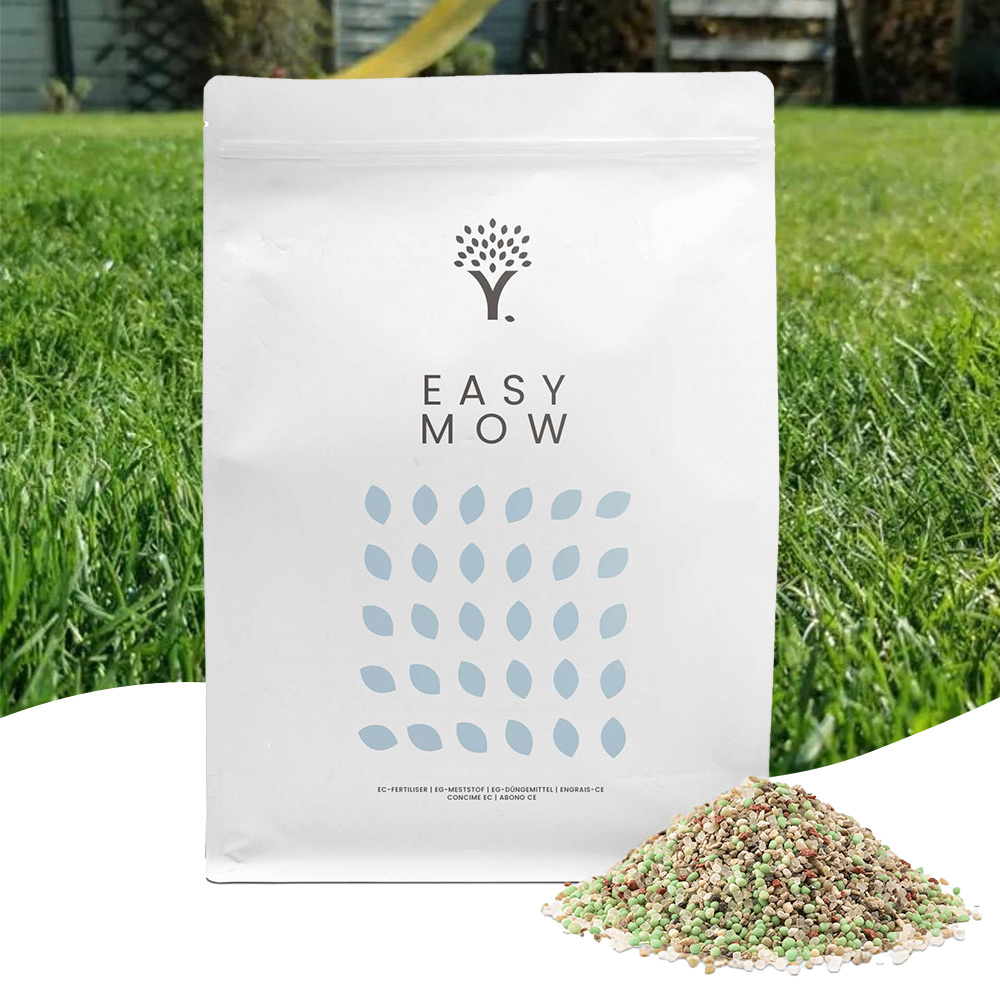 Long Lasting Lawn Fertiliser
Effective for 90 days | See results in 14 days! | Suitable for all types of grass and soil
From:

£

13.99
Free download
Do you want a
lawn calendar?
🌱 All important maintenance moments for your lawn during the year. Leave your email and we will send you the lawn calendar for free.
Receive the lawn calendar in the mail
Enjoy a green lawn all year round!