Returf your lawn or repair it? We'll help you decide.
Your old lawn might be looking dull and tired. It could be time to think about returfing? Or maybe you could save it by overseeding?
If you shudder whenever you look at your lawn, maybe it's time to start afresh? Sure, you can scarify, lime, fertilise, and overseed – but has your lawn's disrepair gone too far? Is it time to returf your lawn? Or is it salvageable?
Perhaps you've attempted to fix some of your lawn problems, and you're still unsatisfied with the results?
There are two main options: returfing or re-seeding. Returfing is quite a considerable task, and it might not be necessary. With the right know-how, you may be able to save your lawn without a large-scale renovation.
This article will help you decide if it's time to returf or whether your lawn issues are surmountable, with advice on how you might help your exhausted lawn recover and replenish.
Ready? Let's go!
What is the current state of your lawn?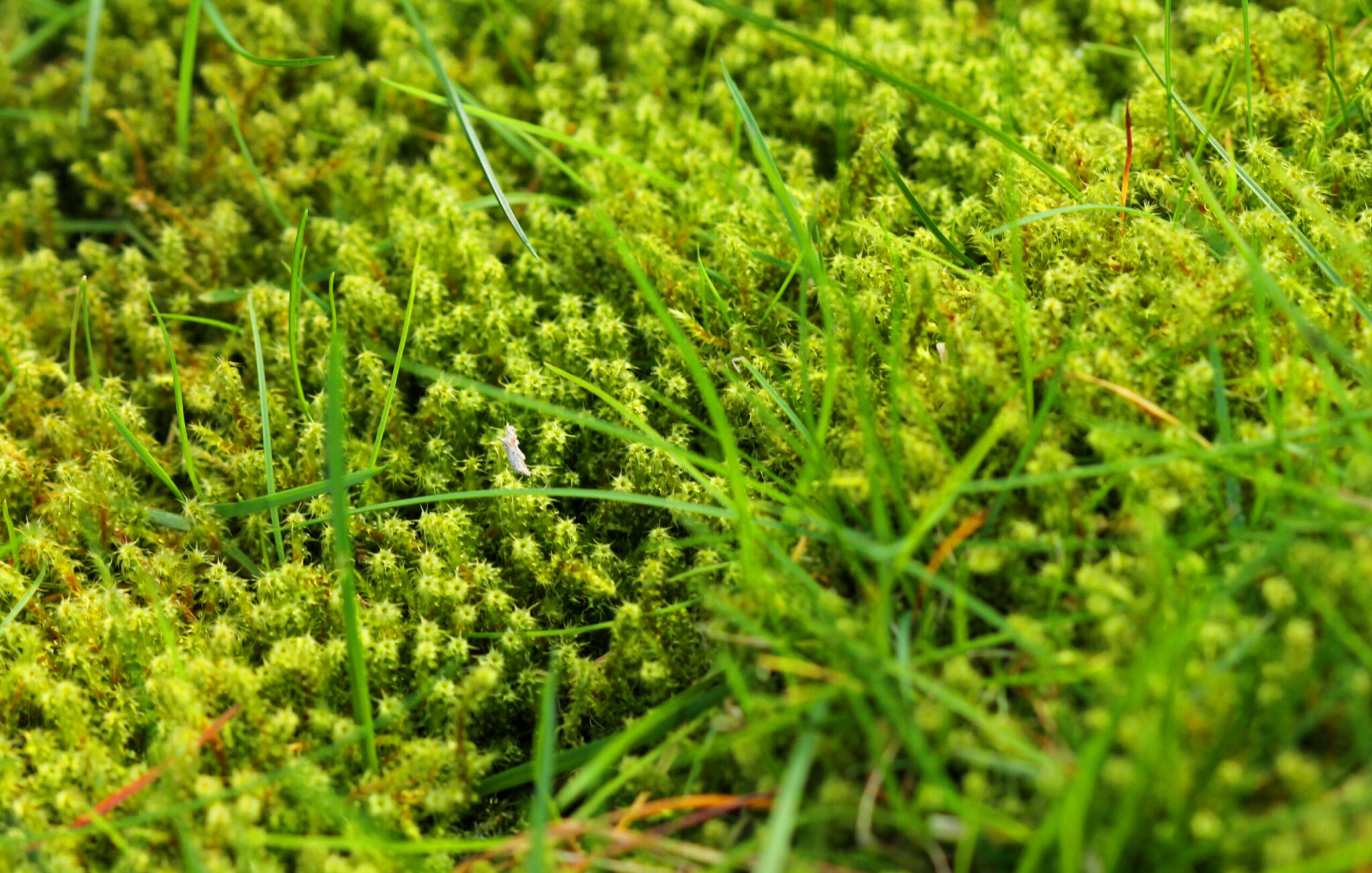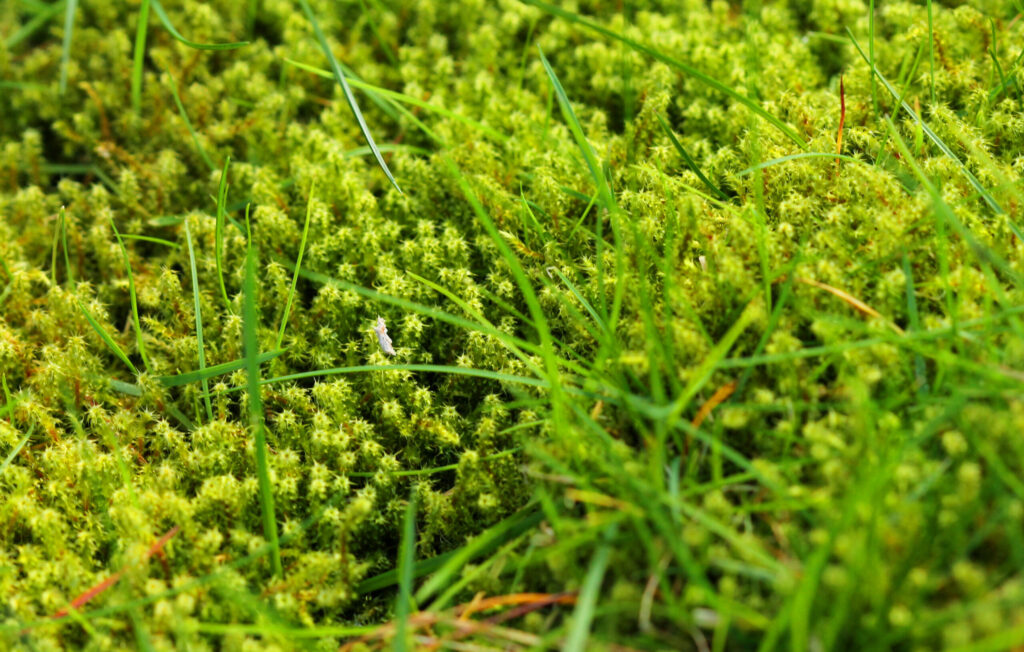 The warning signs for a poorly nourished, at-risk lawn are:
Uneven growth
Bald patches
An infestation of moss and weeds
Pale yellowish/brownish colour
Dying grass plants
If your lawn shows one or more signs of ill-health, it's not necessarily a tear-up-and-start-again situation. It could be that your grass is crying out for some much-needed nourishment, so a good-quality lawn feed could be all you need.
If your grass is full of moss and weeds, you could try dethatching – using a rake or a scarifying machine to remove the moss and weeds that are suffocating your grass plants. Initially, your lawn will look even worse after scarifying – but if you promptly overseed, it will bounce back in a couple of weeks; more vigorous, more robust, and more beautiful.
Returf your lawn when there's more weed than grass
Your lawn may be thin and prone to disease – in this case, your lawn is likely to have more weeds than grass.
This is common when you move home: perhaps the previous tenants haven't loved and nurtured the lawn.
In this case, you could apply weed killer to clear the lawn area altogether. Poorly maintained lawns are often very mossy, so use a good-quality moss killer, such as MOOWY's Moss Killer and fertiliser. With a high percentage of iron, which kills moss, our moss killer will also boost the colour and vigour of your existing grass plants.
Once you've cleared the weeds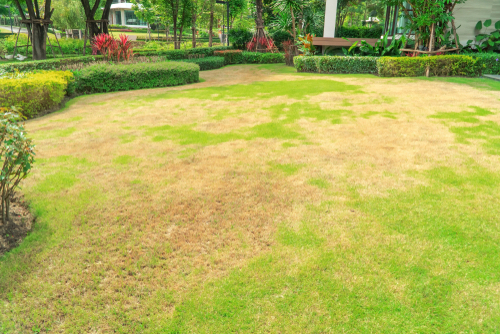 Once you've cleared the weeds, you can make a decision about renovating or returfing.
You might think that killing the weeds and moss is a waste of time if you're going to returf, but that couldn't be any further from the truth. It's essential to prepare the ground before you returf, getting rid of anything you don't want to grow back.
Preparing the ground is essential for an effective turfing project. Ensure that the earth is clear of stones and debris, free of weeds and moss, with a level surface.
Check out our extensive article about levelling your soil in preparation for returfing.
When should you returf your lawn?
Returfing is usually the more expensive option, but you do get an instant lawn. However, avoid walking on newly laid turf for at least three weeks to help it establish.
Re-seeding or overseeding is a slower process, but it will cost you considerably less. You should see new growth within 10 days of sowing.
But:
Just like turfing, you should give your grass plants time to establish. It takes around 6-8 weeks for your new grass plants to strengthen and settle in – they're delicate at first and will quickly die if you stamp them down.
How to returf your lawn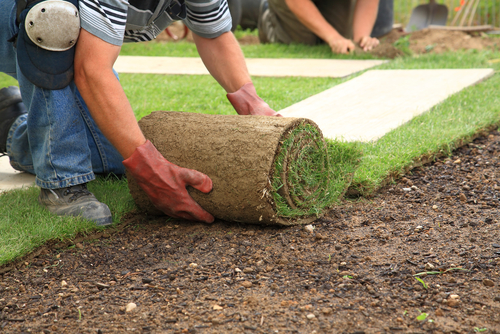 Returfing your grass provides an instant makeover for your lawn. But it does come at a fairly considerable cost. Of course, it's cheaper to lay it yourself, but if you're hiring a professional, expect to pay an additional £100-£200 each day for their labour.
A roll of turf usually covers 1m², so it's pretty easy to calculate how many rolls you're going to need.
A single roll of turf generally costs around £3, up to £10+ depending on the quality and species of grass. Remember, buying cheap is often a false economy – don't skimp on quality if you want a robust, long-living lawn.
To find out which grass type would best suit your garden, check out our expert article.
The costs of returfing your lawn
Here's a guide to some approximate average costs:
Garden size
Turf costs (per m²)
Quantity of topsoil/
cost per bulk bag
Labour costs (day rate)
Time required
Estimated cost
Small (up to 50m²)
£3 – £6.50
10 bulk bags (@ £90 per bag)
£100 – £200
2 days
£1250 – £1625
Medium (up to 75m²)
£2.60 – £5.50
15 bulk bags (@ £90 per bag)
£100 – £200
3 days
£1845 – £2362.50
Large (up to 125m²)
£2.60 – £5.50
25 bulk bags (@ £90 per bag)
£100 – £200
4 days
£2975 – £3737.50
Generally speaking, the more turf you buy, the cheaper it gets, so this is just a rough guide. Of course, if you're going to lay the turf yourself, you'll make considerable savings on cost.
Returf your lawn yourself
If you're doing laying your turf for yourself, this is the process to follow:
Preparing the ground
Laying your turf
Watering
Feeding
Mowing
Ground preparation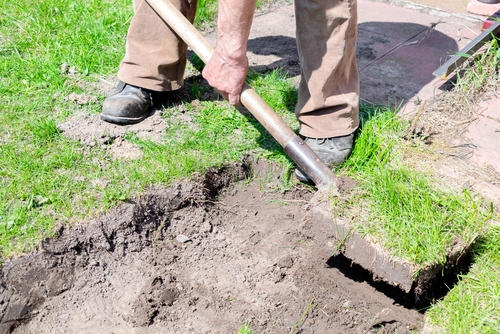 It's essential to prepare the ground before you lay your turf. This involves removing the old turf and any remaining debris, such as sticks and stones, and then levelling out the surface with topsoil.
Topsoil may seem like a significant expense, and it could be tempting to skip this step. But if your old lawn was suffering from poor growth, it could be due to compacted or depleted soil. And you don't want to inherit old problems.
Of course, you can improve your soil with a good weed-free compost and high-quality fertilisers, but a good 15cm of topsoil will help your new turf lay strong roots, which you want for robust grass plants.
Even with new topsoil, we still recommend that you add a pre-turf fertiliser before laying your turf. This will give your new grass plants the best possible chance to survive.
Check out our step-by-step guide to levelling your soil, which includes removing the old turf, and raking and treading the earth for evenness.
We recommend that you leave your prepared soil for at least three days before laying your turf to give it time to settle.
Returf your lawn
It's best to avoid walking on new turf, even as you lay it. So, we recommend using turfing boards or planks to walk on while you lay.
Begin the process by laying turf around the perimeter of the lawn. This creates a frame that helps avoid using small pieces of turf at the edges, as they will dry out quickly, and the grass can die.
Lay turf strips along the length of the lawn, continuing across the lawn area one strip at a time. Stagger the ends as you would with brickwork, helping avoid obvious gaps across the lawn.
Ensure that the back-side of the turf makes complete contact with the topsoil.
Keep the adjoining edges as close as possible without overlapping. Avoid stretching the turf.
Use a sharp knife or a lawn edger to make neat cuts wherever turf overlaps.
Watering
Turf is prone to drying out until the roots have embedded into the soil, so it needs regular watering for the first couple of weeks.
Once you've finished laying the turf, water it immediately with a sprinkler or hose. Keep spraying until the surface water has soaked through to your topsoil underneath the turf.
Water each evening for the next couple of weeks (unless it rains). If it's hot, dry, and windy, your turf could dry out quickly.
Water immediately if there are signs of dehydration (i.e., gaps, turf lifting, curling, or browning of the grass).
Feed your new lawn
If you want your new turf to thrive, it needs feeding!
For optimal results, we recommend that you fertilise your lawn every four-to-six weeks in the growing season. Follow the instructions on the label to make sure you use the right amount.
It's essential to understand what you're doing when fertilising. Because overfertilising can be problematic.
Click here for our ultimate guide to fertilising your lawn.
Mowing your new lawn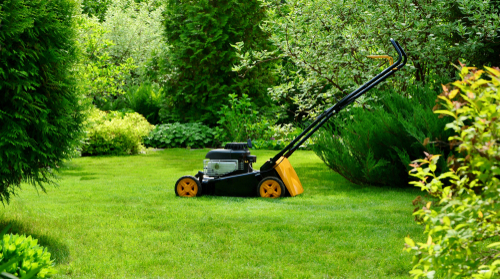 Don't cut your new lawn too soon – you should leave it at least two weeks before the first mow.
Make sure that the turf has rooted by gently lifting a corner. If the roots reach the topsoil, it's OK to mow; if they haven't, wait a bit longer.
Set your mower to the highest setting for the first cutting, adhering strictly to the rule of thirds: never cut more than ⅓ of the total length of the grass in one go. Once the grass has fully established, you can gradually lower the cutting blades on your mower – but remember the rule of thirds.
Check out our expert mowing tips for perfect results. 
The costs of sowing a new lawn
You can save yourself a considerable amount of money by sowing your new lawn from seed. Of course, this takes a little longer, but – actually – we're only really talking a couple of months.
Lawn seed germinates in around 10-14 days under the right conditions (the soil temperature needs to be over 10ºC) and establishes within a month or so.
When you sow your lawn from scratch, you're in complete control of the grass species/mix of the grass plants. This is important, especially if your garden is often in the shade – you'll need a shade-loving grass species for healthy results.
Compare the potential costs – sowing vs turfing:
| | | |
| --- | --- | --- |
| Garden size | Turf cost (per m²) | Seed cost (MOOWY prices) |
| Small (up to 50m²) | £150 – £325 | £25.99 – £27.99 |
| Medium (up to 75m²) | £195 – £412.50 | £49.99 – £59.99 |
| Large (up to 125m²) | £325 – £687.50 | £81.00 – £94.99 |
So, you can see there's a considerable difference in cost.
Of course, when you lay your new lawn, it's essential to prepare your soil in the same way as for turfing. That ensures that your new lawn will be beautifully level, well-nourished, and weed- and moss free.
Check out our expert guide to sowing grass seed. 
Should I repair my lawn?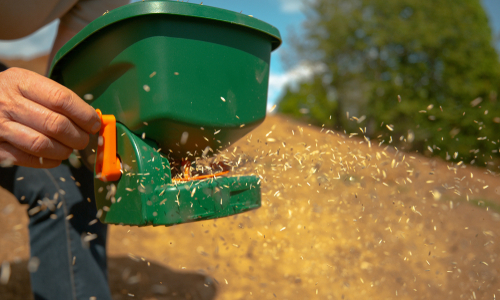 If the costs or the level of effort seem a little beyond you, then it could be worth considering repairing rather than replacing. It's entirely possible to completely renovate your lawn, even if it's in a poor state.
Maybe your lawn is full of weeds: apply some weed killer. Perhaps your lawn is full of moss: apply moss killer.
It's also likely that there are dying patches where the grass has turned brown or yellow. This could be due to a pest infestation, or it could be a lack of soil nutrients.
For the most part, repairing an existing lawn is a case of overseeding: the non-invasive sowing of grass seed over existing turf. This is less expensive than sowing from scratch and is a quick, easy way to improve your existing grass.
Check out our expert guide to repairing a patchy lawn. 
Ready to get started?
We hope we've given you enough information to help you decide whether to returf or repair. If you have any questions, we'd love to hear from you.
Don't hesitate to get in touch, and we'll get back to you asap.
Q. What's the difference between seeding and overseeding?
Overseeding is dropping new seed over existing grass or within patches. Rough up the surface with a rake to ensure good contact between seed and soil. Sowing a new lawn requires full soil preparation and is generally done over a larger surface.
Q. Can I lay turf on top of old grass?
Yes, but it's not recommended. Turf will take root on top of existing grass, but you inherit all the problems of the old lawn – there's a reason you've chosen to returf, after all. It's best to remove all vegetation first.
Q. How do I remove my old grass if I'm returfing?
Dig about 10cm below the soil surface to remove old grass before returfing. Alternatively, a powered rotavator will make light work of removing old grass before returfing.
Read
more
The best tips and tricks for a lush green lawn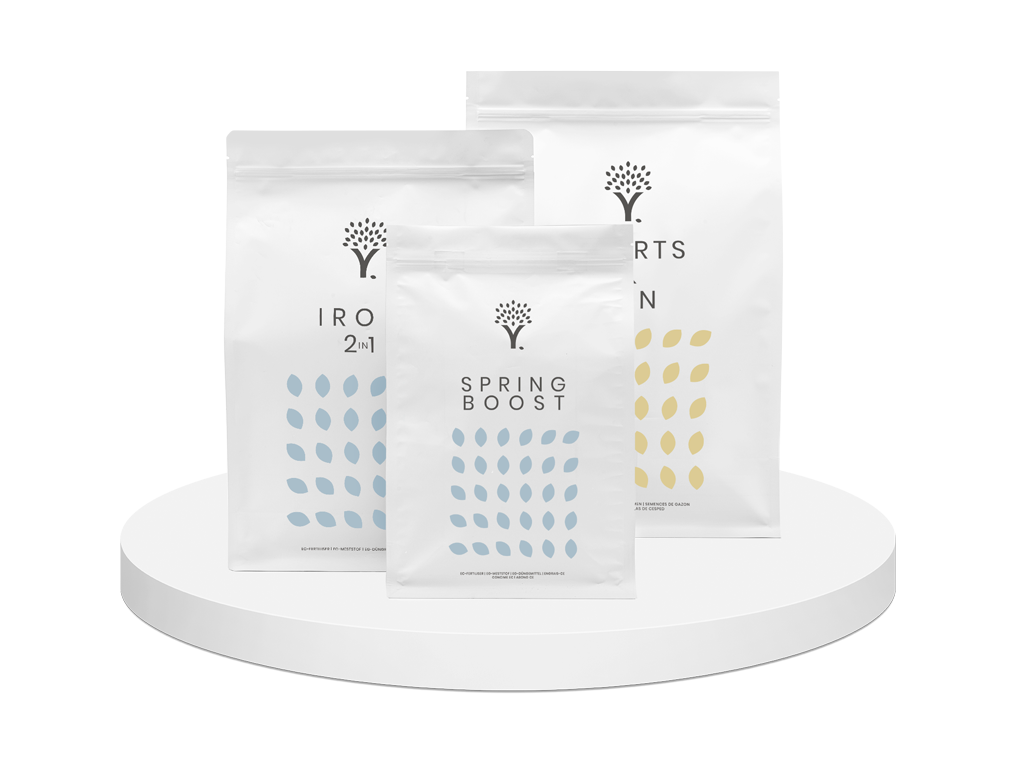 Scarifying Kit Standard
Has moss found its way into your lawn? An excellent way to get rid of this is to scarify. Our Standard Scarifying Kit contains everything you need to make your scarifying project a success – with stunning results
From:

£

36.99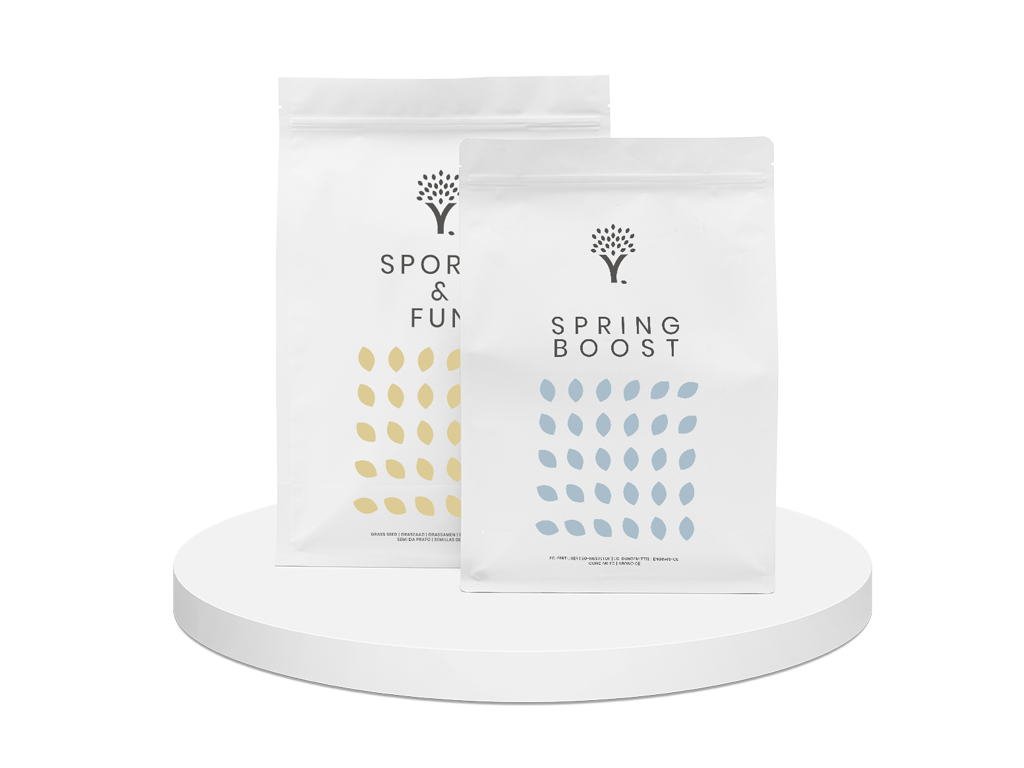 Scarifying Repair Kit
Scarification is the removal of the organic matter that chokes the roots of your lawn (such as thatch and moss). However, scarifying can stress your grass. So, after scarifying, treat your lawn with some MOOWY-style love to help it recover. Our Scarifying Repair Kit guarantees rapid, successful recovery with exceptional results.
From:

£

23.99
Top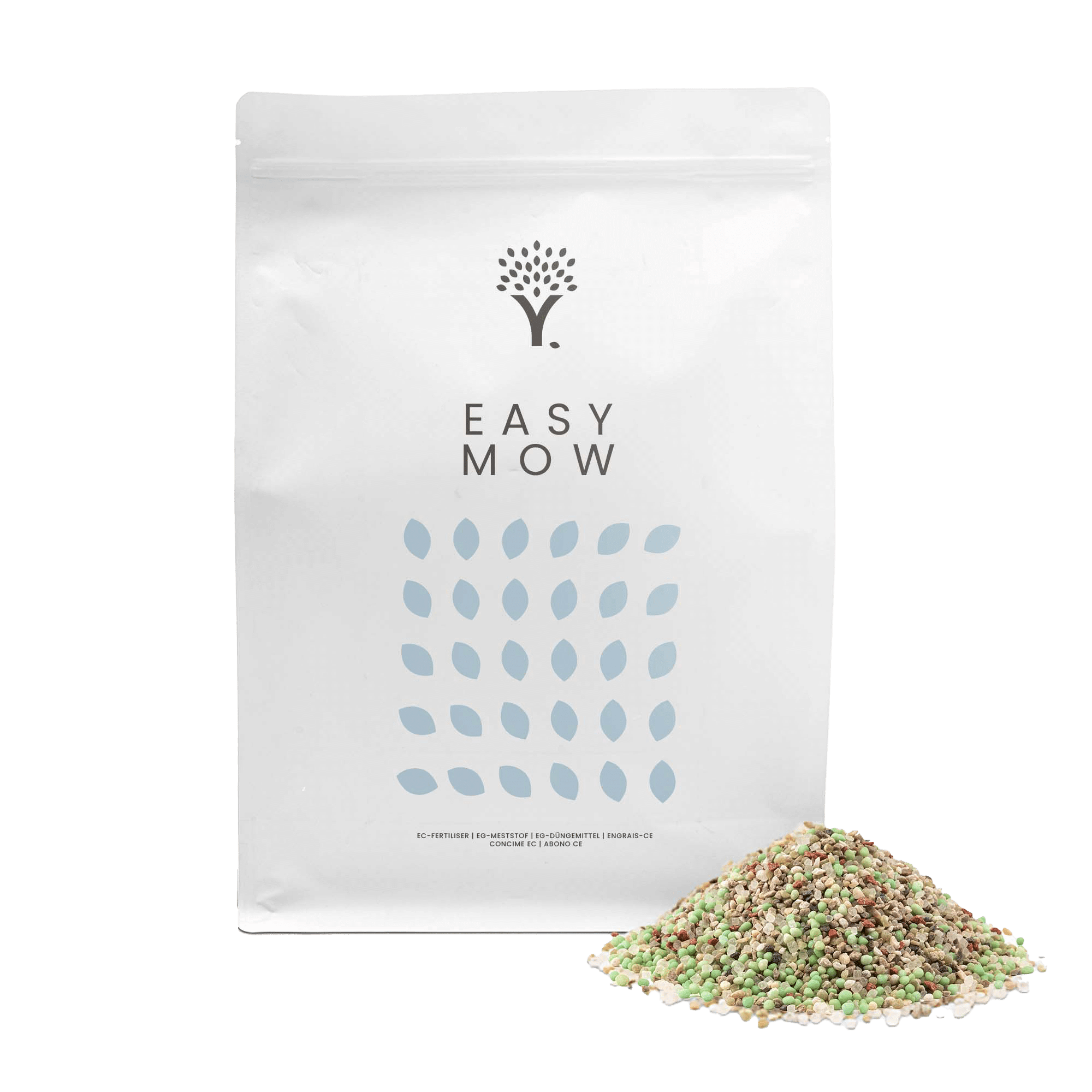 Long Lasting Lawn Fertiliser
Give your grass everything it needs without the excessive growth often associated with fertilising. MOOWY'S long lasting lawn fertiliser works for over 90 days and delivers quick results.
From:

£

13.99
SUBSCRIBE
Do you want your lawn care
calendar

?

Leave your email address and we will send you our useful lawn care calendar. It's free!
Get your lawn care calendar
Get your lawn care calendar