The Ultimate Guide to Sowing Grass Seed
What are the essentials of sowing grass? How and when should you sow grass? Which grass seed suits your lawn? All the answers you need are right here!
Free download
Do you want a
lawn calendar?
🌱 All important maintenance moments for your lawn during the year. Leave your email and we will send you the lawn calendar for free.
Receive the lawn calendar in the mail
Enjoy a green lawn all year round!
It seems so simple: sprinkle a handful of grass seed, a touch of patience, and there's your lawn! But what is really involved in sowing grass? We will be sharing everything about grass sowing here. From the essential steps to the perfect timing, these tips will get you the lawn of your dreams!
Table of contents:
Why should I sow grass seed?

When is the best moment to sow?

Which grass seed suits my soil?

What are the most suitable conditions for growing new grass seed?

New vs existing lawns

What do you need to sow grass?

How do I sow grass seeds? 7 Simple steps

3 Golden tips after sowing grass seeds
Why should I sow grass seed?
Sowing grass is not only done when you want to lay a new lawn, but also when the lawn has thinned out or bald spots have appeared in your lawn. These bare spots are caused, for example, by weeds or stones in the garden, but also by pests such as leatherjackets and grubs.
When is the best moment to sow?
Sowing grass is practically possible all year round, but the ideal period is from February to October, as long as the soil temperature is at least 10°C. In autumn, you benefit from the still-warm soil from the summer. Spring is also a suitable sowing time, but keep in mind that with spring sowing, the energy goes mainly to leaf development instead of root growth.
To stimulate the root system, it is advisable to add extra phosphorus. A good starter fertiliser, such as Lawn Starter with extra phosphorus, is essential for the initial growth phase. Stronger roots make the plant healthier and more resistant to summer drought.

The best time to sow fresh grass depends on the season and a range of other conditions such as rainfall and soil temperature.
Which grass seed suits my soil?
You reap what you sow, and this applies to your lawn as well. The quality of grass seed is often judged by its germination rate, but this is not a reliable measure. This is due to the fact that fast-germinating grasses have a short life cycle of six months to one year. And this obviously defeats the purpose!

By choosing high-quality grass seed, you may invest a little more, but this pays off in a healthier and more resilient lawn.
Sport & Fun Grass Seed

Ideal for intense use

View product

Shade & Sun Grass Seed

Lush green, even in sunless spots

View product

Premium Lawn Grass Seed

Refined and soft leaf structure

View product
If you are looking for grass seed, there are basically three different mixtures available: Sports & Fun Lawn, Sun & Shade Lawn and Premium Lawn. We'll take a closer look at these three varieties here.
Sport & Fun
If your lawn is an active playground, choose Sport & Play lawn grass seed. The mixture consists of a mix of coarse and finer grasses, making it able to withstand intensive use, such as children playing or pets. It grows quickly and settles easily, while also being low-maintenance.
Sun & Shade
Do the trees in your garden shroud your lawn in shade? Maybe your garden just doesn't get that much direct sunlight? Sun & Shade lawn seed is specially selected for maximum germination and healthy growth in shaded parts of your garden. With a fine-leafed structure, Sun & Shade grows slowly and tolerates shorter mowing.
Premium
For a perfectly maintained lawn that looks great but is not used intensively, there is the ornamental lawn grass seed. This mixture contains mainly fine-leaved grasses, creating a lawn with high ornamental value that can withstand short mowing.
What are the most suitable conditions for growing new grass seed?
We might now know when is the best time of the year for sowing grass seeds, but there are still a few things to bear in mind.
Soil temperature
Grass seed won't grow in soil at less than 10°C – it just won't germinate. That's nature for you!
Use a soil thermometer to gauge the soil temperature. Make sure that you sink the thermometer at least 3cm into the soil to get a reliable reading.
The moisture content of the soil
For best grass seed uptake, the soil should be sufficiently moist. If the soil is dry, give an extensive watering the evening before sowing.
Contact between grass seed and soil
Besides moisture, the grass seed must also make good contact with the soil. Therefore, rake the seed lightly when sowing and then use a garden roller to press it down. This step is crucial, as lack of soil contact leads to no germination!
Rake up compacted soil first
Since grass does not grow on hard, compact soil, it is necessary to rake or aerate it first. Loosening compact soil is essential for healthy germination and growth.
New vs existing lawns
Sowing grass seed for a new lawn
When sowing, you start on bare soil, which requires some preparation. Start by identifying your garden's soil type for appropriate tillage and fertiliser. Weed removal is essential; for existing grass, use a sod cutter. Plough and level the soil after preparation before you start.
Sowing grass seed for an existing lawn
Supplementary seeding, also known as overseeding, is done on an existing lawn. Fill bare spots after the first sowing by overseeding. Weeds, pests, and weather conditions can thin out the lawn. Overseeding requires the same steps as sowing, but without the preparation of bare soil.
Read more about grass overseeding here.
What do you need to sow grass?
With the following checklist, you won't miss a thing!
Grass seed
Spreader
Spade
Rake
Lawn roller
Garden hose
Lawnmower
Sod cutter
Fertiliser
How do I sow grass seeds? 7 Simple steps
It's time to get to work! Follow our step-by-step guide for optimal results.
Step #1: Calculate the amount of grass seed needed
The amount of grass seed you need depends on whether you are laying a new lawn or re-seeding an existing one. For a new lawn, we recommend 34 grams per square metre.
Are you overseeding? Then half will suffice: 17 grams per square metre. Not sure about the size of your lawn? Easily measure it yourself; a large step is about 1 metre.
Step #2: Work in small sections
If you have a large or asymmetrical lawn, divide the larger areas into smaller parts and calculate how much grass seed you need for each part.
Step #3: Choose your moment
If you're overseeding, you should sow new grass seeds immediately after mowing. Make sure that the grass is dry (but the soil is moist).
Step 4: Distribute the seed evenly
Spread the grass seed evenly. A spreader is a useful tool for this, but you can also do it by hand. Spread the first part lengthways and the second part widthways for even coverage.
Step #5: Lightly rake the grass seed
Raking ensures optimum contact with the soil. Without soil contact, the seed will not germinate.
Step #6: Roll with a weighted lawn roller
After you've raked the seed into the soil, rolling with a weighted roller helps maximise the soil contact. The grass seed gets pushed into the ground a little so that it remains firmly in place and is less likely to get wash away from watering or rain.
Step #7: Spray away!
Water the soil well and keep it moist until the seed plants emerge. Note: It's better to lightly water four times a day than to heavily water once a day; otherwise, there's a chance that the grass seed will wash away.
3 Golden tips after sowing grass seeds
You have done all the steps. Excellent! Here are 3 valuable tips on how to proceed.
Tip #1: Make sure to have extra grass seed
Buy 10% more grass seed than is initially needed. After germination, bare spots may appear, and with extra grass seed, you can easily re-seed these spots with the same type of grass seed.
Tip #2: Limit treading
After germinating the grass seed, your lawn is not yet immediately firm. Therefore, be careful with treading on the lawn in the first season after sowing, or even better: avoid it as much as possible.
Tip #3: Regular maintenance
Now that you have sown grass, it is crucial to maintain your lawn properly. Wait 21 days after germination before you start mowing. Then cut no more than 1/3 of the grass length. If you want to cut the grass shorter, wait a few days and cut 1/3 again.
Don't forget to feed your turf with the right amount of fertiliser and lime. By scarifying and re-seeding once or twice a year, you maintain a healthy turf and prevent unwanted growth of weeds and moss.
It is also important that your lawn gets enough water. Give nature a helping hand by watering regularly in dry periods, for example with a garden hose or using a sprinkler system.
You have now laid the foundation for a beautiful lawn. We wish you lots of delight and satisfaction in watching your beautiful turf grow up!
Your answer will be displayed on the site and the interested party will be notified by email.
Have a question or want to share your experience? Leave us a comment.
Read
more
The best tips and tricks for a lush green lawn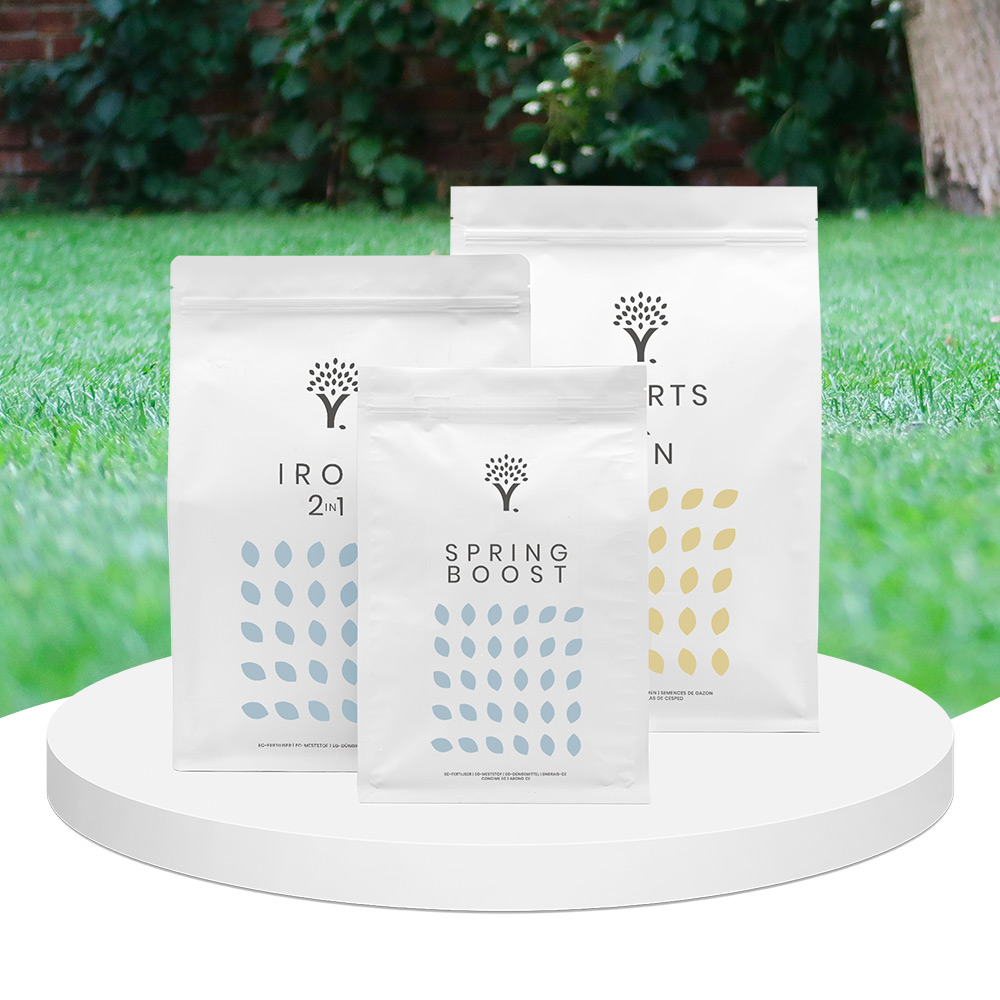 Scarifying Kit
All products after scarifying | Quickly restores the lawn after scarifying | Outsmart weeds quickly with the use of this kit
From:

£

39.99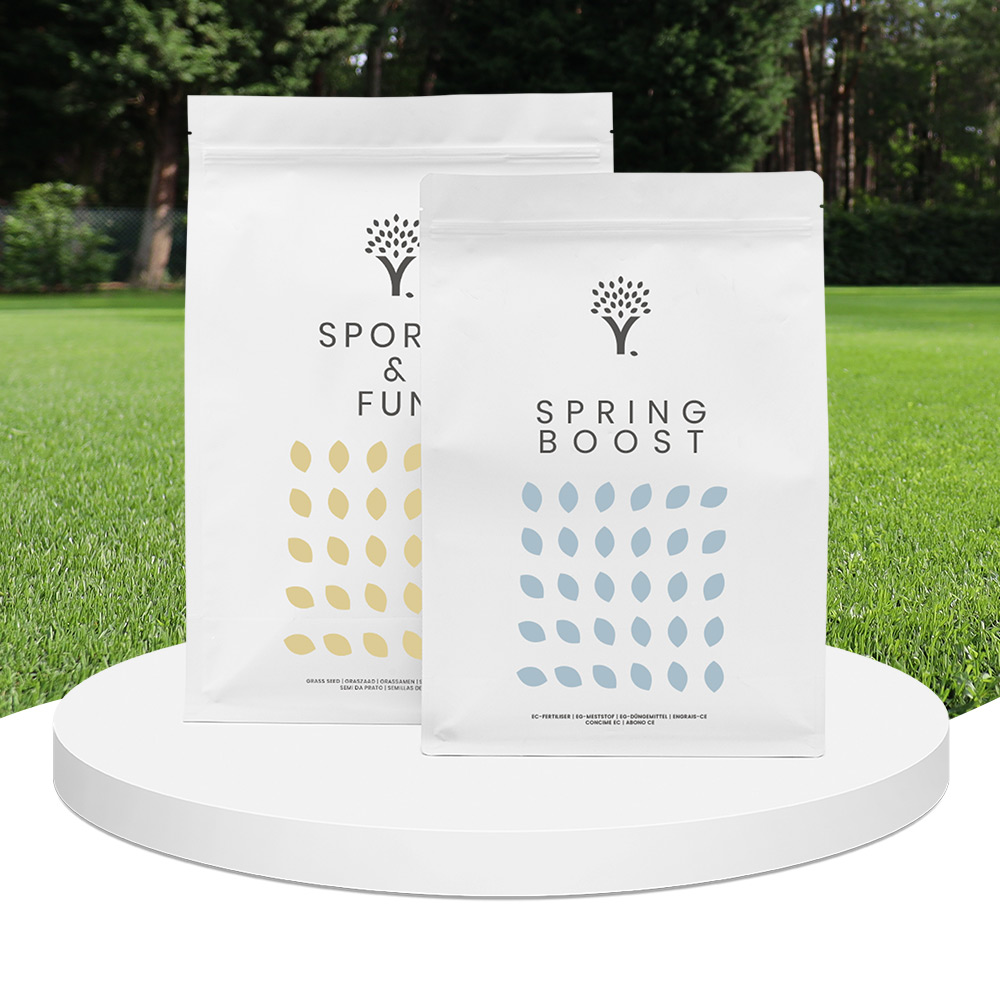 Spring Lawn Care Kit
MOOWY's choice for the spring | Quick recovery of your lawn after winter | A strong lawn prevents weeds
From:

£

25.99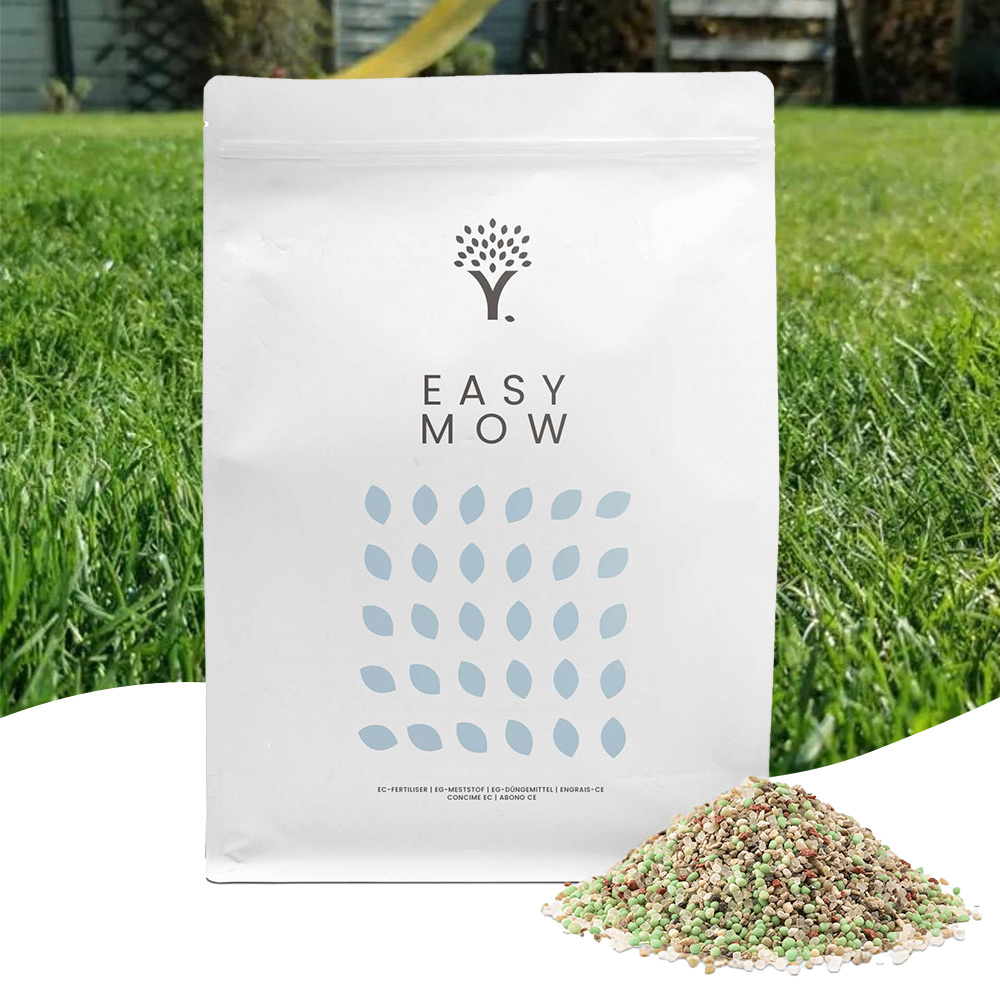 Long Lasting Lawn Fertiliser
Effective for 90 days | See results in 14 days! | Suitable for all types of grass and soil
From:

£

13.99
Free download
Do you want a
lawn calendar?
🌱 All important maintenance moments for your lawn during the year. Leave your email and we will send you the lawn calendar for free.
Receive the lawn calendar in the mail
Enjoy a green lawn all year round!