Buying Grass Seed – Everything You Need To Know
Everything you need to know about selecting and buying grass seed for the healthiest, lushest lawn.
Free download
Do you want a
lawn calendar?
🌱 All important maintenance moments for your lawn during the year. Leave your email and we will send you the lawn calendar for free.
Receive the lawn calendar in the mail
Enjoy a green lawn all year round!
You want a beautiful, weed-free, robust, and resistant lawn. So you need the right type of grass seed. But where do you start?
You could lay down new turf. Or you could sow your new lawn from seed.
Laying new turf is a good option, but it's expensive and quite a back-breaking task. And there's no guarantee that the grass you buy is suitable for your soil or the conditions in your garden. Some grass loves shade, while other types need full sun.
If the soil conditions aren't right, then your expensive turf will struggle to establish.
Sowing grass seed, on the other hand, gives you greater control over the outcome. You can choose a seed mix that matches your garden conditions and a species that suits the amount of use you expect from your lawn.
This article is going to give you the low-down on sowing your new lawn for yourself. We're going to cover how to sow grass seed and care for a new lawn that's grown from seed.
And if you have further questions at the end of it, just get in touch. We're always happy to help.
What types of grass seed are there?
Before you dash off to the hardware store, decide what you want from your lawn.
Consider:
Do you want a decorative lawn or one that can handle high-traffic use?
Do you want that quintessential manicured lawn?
Should it feel soft and yielding underfoot?
Is your garden in full sun or shade? Or a mix of both?
So many questions, so many grass seeds.
Fret not: we sell four main types of grass seed to suit each of those conditions.
Here's how to choose.
1. Grass seed for a robust sports and play lawn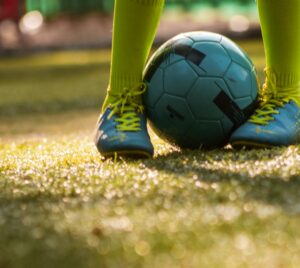 If you have kids or grandkids or pets, you probably need a lawn that stands up to some pretty heavy battering. If you're planning on making lots of use of your lawn over the summer months, then you need a grass seed mix that can support heavy usage.
MOOWY's Sport & Play lawn seed is the ideal choice. The seed germinates quickly and provides a beautiful dense grass cover that will resist ball games and child play.
Our expertly curated grass seed mix combines coarse and fine grasses, including a high proportion of fine-leaved Perennial Ryegrass, which can take a beating and survive unscathed.
So, children can play, and pets can run free with Sport & Play lawn seed which recovers quickly and stays beautifully green during the winter.
" Sport & Play Lawn seed can take a beating,
so let your kids romp and pets run free."
2. Grass Seed for Shade and Sun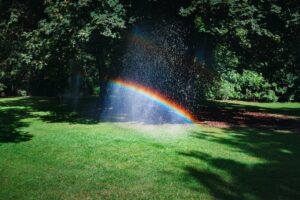 Not all grasses do well in the shade. You've probably noticed that areas around trees and buildings, fences, or walls lose their lushness quickly. Those areas go thin and weedy. And moss takes over.
MOOWY's Shade and Sun grass seed is designed to thrive in shaded areas, but – as the name suggests – you don't need a different seed mix for areas that enjoy full sun. Our specially selected seed mix contains a high percentage of Red Fescue, which has a fine structure and thrives in shaded areas. This grass species is drought-resistant and can tolerate acidic soils, so if you have conifers or pine trees, Red Fescue is a good choice.
Shade & Sun grass seed also contains a high proportion of Perennial Ryegrass for robustness and success in the sunnier spots of your lawn.
Also containing Kentucky Bluegrass which gives your lawn strength and sideways growth, which thrives during the cooler seasons, giving you an all-year-round beautiful lawn.
Don't worry: Red Fescue isn't red, and bluegrass isn't blue. They both grow into lush coverings that burst into a vibrant green. You'll have to paint your grass if you're looking for a psychedelic lawn!
3. Grass seed for ornamental lawns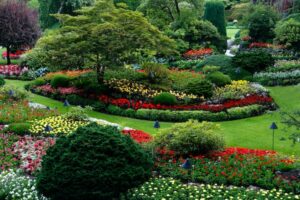 If your lawn is there for its good looks rather than its practicality, then you might consider an ornamental lawn. You can, of course, still walk on a decorative lawn, but the finer grass of ornamental lawns isn't as resilient to heavy use.
You can cut ornamental lawns much shorter than courser grasses intended for heavy use. The finer grass recommended for ornamental lawns can be cut to within an inch of its life for that quintessential English, manicured lawn. Think putting greens on golf courses and Downton Abbey – most domestic lawns aren't capable of that perfect soft surface.
Our Premium Lawn grass seed comprises a high proportion of Red Fescue – a super fine grass, cultivated for its fine structure and dense spread, which produces a full and thick lawn. But Red Fescue on its own wouldn't provide the resistance your lawn needs for the unpredictable English weather, so we've combined it with some Perennial Ryegrass for fast germination and resistance and Kentucky Bluegrass, which adds robustness.
4. Rapidly germinating grass seed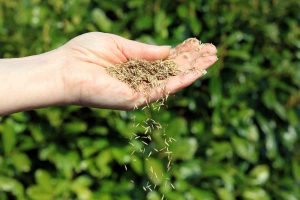 You might be looking to repair a failing lawn or start from scratch by seeding a brand new lawn. Either way, you probably want fast results that last.
We have two products that help repair and start new lawns in no time: Power Lawn and Quick Repair.
Our Power Lawn seed establishes within 7-14 days and creates a thick covering of vibrant green that can withstand super heavy use. In fact, our Power Lawn grass seed is developed by the same company that provides grass seed for FIFA World Cup stadiums.
Of course, football is an autumn/winter sport, so Power Lawn has the robustness for all-year use and can come back after some heavy battering.
If you're starting a new lawn entirely from scratch, Power Lawn may well provide the fast, long-lasting results you desire.
However, if you're looking to patch up the bald spots in an existing lawn (or restore your lawn after scarifying), Quick Repair lawn seed is the fast-germinating solution.
Which grass types are widely used?
We've mentioned a range of grass varieties, but it can be confusing if you're new to grass seed. In this section, we're going to talk about the common properties of each of the grass types so you can make an informed decision about which will suit your garden and your needs.
You'll find that our grass seed mixes are carefully proportioned to accommodate different garden conditions.
English ryegrass
You might hear the terms "English Ryegrass" and "Perennial Ryegrass". Just for clarity: they're the same thing. The official name for this type of grass is Lolium Perenne. This type of grass is native to Europe.
Perennial ryegrass germinates quickly and forms a dense turf that can withstand heavy foot traffic and has a beautiful shine to its leaves. With impressive longevity, Perennial ryegrass is resistant to the unpredictable British weather. It lasts for years and years with exceptional longevity, making it particularly suitable for sports fields and play lawns. You'll find high levels of perennial ryegrass in municipal lawns at parks and public buildings for these reasons.
So, if you intend your lawn to be the site of parties and games, choose a seed mix with a high proportion of perennial ryegrass.
Red fescue
As we mentioned earlier, Red Fescue isn't red (despite its name) – it's a beautiful shade of emerald green. The species is also sometimes known as creeping red fescue and is particularly suitable for cooler, shadier climates (so it's good for the UK), but it does well in full sun as well.
You can recognise red fescue by its needle-like leaves which grow in tufts, giving the grass a springy feel underfoot. When red fescue is allowed to grow long, the heads of the blades form spikelets that resemble wheat. You often find this type of grass on roadsides.
Red fescue mows well, recovering quickly from cutting (as long as the blades of your mower are sharp!).
Field broom grass
Field broom grass is a hardy, slow-growing species with a thick stem that can withstand heavy use, drought, and winter conditions. When you travel abroad, you may have noticed that the ornamental grass in hotels has thicker blades than the grass we have in the UK – that's broom grass, chosen for its drought tolerance.
The fibrous root systems of field grass help bind the soil together, so it's particularly valuable in hilly areas, helping maintain the form and curvature of the ground, preventing soil erosion.
Field broom gets used in the rough in golf courses and some playing fields. This species is so-called because the blades, when dry, are often used for making eco-friendly garden brooms. It's also believed that sweeping your home first thing in the morning with a grass broom helps eradicate negative energy and thoughts.
" Field broom grass can withstand foot traffic, drought and winter conditions."
Italian ryegrass
Italian ryegrass is a high yielding, fast-growing, short-lived grass (lasting for just two years in most circumstances). The species flowers after each mowing, producing pronounced wheat-like ears.
Often grown for animal fodder and silage, Italian ryegrass responds well to fertilisers. However, because it tends towards upper growth instead of broader-based growth, this grass is more suitable for cutting than grazing.
You're unlikely to have Italian ryegrass in a domestic garden due to its short lifecycle.
Ostrich grass
Ostrich grass grows in thick tufts and grows in sandy, well-drained soil. This grass species is often found on golf courses because it can be cut very short – perfect for the putting green.
Ostrich grass is hardy and grows in forests and on the roadside, retaining its deep green colour all year round – even in the winter.
Perfect for the archetypal manicured lawn, ostrich grass has high disease resistance and survives drought conditions well.
MOOWY's grass seed mixes
The distribution of the grass species is as follows:
| | | | | |
| --- | --- | --- | --- | --- |
| | Sport & Play Grass seed | Sun & Shade grass seed | Premium Lawn seed | Power Lawn grass seed |
| English Ryegrass | 60% | 40% | 15% | 80% |
| Red fescue | 35% | 40% | 60% | 20% |
| Field broom grass | 5% | 10% | 105 | 0% |
How much grass seed do you need per m2?
The amount of grass seed you should spread depends on whether you're overseeding your existing lawn (repairing bald spots, etc.) or starting a new lawn from scratch.
Overseeding should be an annual task to maximise the beauty and strength of your lawn. All lawns develop bald spots, either from heavy use or in areas of poor growth. Poor growth may occur as a symptom of other circumstances, such as moss or weeds taking over patches of the soil, so these areas will probably require scarifying before overseeding.
Overseeding requires less grass seed than starting a new lawn from scratch. As a rule of thumb, we recommend 17g per square metre for overseeding; and double the amount (34g per square metre) for sowing from scratch.
To estimate the surface area of your lawn, you can measure it in steps. A large step is generally around 1m in length. So take large strides along the length and width of your lawn to work out a close estimate of its overall area.
Tip: View your garden on google maps and calculate the size of your lawn based on the scale.
When is the best time to sow grass?
Grass seed germinates when the soil temperature is 10ºC. But, remember: the air temperature and the soil temperature are very different. The air warms up more quickly (and loses heat more quickly) while soil warms up slowly but retains its heat for much longer.
For this reason, it's best to wait until at least February before you consider sowing grass seed, regardless of whether the air temperature has been above 10 degrees. Use a soil thermometer to be really sure (press it at least 5cm into the earth to gain the temperature below the topsoil).
Even though the air temperature may have dropped by September, your soil should retain the summer's heat until around October – after that, the soil temperature will have probably dropped too low.
However, there are other factors to take into account for successful grass seed germination. Check out our article, The Ultimate Guide to Growing Grass Seed.
What should I consider when buying grass seed?
If you've decided what kind of lawn you're looking for, it's time to make your purchase.
But before you do, bear in mind the following considerations:
Check out the grass types in the mixture
Use the seed type section above to ascertain the type of grass you need for the conditions for your garden. Remember, if you have a sunny/shady garden, choose a mix that accommodates both requirements, such as our Shade & Sun blend.
Remember: when buying grass seed, check the packaging for the types of grass within the mix (and the proportions).
Quality of the seed
It might surprise you to discover, but there's a big difference in the quality of the lawn seed you can buy. It's always advisable to buy good quality seed – cheaper seed may have a lower guaranteed germination rate. The resultant grass from low-quality stock is less resistant and may only last one season.
It's easy to test the germination capacity of your seed stock. Like this:
Moisten a paper towel.
Place ten seeds on one half of the wet towel and cover the seeds with the other half of the towel.
Place the towel in a polythene bag, seal it, and put it in a warm place (like on top of your fridge.
Wait a couple of days and start checking. Grass seed should germinate within 7-10 days. You should see shoots from the seeds. Leave it for a week or two, and identify how many of the seeds have sprouted.
If nine seeds have sprouted, you have a germination rate of 90%. If ten seeds have sprouted, it's a germination rate of 100%.
This process works for all seeds and is a helpful way of testing old (or gifted) seeds to make sure they're going to germinate before committing to planting them.
MOOWY grass seed will provide one of the highest germination rates on the market. Our seed may be a little more expensive than competitor stock, but you're much more likely to achieve better long-term results with MOOWY grass seed. We always recommend going for an A-Brand seed.
Resealable packaging
When you buy a bag of grass seed, chances are you're not going to use the whole pack in one go. So, it's essential that you can rely on the packaging to preserve your seed for later use.
Seed left in open packaging can go mouldy, and the seed will lose its germination power.
When purchasing, ensure that the product is provided in an easy-resealable packet.
Apply the grass seed mixture
Once you've determined the right mix for your garden conditions, it's time to lay the seed.
Grass seed needs exposure to light AND direct contact with the soil. It's best to rough up the ground's surface before laying the seed to ensure good seed contact. If you're overseeding, rake the seed into the soil after scattering: the seed can get stuck in the blades of your grass and won't germinate unless they make contact with the earth.
Refer to our Ultimate Guide to Sowing Grass seed article for expert advice for optimal results.
Where can you buy grass seed?
It's possible to buy grass seed in various places: in garden centres, hardware stores or online.
Buy grass seed in a hardware store or a garden centre
One of the main advantages of buying grass seed at a garden centre or hardware store is that you can ask the staff for advice. However, the advice they give is likely to be pretty general – they won't know the specific conditions of your garden.
When you buy off-the-shelf seed, you're at the mercy of the selection offered at the store. Remember: not all grass seed is developed with equal expert care!
Buy grass seed online
It might feel like a risk to buy grass seed online because – perhaps – you feel like you want to speak to someone and discuss your needs.
Luckily, MOOWY offers a free consultation service – just email us at hello@moowy.co.uk for help, and we'll happily oblige.
Use our online store to compare the products and read the reviews that detail other buyers' experiences.
We offer plenty of choices. Our seed mixes are curated by our own experts, who have many years of experience sourcing and developing excellent seed mixes for guaranteed results. And, in the unlikely event that you're unhappy with the outcome, we'll refund you; no arguments.
Our products are delivered directly to your door within a couple of working days.
How long does it take grass seed to grow?
Each lawn seed blend is different, with some varieties germinating and establishing more quickly than others. In general, however, you should see the first signs of growth within 7-14 days.
New grass plants are sensitive, however. We recommend leaving new grass plants at least three months before you start walking on it and mowing it.
Do you want to get started yourself, or do you want more information?
After reading this article, you might feel a bit more knowledgeable; you now know which questions to ask for optimal results in your garden.
Remember, if you have any questions – whether it's about this article or anything to do with developing your perfect picture-perfect lawn – get in touch.
Email us at hello@moowy.co.uk.
We're looking forward to helping you.
Your answer will be displayed on the site and the interested party will be notified by email.
Have a question or want to share your experience? Leave us a comment.
Read
more
The best tips and tricks for a lush green lawn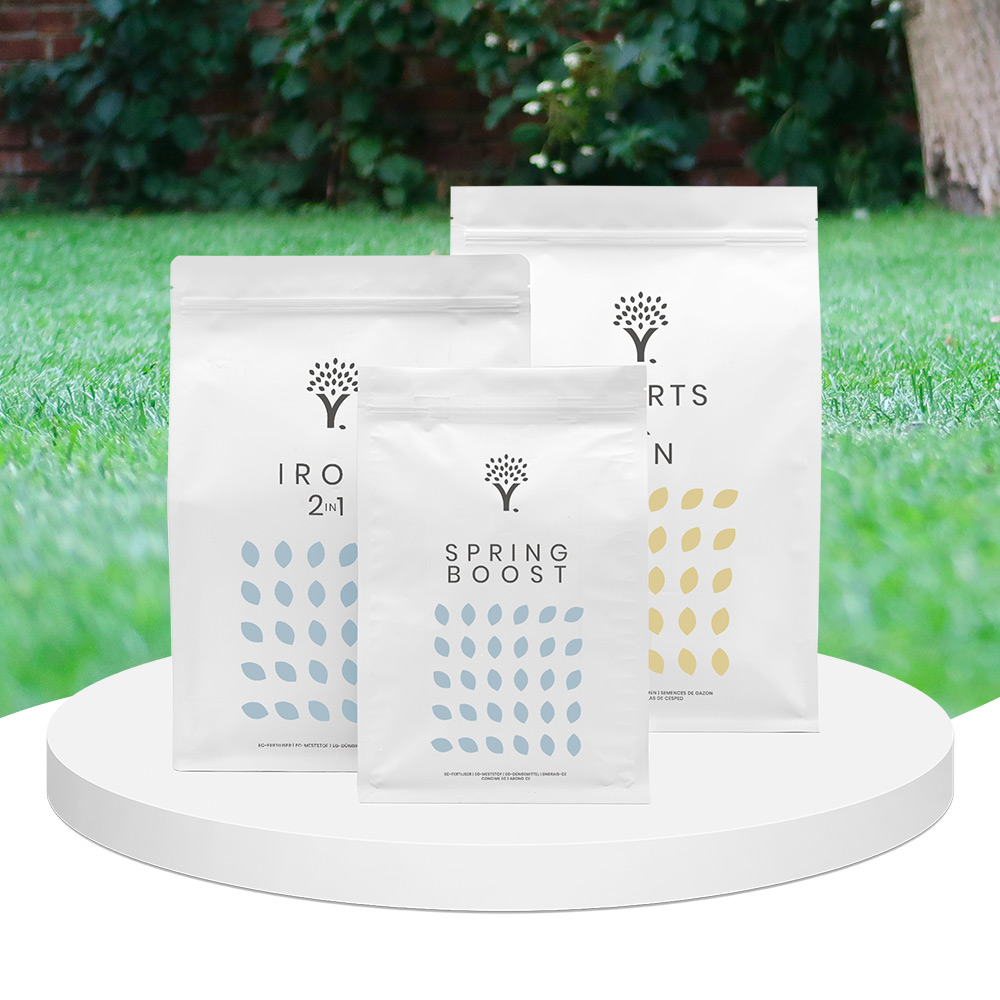 Scarifying Kit
All products after scarifying | Quickly restores the lawn after scarifying | Outsmart weeds quickly with the use of this kit
From:

£

39.99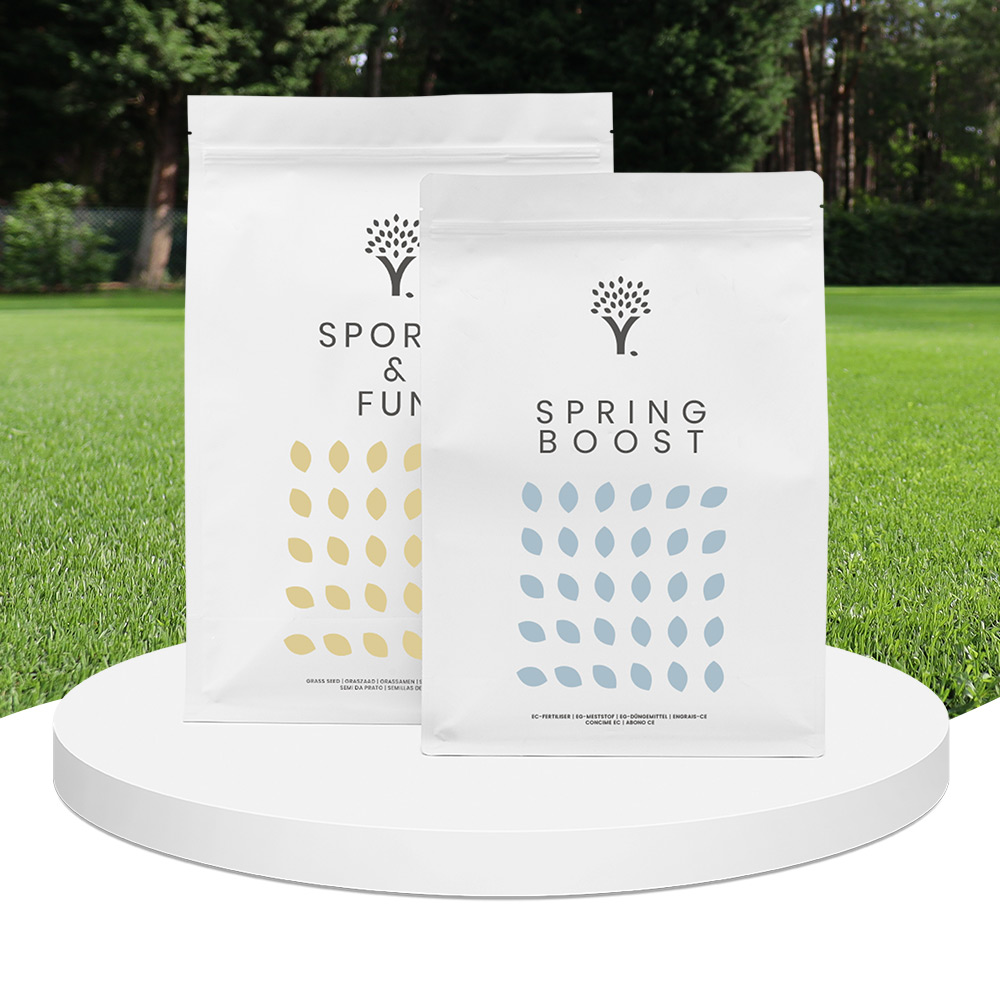 Spring Lawn Care Kit
MOOWY's choice for the spring | Quick recovery of your lawn after winter | A strong lawn prevents weeds
From:

£

25.99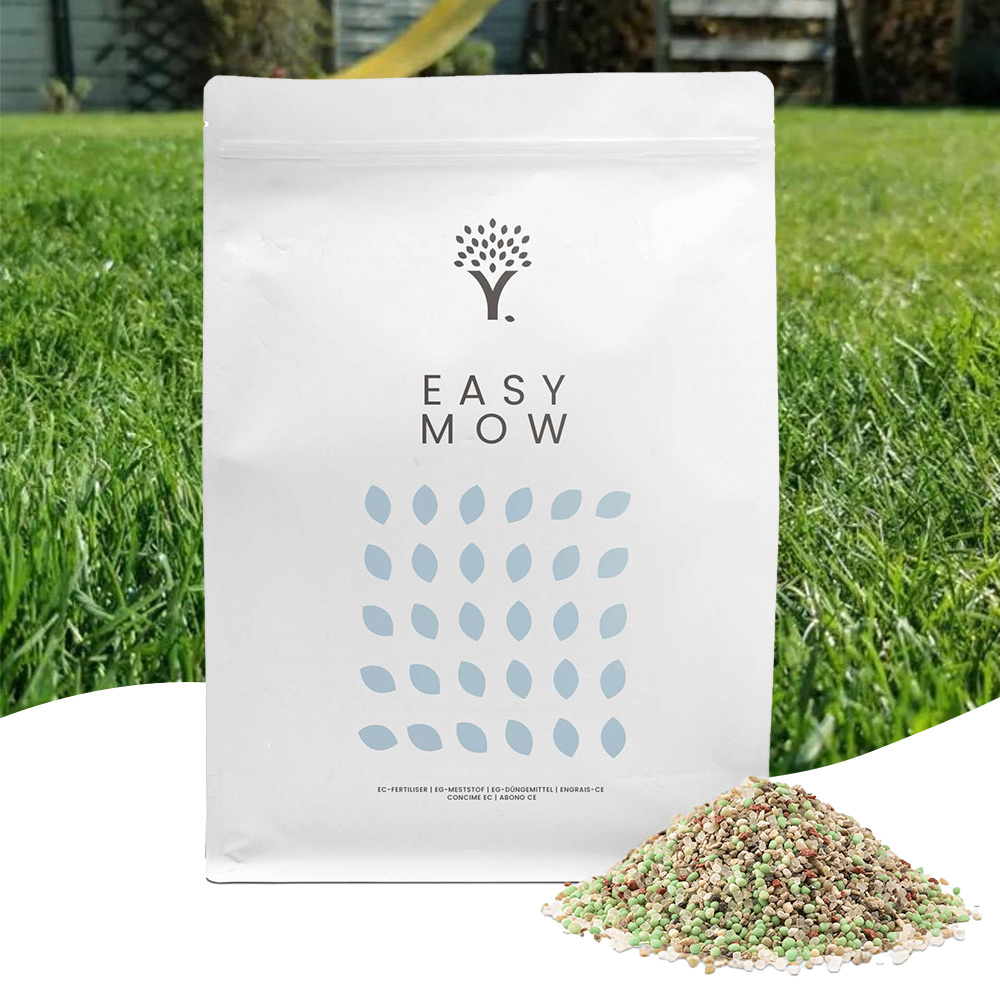 Long Lasting Lawn Fertiliser
Effective for 90 days | See results in 14 days! | Suitable for all types of grass and soil
From:

£

13.99
Free download
Do you want a
lawn calendar?
🌱 All important maintenance moments for your lawn during the year. Leave your email and we will send you the lawn calendar for free.
Receive the lawn calendar in the mail
Enjoy a green lawn all year round!