How to Repair Your Patchy Lawn (step-by-step plan)
Transform your disappointing patch into a luscious, healthy, and verdent lawn that you'll be proud to show off to friends and family. We'll show you how.

If the yellow and brown patches in your lawn are growing bigger and bigger, and herbicides are failing to produce results, it might be time to consider lawn repair. 
The idea of a full lawn renovation may sound a little drastic and more than a little intimidating. But with the right guidance, you can transform your failing patch into a classic, beautiful English lawn.
Why repair your lawn?
Your lawn has a lot to endure throughout the year: children playing, garden parties, unpredictable hot and dry summers (combined with monsoon-like downpours), and cold winters that freeze your soil. That's a lot to deal with. And – over time – your soil becomes depleted, and your grass plants start to give up the ghost. 
But the weather and heavy use aren't always the primary culprits of lawns in need of repair. Moss, weeds, and soil insects such as Leatherjackets and grubs can decimate your grass; leaving a dry, dying, patchy lawn with bald spots and dead organic material.
There is hope: it's time to renovate. But how do you repair a lawn?
Restoring your lawn after the winter
After a harsh, cold winter, most lawns need a little TLC. The low temperatures cause the grass to lose its fresh green colour, and you might discover new bald patches that you'd never noticed before.
Winter offers the perfect conditions for a range of grass diseases, such as Snow Fungus, which occurs between 0- and 8-degrees and is caused by humidity or extended periods of sogginess due to melting snow.
Grass is a hardy plant, but it falls foul to winter conditions. But fear not: you can restore your lawn to its former glory.
MOOWY's Step-by-Step Plan: Restore your lawn in 6 Steps
Follow our step-by-step plan, and your lawn will soon be looking healthy, lush, and radiant in no time.
Step 1: Scarify your Lawn
No, this is nothing to do with Hallowe'en. Scarifying your lawn is a process that removes the moss and thatch layer that inevitably proves disastrous for the health of your lawn.
Removing this top-layer of thatch gives your lawn the room it needs to breathe and absorb nutrients. It also creates space for new grass seed to germinate.
Step 2: Sow new grass seed
Scarifying – at first – often makes the lawn look superficially worse. It creates new bare patches – but don't panic: this is all an expected part of the process. After you've lain new grass seed, it will spring back to life in no time.
Solve new bald patches by sowing grass seed. Prepare the topsoil and remove any stones, so that the earth is level and ready for new growth.
Step 3: Fertilise your lawn
Besides oxygen and water, every lawn needs nutrition. This nutrition comes in the form of lawn fertiliser, which improves the soil's nutrient content and makes the grass grow back strongly.
It's widely recommended that you fertilise your lawn three to four times a year: in spring, in early summer, in late summer, and finally in autumn.
The best time to restore your lawn is in the spring or autumn because the soil will be at the right temperature
Step 4: water!
Water your lawn immediately after fertilising. Some aggressive fertilisers can burn your grass; you must dissolve the fertiliser before the sun shines on your lawn.
However, avoid over-watering. Puddles could wash your new lawn seed away or redistribute it into clumps, resulting in patchy (rather than consistent) new growth.
Stop watering when the water no longer immediately soaks into the soil.
Step 5: Spread Lawn Lime on the grass
For the most beautiful lawn, you need the right degree of acidity in your soil. MOOWY's Lawn Lime improves the soil condition and ensures that additional nutrients (such as fertiliser) are adequately absorbed.
If your soil has a low pH, simply sprinkle lime onto your lawn.
Tip: Sprinkle lime during the winter. This strengthens the lawn and prepares it for the new season
Step 6: Mowing your grass
Finally, mow your lawn to encourage growth. However, wait until the new grass is 10cm high before the first mowing. This is to ensure that the blades are strong enough to withstand the stress of cutting.
Never cut more than 1/3 of the blade's length in one go. If you're looking for a golf-course-style manicured lawn and would like the grass shorter, wait a few more days after the first mowing, and cut another 1/3 of the length.
To keep your lawn in tip-top shape, you also need to trim the edges of the grass. This is done quickly and easily with a grass-edge trimmer.
What is the best time to repair your lawn?
The best time to repair your lawn is in the spring or autumn, when the soil temperature is warm enough for new grass seed to germinate. There will also be plenty of stored moisture, providing your grass plants with the boost they need to withstand the restoration process.
What do you need?
You'll need some tools and materials to renovate your lawn expertly. We've listed them for you here.
The following tools are needed to repair the lawn:
Scarifier or rake
Spreader, for fertilising and liming
Sprinkler with nozzle
Lawnmower and edge trimmer
The following materials are needed to repair the lawn:
Grass seed
Lawn fertiliser
Lawn Lime
How Long does Lawn Restoration Take?
Restoring your lawn can be a time-consuming task. Apart from the labour time for scarifying, sowing, fertilising, liming, and mowing, you also have to choose the right time of year.
Be patient. Make sure it's not too warm and that no heavy rainfall is expected. And remember: don't walk on your new grass plants for at least two weeks after sowing.
How to choose the right grass seed?
If you're overseeding, decide which type of grass seed you need.
If your lawn is likely to experience intensive use, it's best to use Sport & Fun grass seed for sports lawns and playgrounds.
If your garden doesn't get a lot of sunlight, consider using Shade & Sun grass seed for shaded lawns.
For the quintessential English lawn, choose Premium Grass Seed.
Read more about these grass seeds and everything you need to know about buying grass seeds in the article Buy grass seed or on our grass seed category page.
Our top
+Best


sellers

The hottest products!
Don't miss them.

All products
Top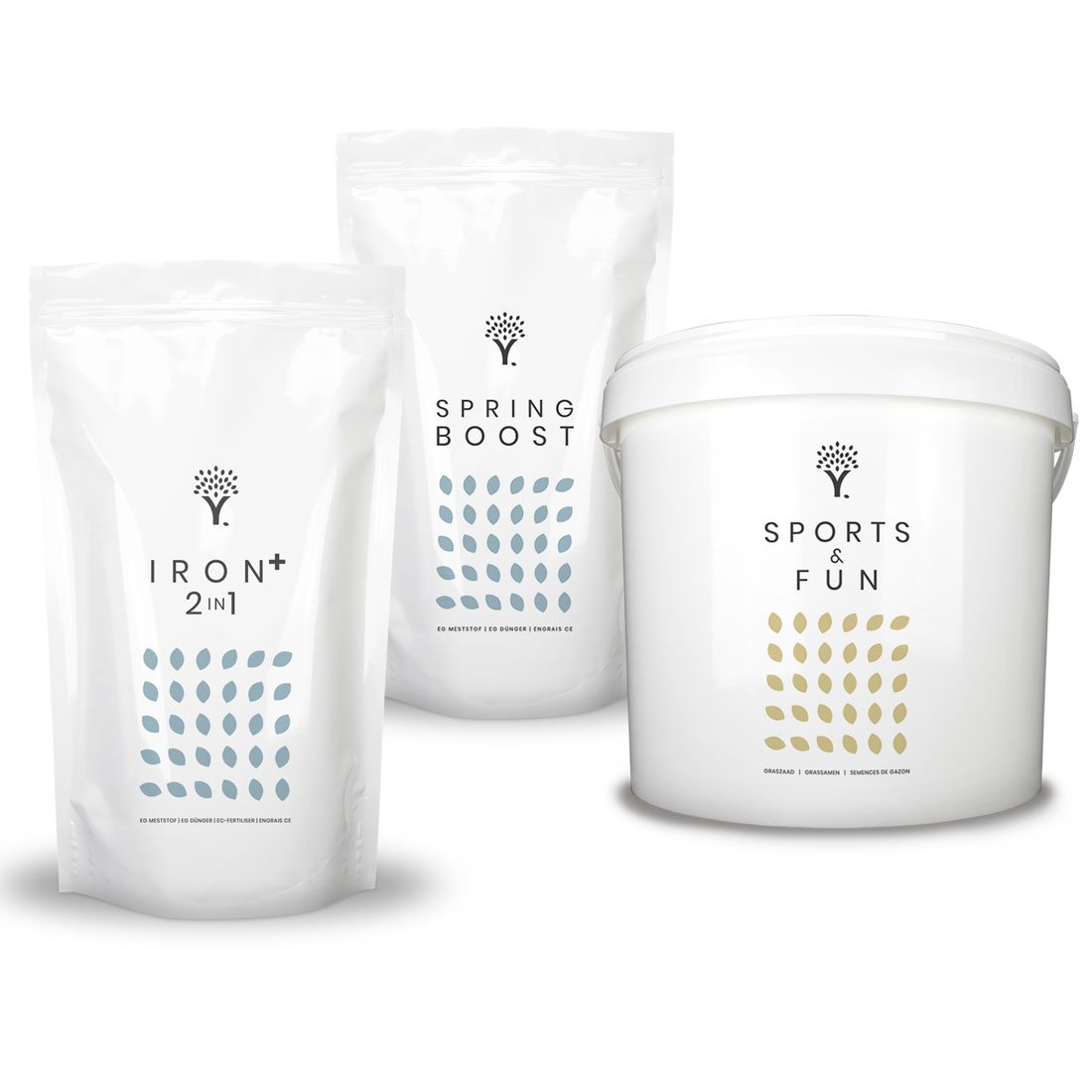 All products, Kits, Scarifying
Scarifying Kit Standard
Has moss found its way into your lawn? An excellent way to get rid of this is to scarify. Our Standard Scarifying Kit contains everything you need to make your scarifying project a success - with stunning results.
£

44,99 –

£

269,99
Top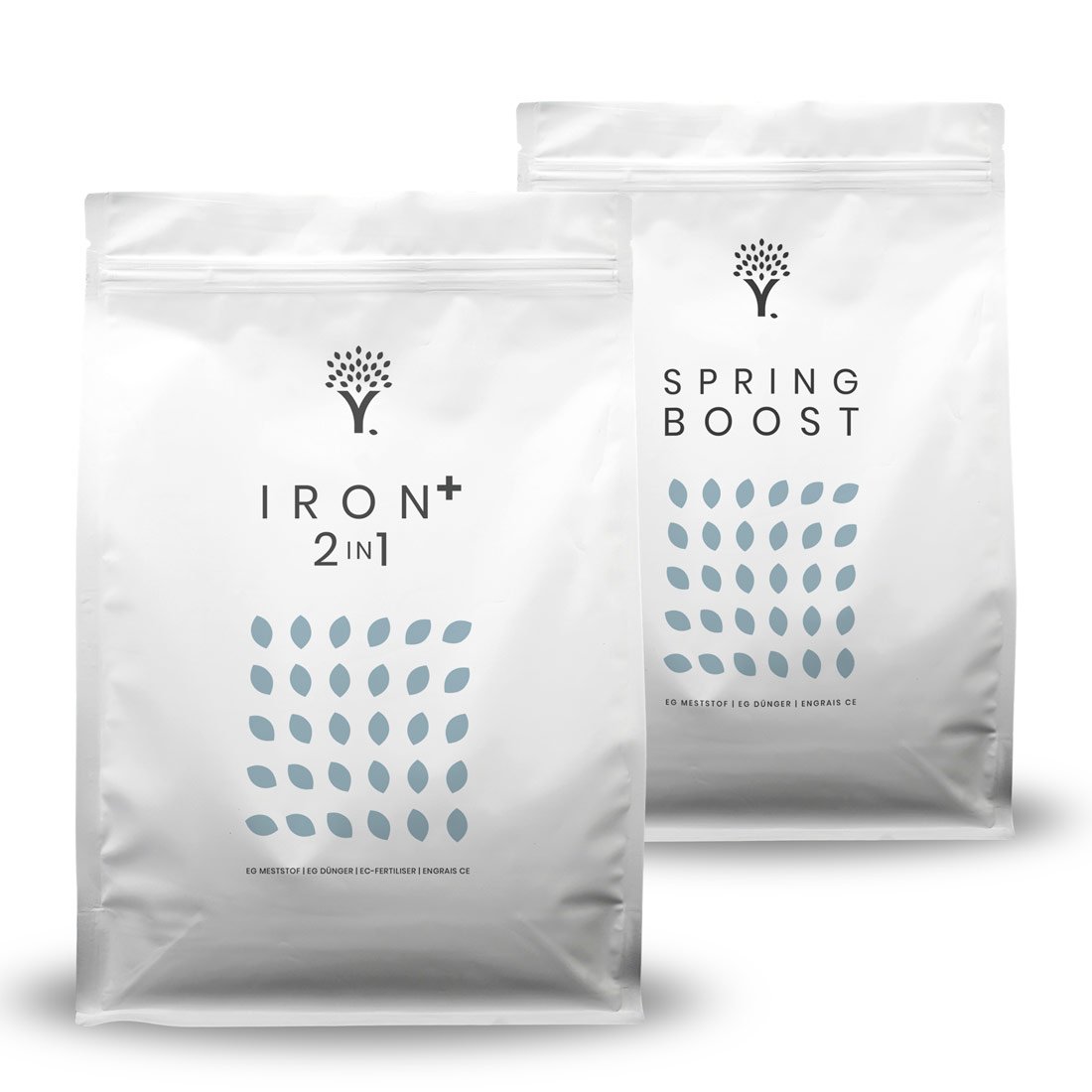 All products, Autumn, Kits, Scarifying, Spring
Scarifying Kit Minimum
If you have just a little moss to clear, this bundle will provide everything you need to help your lawn recover from the stress of scarification. Includes Iron Plus 2-in-1 moss killer to prepare the lawn for scarification and Spring Boost fertiliser to minimise stress and inhibit weeds.
£

27,99 –

£

129,99
Top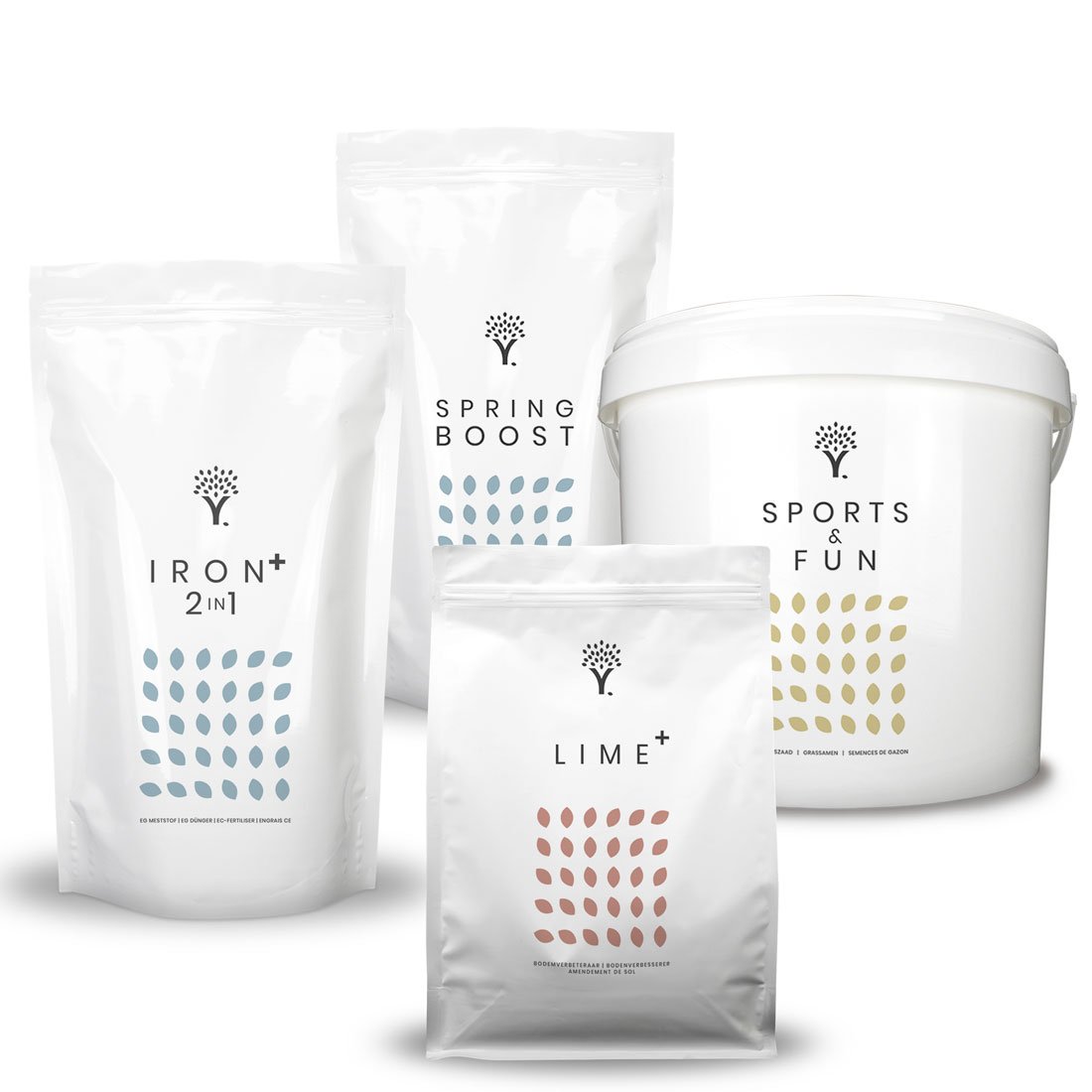 All products, Autumn, Kits, Scarifying, Spring
Scarifying Kit Complete
Our complete scarifying kit contains everything you need to make scarifying a breeze. It contains a moss killer, stress-relieving nutrients, high-quality grass seed, and pH-optimising lime. You'll be admiring your beautiful lawn again in no time.
£

49,99 –

£

298,00
subscribe
Do you want
our lawn care
calendar?
Leave your email and we send you
useful lawn care calendar. It's free!