Designing a front garden: ideas, inspiration, and practical tips
The front of your house tells the rest of the street a lot about you. Maximise the appeal (and value) of your home with a fabulous outward-facing aspect that feels welcoming, cosy, and luxurious.
Free download
Do you want a
lawn calendar?
🌱 All important maintenance moments for your lawn during the year. Leave your email and we will send you the lawn calendar for free.
Receive the lawn calendar in the mail
Enjoy a green lawn all year round!
Your front garden is the first thing people see when they visit or pass by your house, so it stands to reason that you want it to look its best. But so many front gardens are just ugly concrete driveways or an overgrown patch of weeds. If that sounds familiar, you need some front garden ideas.
Table of contents:
Why create a design for your front garden?

Essential factors for designing the front of your building

Designing a front garden thoughtfully

Inspiring front garden ideas

Practical tips for designing your beautiful front garden

The best plants for a front garden

Designing a north-facing front garden

Creating an inviting entrance

Some additional themed ideas for a lovely front garden

Maintaining your front garden

Common mistakes to avoid while designing your front garden

FAQs
Indeed, a well-appointed front garden, with or without a driveway, completely transforms the look and appeal of your home. And what's more, if you're looking to sell, never neglect the front of your house.
This article explores front garden ideas, with a little inspiration and a whole load of practical ideas for creating a front aspect that draws the eye (for all the right reasons!).
Ready? Let's get designing!
Why create a design for your front garden?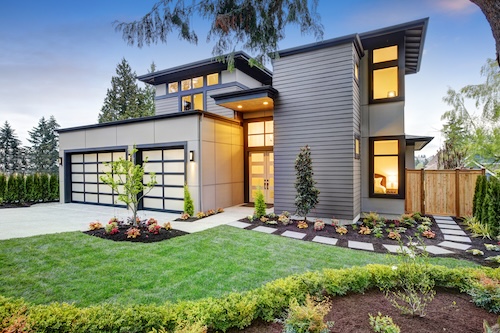 The front of your building plays a crucial role in building a positive first impression of your home. And a well-designed front garden and driveway can significantly increase the value of your bricks and mortar while improving the look of the whole building.
It's all about creating a harmonious look with colours and materials that reflect the style of your home's interior. So, investing some time at the drawing board can undoubtedly pay dividends.
Essential factors for designing the front of your building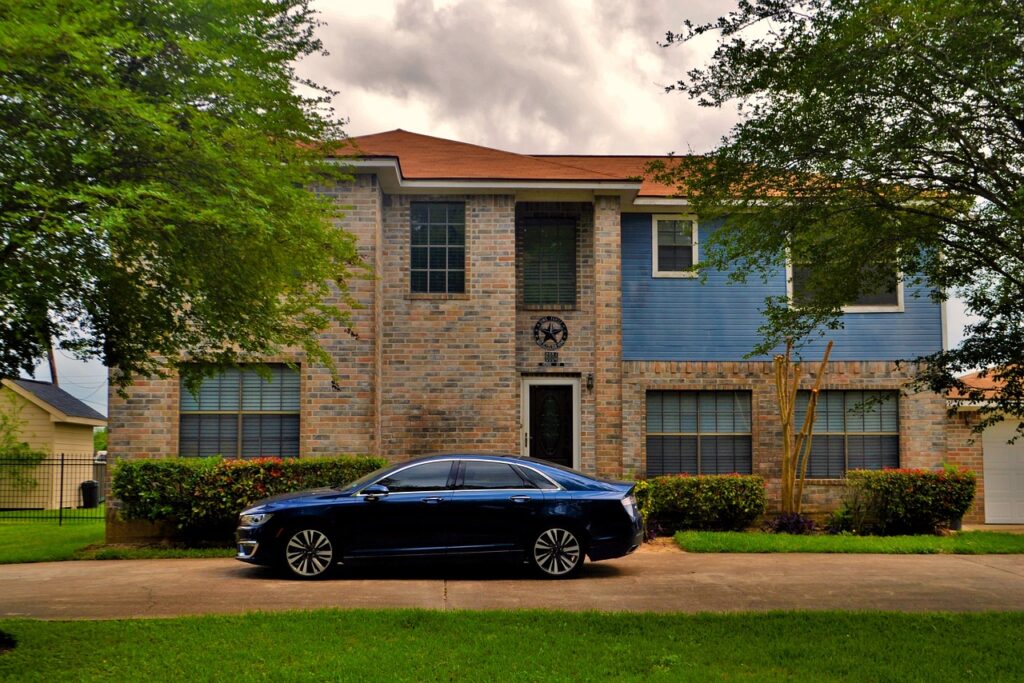 Before putting pen to paper, think about practicality. What do you need in your front garden that reinforces your lifestyle?
Do you need:
A driveway? For how many cars?
A charging point for an electric vehicle?
A garage?
A lawn?
Established plants and shrubs that reinforce the colour scheme?
Front garden ideas: the space
Consider whether you have enough space for a driveway for two cars AND a lawn. Sure, driveways are appealing, but will they eat into valuable space for greenery? Is there enough room for plants and other decorative elements?
Are you a keen gardener? Or are you too busy to look after a garden? Do you want a natural lawn or artificial grass?
Front garden ideas: the desired aesthetic
Are you looking for a beautiful front garden with clean lines and symmetry? Or would you prefer a more natural look with wavy, irregular lines and shapes?
Front garden ideas: the garden's orientation
Think about your garden's orientation — is it south-facing/north-facing, or somewhere in between?
Do you get enough sunlight to grow thriving plants? (SPOILER: there are always plants and a lawn type to suit your garden, even if it's plunged into perma-darkness).
Designing a front garden thoughtfully
Creating a front garden begins with well-considered preparation. Here are some essential steps to consider:
Analysis and design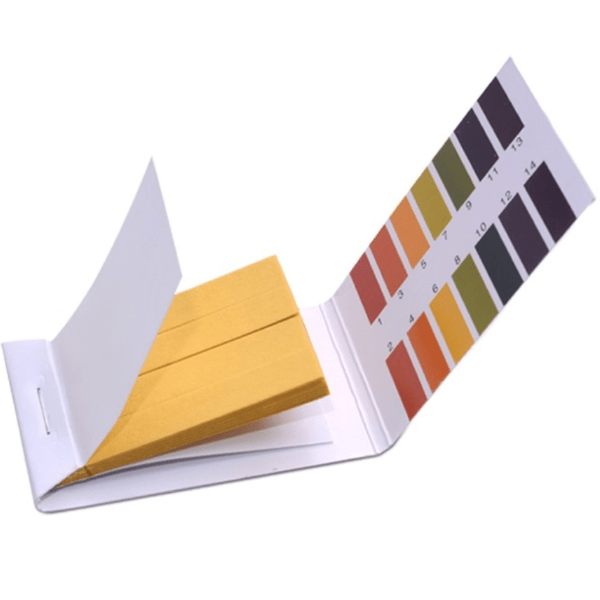 Look at what you already have. You might have a concrete driveway full of cracks and weeds, or consider sacrificing some of your existing lawn for plants, a driveway, a path, or a sitting area.
Yes — if your front garden is sheltered and private enough, you might even consider a sitting area or space for sunbathing.
Before buying plants from the garden centre, identify how much sun you get at the front of your home. If it's south-facing, you'll get plenty of direct sunlight, but if it's east- or west-facing, you'll only get the morning/afternoon sun.
If you plan to introduce plants or a lawn, test your soil: Is it sandy or heavy? Is it well-draining, or does it get water-logged? Use a testing kit to ascertain your soil's acidity — if it's too acidic, a lawn might struggle. 
MOOWY's Lawn Lime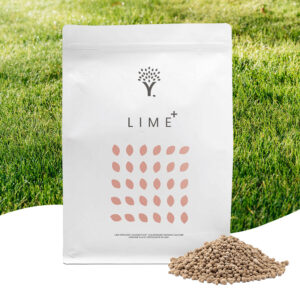 MOOWY's Lawn Lime
Lawn Lime
Helps neutralise acidic soil
Kills moss
Helps minimise weeds
View product
Choose suitable plants and materials
Are you looking for plants that provide privacy, like evergreen shrubs? Or do you want colourful flowers that line your entrance path?
Consider the height and spread potential of your chosen plants. Conifers, for example, often grow very quickly and could plunge your or your neighbour's homes into permadarkness.
Bear in mind the natural environment around your home. Is concrete really the best choice? — it's pretty bad for the environment, after all. Where will the rain go if you remove a garden in favour of concrete?
Think about using sustainable materials like bamboo, permeable paving slabs, or bricks for paths and driveways rather than concrete or tarmac.
Garden doctor Louis says:
Select plants and a lawn type that suits your immediate environment's climate and soil conditions. The more you can rely on the natural environment, the easier it is to maintain an attractive front garden.
Determine your budget!
And the crux! It's all very well planning a high-end garden space, but do you have the budget to sustain it?
Remember, it's not just materials that will burn a hole in your pocket. Think about:
If you plan to create a new lawn, it could be more cost-effective to sow high-quality grass seed than to turf. But always prepare the soil before starting a new lawn — you'll need to level the ground, remove old turf, and analyse the soil type.
And before you sow grass seed, make sure you choose the right type for your garden's conditions.
Prepare the ground
Loosen the soil and improve the soil quality if you're creating a new garden. You'll also need to dig up weeds, remove stones and debris, and feed with soil with a good-quality slow-release fertiliser.
If you're planning on creating a driveway, you'll need to fill the ground with enough hardcore to prevent it from sinking.
Inspiring front garden ideas
Now we've considered the main factors, let's focus on inspiring ideas for your front garden's layout.
Here are some suggestions to get you started.
Build a welcome path
Create a path that leads from the pavement to your door. You might think it makes sense to build a path around the edges of your front lawn, but it's often not the most direct route.
Consider how people would walk to your door in the snow when they can't see the landmarks you've put in place — that's often the most welcoming route into the house.
So, stand back from your house and determine the most logical and ultimately welcoming route to your front door.
Use natural stone or brick materials for a natural, classic look for your path.
Colourful flowers
It's all very well planting flowers, but will the plants offer year-round interest? You might not want to spend lots of time gardening, so consider plants and shrubs that provide fantastic foliage when not in flower.
Plants like rhododendrons, bay trees, wisteria, and ceanothus offer lovely evergreen foliage with abundant and colourful flowering periods.
Choose winter flowerers like:
Snowdrops
Pansies
Cyclamen
Hellebore
Violas
Winter honeysuckle
Christmas rose
Winter aconites
Daphne
Winter heather
And combine them with abundant spring and summer flowers, like:
Zinnias
Petunia
Rose
Dahlia
Peony
Marigolds
Daffodil
Echinacea
Consider contrasting colours and using different heights to increase the appeal of your front garden.
Water feature
These aren't just for back gardens! Install a fountain or point to add an instantly calming environment around your home. It all adds up to a greater welcome!
Lighting
Is the front of your home plunged into darkness at night? It can make the building feel unwelcoming or even a little sinister!
While you might not want to illuminate the entire garden, you could use solar LEDs to help guide visitors along your path.
Alternatively, solar string lights look pretty and welcoming in trees and bushes.
Natural materials
Using stone, wood, and gravel to create an organic look for the front of your home. On the other hand, concrete can be a little harsh and brutal.
Practical tips for designing your beautiful front garden
It's one thing to be inspired, but what about the practicality of your design?
Here are some tips:
Design at scale
Drawing a rough sketch on paper is easy, but what does it look like from different angles? What looks great from the front may be plunging your living room into darkness, or it might obscure a beautiful view.
So, if you can, use a digital design application to take your sketch into a three-dimensional model — it's not as difficult as it sounds. Try "Home Design 3D" on iPad — or explore your App Store for 3D home design applications.
And check out the design for a range of angles.
Maintenance
Choose plants and materials that require minimal maintenance or intervention. That way, your front garden looks great all year round.
Safety
Ensure your front garden and driveway are well-lit. Avoid obstacles that might make parking or manoeuvring around the space challenging.
Seasons
I recommend going for evergreens that offer both privacy and colour at different times of the year.
Consistency with your current architecture
Select style elements and materials that form a narrative with the existing building. Match any new buildings or architectural planting for cohesion with your home and the other buildings on your street.
The best plants for a front garden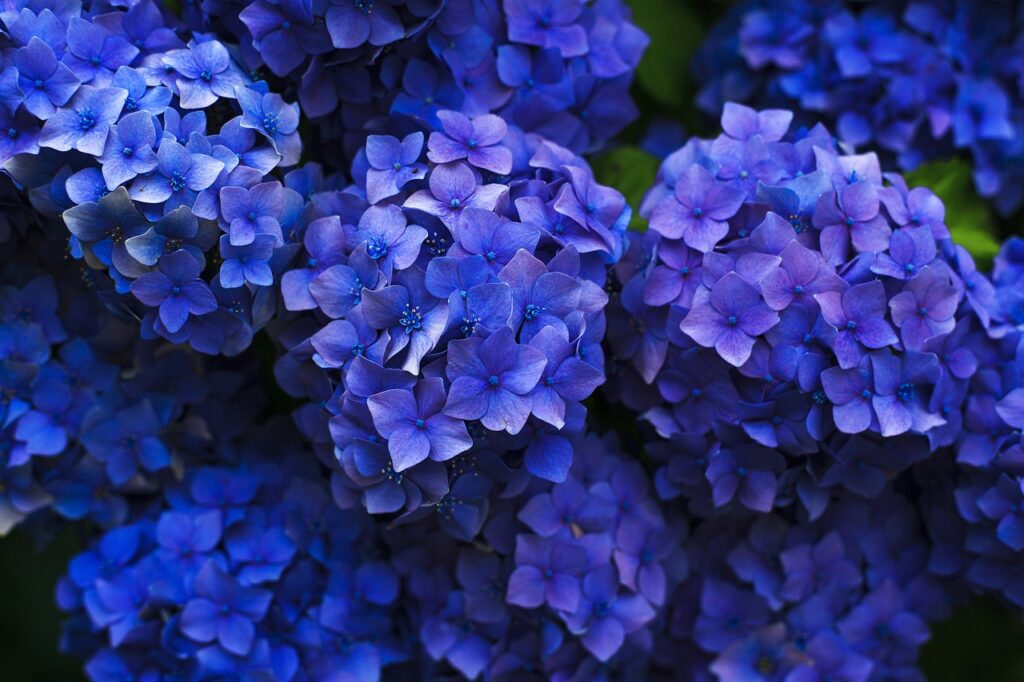 Some of the best plants for your front aspect include:
Lavender
Ornamental grasses
Box plants
Climbing roses
Hydrangeas
These low-maintenance plants provide fragrance, colour, and texture without much intervention other than occasional watering, feeding, and pruning. 
Find out more about caring for hyrangeas.
Designing a north-facing front garden
North-facing gardens get the least light of any other orientation, so you need to take this into account when choosing plants.
Here are some tips:
Choose shade-loving plants, such as hostas, ferns, and hydrangeas, which all thrive in shady environments. Check out our article about shade-loving plants for more inspiration.\
Use light colours to reflect more light into your dark garden space, making your front aspect appear brighter and more spacious. While white is the obvious choice, blues complement sunlight and still look lovely in the shade.
Introduce mirrors strategically around the yard to help reflect the sunlight.
Create height with planters, vertical gardens or climbing plants to add height and greater visual appeal.
Creating an inviting entrance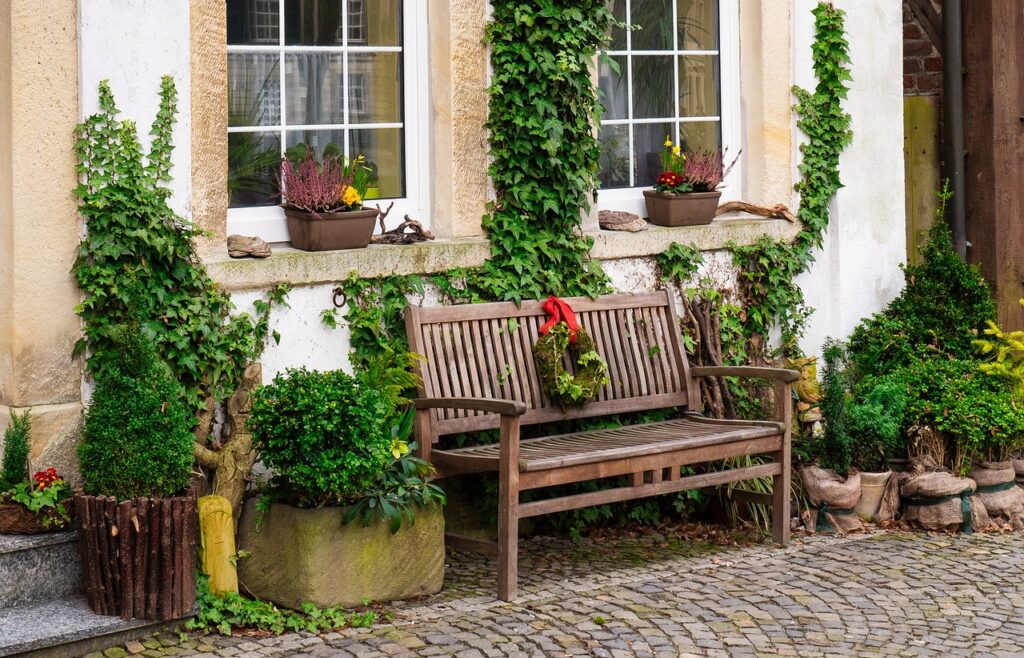 Creating an inviting entrance to your property projects the feeling of welcome. Here are some ideas:
Choose a front door in an attractive or vibrant colour to attract attention.
Add a seating area. While we tend to sit more in the privacy of the back garden than the front, a bench or table and chairs in a private front garden offer a warm welcome to guests.
Create fragrance with scented plants, such as lavender or jasmine, providing a pleasant scent when entering your property.
Add a welcome sign to your front door. Again, it is a lovely way to greet guests and make them feel wanted and welcome.
Some additional themed ideas for a lovely front garden
Some themed ideas to consider;
Classic front garden with straight hedges, symmetrical planting, and a neatly landscaped driveway.
Modern front garden with uncluttered, clean lines, minimalist planting, and a modern gravel driveway.
Mediterranean front garden with colourful flowers, terracotta pots, and a gravel path.
Cottage front garden with informal beds and a mix of wildflowers, evergreens, and a winding path or driveway.
Maintaining your front garden
A front garden requires the same level of work as a back garden. Here are the most critical maintenance tasks:
Pruning to maintain the size, health, and shape of your plants while encouraging new growth. Remove dead branches, leaves, and flowers to maintain neatness while protecting your plants from potential disease.
Weeding to remove unwanted plants and encourage the spread of your chosen shrubbery.
Watering during dry periods or use an irrigation system. Always know which plants need regular watering and which ones you can leave to the rain.
Mulching helps plants retain moisture, reduce weed growth, and maintain the soil's health.
Find out more about mulching in our expert guide.
Common mistakes to avoid while designing your front garden
While planning your outdoor space is an opportunity to be creative, there are some things to avoid:
Too many plants — while it can be tempting to add as much colour and interest as possible, it can make the garden look messy and hinder some plant's growth.
Wrong plant choice — always ensure your chosen plants suit your garden's conditions. Always consider the amount of sunlight and potential wind exposure.
Insufficient maintenance — all gardens need some work to keep them looking tidy. Make sure you prune annually and keep on top of weeds.
FAQs
How do you make a nice front garden?
Choose an achievable design that complements your existing building and the others on your street. Select plants suitable for your garden's conditions, considering the amount of sunlight you get and exposure to the element. Select materials that complement your home and vary plants and textures for visual appeal. 
What do you put in a front garden?
It depends on how little maintenance you're hoping to get away with. But the most attractive front gardens have abundant blooms, understated architectural features, and carefully selected manageable plants that thrive in your front garden's conditions. 
How much does a new front garden cost?
It depends on the scale of the renovation. However, we recommend a budget of between £ 1,000 and £ 5,000 for planting and paving. 
Any questions?
I hope I've given you lots to think about when designing your new front garden. But if you have questions or comments, get in touch or add your comment in the Comments section below.
Or check out our comprehensive Help & Advice section for more garden and lawn inspiration.
Thanks for reading!
Your answer will be displayed on the site and the interested party will be notified by email.
Have a question or want to share your experience? Leave us a comment.
Read
more
The best tips and tricks for a lush green lawn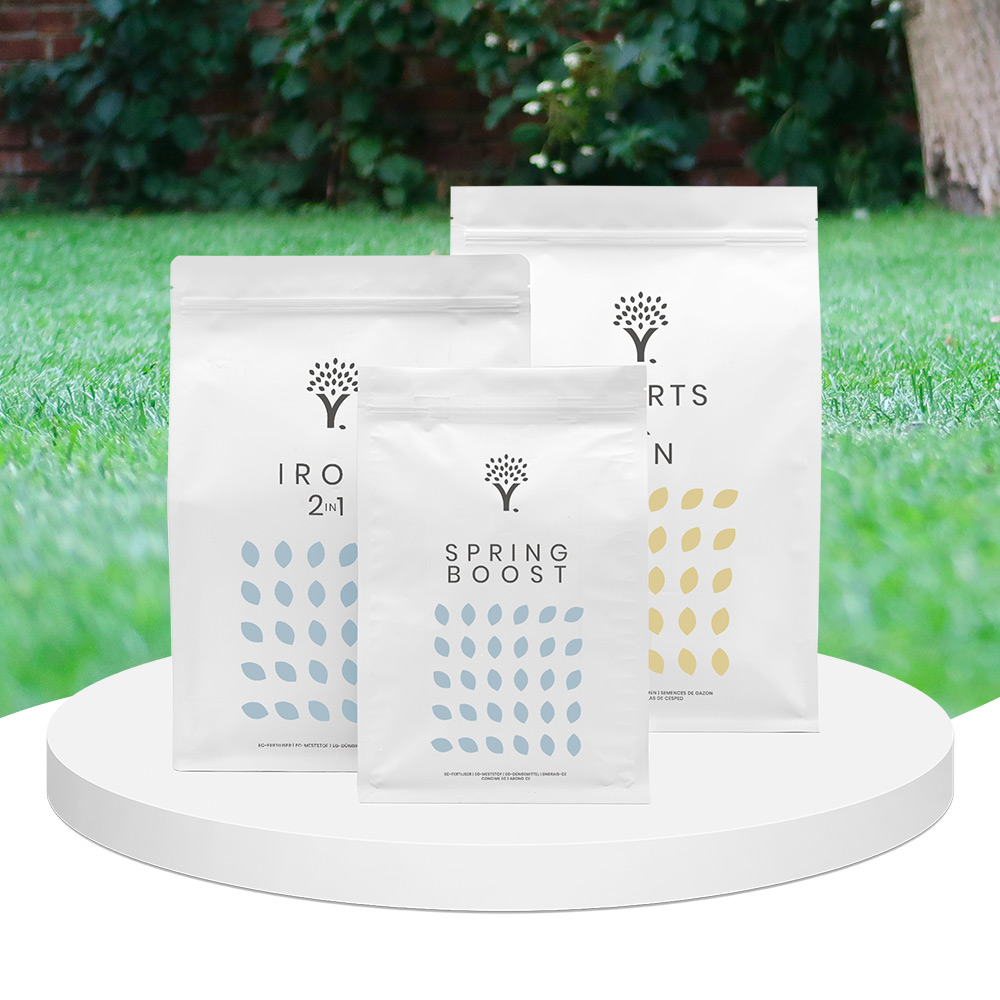 Scarifying Kit
All products after scarifying | Quickly restores the lawn after scarifying | Outsmart weeds quickly with the use of this kit
From:

£

39.99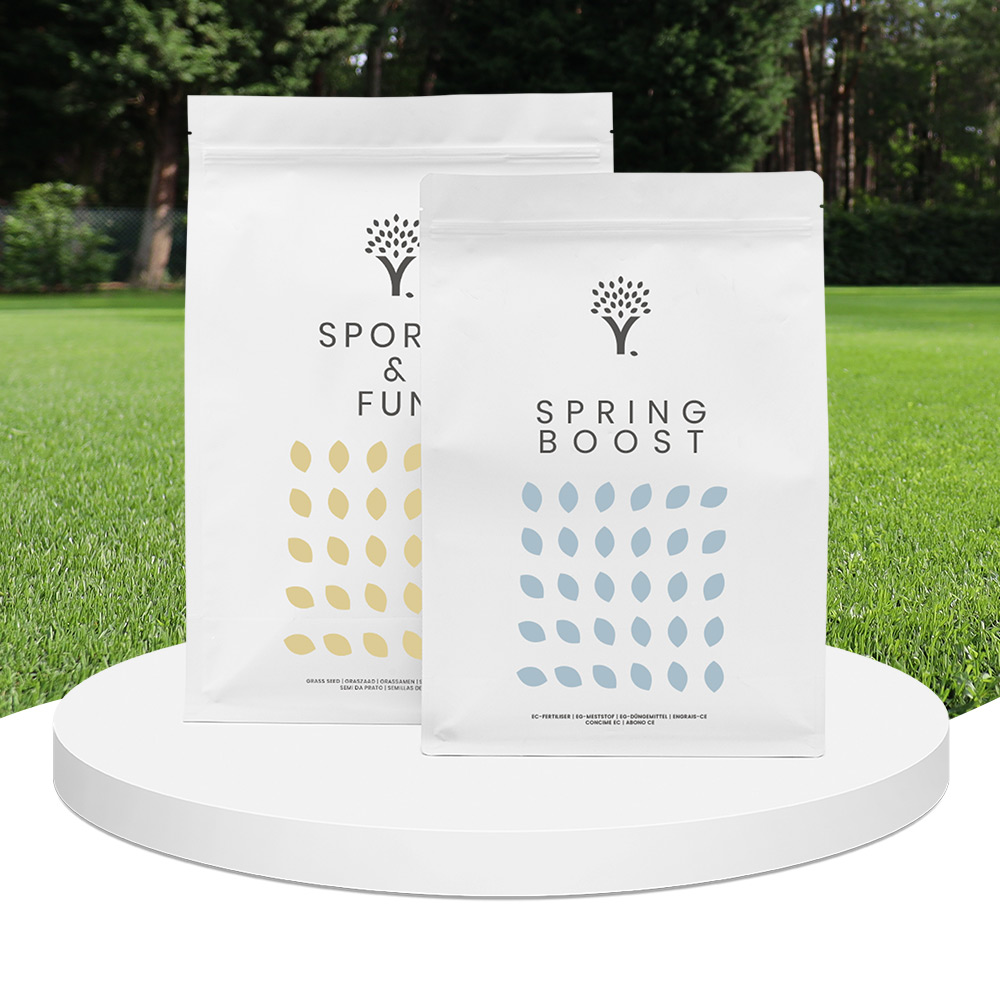 Spring Lawn Care Kit
MOOWY's choice for the spring | Quick recovery of your lawn after winter | A strong lawn prevents weeds
From:

£

25.99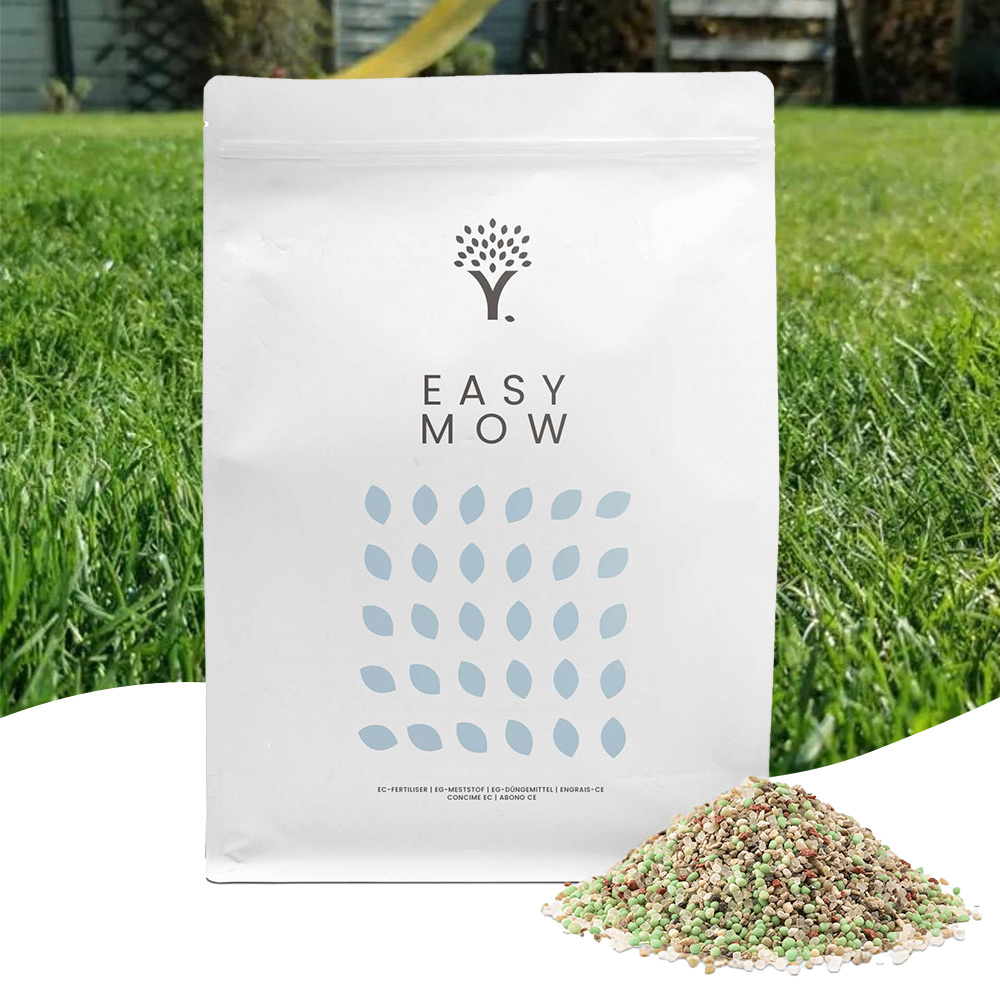 Long Lasting Lawn Fertiliser
Effective for 90 days | See results in 14 days! | Suitable for all types of grass and soil
From:

£

13.99
Free download
Do you want a
lawn calendar?
🌱 All important maintenance moments for your lawn during the year. Leave your email and we will send you the lawn calendar for free.
Receive the lawn calendar in the mail
Enjoy a green lawn all year round!