The Pros & Cons of Real grass vs Artificial Grass – a complete guide
Considering artificial grass for your garden? While it can be a quick way to transform your garden, there are some things to consider. Read on for expert advice.
There's nothing like a beautiful, deep green lawn to enhance the look and appeal of your home. But, for some, the work associated with maintaining a lawn is particularly off-putting. And in those cases, they make the decision: real grass vs artificial grass — which is the winner?
An artificial lawn provides an instantly beautiful garden without much maintenance. There's no mowing, no weeding, no fertilising, no scarifying. It seems too good to be true, perhaps.
But for others, you can't beat the look and feel of a real lawn.
This article explores the pros and cons of real grass vs artificial grass so you can make an informed decision.
Ready? Let's get started.
What is artificial grass?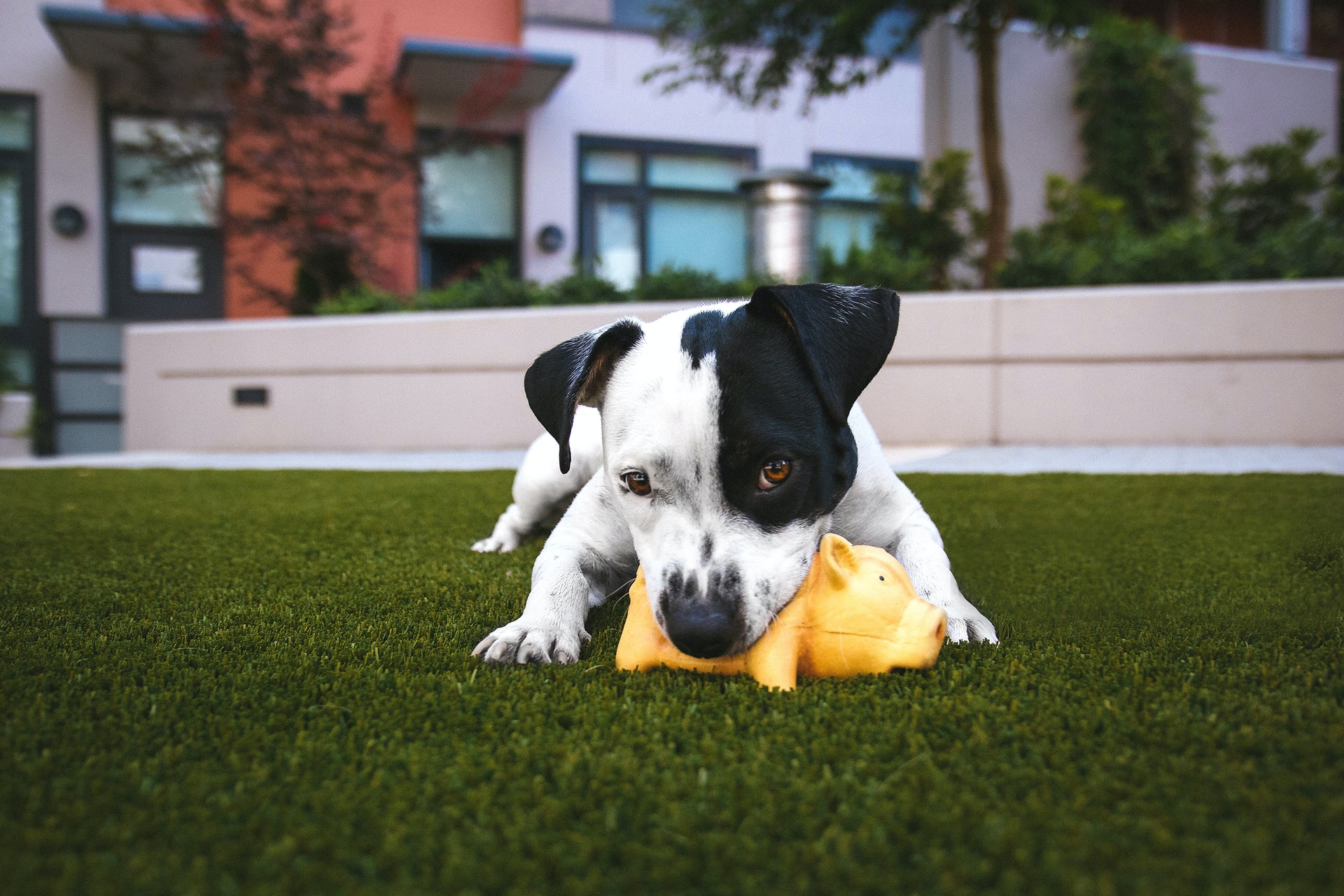 Artificial grass looks like grass, but it's made from synthetic, man-made fibres. You can buy artificial grass in various "varieties" and lengths. Most modern artificial grasses look very realistic, some even weaving brown thatch within the weave to add authenticity. In fact, modern artificial grass is a million miles from the astroturf of the 70s and 80s.
Synthetic grasses are constructed like a conventional carpet — a woven backing with stitched-in grass blades.
The pros of artificial grass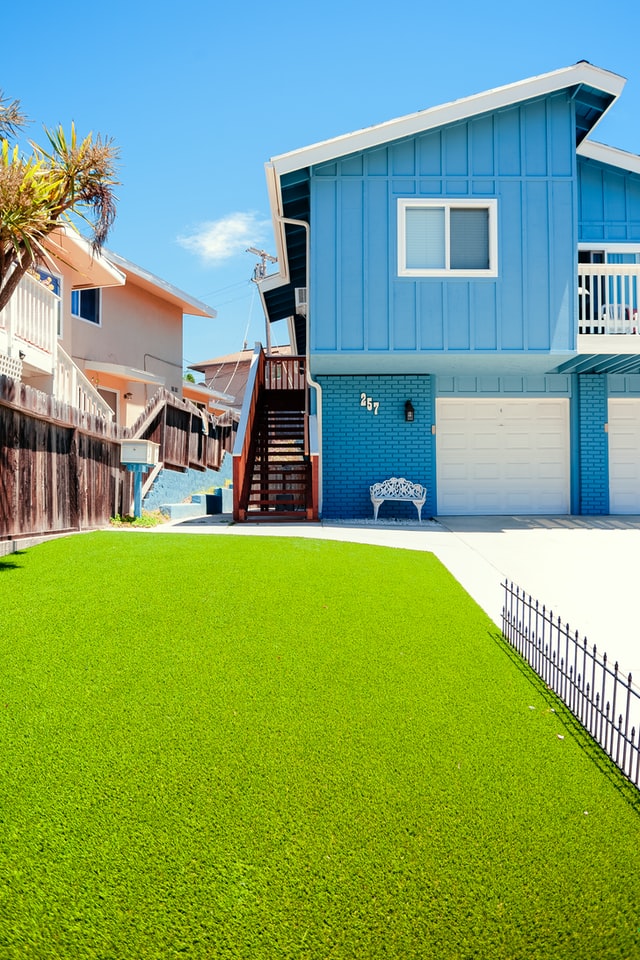 Of course, the main advantage of artificial grass is that it requires minimal maintenance. It won't go yellow during drought and will never need mowing or fertilising. This makes it an excellent choice for hayfever sufferers.
Installing synthetic grasses will save you around 250 litres of water a year because you don't need to irrigate your artificial grass.
Artificial grass is much less likely to develop weeds than a conventional lawn. This doesn't mean that weeds can't attach themselves to artificial grasses — weeds can take root around the edges of the lawn — in the joins between strips, or in the tiny holes within the backing.
However, most artificial lawns are typically laid on a decked foundation, which minimises the chances of weeds because the synthetic grass often has no direct contact with soil.
And, of course, artificial grass will never die — with a life expectancy of twenty or more years.
What makes a good quality synthetic grass?
Not all synthetic lawns are the same, and "you get what you pay for" couldn't be any truer when it comes to artificial grass.
When choosing your artificial grass, look for:
Polyurethane backed — not latex
A UV-resistant protective coating, which will help maintain the appearance over time. Cheaper synthetics can fade to blue or even white under the sun.
Lead-free synthetics and non-toxic
The Cons of Artificial Grass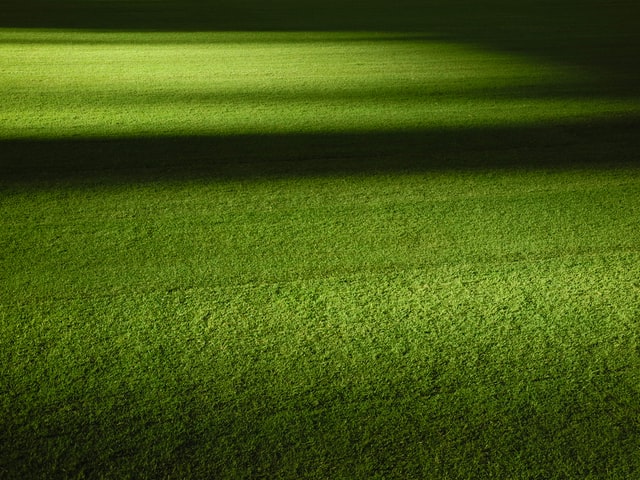 One of the main concerns regarding synthetic grasses is the sustainability of the long-term impact. Artificial grasses are made from polyurethane – the same material used to create shampoo bottles and bin bags. So, while your synthetic lawn will last for around twenty years, will you be able to recycle it afterwards?
Or will it sit in landfill until it biodegrades after five hundred years?
One significant disadvantage of an artificial lawn is that it's dead — it doesn't replenish itself if it gets damaged. For example, synthetic blades can melt under high temperatures (such as a fire pit). It's difficult to convincingly patch up an artificial lawn like you can with natural grass, which simply grows back.
Some disadvantages of artificial grass
It's not maintenance-free — while an artificial lawn is undoubtedly less work than natural grass, you'll need to regularly sweep debris from the surface to prevent damage to the lawn's appearance.
Washing the artificial turf — it may come as a surprise, but you should regularly clean your synthetic grass with a specialist grass broom and soapy water.
Vacuuming the lawn — some lawns require regular vacuuming to maintain a debris-free surface. However, this can disturb the grass, causing creases and stretching.
Not suitable for camping — you can't dig pegs into an artificial lawn.
Artificial grasses are bad for biodiversity — a natural lawn helps sustain your local wildlife. So, you may notice fewer birds in your garden.
Moss can gather on shaded areas of artificial grass.
Cheap synthetic lawns can look fake and have a disappointing lifespan.
Can get hot in warm weather.
You can lay your own artificial grass, but for larger spaces, it's generally recommended to opt for a professional installation.
Lawn doctor Louis says:
Real grass gives your garden a natural look and attracts local wildlife and birds.
Artificial grass vs real grass — the pros of real grass
Most of us have real grass lawns, and — for some of us — there's no real comparison. Real grass gives your garden a natural look, attracting that glistening morning dew, the reassuring chorus of birdsong, and that gorgeous post-rain smell of fresh grass.
And while natural turf requires considerably more work than artificial grass, it can be genuinely rewarding to have grass plants growing in your garden.
Natural grass is considerably cheaper than artificial grass, and it's possible to patch up a bald spot with new grass seed whenever it suffers damage.
Other advantages of real grass include:
It's easy and cheap to sow a lawn from scratch.
It's simple to repair a real lawn by scarifying, fertilising, and overseeding.
Your lawn changes with the seasons.
Lay turf for an instant transformation.
Versatile — you can choose grass seed for high-traffic or ornamental lawns. Or pair your garden conditions with the perfect lawn seed.
A lawn promotes healthy soil that attracts birds and pollinating insects.
A real lawn is suitable for children and pets and feels good under foot. Artificial grass can burn the skin if you fall.
Real grass vs artificial grass: the disadvantage of real grass
We all know that you don't get a beautiful lawn without a considerable amount of effort. There's the regular mowing and fertilising — then there's the lime and the iron sulphate, and before you know it, you have a shed full of lawn accessories.
So, if you want to maintain the beauty of your thriving lawn, you need to be prepared to put some hours in.
Other disadvantages are:
Moss and weeds — while both can affect artificial lawns, they're more stubborn with real grass.
Pests and diseases — pests such as leatherjackets, ants, chafer grubs, and moles can be an ongoing problem for real grass lawns.
Heavy use can damage a robust lawn, while artificial grass is less likely to go thin.
Bald spots — although these are easier to deal with by overseeding than a bald patch on artificial grass.
Hayfever — turf can encourage pollinating weeds and plants, which can affect hayfever sufferers.
Laying turf for a quick transformation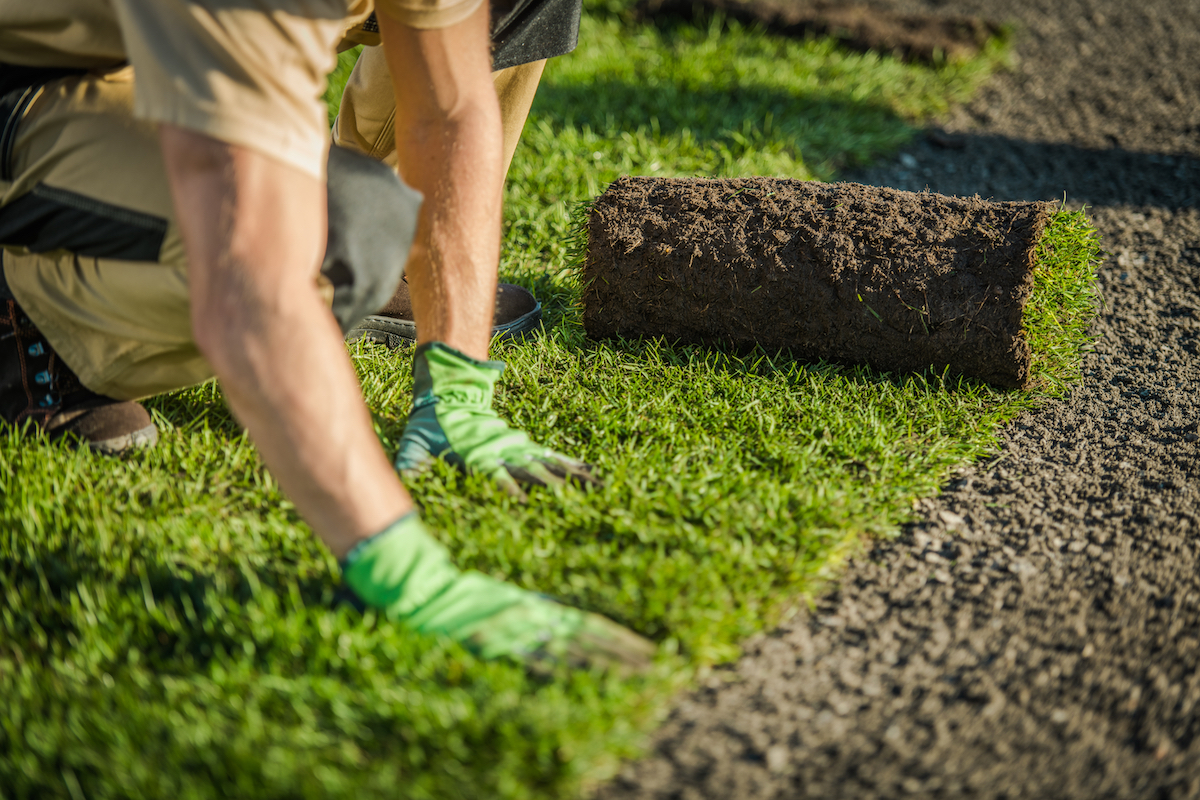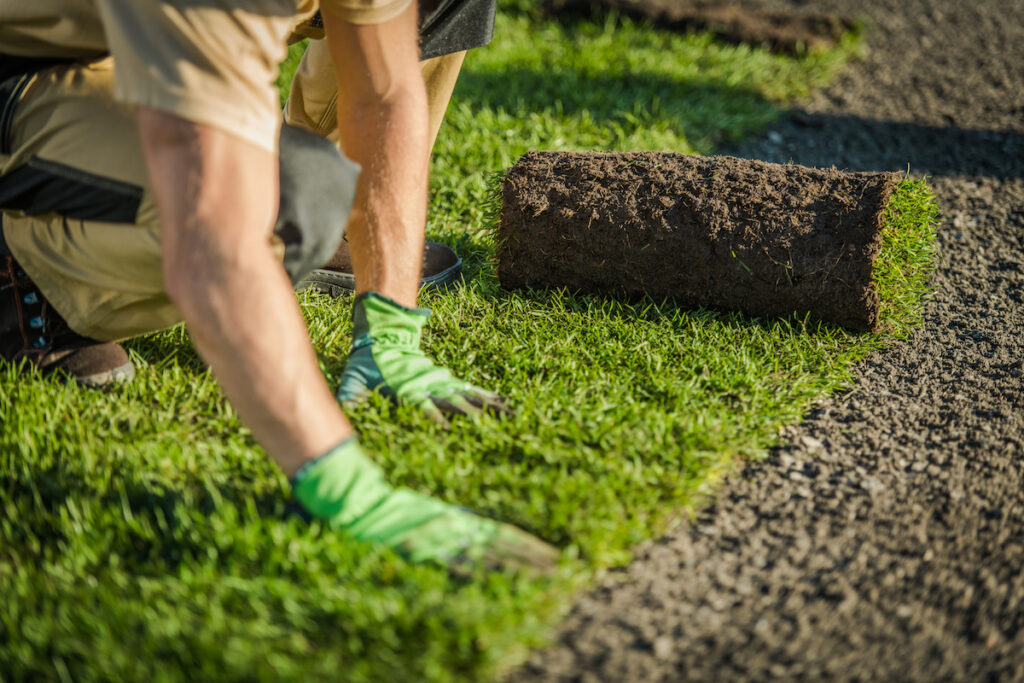 If you're considering laying, be aware that it requires some elbow grease and considerable lifting but offers a great way to transform a tired lawn quickly.
And turf offers a weed-free lawn you can walk on within two weeks. Check out our expert guide to laying turf.
Real grass vs artificial grass — a financial comparison
Now we get down to the nitty-gritty: how much does it cost to lay artificial grass compared to the price of sowing new lawn seed?
Let's start with artificial grass. We're using figures provided by householdquotes.co.uk, which include installation costs and material prices for a small garden (of 50m² / 550ft²).
| | | | | | |
| --- | --- | --- | --- | --- | --- |
| Grass type | Costs per sq m | Small garden (50m²) | Labour costs | Installation duration | Total estimated costs |
| Budget artificial grass | £10 | £500 | £3375 | 1-to-2 days | £3875 |
| Mid-range artificial grass | £22 | £1100 | £3375 | 1-to-2 days | £4475 |
| Premium artificial grass | £27 | £1350 | £3375 | 1-to-2 days | £4,725 |
So, there's not a great deal between the mid-range artificial lawn and the premium. Regardless, you're looking at around £4000-£5000 for decent artificial grass.
Grass seed, on the other hand, makes transforming your lawn simple, but it does take a little longer. Preparing and sowing your lawn could take a day of your time, but you may need to do extra tasks before sowing to ensure the soil is ready for you!
Nonetheless, sowing grass seed is simple and produces excellent results within a month or so.
Sowing seed
These are the general costs of sowing grass seed:
| | | |
| --- | --- | --- |
| Lawn size | Turf costs (per m²) | Seed costs (MOOWY prices) |
| Small (up to 50m² / 550ft²) | £150 – £325 | £25.99 – £27.99 |
| Medium (up to 75m²) | £195 – £412.50 | £49.99 – £59.99 |
| Large (up to 125m²) | £325 – £687.50 | £81.00 – £94.99 |
Laying turf
If you're looking at professional turf laying, the costs are likely to be:
| | | | | | |
| --- | --- | --- | --- | --- | --- |
| Garden size | Turf costs (per m²) | Quantity of topsoil/cost per bulk bag | Labour costs (day rate) | Time required | Estimated cost |
| Small (up to 50m² / 550ft²) | £3 – £6.50 | 10 bulk bags (@ £90 per bag) | £100 – £200 | 2 days | £1250 – £1625 |
| Medium (up to 75m²) | £2.60 – £5.50 | 15 bulk bags (@ £90 per bag) | £100 – £200 | 3 days | £1845 – £2362.50 |
| Large (up to 125m²) | £2.60 – £5.50 | 25 bulk bags (@ £90 per bag) | £100 – £200 | 4 days | £2975 – £3737.50 |
Conclusion: what suits you the most?
Ultimately, the choice between real grass and artificial grass comes down to personal taste and what you want out of your lawn.
Real grass looks more natural and is naturally durable and repairable, while artificial grass can be extremely costly to install and difficult to repair if damaged.
Real grass attracts wildlife to your garden, while artificial grass is an almost maintenance-free way of enjoying a beautiful lawn all year round.
FAQ
Which is better: fake or real grass?
It really depends on your preference and the amount of time you are prepared to dedicate to your lawn. If you want an instant garden transformation, artificial grass is the ideal low-maintenance way to keep your lawn looking green. But for some people, you can't beat the look and feel of real grass — however, natural grass won't look beautiful on its own.
What is the downside of artificial grass?
Artificial grass can discolour after long-term exposure to the sun, so make sure you buy artificial grass with a good-quality UV protection. Also, synthetic grass can melt, so be careful with firepits and barbeques — damage is expensive to repair. 
Is artificial grass bad for the environment?
A natural lawn improves the biodiversity of your garden and encourages birds and pollinating insects to visit. Birds peck grubs from your lawn and insects help pollinate your flowers for better blooms and healthy veg. Artificial grass doesn't offer anything of value to your local wildlife. Additionally, there are lots of emissions associated with the production of artificial grass.
Read
more
The best tips and tricks for a lush green lawn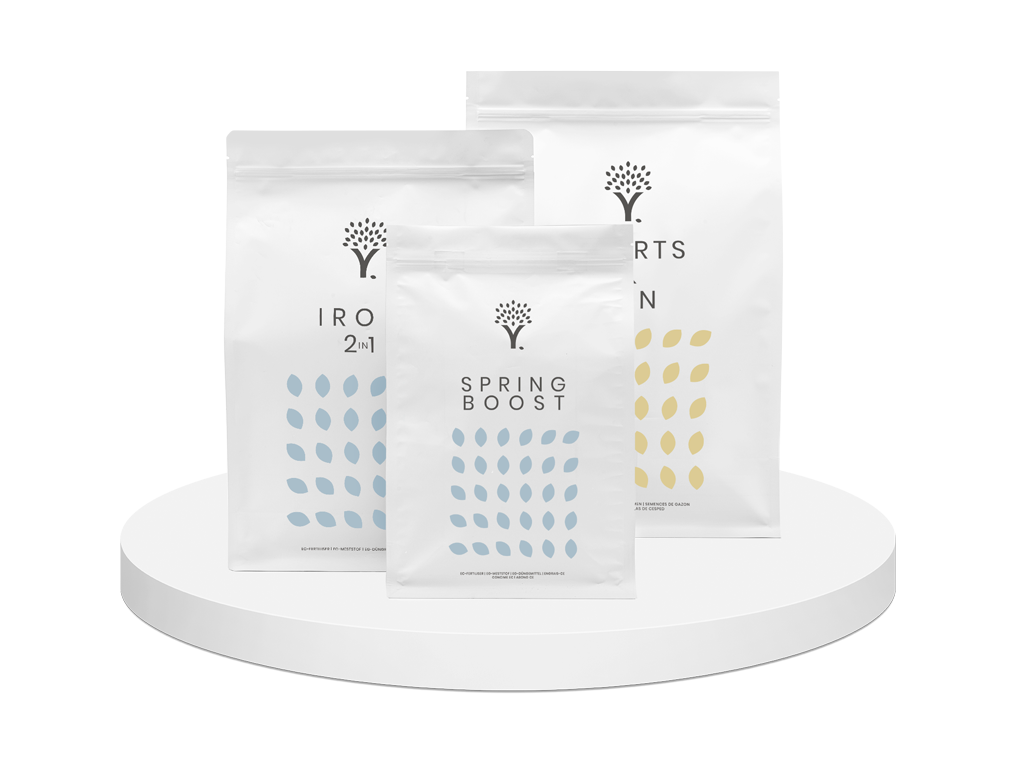 Scarifying Kit Standard
Has moss found its way into your lawn? An excellent way to get rid of this is to scarify. Our Standard Scarifying Kit contains everything you need to make your scarifying project a success – with stunning results
From:

£

36.99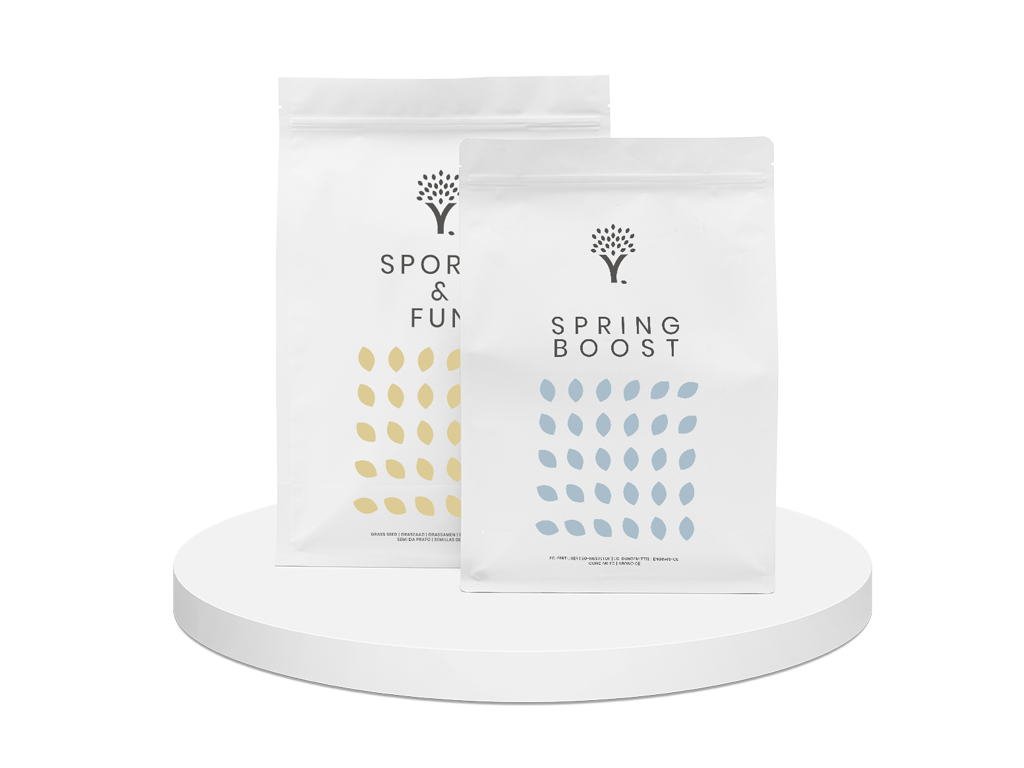 Scarifying Repair Kit
Scarification is the removal of the organic matter that chokes the roots of your lawn (such as thatch and moss). However, scarifying can stress your grass. So, after scarifying, treat your lawn with some MOOWY-style love to help it recover. Our Scarifying Repair Kit guarantees rapid, successful recovery with exceptional results.
From:

£

23.99
Top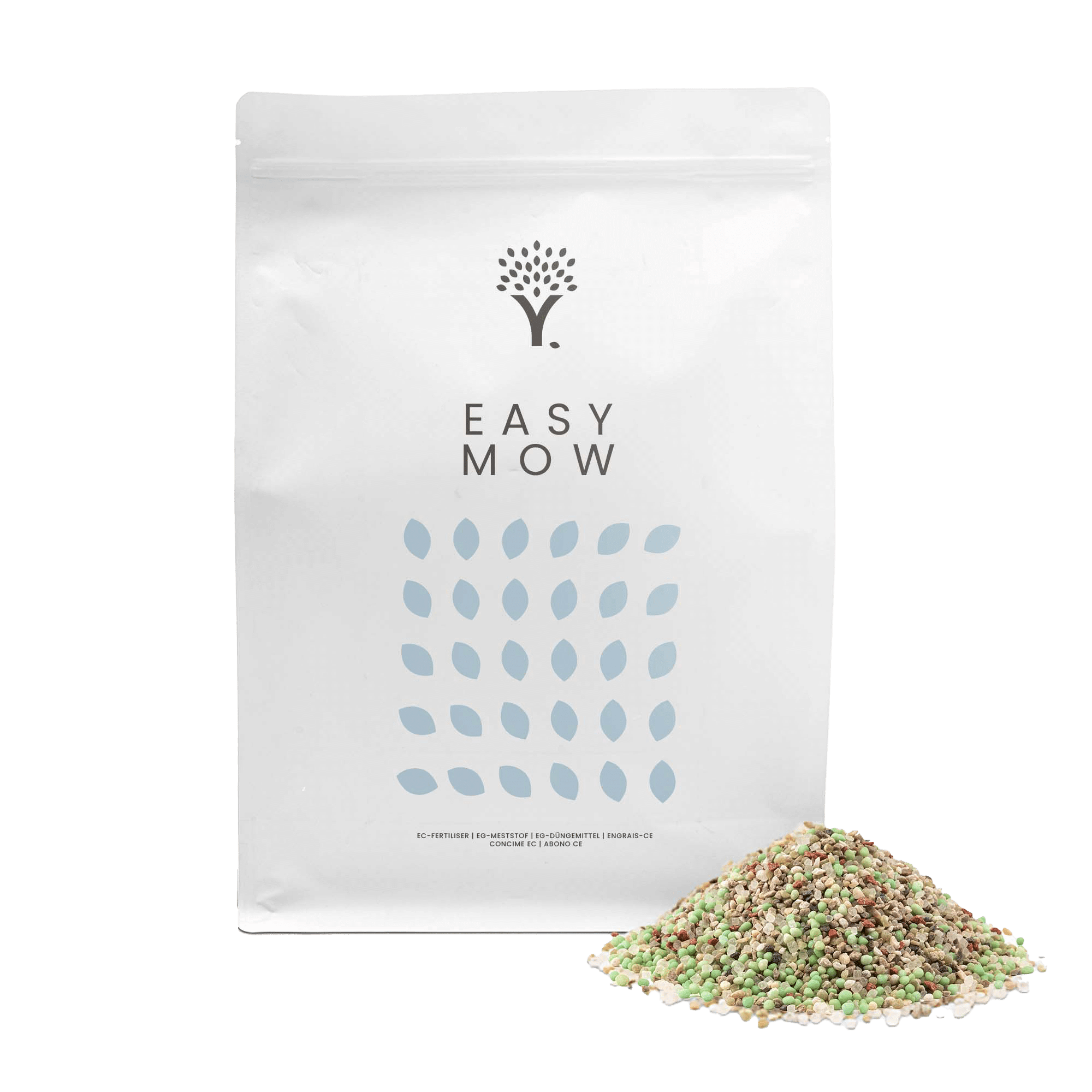 Long Lasting Lawn Fertiliser
Give your grass everything it needs without the excessive growth often associated with fertilising. MOOWY'S long lasting lawn fertiliser works for over 90 days and delivers quick results.
From:

£

13.99
SUBSCRIBE
Do you want your lawn care
calendar

?

Leave your email address and we will send you our useful lawn care calendar. It's free!
Get your lawn care calendar
Get your lawn care calendar