Create Your Low-Maintenance Garden – Tips and Ideas
Looking for a lovely entertainment space outside without the effort? Check out our guide to a low-maintenance garden.
Free download
Do you want a
lawn calendar?
🌱 All important maintenance moments for your lawn during the year. Leave your email and we will send you the lawn calendar for free.
Receive the lawn calendar in the mail
Enjoy a green lawn all year round!
You keep your home neat and well-maintained — what about your garden? For many, the outdoor space that could be a beautiful garden gets neglected because it feels like a transformation would demand time, skills, and money! But it's all a case of perspective: create a low-maintenance garden for less.
Table of contents:
What is an easy-care garden?

Tips for an easy-care garden

Features of a low-maintenance garden

Redesign your garden with easy-care plants

Low-maintenance exotic plants

An easy-care garden with a healthy lawn

Gardening tips for mulching and weeding

Easy weed control

A low-maintenance approach to garden diseases and pests

How to avoid garden pests

FAQs
A low-maintenance garden offers the best of all worlds — a calming haven to enjoy on warm sunny days that require little to no maintenance.
This article explores how to create a low-maintenance garden, with tips and ideas to make the most of any outdoor space, from a tiny yarden to an expansive garden.
Ready? Let's go!
What is an easy-care garden?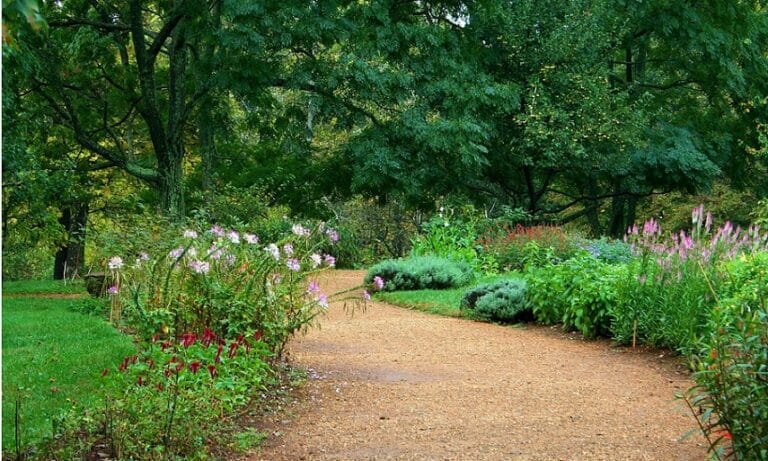 Most people think of lawns, hedges, bushes, and weeding when they think of gardening. And those can all require considerable time and energy.
But actually, an easy-care garden could be any green space that essentially sustains itself.
Sure, you could still have a beautiful lawn, maybe even a terrace with flowers and bushes, but if you choose wisely, you can achieve an easy-care garden without much ongoing effort.
Tips for an easy-care garden
Enjoy all the beauty without the effort, as long as you choose wisely, following these top tips:
Choose robust plants — consider plants resistant to pests and diseases and tolerant to drought and frost (requiring minimal watering). Sounds like an impossible task, but there is definitely a way!
Be realistic about your lawn — the larger your lawn, the more care it requires. So, you could consider minimising the overall area by gravelling if you have a large garden. Keeping a small lawn area brings the attractive aesthetic of grass with far less mowing.
Consider maintenance in your structured design — plan beds, paths, and your lawn with clear, straight structures that facilitate faster mower, growing, and weed control.
Soil preparation — you'll enjoy less weeding and feeding if your soil is in a good state from the off. So, consider your topsoil, and think about levelling your lawn area for optimal growing conditions and fewer innate weeds. Check out our expert guide to restoring your lawn's topsoil.
Water management — An easy-care garden benefits from an automatic irrigation or drip system. This way, you'll never need to water your lawn or plants manually.
Mulching — a layer of mulch helps prevent weeds and helps your soil maintain its moisture, meaning less water.
Go for natural rather than curated — consider easy-care plants with a natural growth shape rather than those that require frequent pruning and cutting back.
Garden doctor Louis says:
Achieve a low-maintenance garden by taking time to plan the layout. Go for cottage-style plants that look better as they overgrow and a weather-resistant lawn seed variety that requires less watering and survives the UK's unpredictable winters.
Features of a low-maintenance garden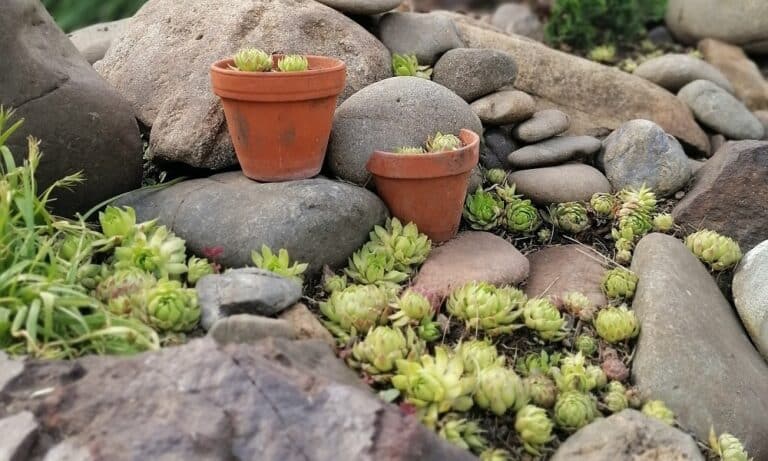 Everyone's taste is different, of course. However, there's a range of ways you can create your low-maintenance, easy-care garden, including:
Xeriscaping — the concept of gardening that requires little to no watering. Therefore, select drought-resistant plants that require minimal watering. Read on for inspiration.
Rockery — Design your zen-like rock garden using a combination of stones, rocks, and alpine, drought-resistant plants. This creates a stunning, natural environment with super-easy maintenance plants.
Potted garden — Bring yarden and smaller outdoor spaces to life with various potted plants. You can bring them inside over winter to protect them from frost. Remember that pots dry out more quickly than your garden soil, so that approach may require more frequent watering.
Hard coverings and paths — use paving slabs, gravel, decking, or wooden planks to create paths, terraces, and seating areas. This helps you minimise lawn space, reducing the effort required to maintain the overall garden.
Minimalism — less can be more; create a calming, low-maintenance garden with a few feature plants that grow large or a few pots with easy-care grasses, such as bamboo, rather than going to maximalism.
Focus on hard-scaping — create visual interest with stone walls, wooden terraces, and water features — typically features that require minimal maintenance.
Garden doctor Louis says:
An easy-care garden comprises plants and materials perfectly matching your garden's micro-climate. Choose exotic plants with care.
Redesign your garden with easy-care plants
You can't have a low-maintenance garden with high-maintenance plants, so this is about choosing plants that require virtually no care.
So, when choosing your plants, consider how little water, care, and attention they'll need.
Consider:
Herbs
A herb garden is practical and usually easy to look after. Avoid thin-leaved, soft-stemmed herbs, like basil, because they dry out quickly.
Instead, go for woodier herbs, such as rosemary, oregano, lovage, thyme, and lavender.
Drought-resistant perennials
Perennials are plants that return each year, typically lasting more than two or three years. So, these are the ideal choices for a low-maintenance garden.
Consider:
Lavender
Yarrow
Salvia
Stonecrop
Echinacea
Verbena
Russian sage
Lantana
Rosemary
Sage
Yucca
Sedum (Fat Hen)
Delphinium
Coreopsis
Grasses
Ornamental grasses bring an exotic feel to a garden but require surprisingly little care.
Bring texture and movement to your outdoor space with grasses in pots or in the ground, like:
Pennisetum
Festuca glauca
Bamboo
Wildflowers
Think about plants that grow in the wild with zero intervention, such as common British wildflowers. Native wildflowers look beautiful and encourage a healthy ecosystem by attracting pollinating insects into your outdoor space.
Research wildflowers native to your particular region, but the Top 10 wildflowers likely to do well in your garden are:
Primrose
Pulsatilla vulgaris
Stinking iris
Stinking hellebore
Snake's head fritillary
Golden shield fern
Cheddar pink
Lily of the Valley
Wood anemone
Field maple
Ground cover plants
Spreading plants that cover the soil are ideal for low-maintenance gardens because they give weeds less chance to establish.
Consider the following ground cover plants:
Evergreen Vinca
Elf flower (Epimedium)
Golden strawberry (Walksteinia)
Evergreen Shadow Green (Pachysandra)
Bulb plants
Bulbs come back year after year, and while some require lifting, choose bulbs you can leave in the soil all year round for a low-maintenance garden.
Think about planting daffodils, crocuses, and grape hyacinths for spring and summer colour every year.
Climbing plants
Climbers bring a fairytale vibe to a garden, bringing greenery to patios and concrete spaces. Think about the year-round green from shade-tolerant climbers, such as ivy, clematis, Japanese quince, and honeysuckle.
Shade-tolerant varieties are particularly good for yards and decking areas that might not get a great deal of direct sun.
Low-maintenance shrubs
Shrubs are an excellent choice for easy-care gardens.
These varieties are particularly popular:
Rock medlar (Cotoneaster)
Dwarf pine (Pinus mungo)
Juniper
Berberis
Garden doctor Louis says: 
Garden doctor Louis says: Consider contrasting tall plants with low-growing varieties to bring a range of textures and colours to your visually appealing garden.
Low-maintenance exotic plants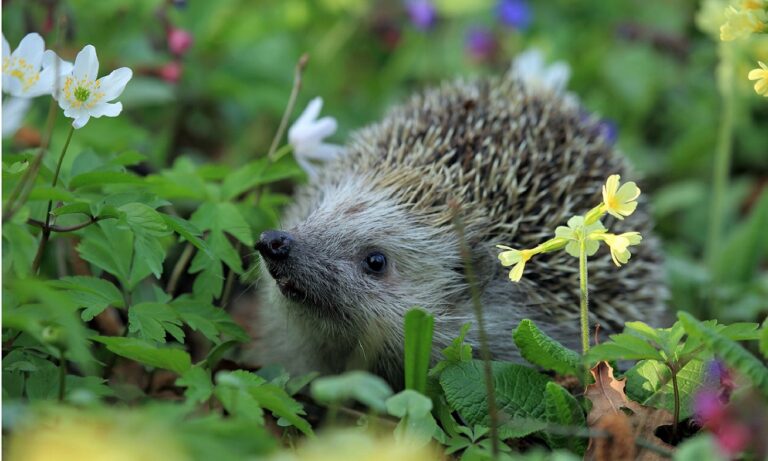 If you're looking for something a little more exotic, you should choose wisely, selecting varieties suited to your garden's conditions.
I recommend reading the label and paying particular attention to light and water requirements and always opt for varieties that are happy in a range of environments.
Succulents
Water-retentive plants, such as echeverien, sedum, cassula, and aloe, are perfect easy-care succulents. They look great and rarely require watering unless it has been particularly hot and dry.
Bamboo
Many bamboo varieties are super-easy to care for and can serve as a privacy screen.
Take care with bamboo, though, as it's a voracious spreader that can damage your home's foundations. Make sure a bamboo plant is contained with underground dividers — better still, grow it in a pot.
Cactus
If you live in a warmer region of the UK, you can grow cacti outdoors. They're an excellent addition and very drought-tolerant.
An easy-care garden with a healthy lawn
Sure, a lawn needs mowing and feeding, but most small grass patches are easier to maintain than you might think.
Small lawns take hardly any mowing time and require minimal weeding and feeding. And while it can be tempting to opt for artificial grass, it can get too hot to walk on in the summer and still requires fairly regular vacuuming. 
Weed-Free Lawn Kit

View Product

Dry Lawn Restore Kit

Heals your lawn after a hot summer

View Product

Spring Lawn Care Kit

Restores your lawn after winter

View Product
Some tips for a healthy, easy-care lawn
Choose the most suitable grass variety for your climate and location, especially if you have a shady garden. Select MOOWY's Shade & Sun grass seed for a shady garden.
Avoid heavy traffic for less maintenance. The less you use your lawn, the less likely you'll need to overseed bald patches.
Maintain your soil's pH and nutrient content of your soil. Feed at least once a year with a slow-release fertiliser and apply Lawn Lime if the ground becomes acidic.
For expert tips on maintaining a healthy lawn, check our comprehensive Help & Advice section.
Garden doctor Louis says:
A lawn helps keep your garden cooler in the summer and becomes a home for a wide range of wildlife that otherwise struggles for habitat in suburban and urban areas.
Gardening tips for mulching and weeding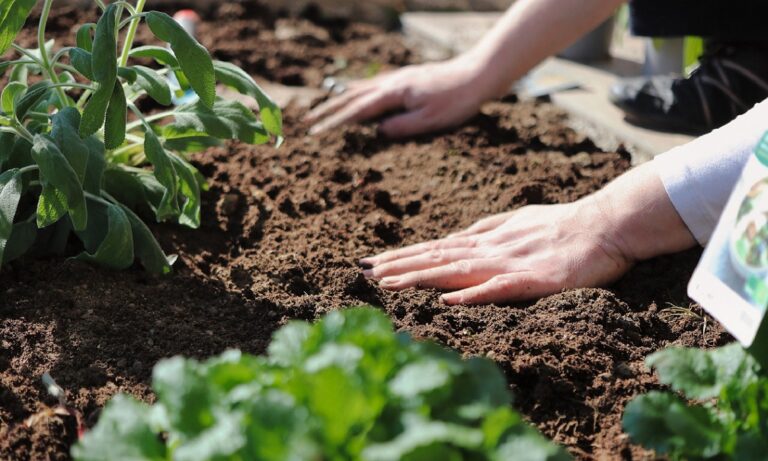 All gardens attract weeds, regardless of your efforts for a low-maintenance haven.
However, mulching is an effortless strategy for fewer weeds and less watering.
How to mulch your low-maintenance outdoor space
Remove existing weeds before mulching. This ensures your mulching strategy is successful!
Choose the correct mulch for your outdoor space — consider adding an organic matter that stores moisture and improves your soil as it breaks down. I recommend wood chips, bark, or straw.
Apply 5 to 10cm of mulch over the soil and around the base of your plants.
Refresh the mulch layer every couple of years.
Easy weed control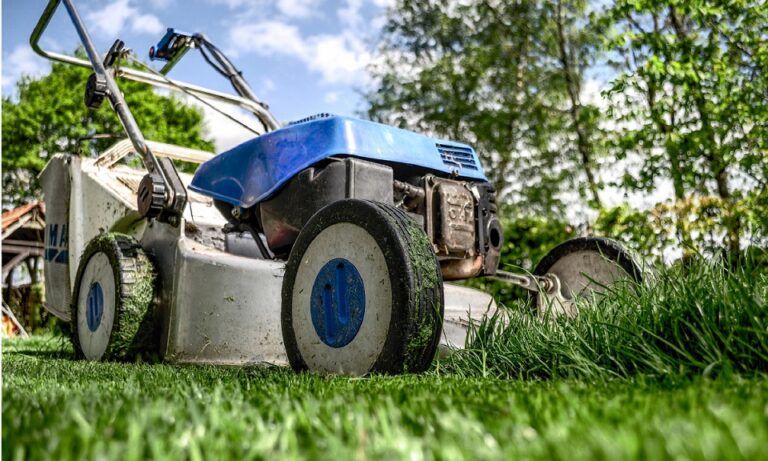 Weeds are simply self-seeding wild plants and can benefit your garden's ecosystem. So, don't immediately rip up plants just because you didn't plant them.
However, consider keeping on top of unwanted weeds rather than letting them build up.
Remove weeds by hand regularly — the best time to remove them is before they go to seed. This will prevent spread. So, pull weeds up as you discover them — it doesn't take long and avoids a more significant job later on.
Use the right tools, such as weed cutters or choppers for stubborn weeds. Remember, you must remove the roots to eradicate some weed varieties.
Garden doctor Louis says:
Avoid chemical weed killers if possible — they can damage the delicate balance of nutrients and wildlife your soil relies on to keep it healthy.
A low-maintenance approach to garden diseases and pests
Keep your lawn and garden healthy, and it will repay you with years of pleasure.
A healthy turf is less susceptible to diseases and pests, so mow regularly with sharp blades and aerate the soil every year or so to improve drainage. If your lawn gets overtaken with moss, scarify the earth, then fertilise with a high-quality, slow-release fertiliser.
And check your lawn for signs of disease, such as discolouration, dead patches, and poor growth.
Check our comprehensive articles about pests and diseases of lawns.
How to avoid garden pests
Keeping your soil healthy and nutritious with good drainage is the best way to avoid pests. Always avoid overwatering your plants or lawn — this can attract fungi and pests.
Ultimately, keep an eye on your garden's health and act quickly if you spot any problems. Early action is always better.
Avoid harsh chemicals!
If you spot pests, don't instantly reach for the chemical killers — these are always a last resort.
Instead, consider natural pest defence, such as neem oil, garlic extract, or beneficial insects, such as nematode, which all help control pests and eradicate pest populations.
Good garden hygiene
Another way to avoid garden pests is to remove garden debris from nearby trees and plants as soon as you spot them. Rotting organic matter will attract a range of damaging insects and fungi into your garden.
FAQs
Which are the easiest garden plants to care for?
There are many low-maintenance plants you could choose for your garden. Go for drought-resistant perennials, succulents, ornamental grasses, climbing and bulb plants. These need minimal intervention and bring colour and texture to your garden. 
Which bushes are easy to care for?
The easiest plants to care for are Rock Medlar, Dwarf pine, juniper, berberis, privet, and Japanese spindle shrub. 
How do I get a low-maintenance garden?
Think about your garden's conditions and choose plants likely to thrive. For example, if your garden gets lots of shade, go for shade-tolerant plants like ivy, clematis, and honeysuckle. Smaller lawns are easier to care for than large ones and are quicker to mow. Also, consider drought-tolerant plants, such as succulents, for less watering. 
Any questions?
I hope I've given you some inspiration for your low-maintenance garden. If you have any questions, drop a message in the comments section below or send us an email.
Or check out our comprehensive Help & Advice section.
Thanks for reading.
Your answer will be displayed on the site and the interested party will be notified by email.
Have a question or want to share your experience? Leave us a comment.
Read
more
The best tips and tricks for a lush green lawn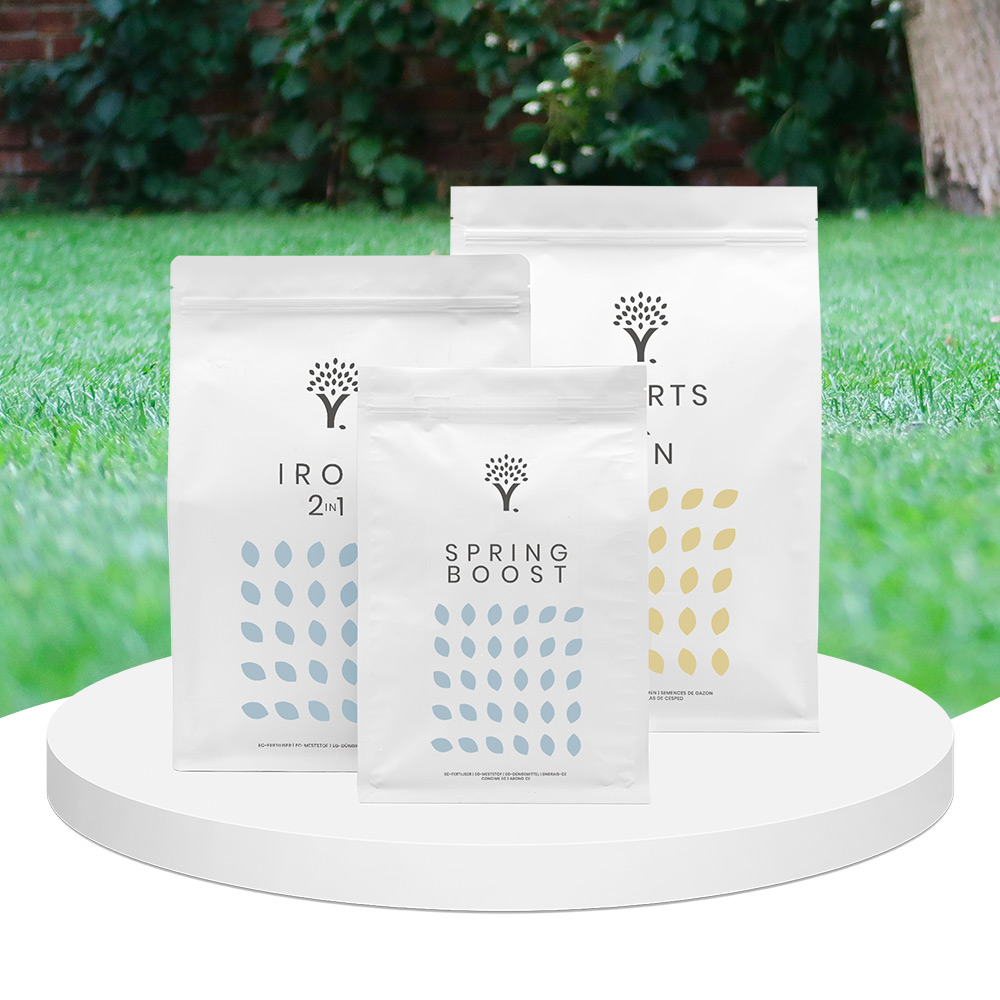 Scarifying Kit
All products after scarifying | Quickly restores the lawn after scarifying | Outsmart weeds quickly with the use of this kit
From:

£

39.99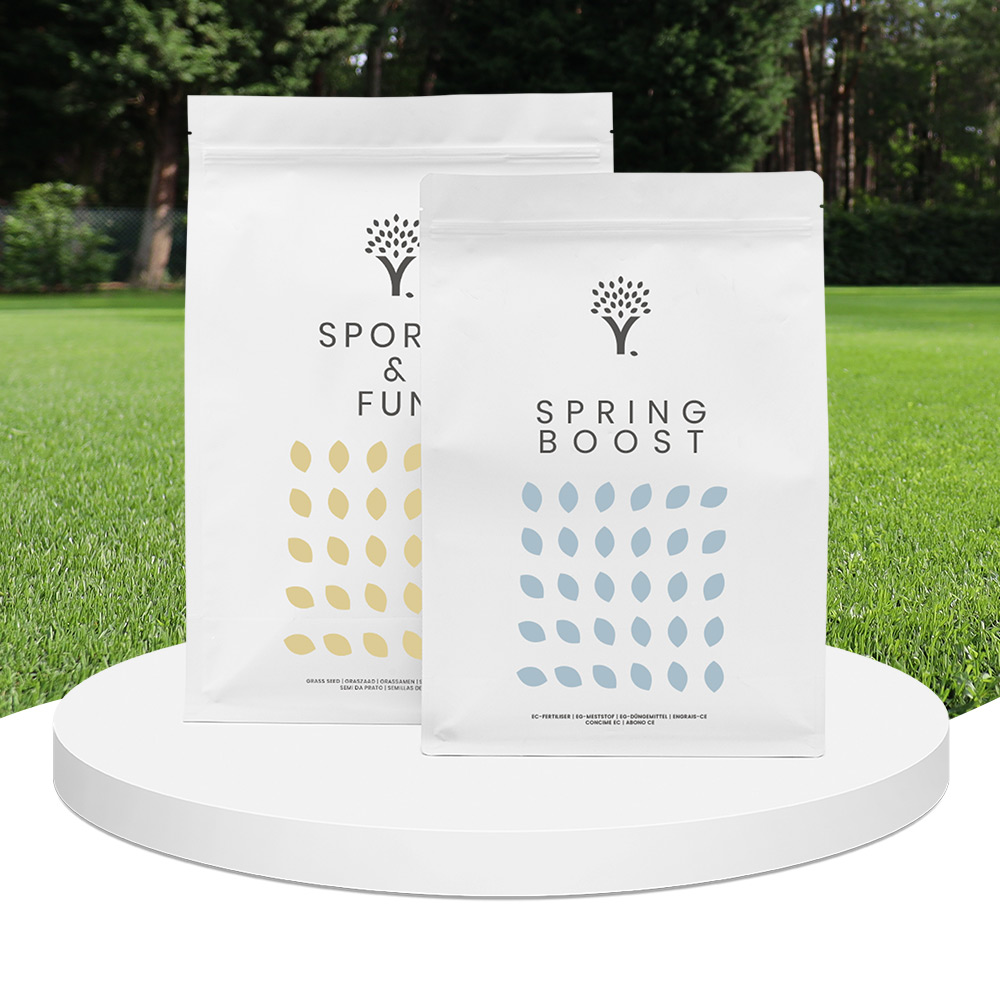 Spring Lawn Care Kit
MOOWY's choice for the spring | Quick recovery of your lawn after winter | A strong lawn prevents weeds
From:

£

25.99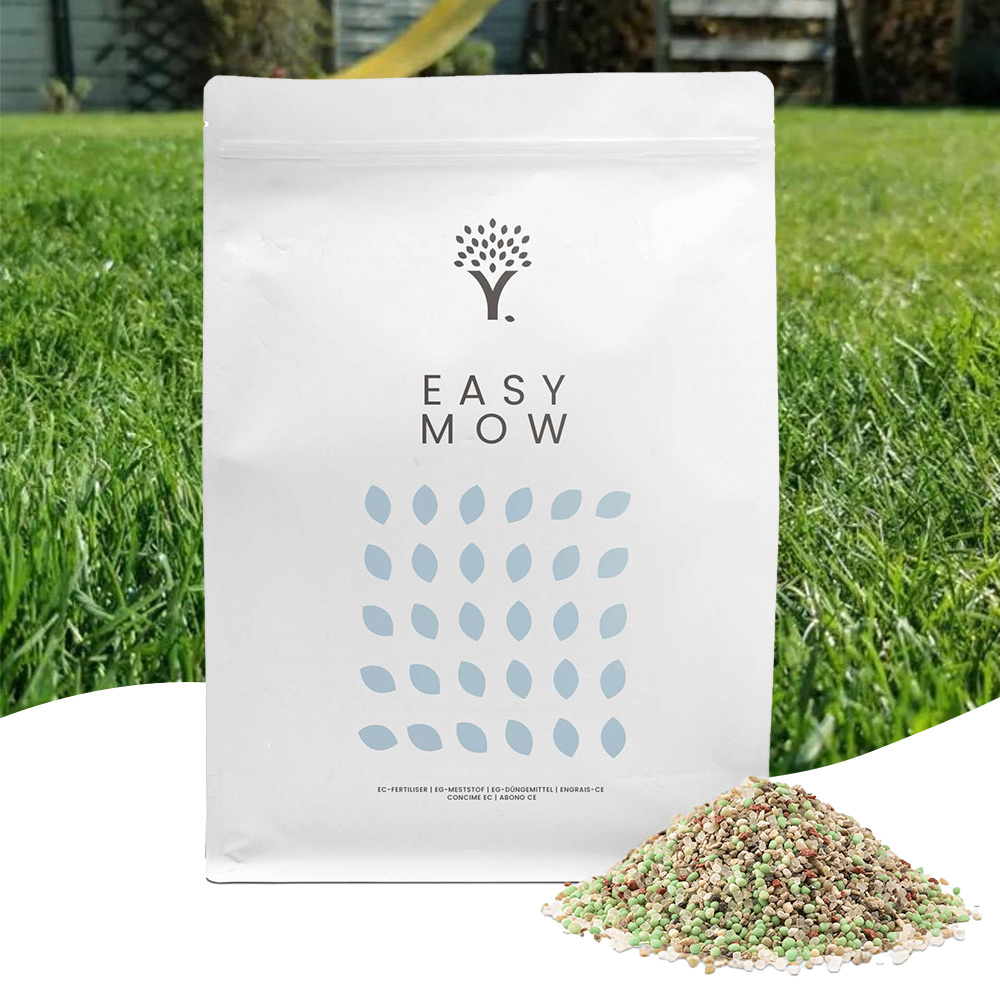 Long Lasting Lawn Fertiliser
Effective for 90 days | See results in 14 days! | Suitable for all types of grass and soil
From:

£

13.99
Free download
Do you want a
lawn calendar?
🌱 All important maintenance moments for your lawn during the year. Leave your email and we will send you the lawn calendar for free.
Receive the lawn calendar in the mail
Enjoy a green lawn all year round!